U-AIMS© - CENTRALIZED ADMISSIONS

The 'Online Registration & Admission System' enables students to fill the Admission form on-line from anywhere saving students time & cost of multiple travels of each student to multiple colleges. Also saves valuable time of staff of each college in data entry & verification work. It also zeros mistakes of data entry work by staff. Student is required to fill his own form - on-line & he will fill it with great care & he can check the same many times before final on-line submission. Since the accurate data is available to University on-line, University can publish the merit list much earlier from the closure of Registration.
After admissions, this valuable data is available to college for further usages. This can be transferred to College ERP which college may be using and so colleges can print ID cards, certificates like Bonafide…. Admission Register & many MIS report immediately. This information is handy to colleges for other usages also. So It provides support to the administration and admission seeking candidates by providing a faster, transparent, and easy way of keeping records and use them for reference and further proceedings.
Features

Overview Of Centralized Admissions
University defines all affiliated Colleges, courses offered by each college, eligibility criteria of each course, no. of seats in each college, various admission quota etc.
On filling basic information, student gets login & password and OTP– One time password. A secured system.
Student fills the Admission form on-line & can upload scan copies of required documents on-line.
Now he can generate a PDF of his registration form & submit to University if required.
He can make on-line payment also.
He can check his applications status & merit list online.
University now prepares common merit list, displays on portal, receives corrections on-line & publishes revised merit list. Now, based on final merit list, University allots College – Course to students & publishes allotments. Student gets SMS / Email alerts of his Allotted college & course. Colleges gets allotted student list along with complete soft copy of student's data.
College can also send SMS & email confirmation of their allotted students.
Student can confirms the admission on-line & can go to the allotted College for Admission.
The processed is shown below.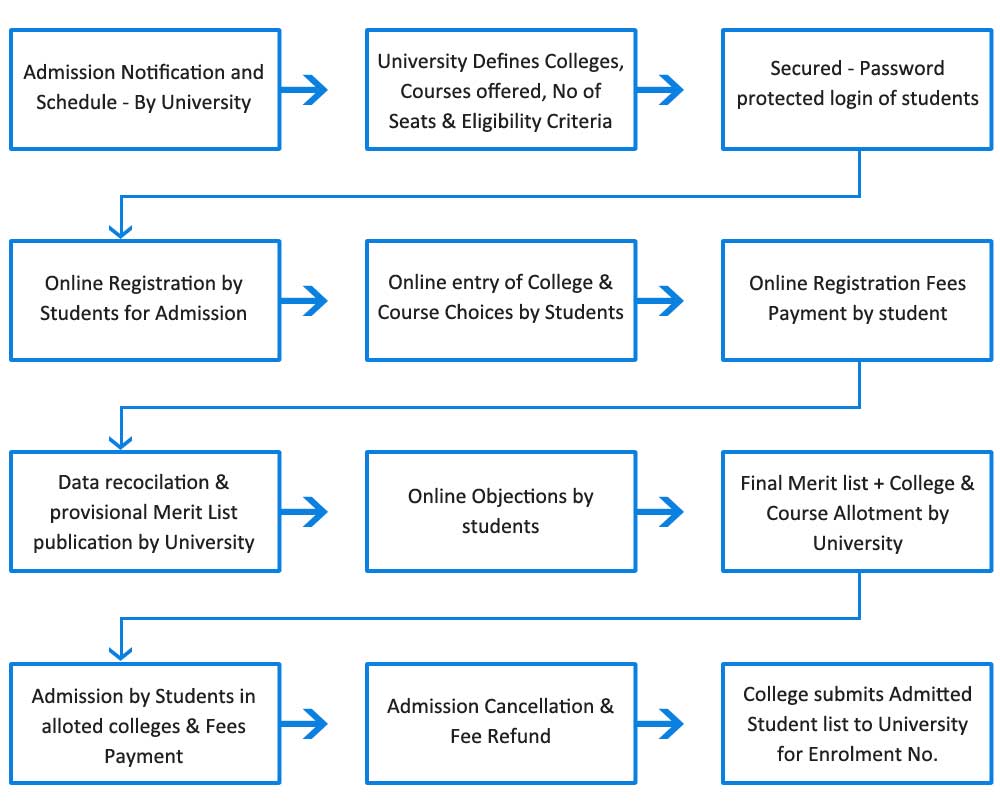 Advantage of 'Online Admissions'
Students have 24 x 7 access. Form filling days can be kept minimum, data checking will be very fast & hence the total Admission process can be very fast saving valuable time of University & College & students. Courses can be started earlier.
Admission cancellations & money loss will be minimum.
Transparent system. Win-Win situation for students – Colleges & University.
Minimizes time of processing - due to no time barrier, institutes admission process time is reduced. Institutes can publish their merit list lot earlier compared to manual way.
Only one on Line form : Allows students to fill application form at their convenient time in a comfortable environment. They have to fill only one form for Admission against multiple forms in multiple colleges.
Colleges update admitted students status on University Portal. The soft copy data admitted students is useful for college for further activities & reports - student ID card, bonafide certificate, Admission register, Roll list, University reports & many more MIS report.
No need to go to college & stand in queues for Prospectus purchase & submissions – all on-line from home.
Reduces Paper Work drastically.
Only Eligible Candidate Can Apply:
Reduces Human Involvement.
Enhance Productivity – College gets ready list of admitted students. Complete process of prospectus selling, accepting forms, generation of merit list are avoided. As a result, College can utilize these man power resources in other activities.
Simple & User Friendly: The entire process is simple, user friendly & online.
University & Colleges gets accurate data of students.