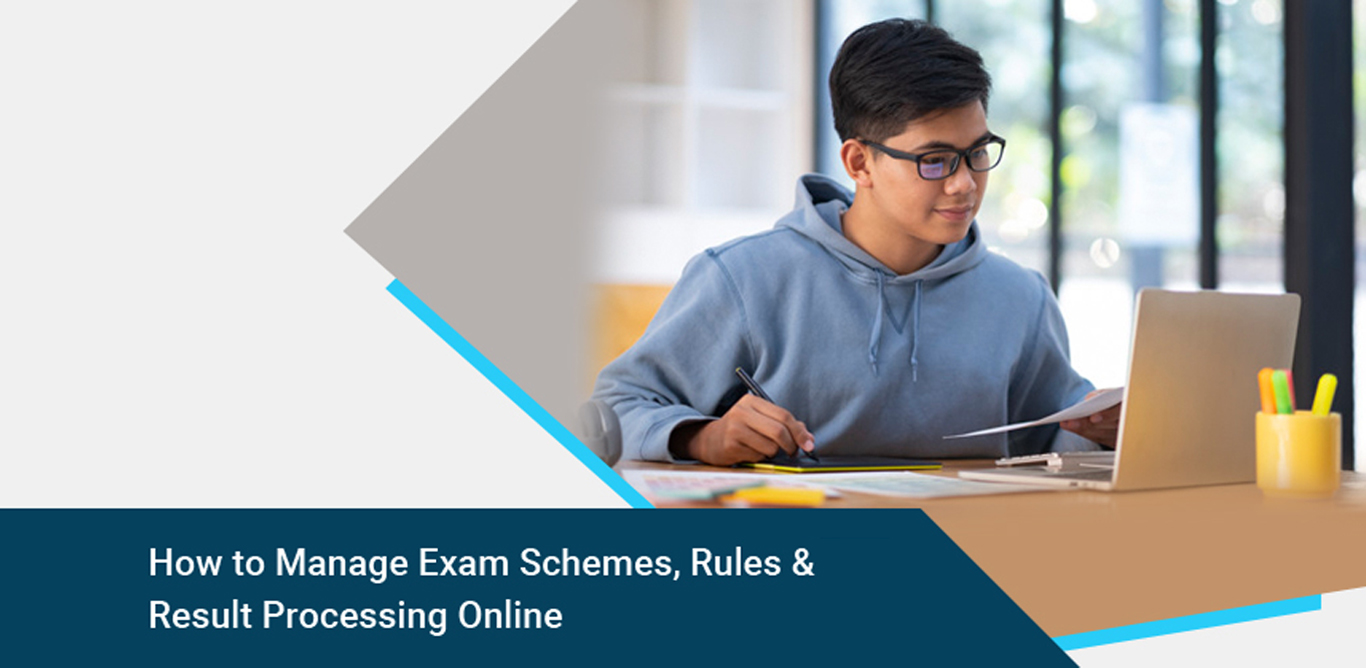 Distinct teaching-learning methodologies.
Distinct study platforms.
Distinct education programs.
Despite the multitude of differences in the academic framework, every educational institution across the world follows the "exam & assessment" code to judge the knowledge, understanding, and skill-sets of students. Earlier performed in-house and now conducted on digital platforms, examinations are a vital part of education. With the wave of the pandemic, educators have realized the value of automating exam management in schools, colleges, and universities. An examination management system has, therefore, become the silver bullet for faculty & educators facing hassles.
Are you also in search of an exam management system that could help you manage exams without any hassle? This article will guide you step-by-step on how you can utilize edTech for managing exams.
Let's get started with the in-house examination conduction software first.
In-House Examination Management System
Right from managing the pre-exam activities like planning & scheduling exam timetables, student registration, allotting rooms, invigilation duties to post-exam activities like calculating results and gazettes, the in-house exam management system is a comprehensive all-in-one centralized automation system for smooth conduction of exams.
Who can use the in-house ERP software for exams?
All types of educational institutions such as schools, colleges, universities that belong to the following two main categories can use the in-house ERP software for exams.
Schools
Autonomous Institutions
Encircling back the functionalities of the exam software, the exam management system enables faculty to perform the given tasks seamlessly.
#1: Pre-Exam Activities
The pre-examination activities may seem easy but require resources and countless hours to ensure zero errors. To be honest, manual management is far from zero human errors. And thus, ensuring smooth examinations & no last-minute challenges on the day of the exam, great planning is required.
With the examination management software, the pre-exam phase can be streamlined & simplified. Here's how-
a) Defining the Exam Rules & Schemes for Course Creation
Every institution needs to follow certain examination protocols. Private schools & colleges need to incorporate the rules of the associate university, whereas autonomous institutions need to create their norms. Both can be managed with the ERP software.
The given list depicts the major parameters that can be created with the system-
Semester/Academic Year: Course pattern on yearly basis as well as a semester-wise pattern can be created.
Academic Sessions: Various sessions as per the academic year can be created at the click of a button. For instance – academic session 2019-20, 2020-21, etc.
Examination Pattern: The examination ERP software gives the provision of defining flexible exam patterns. Faculty can define the total number of class tests, mid-exam, and final examination along with their weightage.
Schemes: Examination schemes for various semesters/years can be created. For instance, a faculty can create an exam scheme for summer & winter semesters - Summer – 21 exam, Summer-21-Re-Examination, Winter-21 exam. The schemes can be followed for various subjects as well.
Faculty: Various fields such as Arts, Science, Pharmacy, etc, can be created for faculty belonging to various departments.
Medium: Medium represents various languages including the global & regional languages. For instance - English, Marathi, Hindi, etc.
Courses: Educators can define the institutional course. For instance, college faculty can define - FYJC/11th/12th/ FY BA, SYBA, B.E.-I, B.E. II, etc. Similarly, school faculty members can define – 8/9/SSC, etc.
Subject & Subject Grouping: The exam management software enables the faculty to define course-wise/semester or year-wise/medium-wise subjects which further can be categorized into optional & compulsory subjects.
Exam Ordinances: Faculty gets the provision to define Ordinances & Sub-ordinances - that depict the rules for passing with grace marks & condonation. They can define various rules & simply need to enter the Ordinance name, symbols, and condonation or grace marks rules in the online ERP system.

For instance - Ordinance O1-Grace marks for passing Theory/Practical: Students who fall short of a few marks to pass a certain set of theory or practical exams can be given grace marks. The range of grace marks should be pre-defined for various theory & practical subjects.

Ordinance 02-Grace marks to attain higher class: Students who clear their exams without grace marks and have attained 2nd class, let's say - 59% and just need 10 marks to make it to higher class - 60% can be given up to 10 grace marks.

Condonation 03- These grace rules can be defined in terms of a maximum limit of grace for passing one subject. If a student clears all the subjects but fails in a certain subject, they can be given grace marks to get promoted. For instance – chemistry subject range - maximum grace limit of 4 marks.
b) Student Creation to Handle Student-Related Exam Work
A student package that has complete information about students – right from their year of learning to examination details can also be created with the exam management system.
Students Data Entry: The faculty can define students' name, caste, subject, year, personal information, etc along with their photograph for identification.
Allotment of Exam Seats: The examination management system allows educators to allot different & unique seat numbers to students.
Student Exam Registration: The faculty gets the provision to add subjects for which students are appearing in the examination.
Bulk Registration of Students: The faculty can register students in bulk by filtering the list of courses & subjects, year, and even their medium.
Exam Time-Table: A detailed exam timetable can be carved by defining subjects, courses, exam dates, etc. The timetable management system integrated into the educational ERP system ensures that there's no clashing of papers.
Examination Hall ticket/Admit Card: Admit card for examination, which is important for identification of students can be generated via the ERP software.
Exam Attendance sheet: Exam attendance sheet to verify students who are present and the ones who didn't appear for the exam can be generated, printed, and used at the time of examination.
Exam Seating Arrangement: The faculty can define vacant rooms and identify the seating capacity of every room as per the infrastructure/benches. A complete plan can be designed & printed for clarity.
Absentee/Malpractice Student Entry: The absent student entry can be marked directly in the system. Furthermore, students who are involved in malpractices like cheating; their record can be submitted along with the reason in the exam management system.
How Online ERP Software Can Help Manage Smooth Exam Conduction?
With the help of the student database in the online ERP software, faculty can generate the following set of documents & reports to ensure no disruption during the examination.
Activity Scheduler
Vacant Room Allocation
List of Students Per Room
List of Subjects & Exams
Room Allotment List for Invigilators
Hall Tickets for Students
Seating Arrangement Charts
Student Attendance Sheet
Roll List of Students
The ERP software helps the faculty to identify the total number of students that can attend exams in various rooms as per the available infrastructure provision and assign them invigilators. The invigilator to student ratio can be defined in the system and printable reports can be generated to simplify the exam management on the day of the exam. Invigilator duty can be further assigned as per various exam shifts. Additionally, students roll lists, attendance management sheets, seating arrangement charts, and such essential documents & reports can be extracted and used during the exam. All-in-all, the education ERP software will simplify the tasks of faculty which otherwise needs to be managed manually.
#2: Post-Exam Activities
Post-exam activities include the set of activities that helps faculty in student performance evaluation & analysis.
Marks Entry: The faculty can enter the marks of students – subject-wise/course-wise/year-wise. The marks can be updated in case of any modifications.
Direct Grade entry: Subjects that need to be given grades can be updated using the direct grade entry option. Teachers can directly select the students' name & add grades.
Locking/Unlocking: Marks entry can be locked & unlocked depending on the requirement. The higher authority can access the marks & unlock the system if marks modification is required.
Calculation of Results: Exam rules can be defined & marks can be calculated – course-wise. Once the calculations are done, a tabulation register can be printed, analyzed & modified if required.
Year-End Process: It allows faculty to transfer the data of failed students to the next examination scheme.
Online Exam Management System
The online examination software slightly differs from the in-house exam management software in terms of exam conduction. In the in-house exam pattern, the examination is conducted in campus & various pre-exam activities need to be done as we learned in the first part.
With the online exam management system, the faculty can arrange & monitor exams online – remotely. Let's understand the features of the online exam management system to get a complete overview.
#1: Online Exam Activities
Online Examination System streamlines & simplifies activities such as defining exam patterns, creating question banks for various subjects, MCQs/descriptive questions assessments, and remote exam proctoring for 100% authentic exam conduction.
Faculty: Apart from the regular tasks such as the creation of timetables, assessments, question papers, the faculty can upload question banks, e-content, manage online attendance, and have personalized communication with students while giving them feedback on their performance via the online exam portal.
Students: Unlike traditional pen-paper exams, they just need to log in from their portals and require an active internet connection to proceed. The ERP online software offers instant exam analysis and publishes the student results at the end of the examination.
Thus, the online examination system is a scalable, robust & cost-effective solution to conduct online exams for students remotely without any hassle.
#2: Remote Proctored Exam
The online examination system randomly captures the screenshots of students as they attend the online test and assessments. Real-time video streaming option can also be integrated with the remote proctored exam system to track every single activity of students during the online exam test process.
#3: Multi-Lingual Exam Support
To help students choose a language of their convenience, the online exam system offers multilingual support. For instance - students who want to opt for the English language can choose the option, whereas students who want to go for the Hindi language can opt for Hindi.
# 4: Skill-centric Assessments for Students
The online examination system supports the given types of assessment tests to enhance the skills of students.
Multiple Choice Questions (MCQs)
Descriptive Assessment Questions
True/False Type Questions
Fill in the Blanks
Multiple Correct Answer Questions
Image/Audio/Video-Based Questions
Psychometric Questions
Logical-Thinking based Questions
Analytical Questions
Online Mock Tests
#5: Student Performance Analysis
The online examination management system allows faculty to map & measure the question-wise performance of students to understand their areas of academic strengths and weaknesses. The analysis can be utilized to make new teaching-learning strategies and help students learn better.
Reports Generation via the Exam Software
Both the in-house as well as online exam software can generate the following reports.
Student Attendance
Student Grade Cards/Marks Sheet
Student Performance Report
Course-wise Tabulation register
Topper List
Subject/Year/Class-wise Merit List
Result Gazette
Pass/Fail Percentage Reports
In a nutshell, exam conduction, management, and analysis require extreme precision & accuracy. Therefore, as a responsible educator, you must invest in online ERP software with the exam management system that suits the requirements of your institution.
For further assistance on education ERP solutions with the exam management system, get in touch with my team of ERP experts today!