Library management system software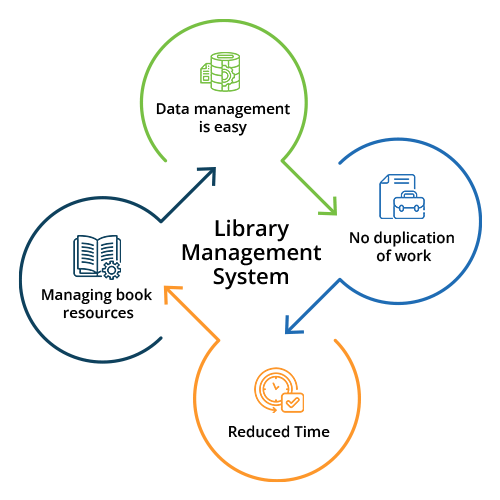 A library management system is software that is designed to manage all the functions of a library. It helps librarian to maintain the database of new books and the books that are borrowed by members along with their due dates.
This system completely automates all your library's activities. The best way to maintain, organize, and handle countless books systematically is to implement a library management system software.
A library management system is used to maintain library records. It tracks the records of the number of books in the library, how many books are issued, or how many books have been returned or renewed or late fine charges, etc.
You can find books in an instant, issue/reissue books quickly, and manage all the data efficiently and orderly using this system. The purpose of a library management system is to provide instant and accurate data regarding any type of book, thereby saving a lot of time and effort.
Modules of Library management system software

RF LIB-Man - Integrated Library Management Software

LIB-MAN® is a highly integrated, user-friendly, and compatible library automation system for complete computerization of all the in-house operations of any size or type of library. The library management software is intuitive, efficient, and compliant. Lib-Man is embedded with multilingual fonts, Barcode & QR Code fonts. The integrated library software developed in consultation with prolific senior library professionals is currently being used by as many as 500 libraries. The client-server version of Lib-Man is embedded with free Devanagari Fonts. It supports all the latest technologies which include cloud hosting, mobile app, tablets, SMS, email, UHF RFID, secured payment gateway, etc.
Lib-Man has an optional UHF RFID integration for the absolute library automation. It also supports the smartphone or mobile app for book search – MOPAC.
Benefits of Library Automation System

User-Friendly System
Online And Offline Storage Of Data
Automatically Updates And Backups Data.
Flexible And Can Be Fully Configurable
Increased Member Engagement
Easily Accessible From Anywhere And Any Time.
Easy Access From Smartphones And Tablets
Reliable And Secure Operations
Review And Tracking Of The Library Functions
Cost Effective
Eliminate The Need For Extensive Paperwork
Maintenance Overheads And Operation Costs Are Reduced
Eliminates The Need For Manual Entries
Makes The Database Error-Free And Accurate
Organize, Maintain, And Operate Your Library Systematically!
Request Demo
Key Features of Library Automation Software

1

Membership Administration

Keeping a thorough database of the members, the Management System stores each user's name, ID, and password for aiding in determining the member's history. The software is user-friendly and improves the effectiveness of the librarian and library administration.
2

Scanning & Bar-Coding

All books, whether new or old, have bar codes that are based on the book's title, author, subject, and publication date. The RFID sensors on the other hand are used to quickly read barcodes when books are scanned upon issuance or return so that the database is automatically updated.
3

Online Access

Access to several affiliated libraries is made possible through the web-based library management system software. This broadens the search space, greatly enhancing the user experience.
4

Self Management

To self-check-in and self-check-out books, the members of digital libraries can log in, search for, choose, issue, and return books on their own thanks to the library management system software.
5

Management Of Fees

To maintain each member's account and collect membership payments, the Library System covers it all. The fine that is owed for lost, damaged, or non-returned books is calculated by the program. The mechanism notifies the members of the fines.
6

Catalog Circulation

To keep track of book movement and maintain an electronic inventory of the library's holdings, the Library Management Software provides a seamless process of any book's whereabouts at any given time.
Why RFID?

In school libraries, staffing budgets can be a major challenge for the librarians. These libraries are expected to improve customer service and expand their offerings without adding any library personnel. Most libraries are now shifting to RFID technology owing to its benefits, such as high accuracy and speed of book circulation and shelving capabilities.
By adopting RFID, you can free your library staff and use their spare time to provide better customer service. It further helps to protect a library's book collection from cyber threats and ensures that the community can get the most out of it. Implementing RFID software is a wise decision, as this investment can let the institute reap benefits in the long run.
RF LIB-MAN© RFID Based Library Management System

A digitized library equipped with RFID primarily has readers at the circulation desk and self-service kiosks, with additional RFID readers installed in the entrance and exit gates. This technology can be further used in material handling systems and automated returns. The institute can maximize their productivity with a hand-held reader that is used to transit books and documents after check-in, take a full inventory of the collection, and scan shelves for misplaced books.
With consistent research of 3 years on understanding & analyzing the need of library automation in an educational institution, MasterSoft created an integrated UHF (ultra-high frequency) RFID technology with LIB-Man's cloud based version. The features of library management software RF-LIB-Man have proven to be fuel for the successful digitization of all types of libraries.
Library RFID Components

Tag
Made up of antenna and an electronic circuit, enables writing & rewriting information. The unique ID of the tag is known as EPC.
Reader
RFID reader emits radio waves; the tag responds by sending back data stored.
Computer
It reads/writes data from/to tag through the RFID reader using RF LIB-Man library automation software.
How is RFID Used in Libraries?

RFID is predominantly used for theft detection systems and for library circulation operations. RFID-based systems provide exceptional security and can be used as tracking systems that combine security with more efficient tracking of materials throughout the library, which includes quicker and easier charge and discharge of library items, material handling, and inventory management. RFID technology further helps librarians to reduce the time spent scanning barcodes while issuing and depositing books.
In addition, it has various other applications, which include:
Dropping Books
RFID provides exceptional flexibility and convenience in automatically returning books and related library items at any time of day, even when the library is closed.The book-dropping station can be located anywhere within or outside the library.
Counter Station
It is a library staff-assisted station for various services such as return, sorting, loan, tagging, etc. It is loaded with a tagging module, an arming/disarming module, and a sorting module. The arming/disarming module is used to set or reset the alarm of the EAS gate to trigger or not trigger the alarm.
Patron Self-Check-Out Station
The system with an in-built RFID reader, which is used for book handling and circulation, can also be used for self-checkout of books. The librarian places the book in front of the computer screen on the RFID reader, where the display shows the book title and its ID number, which have been checked out.
Easy Shelf Management
With RFID, identifying and locating books on the shelves is simplified. It consists of a portable scanner and a base station. The solution is developed to cover an inventory check of the whole library stock, searching for individual books requested, and searching for books that are disarranged.
RFID Library System Workflow


Tagging Of Books
RFID Tag is pasted into the inner side of a front cover page of the book & a full-page sticker is attached to it for hiding it from the patron. Also, tagging is done using RFID Reader. Tagging implies writing RFID tag EPC code to library management system software and writing accession numbers to tag memory. This makes the book ready for all RFID operations. To use this service patrons get UHF-RFID ID cards.

Self Issue of Books
Patron shows his/her RFID card to the reader in Kiosk for automatic login

After that, he/she puts books to be issued on RFID Reader to avail it

Books are issued to the patron & RFID tag status becomes 'Quit'

The patron can take away the books through the security system at the library exit gate without any theft alarm

Self Check KIOSK
The integrated library automation software offers the facility of self-automated issue-return (Check-in/out) of books to patrons.

Self Return of Books
For Self-return of books: Patron just needs to keep the books on - Reader of Kiosk & the books are returned cancelling the patron loan.
During the book issue or return process, a receipt is printed and SMS is sent to Patron.