Library management system software
The best way to maintain, organise and handle countless books systematically is to implement a library management system software. This system completely automates all your library's activities. You can find books in an instant, issue/reissue books quickly and manage all the data efficiently and orderly using this system. It also provides instant and accurate data regarding any type of book, thereby saving a lot of time and efforts.
LIB-MAN® is a highly integrated, user-friendly and compatible system for complete computerization of all the in-house operations of any size or type of library. The library management software is intuitive, efficiently and compliant. Lib-Man is embedded with multilingual fonts, Barcode & QR Code fonts. The software developed in consultation with prolific senior library professionals, is currently being used by as many as 500 libraries. The client-server version of Lib-Man is embedded with free Devanagari Fonts. It supports all latest technologies which include cloud hosting, smartphone, tablets, SMS, email, UHF RFID, payment gateway, etc.
Lib-Man has an optional UHF RFID integration for absolute automation of a library. It also supports smart phone app for book search – MOPAC.
Key Features of library Management Software
100% assurance for import of other library software data into LIB-MAN

Mark standard data import/export

Book data fetching from ISBN site and Google API saves data entry time

Supports EBook uploading & reading

Follows all library latest standards such as Marc 21, library congress standards, AACR2

Fully secured & maintenance free

Best onsite training & service support
Fully documented user manual

Best backup and recovery

Reports / data export to word, excel, PDF, text

No duplication of work

No restrictions & no hidden costs

No upper limits on number of documents/Journals and entries

Reports on laser/inkjet printers

User defined privileges
Read more - LIB-MAN : Automate Library With Industry Best Library Management Software
RF LIB-MAN© RFID Based Library Management System
With consistent research of 3 years, MasterSoft created an integrated UHF (ultra high frequency) RFID technology with LIB-Man's cloud based version. This defines important features of RFID library software RF-LIB-MAN.
Introduction To RFID Technology
RFID means Radio Frequency Identification. RFID technology provides wireless identification of people, books or assets. RFID Tag is made up of an integrated antenna and memory. In Library, RFID tag is attached to each book and Accession No. of the book is stored in tag memory. RFID Reader reads this Accession No. and sends to library software.
RFID Components
Tag:

Is Made up of Antenna and an Electronic circuit.

The information can be written and rewritten on the Tag.

The unique ID of tag is known as EPC. (Electronic Product Code)

Reader: RFID reader emits radio waves; the tag responds by sending back data stored.
Computer: It reads / writes data from / to tag through the RFID reader using RF-LIB-Man.
Advantage Of RFID Tags
No line of sight needed like bar-code.

Allows circulation of several books simultaneously.

Performs both identification and anti-theft in one single operation.

Faster scanning and identification of book details.
UHF RFID Library System
UHF - Ultra high frequency technology is the most advanced technology with a very high read range of 1-3 meters in contrast with the former HF and LF technologies where read range is merely a few centimeters. UHF is low cost, multi-read, highly accurate technology with minimum misread. Therefore, most of the educational institutions prefer UHF RFID technology.
RFID Library Workflow:
Following activities can be performed in RFID based Library automation System.
Tagging of Books:
RFID Tag is pasted into the inner side of a front cover page of the book & full page sticker is attached to it to hide it from patron. Also, tagging is done using RFID Reader. Tagging means writing RFID tag EPC code to library management software and writing accession number to tag memory. This makes the book ready for all RFID operations. To use this service patrons get UHF RFID ID cards.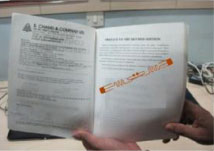 Self check KIOSK
This offers facility of self automated issue- return (Check In/out) of books to patrons.
Self Issue: Patron shows his RFID card to reader in Kiosk for automatic login. Now he puts books to be issued on RFID Reader for book issue. Books are issued to patron. RFID tag status is now quit & patron can take away the books through security system at library exit gate without any theft alarm.
Self Return: For Self Return of Books, Patron just keeps the books on Reader of Kiosk & the Books are returned and Patron loan is canceled.
While issue or return receipt is printed and SMS is sent to Patron.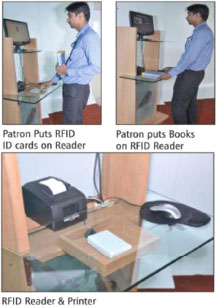 Shelf Management
The Shelf Management System consists of Mobile RFID Reader integrated with library software. This facilitates almost instant searching of the desired book in library & library book verification (Stock verification) can be done without line of sight. The long read range of 3 Meters makes stock verification & book searching an easy task.
For stock verification, press Scan button of Reader & move the Reader across the shelves. Reader gathers all the unique accession no. of books in the physical range of 1 meter. The collected accession nos. are transferred to library software & stock verification report is generated. It verifies 1,00,000 Books per day.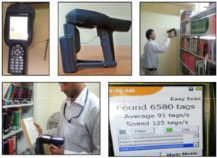 For searching a book, enter accession no. to search in Reader & sweep across shelves for searching. When a book is nearby Reader, a built-in beeper sounds to alert the librarians.
Anti Theft Detection
The RFID Anti Theft Portals (security system) are placed at the exit gate of library & portal tracks books up to 3 meters range and would trigger the alarm with red flashlights when patron passes through a gate with an unissued book. It can detect multiple items at a time. This is most accurate security system with minimum false alarm.
Book Drop Box/Station
A patron can return books any time 24 x 7 in RFID enabled Book Drop Station which is normally kept outside the library. Patron's loan is immediately canceled and SMS is sent to him. A book return slip is printed and a beep is sounded, green light glows on successful book return.