Online Admission Management System

An admission management system is a solution that helps to manage student admissions and related activities in colleges, schools, universities, and training institutes. These educational bodies use education ERP to conduct all activities, distribute student inquiries to admission teams, follow up with leads, and complete the entire admission process digitally.
The admission management system is software that enables educational institutions to conduct student admission and enrollment procedures online. The admission management system manages student admission form collection, collects documents, and shortlists candidates to complete the admission process online.
The increasing numbers of students seeking admission in the academic institutes (School, Colleges, and Universities) are causing tremendous pressure on the administrative body of the institutes to manage and arrange the admission process manually. It is difficult now to conduct the process accurately and in a timely manner. Hence, the need for online admission is inevitable.
How Online Admission Process Works

The offered educational ERP solution is developed to simplify, streamline, and automate the student admission & enrollment procedure. The system is a highly secured cloud based software, compatible with web & mobile, and can be accessed anytime & from anywhere.
Online Admission System 3 Tier Access Models

Administrator
Open Admission: You can begin the process by opening the online registration & admission procedure link where students would be able to send online application forms along with registration fees.
Pre-define Eligibility Criteria: You get the provision to predefine the eligibility criteria for online student admission based on various factors such as marks, caste, category, religion, specially-abled quota, etc.
Merit List Generation: Once you start receiving the online applications for college, school, or university you might be administrating, you can generate a merit list by filtering out most eligible students who fit into the admission criteria.
Verify & Close the Admission: Next step is the online verification of the student documents that are shortlisted for admission. You can verify & scrutinize the scanned copies of documents directly & close the admission.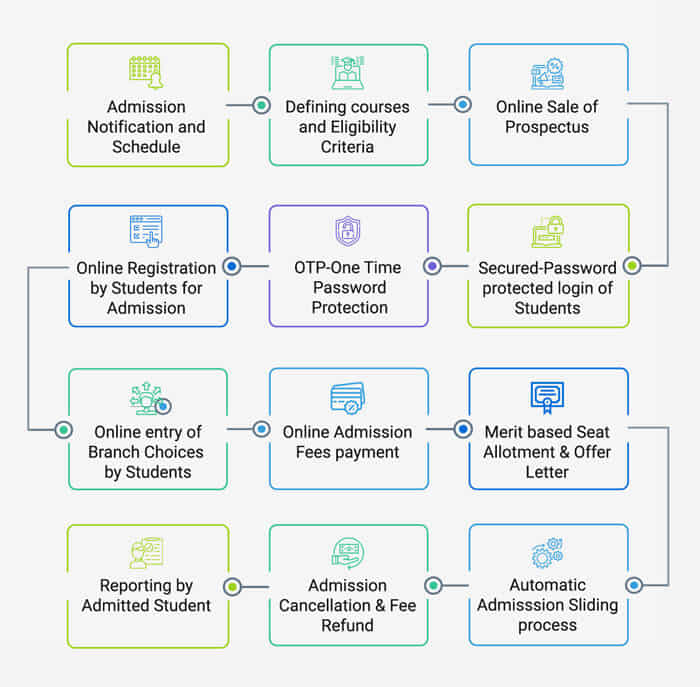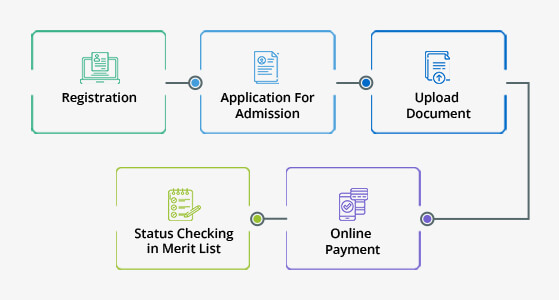 Applicants
Online Registration: As a student, you can register & apply for online admission for college, school, or university by login the student portal for admission by entering your credentials.
Upload Scanned Documents: To confirm your eligibility for admission in the desired institution, you need to upload scanned copies of the required documents such as previous mark-sheets, caste certificate, bonafide certificate, etc.
Online Fees Payment: Along with the documents, you will need to pay nominal registration fees via the admission system integrated with a secured payment gateway.
Merit Status Tracking: You can keep a tab on the status of your admission application via the dashboard of the system.
Admission Confirmation: You'll get a notification on your portal as well as email/SMS if you get shortlisted for admission. You will need to pay the admission fees to confirm your admission.
System
SMS & Email Integration: The dynamic admission management system portal offers SMS & email integration to send an online notification whenever required.
For instance, if a student in college pays the admission fees online, he/she'll receive e-receipt confirming the same on their SMS & email via the college admission management system immediately.
Online Payment Gateway: MasterSoft online admission software facilitates students and parents with 100% safe & secure payment gateway to ensure smooth fees payment online.
Comparison of Qualifying Scores: The admission software for schools, colleges, and universities is inbuilt with tools that compare & determine the qualifying score based on the predefined eligibility criteria of students for admission.
Merit List Generation: The education ERP software generates the final merit list and enables stakeholders to determine deserving candidates for admission.
For instance, if 1000 school students had applied for admission, the school admission management system may shortlist 100 students based on the availability of seats in the school.
Reports for All Stakeholders: Be it the university admission management system, or college, or school admission software, all the ERP systems offered by MasterSoft are inbuilt with BI-powered analytics tools & generates real-time smart reports for all the stakeholders.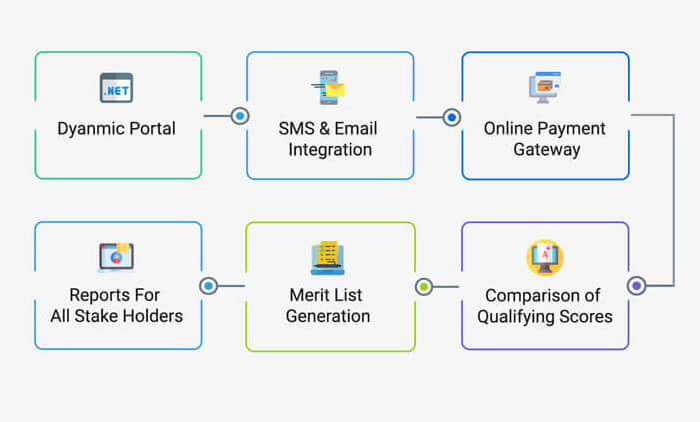 Ready to get started?

Advantages Of Online Admission Management System


Automated Online Software System
Automates all the processes and operations in the institutes with integrated solutions.

Avoid Hectic Submission Process
Allows candidates/students to fill application form at their convenient time in a comfortable environment.

No Geographical Boundary
The system enables remote admission, fees payment, merit list generation and eliminates location barriers.

No Long Queues
Candidates don't need to stand in long queues to ask doubts or pay fees or check their names on merit lists

Man Power Saving
Institutes don't need to assign additional security to manage huge crowds or monotonous processes in the institutes.

Reduces Paperwork
Since the work processes are streamlined and everything is automated, paperwork is minimized significantly.

Only Eligible Candidate
Student data is filtered through the admission eligibility criteria before conducting the admission process.

Enhance Productivity
As a result of the online admission process, institutes can utilize their man-power resources in other activities.

Accurate and Reliable
The process is very accurate and reliable due to reduced human errors and high data security on cloud platforms.

Dynamic and User Friendly
The entire process is dynamic and software is easy to use and intuitive to the students, teachers and parents.

Real-Time Reports
The system generates online customized reports of all the data as per the required formats in real time.
Key Statistics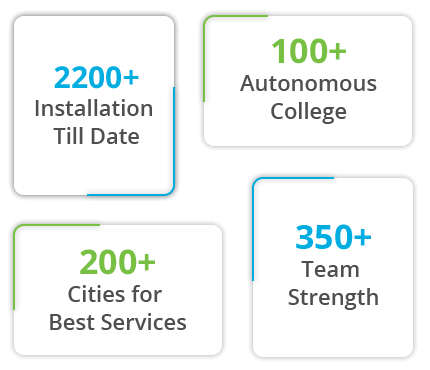 Why is MasterSoft India's Most Trusted Partner?


Academically Driven

Excellent Service Support Engine

Diverse Experience with Tested Products from Industry Experts

We Take Institutes Forward for a Better Future
Features Of Online Admission Management System

1

User Friendly

The Online Admission Management System digitises & streamlines the entire student admission process activities such as online registration, fees payment & collection, and thus, maintains operational transparency. It is fully configurable and designed to assist globally located students seeking admissions in colleges in a - faster, accurate, and systematic way.
2

Smart Seat Reservation

A university may find it difficult to manage and maintain the vast amounts of data when there are several affiliated colleges with the university. A cloud-based online programme called Mastersoft's Online Admission System was created to answer the need for automation in Higher Education Institutions, particularly Central & State Universities.
3

Rapid Fee Calculation

The ability to streamline and make the admissions process easier for the administration, students, and parents makes the online admission system feasible. It is able to establish criteria (home student/outside student, etc.) and compute registration costs in accordance with those criteria.
4

Secure Fee Payment

Managing school costs wisely is now more important than ever. The adoption of a cloud-based fee automation system is highly secure by design. When conducting any form of online transaction, this cloud technology adheres to a multi-layered encryption pattern, making it secure.
5

One Touch List Generation

The merit list can be created using the edTech system with just one click and expedite the admissions process. Through an automated screening procedure, Mastersoft enables educational institutions to recruit more students.
6

Mass Registration Capability

Admission procedure management, admission form collection, listing, and student admission are all accomplished with the aid of a single data input in the centralised database.
Why Use MasterSoft Online Admission System

100% Data Security
& Privacy
One-Stop Solution for your Future Needs
Highly Configurable with Provision of Customization
Built by Academicians, For Academicians
Experienced Team & Best Post-Sale Service Support
Best Cross Domain Experience & Feature Advantage
Strong Integration
Capabilities
Highly Transparent: Role-based Access