Admission Management System For K12 & Higher Education Institutions
The increasing numbers of students seeking admission in the Academic Institutes (School, Colleges, and Universities) are causing tremendous pressure on the administrative body of the institutes to manage and arrange the admission process manually. It is difficult now to conduct the process accurately and in timely manner. Hence, the need for online admission is inevitable.
The goal of 'Online Admission System' is to automate the Academic Institute's admission structure and its related operation and functionality. The objective of the initiative is to provide support to the administration and admission seeking candidates by providing a faster, transparent and easy way of keeping records and use them for reference and further proceedings.
Technology
100% Internet / Intranet based E-Governance MIS

Windows Server

MS SQL

DOT NET
Brief Overview of Admission Process
The Offered Solution is developed to help automate the admission procedure. The system is a web-based application which can be accessed anytime & from anywhere. The system has three tier access models.
Administrator

Applicants

System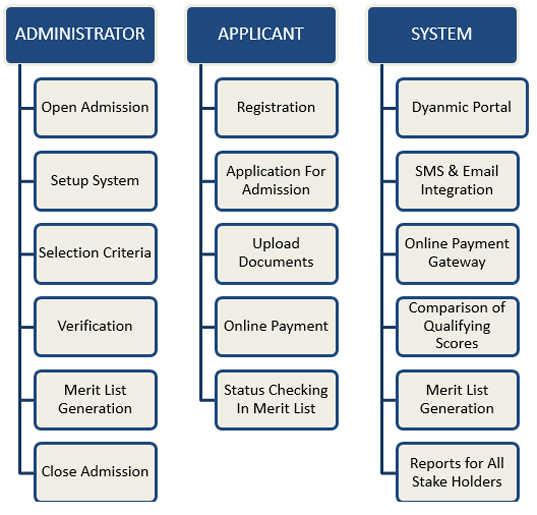 Advantages of 'Admission Management System'
Automated online software system works 24 x 7: Minimizes time of processing - due to no time barrier, institutes admission process time is reduced. Institutes can publish their merit list lot earlier compared to manual way.
Avoid hectic submission process: Allows candidates / students to fill application form at their convenient time in a comfortable environment.
No Geographical Boundary: Institutes don't need take the burden of posting the application form for outstation candidates. Candidates can fill application form from anywhere i.e. convenient place.
No Long Queues: Candidates don't need to stand in long queues to get their queries answered. Candidates don't need to queue up to get application form.
Man Power Saving: Institutes don't need to assign additional security to manage huge crowd.
Reduces Paper Work
Only Eligible Candidate Can Apply: Data filtered through the eligibility criteria - checks can be provided so that only eligible candidates can apply. Moreover the candidate data is to be entered only once.
Reduces Human Involvement.
Enhance Productivity : As a result of this institute can utilize these man power resources in other activities. Very Accurate and Reliable - The process is very accurate and reliable due to limited human involvement.
Dynamic and User Friendly: The entire process is very dynamic - any changes can be reflected in real time & will immediately reach the candidates. The process is simple & user friendly. Similar to filling a form manually, the difference is the keyboard being in use instead of pen.
Customizable Real Time Reports: Institutes can monitor the ongoing process. Have day to day summary of progress of the admission.
Read more - Online Admission System or E-Admission for Educational Institutions
Special Features
The online software is fully customizable

The system has the ability to calculate based on reservation of seats as per Govt. of India norms.

The software has the ability to set up criteria (home student / outside students etc.) and calculate of the said basis.
The system is able to generate the selection list / merit list in a single click

The system is stable to perform multiple registrations at a time, can handle multiple connections.