Cloud Based College Management System Software

A college management system is an ERP solution that enables the institutes to conduct online admissions, generate reports, create ID cards, enable online communication, manage curriculum, time tables and conduct online evaluations, track student progress, conduct data analysis, teach remotely, and handle enquiries and leads for admissions in the college.
MasterSoft College Management System is an end-to-end solution for colleges to improve operational efficiency & institutional outcomes by automating Student-Faculty lifecycle & campus administration.
This college ERP software is designed keeping in mind the different operations of a college.college ERP
MasterSoft's College ERP has 25+ pro modules and 30+ inbuilt modules. It helps educators to streamline all the core activities with biometrics, BI tools, and an analytics dashboard that generates precise reports on college admission, scholarship, compliance management, etc.
Prominent Features of College ERP Software

Cloud based college management software is designed to cater colleges; globally. So far our clientele is 2200+ schools, colleges and universities across India. Our centralized campus management system is for university affiliated art, science, commerce and law colleges. We also offer ERP solutions for engineering, pharmacy, medical, management and autonomous colleges.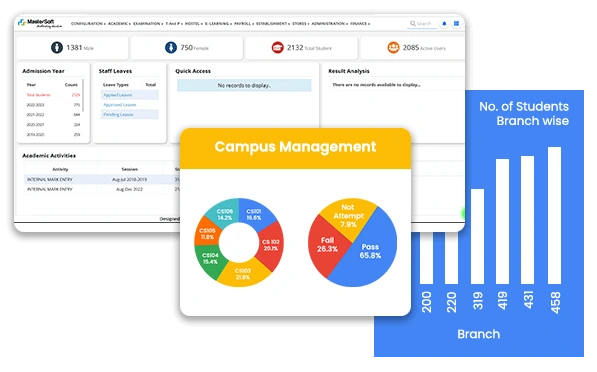 1

One Stop Solution

The software offers a comprehensive solution for managing student enrollment, student attendance, student assessment, and generating online results thereby offering multiple services under one umbrella. This helps in improving the operational efficiency of the campus.
2

Decision Support System

The ERP helps in improving the college's decision making capabilities by analyzing large amounts of data. It integrates all departments to serve different needs, thus ensuring inventory reduction, increased productivity, preventing data processing redundancy, etc.
3

Inbuilt Workflows and Checks

Inbuilt workflows ensure that the operations are standardized across the college, thus providing accountability. With built-in tracking, check, and reporting features, a significant amount of time and resources can be saved. Workflow visibility improves the overall college's performance.
4

Role Based Access

The system offers one system for different academic & administrative roles managing the entire college operations. Role-based access gives access to particular stakeholders, which enhances security & transparency, improves audit cost, and ensures better compliance & reporting.
5

Device Flexibility, 24*7 Accessibility

The college ERP offers superior flexibility and doesn't affect the ongoing operations by managing multiple systems, equipped with different accounting standards, and runs seamlessly. Also, it offers 24*7 access to student data from anywhere.
6

Highly Adaptive

The ERP is specifically designed for the changing needs of colleges, thus is highly adaptive in effectively managing complex tasks. Its technological adaptability enables the college to stay up-to-date with upcoming trends in the edTech industry.
Modules of College Management System


Admission Management
Online Student Registration
Student Course Selection
Merit List Generation
Live Tracking of Admission Status
Online Fees Payment

Student Records Management
Attendance Management
Centralized Data Storage
Easy Data Search and Retrieve
Student Performance Record
Easy Communication among Departments

Attendance Management
Automatic Attendance Record
Integration with Biometric and RFID device
Laptop and Mobile Application
Easy Report Generation
Automatic email/SMS Notifications

Fees Management
UPI, Credit/Debit card Payments
Safe Transactions
E-receipt Generation
Notifications for Pending Fees
Fee Structure Allocation

Assessment/Exam Management
Enables MCQ/Descriptive type Questions
Online Question Paper creation
Runtime Student Monitoring
Student Outcome Calculation
Verification of Student's Identity

HRMS
Faculty Recruitment
Leave Management
Service Books and Record Management'
Salary Calculation
Maintenance of Faculty Profile

Payroll Management
Leave and Incentive Calculation
Increment Cycle Information
MIS Report Generation
Integration with HRMS
Automated Salary Credit

Library Management
Books Tracking and Issuing
Automatic Email/SMS reminder
Maintenance of Vendor Information
Calculation of Late Fees
Book Search using Keywords
Our Special Offerings

Benefits of College ERP Software

For any college to run their administrative processes systematically, the faculty must opt for an efficient College Administration System and get the following benefits.
Improved Communication with
Parents
Mitigate communication gap between teachers & parents
Internal auto-triggered messaging feature
Get timely updates of student performance
Send reminders regarding exams & admission
Multi Campus Structure for Different Societies
Get a centralized database
Streamline operations across unitary institutions
Maintain individual autonomy
Enable educational societies & trusts with organized operations
Auto-Triggered Reports & Analytics Dashboard
Auto-generated mails of day-to-day reports sent to admins
BI-powered analytics dashboard
Monitor activities and gain valuable insights
Access to dashboard insights with key performance indicators
Success Stories

Mr. C. Zothakhuma
Registrar, Mizoram University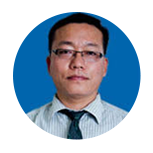 Dr. Swapnil Madhamshettiwar
Vice Principal, SP College, Chandrapur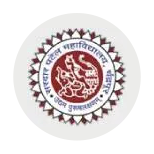 I want a MasterSoft College ERP for My Campus Now!
Request Demo
Why Use MasterSoft's College ERP Software

100% Data Security
& Privacy
A Step Towards a Paperless System
Highly Configurable with Provision of Customization
Built by Academicians, For Academicians
Augments Connectivity & Engagement
Best Cross Domain Experience & Feature Advantage
Strong Integration
Capabilities
MasterSoft Makes You Future Ready

Our Value
MasterSoft ERP Solution is the most trusted e-governance ERP provider based in India. A close experience with prestigious educational institutes including autonomous and MHRD governed and funded Institutions such as NITs, IIIT, and central universities, has helped our team members understand the educational framework and integrate best practices into our campus management solutions.
Built on the foundational principles of Innovation, Compliance, Data Security, and Transparency, our ERP products are time tested and proven to streamline institutional work processes & save time to improve efficiency of Campus.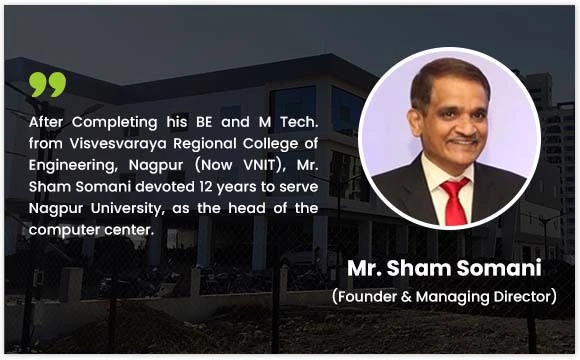 Frequently Asked Questions