MasterSoft's Fees Collection Software For Institutions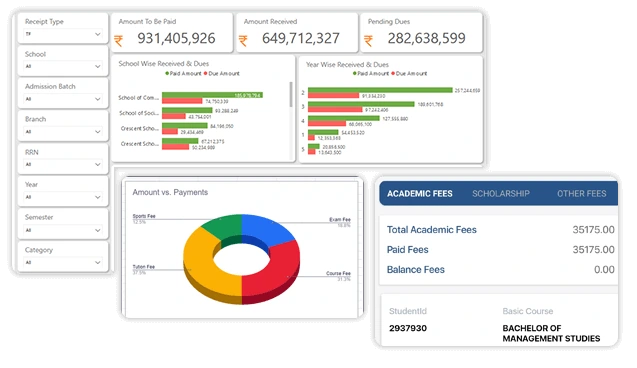 Fees collection is the most tedious task for any educational institution and requires precise attention for calculations such as pending fees status, fees concessions, scholarships & discounts, etc. Moreover the manual fees calculations & collection process doesn't guarantee 100% accuracy. Chances of errors while managing fees manually are tremendous which may impact the overall work procedure adversely. This is why switching to automated fee collection software is a smart decision for any institution. It not just delivers accurate fees-related calculations but also saves enormous time & effort of the administrative staff.
A fee management system is used as task management software that automates collecting fees and generating fee receipts. It eliminates duplicate data entries and minimizes errors when entering entries into school accounts. The system supports all sizes of public and private institutes.
Features Of Fees Collection Software

1

Simple Registration Process

Institutions just need to enter their email ID & mobile number to get registered on MasterSoft's fees collection portal. If you have implemented MasterSoft's ERP software, you can directly transfer the entire fees-related data to the cloud. In case you don't use ERP, there's a provision to upload course & fees details online via Excel.
2

Precise Fees Calculations

The student fees collection software enables the administrative department to auto-calculate fees for various categories of students considering factors like merit, scholarship, concessions, religion, caste, etc.
3

Multiple Modes Of Fees Payment

Designed & developed with the latest framework, the fees management system offers multiple modes of fees payment such as - debit card, credit card, or net banking. The fee is processed & transferred to the institution's account within 24 hours as per the norms of GOI.
4

Role-Based Access To The Staff

The online fees collection portal provides role-based access to the staff members to ensure complete data security & eliminate the risk of data theft in the institution. The admin can define access rights based on the position of the staff.
5

AI-Powered Analytics Dashboard

The fees management system enables the administrative faculty & higher management authorities to keep a tab on real-time data on daily fees transactions & generate fees collection MIS reports.
6

Fees Notifications & E-Receipts

The online fees payment software sends auto-generated pending fees-related reminders & notifications to parents every month or at a pre-defined time. Also, the fees software generates an e-receipt after every successful transaction & sends it to their registered email ID or mobile.
Online And Offline Fees Collection Software
MasterSoft's fees collection software is a 100% safe and secure platform to deliver online & offline fees collection & other fees-related operations seamlessly.


MasterSoft's Online Fees Collection Software
---
Designed and developed on an AI-powered technological framework, the fees collection software supports multiple modes of fees payment such as – debit card, credit card, net banking, etc. The fees amount can be transferred to the institution's bank account online within 24 hours as per the norms of the Government of India with just a few clicks. Student Ledger is updated with student fee records & outstanding ledgers updated.

MasterSoft's Offline - Counter Based Fees Collection
---
MasterSoft offers the provision of offline- counter-based fees collection as well. To make offline payments, students can visit the campus and pay the required amount of fees on the fees counter. The counter-based fees collection software auto-calculates the amount that needs to be paid or outstanding fees. The administrative staff just needs to take the amount and make the entry in the software for records.
Fees Management System - Challenges Vs. Solutions

Challenges faced by schools and colleges
Advancements as per requirements of institutions
Successful installation & implementation
Budget constraints of institutions
Time consumed for data transfer in the new system
Fees-related report generation
Hard to understand the navigation of the ERP
Challenges of data security & privacy
Solutions offered by MasterSoft's FCS
Configurable solutions by MasterSoft
Complete handholding & assistance
Affordable fees management system
Accurate MIS fees reports at few clicks
Easy-to-use interface for fees management
100% data security & privacy assured
Easy data migration provision to institutions