Accreditation Data Management System

MasterSoft's Cloud based Accreditation Data Management System offers a comprehensive System for assembling, managing & compiling data of of all the activities of the Higher Educational Institutes. It helps to generate required reports in desired formats for NAAC/NBA & national ranking agencies such as NIRF. Institutions can submit the data accurately & quickly without errors to various agencies. It also provides many graphical tools to coordinators for easy & effective monitoring of progress of Data entry work in the Software. The software includes-
Multiple logins so that users can enter & update data
Provision for uploading necessary proofs with data
Gives reports in desired accreditation formats
Offers high security and safe data back up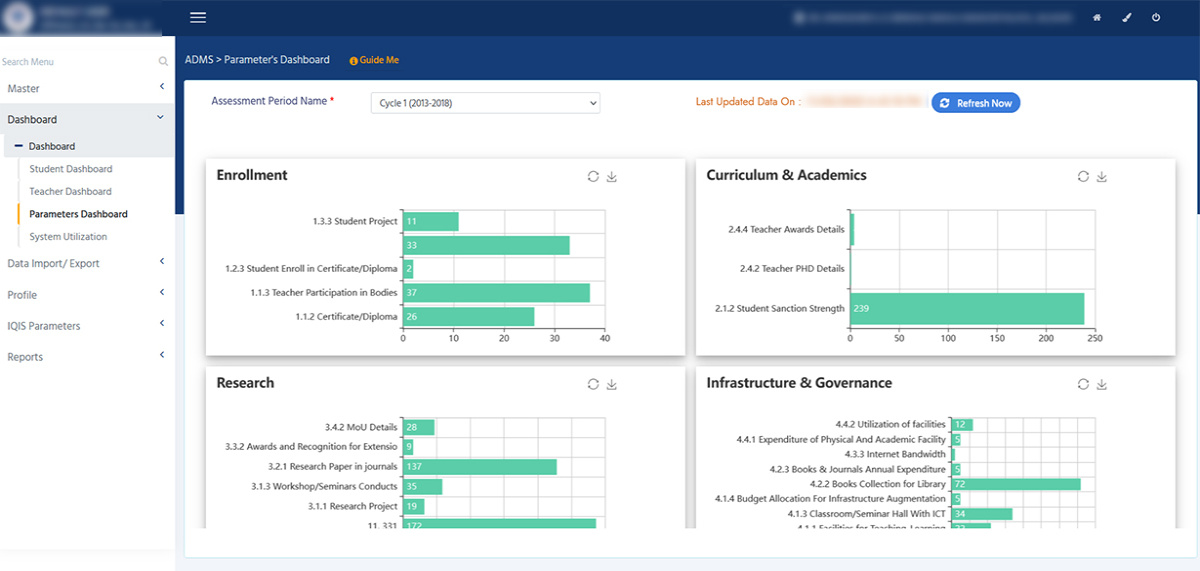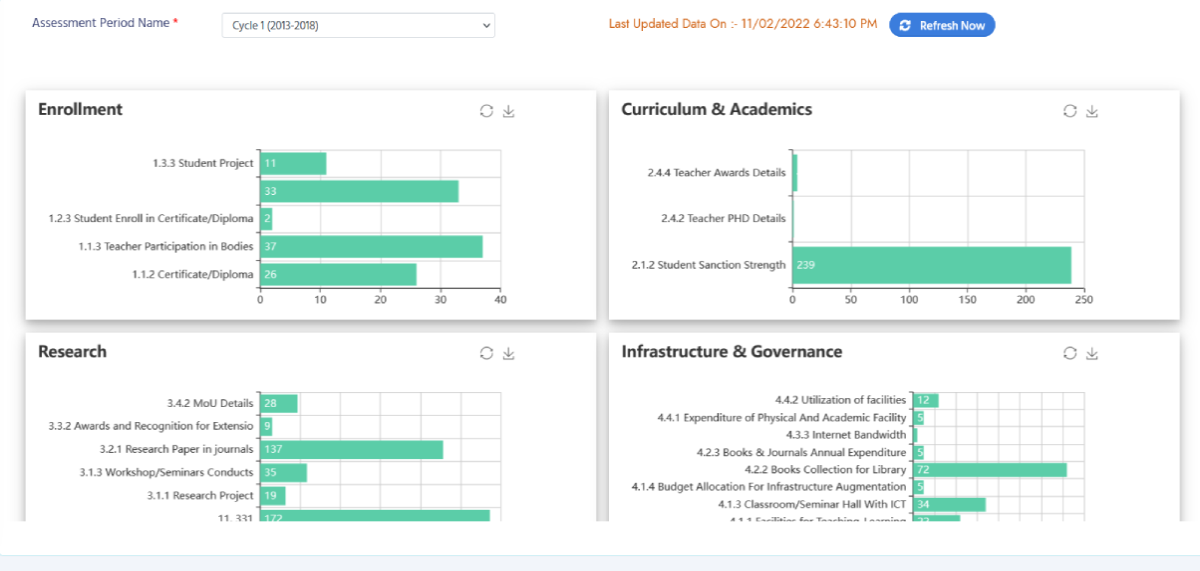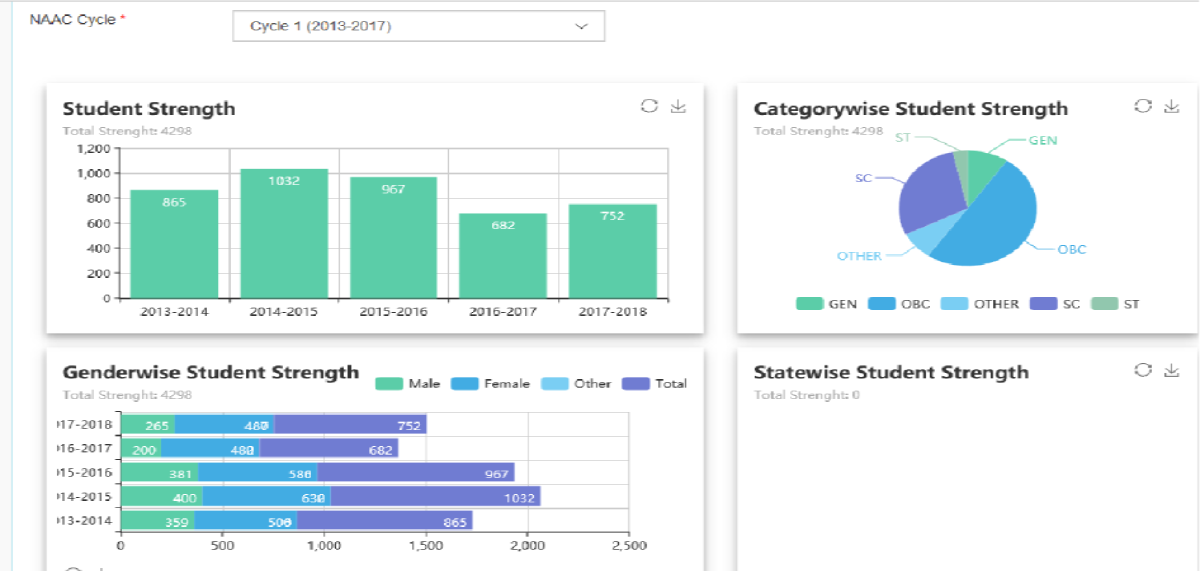 Challenges Faced
Accreditation Software
Organization of reports at College Level
Every stakeholder through his/ her individual login can enter information in static formats which is centralized at institute level
Maintaining Chronological Order & Date Formats
Records entered into the system are automatically date stamped, ensuring chronology and proper sequence
Ensuring Data Privacy & Vulnerability
Hosting Information on secure, password protected system ensure data security with role based limited access. Moreover Cloud system enable multiple auto backups securing data
Maintaining Supporting Documents
The system ensures that supporting documents / web links are maintained with each record. Linking record, chronology & supporting document
Monitoring Entries of Information
Access control remains with the Institution, where all entries and consolidated reports
can be generated in clicks
Essential Data Entry Points in Accreditation Software

Transfer data directly from ERP to Accreditation Software following are the data entry points

Academic Details
Institutional & Affiliated College details including the - Program & Category wise student & staff sanctioned strength, Program & Courses such as CBCS / Elective courses, Result of final year students, Curriculum Design, Implementation & Enrichment.

Other Details
Information of each student such as - Name, Enrolment No., Course details, Caste Category, Gender, Medium, State, Country, Mobile no., Adhar no., Fees type & Scholarship (Govt./ Pvt.), Disability.
Faculty & Staff
Basic details : Name, Designation, PAN & Adhar details, type, Date of joining & leaving, Email & mobile, previous experience, Caste Category, appointment type, Department, Promotions, Attach necessary documents
PH. D. & PH. D. supervised information
Grants for research projects along with books/paper published
Awards Received – Government, International & Private
Membership in various Academic bodies of University / Board
Workshops / conferences attended & paper presentation
Incentives received from Institute against Govt. / international recognition / awards
Infrastructure & Learning Resources
The following data will be recorded in the Accreditation System under various major heads.
CT enabled classrooms & equipments
Facilities for sports & cultural activities
Library automation & utilization
IT Infrastructure
Maintenance of Campus Infrastructure
Campus Extension Activities
Students
Value-added Certifications & programs
Capability enhancement & holistic programs
Special Programs for helping students
Student's grievances Readdressal
Competitive exams & career counseling
Faculty-Staff & Others
Awards & recognitions for extension activities
Collaboration/MOU with Industries
Sports and cultural activities
Training Programs for faculty & staff
Initiatives for local community
Finance
Grants from various Government/ Pvt. Bodies
Infrastructure improvement budget
Library books budget
Physical & academic facilities budget
Budget for R & D
Management & Governance
Vision and mission & core values
e-governance in Administration
Financial Assistance to Faculty for research & training
Financial Audits
teaching learning reforms
Feedback System
Feedback process of the Institution
Students & Teachers Feedback for improvement
Feedback by the student about Teaching
Continuous Internal Evaluation & Assessment
Improvements in Teaching-Learning
Alumni
Alumni database
Alumni Forums
Financial Contribution of Alumni / Association
Lectures delivered by Alumni
Alumni Association/Chapters meetings held
OBE – Outcome-Based Education
The following data will be recorded in the Accreditation System under various major heads.
Define Vision, Mission & PEO
Defining & mapping PO, CO, PSO
Define Exam Assessment pattern & Scheme
Exam registration of students
Attainment Calculation & reports
Accreditation Software to Ensure the Highest NIRF Ranking

NIRF or the National Institutional Ranking Framework, launched in 2015, is a standard & unique methodology sanctioned by the Ministry of Human Resource and Development (HRD Ministry). The NIRF framework's vision is to offer excellence in teaching-learning practices to help students & faculty. The major categories of institutions that fall under the NIRF ranking criteria include- Overall, University, Engineering, Management, Pharmacy, College, Medical, Law, Architecture, Dental, Research Institutes.
Ensure the best
educational practices
Improve teaching-
learning strategies
Make data-driven
decisions
Provide authentic information
to the NIRF committee
Features Of Accreditation Data Management System

1

Independent & Cost-Effective

Being a standalone edTech solution, it doesn't require integration with educational ERP software. Institutions can implement this mobile & web compatible assessment platform individually & save huge costs.
2

Mock Test Provision

Faculty gets the provision to design assign question banks & create mock tests to help students practice & prepare for the final test for self-evaluating their performance & ensuring better scores.
3

Question & Answer Shuffling

Enables faculty to prepare various question paper sets by shuffling questions & answers to minimize the chances of malpractices during the online examination.
4

Run Time Result Display

Teachers can predefine 'pass' & 'fail' criteria. The questions are processed & auto-calculated at a faster speed and run time results are displayed immediately at the end of the examination.
5

Real-Time Proctoring System

Faculty can monitor crucial details such as time taken for solving questions, number of attendees, etc. Also, any new browser automatically gets disabled when the exam starts ensuring best practices.
6

Accurate Reports Generation

Ensures error-free result calculation & generation of various MIS reports to identify the academic strength & weaknesses of students to help faculty prepare the best teaching strategies.
Easily Obtain Accreditation from a Recognised Entity by Automating the Overall Data Collection Process!
Request Demo
Key Benefits of Accreditation Data Management System

Quick Access to Policies & Procedures
Updated Policies is Notified to Everyone
Centralized Location for Key Procedures
Modify Policies in One Location
Easier On-Site Review
Attach Policies to Each Standard
Prove Compliance with Complete Privacy
Role-Based Access for Data Security
Direct Data Fetching Integrated With MasterSoft ERP
Simplified Integration with SIS and LMS
Prevent Repetitive Data Entry
Easy Upload of Academic Activity Reports
Better Communication Among Departments
FAQs on Accreditation Data Management System

The accreditation data management software is an advanced edTech tool to compile and manage data & supporting documents required for successfully getting accredited by reputed accreditation agencies.
Accreditation is important to the reputation of higher education institutions among students and employers. Accreditation management software accelerates and simplifies all criteria necessary for accreditation, making it easier and faster to qualify for accreditation.
The accreditation data management system can help institutions manage the given activities and simplify their journey to accreditation.
Data fetching from ERP software

Auto-generated 100% accurate compliance reports

Data management in chronological order

Mianatinence of supporting documents & evidence for accreditation

AI-powered analytics for better insights
Accreditation is like a hallmark of quality education in educational institutions. It reflects the highest quality education & work processes of HEIs. Therefore, every HEI must try to get accredited by a recognized accreditation entity.