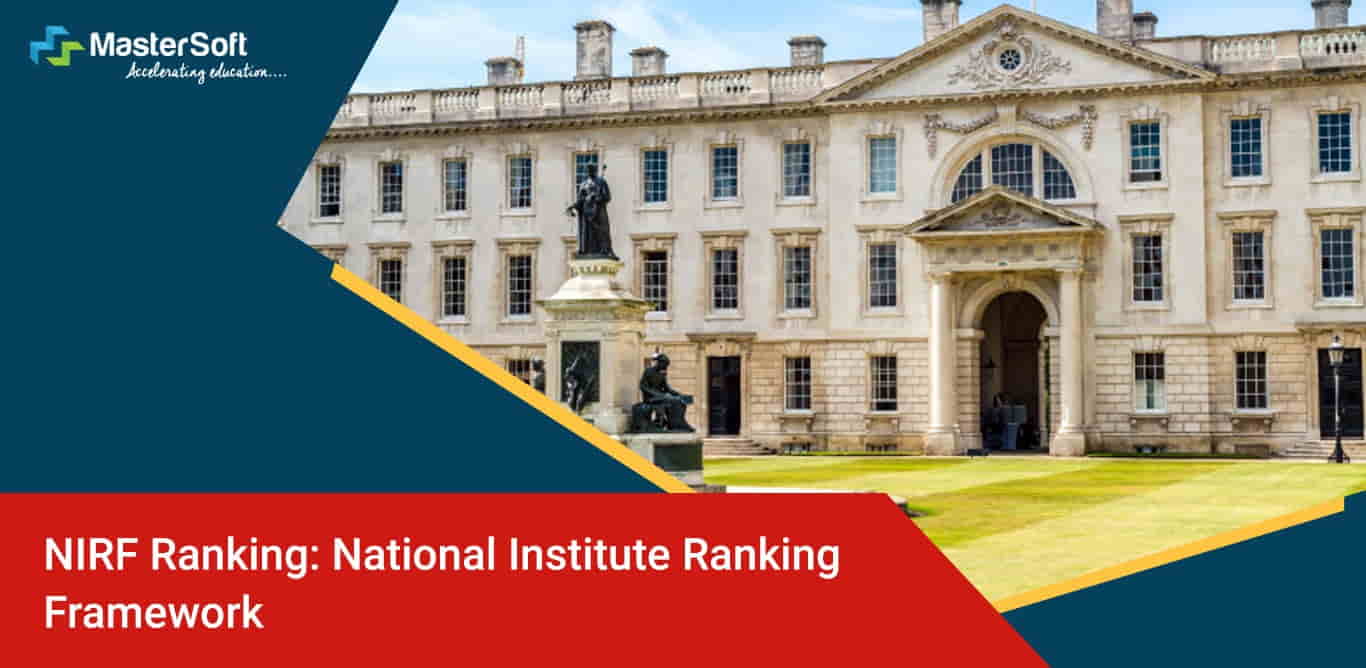 "This institute comes among the top 100 institutes in the country!"
Such statements would surely catch the eye of anyone, but have you ever wondered what it takes to be counted as one of the top educational institutes or what is the process that is involved in it?
NIRF ranking list is one of the prominent ways in which the institutes can work themselves way up to be included in the ranking or contenders of top institutes.
Before I get into details about the NIRF ranking, let us first understand the difference between "Ranking" & "Accreditation".
Accreditation V/S Ranking
In terms of common ground accreditation and ranking, both are the medium through which the overall quality of an educational program and institute is measured.
Both the frameworks are dedicated to assessing the complete quality parameters of education which includes the quality and quantity of the teaching and learning process, the quality and quantity aspect associated with it. Other important components include the rate of performance improvement, institutional support, governance, student performance, graduate outcomes, inclusivity, etc.
Despite both being an assessor of educational institutes, both have considerable differences in terms of specific criteria, metrics used to prepare the qualitative and quantitative reports. Other significant ways in which both differ from each other are weightages assigned by both the educational boards, methodologies to assess as well as the description of the outcomes.
Accreditation
As for the duration, accreditation is a comprehensive assessment that takes place as a one-time (5 year) event, wherein the institutes which are accredited can submit their yearly performance accordingly. An absolute grade is provided by the accreditation bodies after careful analysis of all the parameters and metrics.
This helps to keep the stakeholders informed about how the institutes are doing scholastically or academically, it is noteworthy to mention that accreditation is a distinguished framework in the sense that very few institutes can attain it.
For instance, the duration of NAAC Accreditation is five years whereas it is three to six years when it comes to NBA.
Ranking
Ranking on the other hand is a yearly event that occurs every year without fail, it is like an annual; report card to a particular nation as well as the stakeholders. This helps to determine the institutes' activities over the past year in terms of academic performance, school or college events, etc.
Let us now hop on to the actual topic - NIRF in detail.
What is NIRF Ranking?
NIRF full form which stands for National Institutional Ranking Framework is a unique methodology that was sanctioned by the Ministry of Human Resource and Development, as a way to rank institutions based on a set of standard criteria. This framework was launched in the year 2015 with the vision of fostering excellence among the various institutes across the country.
It ensures that the institute is working hard in all parameters of education and non-academic aspects to improve its performance. According to the fifth update, the different fields eligible for NIRF rankings are Engineering, University, Pharmacy, College, Management, Dental, Medical, Law, Research Institute, Architecture, and others.
NIRF Rankings 2022: Top 10 Colleges In India
IIT Madras
IIT Delhi
IIT Bombay
IIT Kanpur
IIT Kharagpur
IIT Roorkee
IIT Guwahati
National Institute of Technology, Tiruchirappalli
IIT Hyderabad
National Institute of Technology Karnataka, Surathkal
Source: ICNN News
Importance of NIRF Ranking
Good NIRF ranking helps the institutes to attract students for enrollment.
It is one of the key factors influencing student's admission interest
Helps institutes to take measures for improving their performance
Ensures that there is no complacency in institutes
Encourages the institutes to work harder to provide quality education
Improves overall education standards of the universities
Why does NIRF ranking matter for Education Institutes?
NIRF ranking plays an important role in institutes because
It improves the reputation of the institute
It attracts students that are passionate and bright in the subjects
It brings more opportunities and platforms to the institutes
It attracts large companies and organizations for placements
It ensures good social practices in the institute
There are eleven categories of NIRF which are as follows:
University
Engineering
Management
Pharmacy
College
Medical
Law
Architecture
Dental
Research Institute
Overall
As of NIRF ranking 2022, Research Institutes has also been equally emphasized as another category.
With every passing year, NIRF is coming up with new categories, giving the educational institutes plenty of opportunities to try their luck in terms of enlisting themselves as one of the running contenders for the prized position. Due to increased awareness and demand, all the stakeholders, be it, parents or students, know what NIRF college ranking is all about.
The institutes need to make deliberate efforts and be ready to go through elaborate processes to achieve ranking and get included in the top hundred. If you are a part of an institute it will bode well if you pay attention to the strategies and key methodologies. NIRF Ranking 2021 was expected to be released in the second week of June. However, it will be released soon.
As per the methodology of NIRF, there are five ranking parameters which are as follows:
Teaching, learning, and resources
Research and professional practice
Graduation outcomes
Outreach and inclusivity
Peer perception
Criteria for NIRF Ranking
These parameters are also the criteria for NIRF ranking and form the foundation for the framework. Let us take a look at them in detail:
#1: Teaching, Learning, and Resources
The first parameters are associated with the main activities of an educational institute, they focus on measuring the number of teachers, assessing the quality of teaching, library, lab resources for research, and all the other academic facilities provided by the institute for the ultimate development of the learners. Extra-curricular activities such as sports and other scholarly events are also counted under this parameter.
#2: Research and Professional Practice
Apart from efficiency in teaching and learning techniques, academics are also associated with the contributions of the teachers and students. Faculty members have the social responsibility of imparting their knowledge and expertise for the betterment of society and illuminating the people with their findings. Hence this particular parameter serves to measure the quality and quantity of the research work through IPR generation, collaborative efforts with industry and fellow professionals.
#3: Graduation Outcomes
To put it simply this parameter acts as a litmus paper when it comes to the core teaching and learning activities. By measuring the rate of graduation per class in a year and the rate of success or failure in terms of finding employment opportunities or pursuing higher studies thereafter. This also propels the educational institutes to emphasize more on output-based learning and teaching techniques rather than just sticking to the age-old rote learning.
#4: Outreach and Inclusivity
What is the percentage of students who enroll themselves in the institutes from different states and countries?
Does the institute put any emphasis on the representation of women?
How about the socially and economically challenged persons?
Does the institute's facility include special arrangements for physically challenged persons?
These are some of the questions or factors that come under the outreach parameter.
#5: Peer Perception
This parameter is essential to gauge the perceptions of different stakeholders, one way to create positive peer perception is by creating a good rapport with various reputed organizations, calling the experts from IITs, and different industries.
By inviting them to various seminars, events, training sessions, so that you will be in touch with them. Henceforth when the stakeholder's survey will be done, the weightage would come in your favor.
Just like any other institutes, the metrics for the NIRF ranking of engineering colleges are generally based upon five parameters which are further subdivided into subgroups.
NIRF Ranking Parameters: How is NIRF calculated?
| Parameter | Marks | Ov | Unv | Engg | Mngt | Phar | College | Med | Law | Arch | Dental |
| --- | --- | --- | --- | --- | --- | --- | --- | --- | --- | --- | --- |
| Teaching, Learning & Resource (TLR) | 100 | 0.30 | 0.30 | 0.30 | 0.30 | 0.30 | 0.40 | 0.30 | 0.40 | 0.40 | 0.30 |
| Research, Professional Practice & Collaborative Performance (RPC) | 100 | 0.30 | 0.30 | 0.30 | 0.30 | 0.30 | 0.15 | 0.30 | 0.15 | 0.20 | 0.30 |
| Graduation Outcome (GI) | 100 | 0.20 | 0.20 | 0.20 | 0.20 | 0.20 | 0.25 | 0.20 | 0.25 | 0.20 | 0.20 |
| Outreach and Inclusivity (OI) | 100 | 0.20 | 0.20 | 0.20 | 0.20 | 0.20 | 0.20 | 0.20 | 0.20 | 0.20 | 0.20 |
| Perception (PR) | 100 | 0.10 | 0.10 | 0.10 | 0.10 | 0.10 | 0.10 | 0.10 | 0.10 | 0.10 | 0.10 |
The calculations for NIRF are quite elaborate and specific to the parameters, say for example the marks your institute got are 60, 50, 70, 90, 80 in all the components of the parameters. Now what will happen is that the marks will get multiplied with the weightage 40 percent of sixty is 24 marks which is the NIRF score, then accordingly the same way the other parameters are going to be calculated. The last step will be to make a sum of it which will give the aggregate score out of 100 and based on this score the ranking will be determined and further published by NIRF.
Apart from all the other categories, colleges and architecture category the weightage is slightly different.
So if someone were to ask you what NIRF ranking is based on, then you will need to reply that apart from meeting the essential criteria of the framework it also focuses on the aggregate score.
Data Capture Format
Institute/ University need to be filled up by the Institution for Past 3 Years on NIRF
Sanctioned and Approved Intake
Total Student Strength
Placement and Higher Studies (Details need to be provided in Excel)
Financial Resources
Sponsored Research Projects (Details need to be Provided in Excel)
Consultancy Projects
Patent (Published and Granted) (Verified from Derwent Innovation)
Teachers: Awards of National and International Repute
NBA Accreditation Information of Programmes
Faculty Details
Publications in SCOPUS and Web of Science will be considered
How to Improve NIRF Ranking?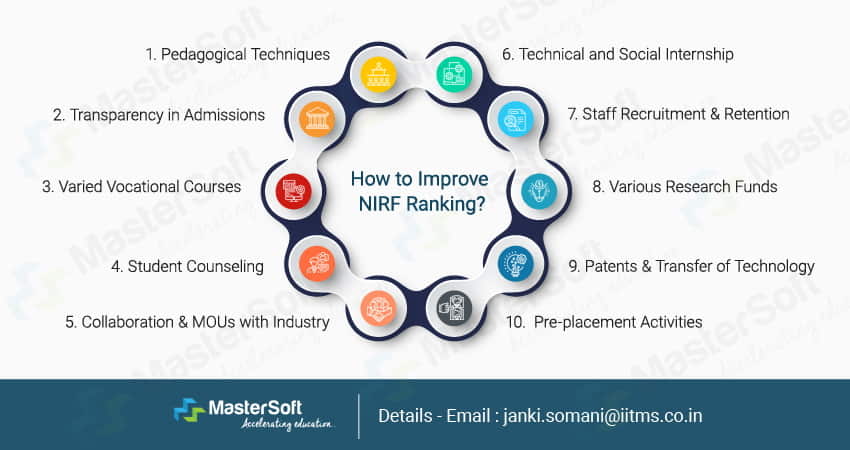 Several best practices can be instrumental in improving the NIRF ranking which is as follows:
1) Pedagogical Techniques
What better way to raise the bar of excellence than enhancing the learning and teaching methods?
Getting accustomed to the latest pedagogical techniques can improve the standard of education in the institute.
2) Transparency in Admissions
Oftentimes the parents of the students are put off by the tedious and rather conspicuous admission process. Transparency in admission will only serve to strengthen the trust in parents regarding the institutes.
3) Varied Courses
The inclusion of multidisciplinary and interdisciplinary courses will serve to broaden the range of options for students, unlike other colleges if your institute includes these courses then it will also raise the institute's reputation.
4) Student Counseling
Student counseling has proven to be one of the most popular activities on college campuses, as a way to help the students who are about to embark on a journey of making something of themselves. Be it career counseling or otherwise, it can prove to be immensely helpful.
5) Full Time or Part-time Vocational Courses
Apart from the core subjects, if the institutes also include classes for providing vocational courses, then it will help the students attain additional specialized skills which would play a key role in opening doors of opportunities for them. Also, this is a great way to get recognized and get closer to enlisting your institute for NIRF India.
6) Collaboration & MOUs with Industry, Research Organization, Institute of Eminence
Broadening the network of institutes could be beneficial in the long run as they can provide a positive influence in terms of the reputation of the institute. Teaming up with various research organizations will also indicate that the institute is making considerable contributions in terms of research and development. Collaborating with other eminent institutions in important educational events will help in spreading the word about the activities conducted by the institute.
7) 2 Week / 4 Week / 6 Month Technical and Social Internship
The institute can also conduct various technical internships ranging in duration from two to four weeks, and a longer one could extend up to six months. Technical internships will help the students gain additional knowledge, this will help the students gain employment opportunities in the future. Social internships on the other hand will provide the students with ample opportunities to involve themselves with social services wherein they will gain in-depth experiences in dealing with case management, assessment, evaluation, and treatment of clients. An integral part of this is to evaluate services and address the needs of the community.
8) Staff Recruitment with Ph.D. | Highest Degree | Retention of Staff | Balanced Male-Female Ratio
How do you enhance teaching and learning? What is one of the most important aspects of the organizational structure of the institute?
Faculties with Ph.D. are important criteria when it comes to recruiting teachers or professors with distinguished educational qualifications each with specific areas of study. Making sure that the management of the institute maintains an environment conducive to enriched teaching and learning experience for the teachers is also important.
To avert any discrimination, maintaining a balanced ratio of male and female staff, faculties, as well as students (in the case of co-educational schools), is of utmost priority.
9) Apply for Various Research Funds | Seed Money | Consultancy
It is quite probable that an institute might not have enough resources to invest it for research, so it is highly suggested that the institutes could apply for various research funds wherein the faculty experts along with students can continue with their research and developmental activities.
To secure seed money the institutes could take part in various educational meets and expos, wherein they could talk about their research initiatives and plans in the pipeline. This could attract potential investors who are like-minded and would be willing to associate themselves with the institutes.
10) Patents and Transfer of Technology
After spending time, effort, and resources in research it is essential to patent the research or invention to avoid theft or plagiarism. Transfer of technology, on the other hand, deals with the movement of research data, technical know-how, inventions, research materials, from one organization to another. This procedure should be done by keeping in mind that there are certain laws and guidelines which the researchers or the organization that is involved need to follow.
11) Pre-placement Activities | Placement Activities | Post-Placement Assistance and Followups
Is the goal of a university or a college confined to providing just education?
The answer is no, the institutes are responsible for the wholesome enhancement of the abilities of the student. By not only providing value-based education but also ensuring career opportunities for them, output-based education is largely responsible for inculcating specific skills within the students which would be beneficial to them while finding a job. The head start to career needs to be given by the institute itself by providing pre-placement activities such as skill development sessions, helping to face the interviews confidently, helping to communicate effectively, cracking aptitude tests, etc. The placement activities on the other hand include integrating with various companies who are looking to hire fresh graduates with relevant skills, the representatives of these companies could set camps in the college or university itself. Following a successful hire, the institute must provide additional guidance to the students who are dissatisfied with their job and hence want to pursue some other opportunities.
To get detailed & authentic information about NIRF Rankings directly from experts, you can watch the video here -
FAQ's On National Institutional Ranking Framework (NIRF Ranking)

NIRF ranking is a framework adopted by the government to rank the higher educational institutes of the country.
NIRF ranking is crucial for institutes as students' interest in admission in the institute is dependent on its ranking. The colleges strive for better performance to improve their rankings.
Parameters of NIRF Ranking are-
Teaching-learning and resources
Graduation outcomes
Research, Professional Practice & Collaborative Performance
Outreach
Perception