Frank Herbert once quoted -
"One learns from books and examples only that certain things can be done. Actual learning requires that you do those things."
This quote reflects that learning is a lifelong process. It can't be confined to the four walls of the classroom & holds the power to impact a learner's life.
Likewise, the learning outcomes – the result or impact of learning can't be confined to grades or marks obtained by learners in exams. The concept of learning outcomes extends beyond the "knowledge" attained by students in academics.
This is why the New Education Policy (NEP 2020) has emphasized defining & achieving the best learning outcomes by encouraging institutions to offer "student-centric" education.
Before going in-depth about the various learning outcomes, let's first understand what learning outcomes are…
What are Learning Outcomes?
The learning outcomes provide an overview of what students should know, be able to do, or be able to value after completing a course or program. Learning outcomes means how much knowledge or skills a student should acquire through various assignments, course, class or programs, by the end of a specific time period. They are observable and measurable by knowledge, skills, abilities, values, etc. Learning outcomes describe clearly what it is you want your students to be able to do by the end of a course.
The learning outcomes focus more on student performance rather than they do on traditional techniques or courses.
However, in a broader perspective, the term "Learning Outcomes" can be defined as an amalgamation of a learner's knowledge, skill set, and the ability to leverage them in real-time situations. There are several taxonomies such as SOLO (Structure of Observed Learning Outcomes), Bloom's Taxonomy, Fink's Taxonomy, Wiggins and McTighe Taxonomy on education. An ideal learning outcome would be something that abides by all the aspects of Bloom's Taxonomy as it promotes knowledge & skill development in individuals and makes them life-long learners.
5 types of learning outcomes
Intellectual skills This type of learning outcome enables the learner to understand rules, concepts, or procedures.
Cognitive strategy In this type, the learner uses his or her thinking abilities to make strategies and organize, learn, think, and behave.
Verbal information
Motor skills
Attitude
What is the Focus of Student Learning Outcome?
The main focus of student learning outcomes is to make students academically sound, skillful, and prepare them for life-long learning. 
When we speak of "learning outcomes" – we must pay attention to whether they are–
S-Specific
M-Measurable
A-Achievable
R-Realistic
T-Timely
In short, the learning outcomes must be "SMART" & clearly defined in terms of attainability! It will empower students to achieve the outcomes smoothly.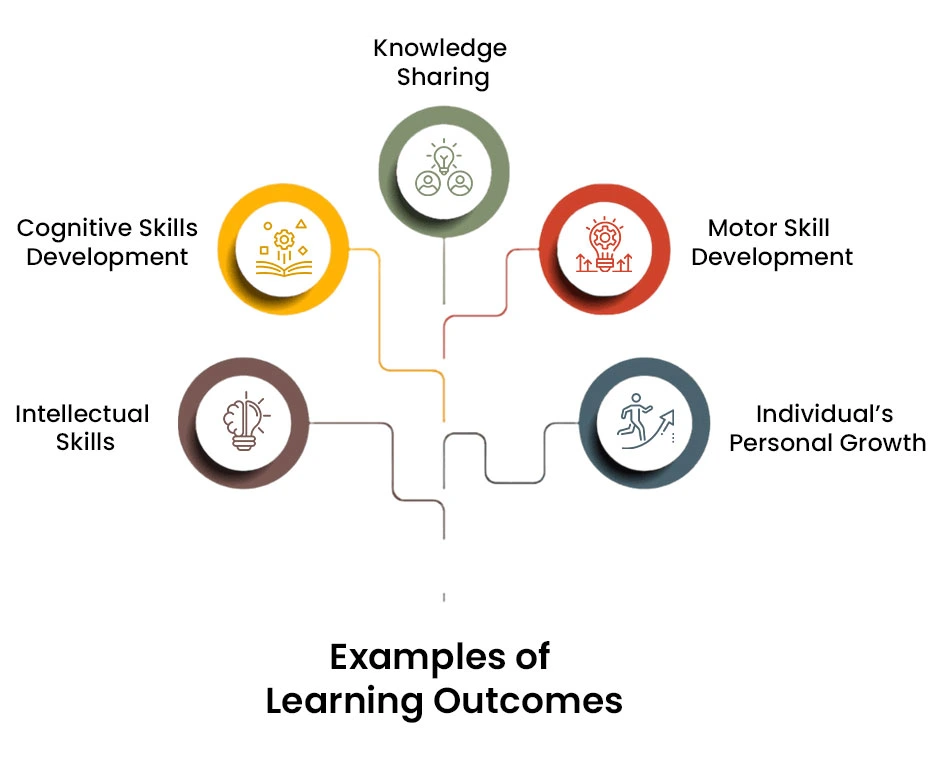 Why Develop Learning Outcomes?
Students are aware that a degree is necessary to be employable. The major difficulty is helping students develop a very intentional mindset in relation to the kinds of learning and achievements that the degree symbolizes.
Learning outcomes are incredibly valuable to administrators, teachers, and students. Assessment and learning activities are shaped by the creation of learning outcomes and their application within a unit of instruction. This can greatly enhance student engagement and learning. The creation of learning outcomes has gained popularity among teachers over the past several years due to its capacity to serve various groups in postsecondary education.
As the public and government focus on the quality of higher education grows, learning outcomes serve as a useful tool for defining the goals and critical aspects of higher education within the institution, for students, and for the general public.
Characteristics of Good Learning Outcomes
Good learning outcomes mainly emphasize the integration and application of the knowledge and skills acquired in a particular unit of instruction, and emerge from a process of reflection on the important contents of a course.
Some of the key characteristics of good learning outcomes include:
Good Learning Outcomes are Very Specific and Use Active Language:

These outcomes are usually very specific and use verbs in particular, which makes the expectation clear. It informs students of the standards by which they will be assessed and ensures that student and teacher goals in the course are aligned. Wherever possible, avoid terms such as "demonstrate," "understand," or "discuss" that can be interpreted in many ways.

Are Primarily Concerned with the Student:

Rather than explaining what the teacher will do in the lecture, good learning outcomes describe skills that the student will employ and help them understand why those skills are valuable and useful to their professional, personal, and academic futures.

Are Practical, Not Inspirational:

All passing students must be able to demonstrate the knowledge or skill described by the learning outcome at the conclusion of the course. In this way, ;learning outcomes establish standards for the course.

Focus on the Application and Integration of Acquired Knowledge and Skills:

Good learning outcomes reflect the ways in which the described knowledge and skills may be used by the student now and in the future.

Indicate Useful Modes of Assessment:

Specific elements are assessed. Good learning outcomes prepare students for assessment and help them feel engaged in and empowered by the evaluation and assessment process.
How to Write Learning Outcomes?
Learning goals must be articulated in such a way that they cover - 
All the educational goals of the students as well as institutions
Offer a roadmap to achieve course outcomes & program outcomes
Based on knowledge & skill development & can be attained via teaching-learning methods
Focuses on students' growth & enable them to develop a lifelong learner mindset
Makes students capable of handling problems in real-life situations
Practices to Avoid While Building Learning Outcomes
While articulating learning outcomes, the faculty or educators must take care of the following-
Do not focus on "teacher-centric" practices -always make the learning "student-centric"
Do not confine the learning outcomes to course or program outcomes
Do not include projects that are not aligned with the students learning outcomes
Do not force students to learn the theoretical concepts for an academic score, instead encourage them to learn with practical experiments
Be specific in terms of what to expect- the learning outcomes must be measurable 
Improve your Institute's Management along with Teaching- Learning Methods with MasterSoft!
Levels of Learning Outcomes
Technically, there are the following two major levels of learning outcomes that a learner needs to outgrow for attaining the highest level.
Level 1: Course Outcomes (COs)
Course outcomes can be defined as a particular set of goals that the faculty wants their students to reach at the end of any semester or academic year.
For example – If a student enrolls himself in a Mathematics Course. He/she must be able to learn various subjects & gain understanding about it in an academic year.
If the learner is asked to find out the root of any given equation by using the Newton-Raphson method accurate to third decimal placethen -
Action: Determine (Apply)
Knowledge: Root of the given equation (Conceptual & Procedural)
Condition: Using the Newton-Raphson method
Criterion: accurate to the third decimal place
Level 2: Program Outcomes (POs) and Program Specific Outcomes (PSOs)
Program Outcomes: POs can be defined as a particular set of goals that the faculty wants their students to reach at the end of any program/degree/graduation.
Example -
Program Specific Outcomes: Student who has completed Engineering is asked to perform a practical. He/she should be able to do it with the help of the concept learned in the program.
Example - PSOs define what the graduates of a particular program should be able to do at the completion of the program.
Level 3: Life-Long Learning
Here, the story gets different.
Students learn various things during their academic sessions but they contribute their learning & knowledge to create something new & for the welfare of the country & society.
Example - An educated individual innovating a device to help elderly people with the help of the knowledge he/she has & keeps on updating the knowledge throughout the life. Student who has completed Computer Engineering is asked to design & develop software. He/she should be able to plan, analyze, and design software with the help of knowledge gained. 
Examples of Learning Outcomes
Evaluate the theories, principles, terminologies, and basic concepts used in the main branches of science
View the disciplinary practices and principles in new and complex areas
Evaluate the medical needs of people across a particular part of the society
Learning outcomes are not limited to just the academic growth of a learner. Being a scholar by achieving Course Outcomes & Program Outcomes is an undoubtedly crucial aspect but there are other types of important learning outcomes as well.
Intellectual Skills
Cognitive Skills Development
Knowledge Sharing
Motor Skill Development
Individual's Personal Growth
Let's understand the examples of learning outcomes one by one.
#1. Intellectual Skills
With this type of learning outcome, learners must be able to understand the concept in depth to acquire the highest learning outcomes. Gaining knowledge is the basic learning outcome expected from a student.
#2: Cognitive Skills Development
This learning outcome encourages students to think, analyze, and understand in depth the value of a certain concept & then behave accordingly.
#3: Knowledge Sharing
Students must be able to pass on valuable information to others. So, in this learning outcome, students are supposed to create a value system of knowledge by first gaining it & then sharing it with the world.
#4: Motor Skill Development
Motor skill development deals with improving a student's ability to plan & take appropriate action in terms of their physicality. They must work towards their health & physical well-being.
#5: Individual's Personal Growth
This learning outcome reflects the internal state of the learner's behavior. It measures Personal growth in terms of knowledge, skills, and ability to create something for society is the highest stage of learning. The learner must be able to respond according to the situation he/she faces in real life & maintain a balance between professional & personal life.
Personal growth in terms of knowledge, skills, and ability to create something for society is the highest stage of learning. The learner must be able to respond according to the situation he/she faces in real life & maintain a balance between professional & personal life.
If you look closely all the student learning outcomes can be attained by following Bloom's Taxonomy comprising of the given stages–
Remember
Comprehension
Application
Analysis
Evaluation
Creation
And therefore,Bloom's Taxonomy can be considered as ideal while defining learning outcomes. If a student wants to reach the ultimate stage, then he/she has to go through all the stages and be willing to think & act "out of the box".
EdTech tools like school ERP or college ERP software with online assessment software & e-learning systems can help students in their journey.
Learning Objectives v/s Learning Outcomes
Although they may sound similar, there's a fine line between learning outcomes & learning objectives. They are different yet interlinked.
Let me help you understand the difference between the two with the following examples of learning outcomes & objectives-   
Learning Objectives

Learning Outcomes

The learner should attain knowledge about a certain topic.
The learner should develop various skills.
The learner should understand the
challenges of a certain concept in details.
Case I: Learner reads books about English & prepares for the upcoming test.
Case II: Student understands the concept of Human Biology & Medicines.
Case III: Completing certain levels of assessments.
The learner should leverage the knowledge to create something.
The learner should learn to utilize the skills.
The learner should utilize his skills & knowledge to analyze & overcome the challenges.
Case I: Learner understands the language English and
writes a book.
Case II:Student becomes a Doctor & rightfully performs his duty & enables others to do the same.
Case III: Acquiring skills while doing the assessments .
In a nutshell, learning outcomes are mapped & measured in terms of "Action". Whereas, learning objectives are confined to the "Plan of Action".
Key Benefits of Learning Outcomes
The following list depicts the key benefits of learning outcomes attainment.
Makes students skillful, smart & efficient
Develop capability to analyze & deal with real situations
Enables students to be a lifelong learner
Students emphasize innovation rather than norms
Enhances the value of education
Learner gains knowledge, values & becomes successful in every manner
Encourages learners to create a better society
How MasterSoft Can Help You Ease the Implementation Journey of the Learning Outcomes Successfully?
To help students attain the learning outcomes, MasterSoft has designed & developed edTech tools such as a learning management system (LMS) that offers the given advantages and helps students to attain learning outcomes.
#1: Design Competent Curriculum & Online Assessments
As an educator, you need to prepare a syllabus & curriculum that would encourage students to brainstorm, analyze, and develop a mindset of "doer".
With MasterSoft's E-learning Software with online assessment tools, you can design a curriculum & syllabus that follows Bloom's Taxonomy. You also get the provision to create assessment questions based on various stages of Bloom's Taxonomy to help students at various stages of their knowledge level.
To make things interesting & engaging, there are various assessment patterns that could be introduced such as –
MCQs
Descriptive tests
Online Quizzes
#2: Educational Models - LOCF & OBE
Touted to be the most efficient educational models – (OBE) Outcome-Based Education, (LOCF) Learning Outcome Based Curriculum Framework, you must think of implementing them.
MasterSoft offers edTech ERP software that could help you integrate these educational models and calculate the Outcomes & Program Outcomes – COs & POs throughout students' educational journey.
The ultimate learning outcome extends beyond COs-POs but to ensure one reaches the stage, excelling at these levels of learning outcomes is crucial.
#3: Analyze & Enhance Student Performance
MasterSoft's ERP software is not limited to offering to map & measuring CO-PO levels of learning outcomes. With the inbuilt AI-powered analytics dashboard, you can continuously map students' performance based on –
Subjects wise questions
Skills-based questions
Practical knowledge
Theoretical Knowledge
You can understand thoroughly where the student requires your help the most & then bring innovation in your teaching methodologies.  
Ready to take a step ahead?
Choose MasterSoft!
We are your most trusted partners in digital transformation!
Integrated with Next-level Technology for a Seamless Online Teaching-Learning Experience!
MasterSoft Provides You an ALL-in-One "E-learning" Platform!
Mobile: 08448010216
Email: janki.somani@iitms.co.in
FAQs on Learning Outcomes