What is Student Information System (SIS)?

Student Management System (SMS) is a software designed to track and manage all the data created by the school such as a student's grades, attendance, interpersonal activity records, etc., as well as other school-related data. The comprehensive data that includes - student's registration information, admission detail, fees payment status, hostel billing, scholarships or any other financial aid provision, etc can be shared with faculty, students and parents to make the entire process of students' enrollment quick, systematic & error-free. Furthermore, the entire students' information can be saved at a centralized location & role-based login access can be given to all the stakeholders for ensuring 100% student data security.
Why Student Information System (SIS)?

The ultimate target of an educational institution is to enhance the performance of every student. This can promptly be achieved by analyzing the performance of each student using competent analytic tools such as an AI-powered dashboard. The information thus obtained can be deployed for taking effective as well as corrective measures to help them in performing better and realizing their potential. If not done systematically, this process may become time-consuming and tedious. 
Student Information System (SIS) assists the institutions to

Manage every single detail about students in a holistic, organized, and cost-effective way.
Education ERP efficiently eliminates the need for faculty members to spend a considerable amount of time compiling student data. 
Assists the faculty members in channelizing their concentration on the students and their performance enhancement.
Features Of Student Information Management System (SIMS)

Student information system has gained huge popularity in the educational sector because of its unique characteristics which has helped countless schools and higher educational institutes immensely. Right from maintaining and updating student data with proficiency to analyzing and creating reports, the education management software has helped substantially. Here are some valued features of SIS: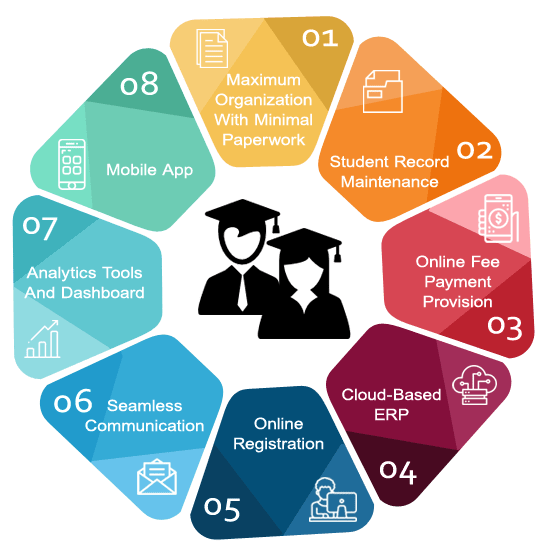 Maximum Organization With Minimal Paperwork:

The SIS software designed exclusively for academic institutions by MasterSoft helps the educational campuses in streamlining and managing all the tasks involved in student admission. It makes the time consuming and hectic process of student enrollment easy by reducing the paperwork considerably and digitizing each process for achieving productivity and transparency.

Student Record Maintenance:

The vast amount of information generated by every student can systematically and efficiently be updated on the student data management software, thereby facilitating the administration to manage as well as organize all kinds of information, ready to be used as and when needed. The faculty can effortlessly issue updated report cards, manage student's transcripts and obtain any information on the go. A student's progress can also be tracked with the help of various analytic tools and dashboards available, which also have various types of filters for varying uses. Also a student's health records can be maintained in order to be informed about any allergies or illnesses they might suffer from, to keep a check on their well-being.
Online Fee Payment Provision:

Parents and students alike can pay the fees online via any mode of their choice. This ensures hassle-free and error free collection of fees without any burden on the staff as well as the students. Notification is sent after receiving the fee amount, making the transaction transparent and secure. Also, an email or SMS alert can be sent to students with overdues. SIS provides a secure fee payment platform for schools and higher educational institutes.

Cloud-Based ERP:

The cloud-based education erp is customizable and flexible which makes it suitable for all kinds of institutions having varying needs and requisites. Also, a very limited number of hardware is required on campus as most of the hardware is maintained by the ERP provider, which makes it maintenance free and cost effective. Moreover, education institutes have the facility to pay as per their usage. Another benefit of cloud-based SIS is that institutes do not require appointing any hardware or software engineer staff.

Online Registration:

The system facilitates the students in applying and registering online, thereby eliminating any kind of physical attendance for the admission process. Timely notifications and emails are sent to the students informing them about every admission process taking place online. Customization of this data can be done by the administration enabling them to be transparent in their allotment process as well as securing confidential data. Students can also keep track of their application through SIMS.
Seamless Communication:

Effective, transparent and quick communication is the key to run any organization smoothly. The higher education software ensures fast and reliable communication between every prime member of the educational loop such as the administration, faculty, students and parents. It also helps the management to reach out to anyone at any time with a few clicks. All the information exchanged is kept secured in order to maintain privacy and safety.

Analytics tools and Dashboard:

Organized data can prove to be an asset, especially since the information needs to be processed in many ways according to different requirements and demands. Analytics tools aid the management in quicker decision making by presenting the data in a much simpler, easier and coherent form. All the valuable information can be obtained through a single glance at the dashboard. Furthermore, various kinds of filters are available to sort the data according to the users specific requirements.

Mobile App:

With latest advancements in technology, parents have also become digital and this has further propelled the need to communicate via digital means. With a packed schedule, neither the teachers or administration nor the parents have any time for offline mails and notices. A mobile app is a one stop solution for all the communication solutions. Quick and easy, it's one of the prominent tools in use today.
Benefits of Student Management System

The following list depicts the benefits of the student management system for teachers, institutional administrators, students, and parents.
For Teachers
Hassle-free student data management
Centralized platform with 100% data security
AI-powered dashboards for student progress analysis
Seamless teacher-student-parent communication
Accurate reports on students' performance.
For Institutional Administrator
Institutional data privacy & security
Centralized platform with role-based access
Streamlined online admission process
Automated administrative & non-administrative tasks
User-friendly navigation with multi-language support
For Students
Access to student information
Personalized communication with teachers
Instant notification about exams & crucial events
Dashboard to analyze their individual performances
Access to exam timetable, daily attendance, etc
For Parents
Online admissions & fees management
Tracking the daily student activities
Monitoring students grades & performance
Direct communication with teachers
Notifications & information - students attendance & behavior
Drive Student Progress by Managing Complete Student Data
MasterSoft Student Information System (SIS) to Organize, Analyze, and Manage Student Data Systematically
Get Started
Campus Management Solutions

Student Information Management System
Learning Management System
Human Resource Management
Campus Administration
Accreditation Data Management
Why Use MasterSoft Services?

MasterSoft products are time tested and trusted via major educational campuses pan India. We provide 100% reliable and compliant, ERP and student information management solutions. Schools and higher educational institutes have been and will be our first and only priority which makes us stand out. Having worked with both major and upcoming institutions and campuses all over India, we have developed a deep understanding of how the educational sector works and what are the precise requirements. We cater to the needs and demands of the administration as well as the students and their parents.
Here are a few attributes which throw light on MasterSoft services:
Supports all kinds of advanced technologies like
RFID smart cards
, biometric integration, mobile apps, secured online payment gateway which includes all types of payment modes like credit/debit cards, Paytm, Mobile wallets etc.
Keeps track of students' progress and offers safety on campus and online via student data management software. With the help of smart cards the time a student enters or leaves the premises is noted. Also, RFID enabled attendance can be marked.
Constructively helps in establishing a connection between students, administrative staff, and teachers via apps, emails, SMS notifications, etc.
Assists the management by maintaining transparency with the help of specially designed campus management software and increases productivity by eliminating human errors.
Eases administrative tasks such as admission process,
attendance management
, examination process etc by education ERP.
Provides accurate, systematic and valuable reports with the help of analytics tools which can be used for different kinds of analysis and submitted to higher authorities for evaluation or decision making.
The requirements of schools and higher-education campuses are changing with the present dynamic educational scenario. At such times, a proficient and adept student information system or education ERP is the need of the hour. A productive and worthwhile student management system provides successful leveraging of the best in-house technology that helps the faculties and staff to track all types of student related data.
SIS by MasterSoft, created with the state of the art technology and years of knowledge and expertise, eases the educational process by establishing a wider link between students, teachers, parents and administration. We absolutely understand that no two institutions work in the same manner and hence we offer a customized student data management software which is tailor made to suit the specific needs of a particular institute.
FAQs on Student Information System (SIS)