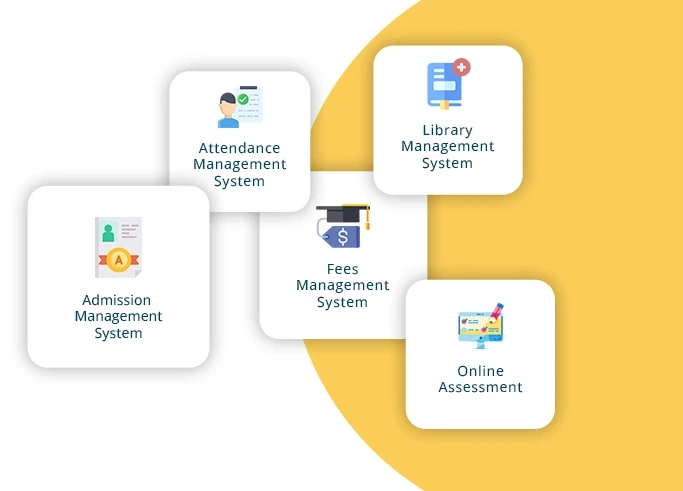 What Is Student Information System (SIS)

A Student Management System, also known as a Student Information System (SIS) enables coordinate scheduling and improved communications among the faculty and students. This system conducts student tracking operations for parents and administrative staff.
Student Management System (SMS) is a software designed to track and manage all the data created by the school such as a student's grades, attendance, interpersonal activity records, etc., as well as other school-related data.
The comprehensive data that includes - student's registration information, admission detail, fees payment status, hostel billing, scholarships or any other financial aid provision, etc.
Can be shared with faculty, students and parents to make the entire process of students' enrollment quick, systematic, and error-free. Furthermore, the entire students' information can be saved at a centralized location & role-based login access can be given to all the stakeholders for ensuring 100% student data security.
Features Of Student Information Management System (SIMS)


Maximum Organization With Minimal Paperwork
SIS software is designed exclusively for academic institutions by MasterSoft helps the educational campuses in streamlining and managing all the tasks involved in student admission. It makes the time consuming and hectic process of student enrollment easy by reducing the paperwork and digitization of each process.

Student Record Maintenance
The vast amount of information generated by students can systematically and efficiently be updated on the student data management software, thereby facilitating the administration to manage as well as organize all kinds of information in a systematic manner, ready to be used as and when needed.

Online Fee Payment Provision
Parents and students alike can pay the fees online via any mode of their choice. Notification is sent after receiving the fee amount, making the transaction transparent and secure. Also, an email or SMS alert can be sent to students with overdues. SIS provides a secure fee payment platform for schools and higher educational institutes.

Analytics Tools And Dashboard
Organized data can prove to be an asset, especially since the information needs to be processed in many ways according to different requirements and demands. All information can be obtained at the dashboard. Furthermore, various kinds of filters are available to sort the data according to the users specific requirements.

Cloud-Based ERP
The cloud-based education erp is customizable and flexible which makes it suitable for all kinds of institutions having varying needs and requisites. Moreover, education institutes have the facility to pay as per their usage. Another benefit of cloud-based SIS is that institutes do not require appointing any hardware or software engineer staff.

Online Registration
The system facilitates the students in applying and registering online, thereby eliminating any kind of physical attendance for the admission process. Customization of this data can be done by the administration enabling them to be transparent in their allotment process as well as securing confidential data.

Seamless Communication
Effective, transparent and quick communication is the key to run any organization smoothly. It enables fast and reliable communication between every prime member of the educational loop such as the administration, faculty, students and parents. It also helps the management to reach out to anyone at any time with a few clicks.

Mobile App
With the latest advancements in technology, parents have also become digital and this has further propelled the need to communicate via digital means.A mobile app is a one-stop solution for all communication solutions.
Why Opt for Student Information System (SIS)?

The ultimate target of an educational institution is to enhance the performance of every student. This can promptly be achieved by analyzing the performance of each student using competent analytic tools such as an AI-powered dashboard.
The information thus obtained can be deployed for taking effective as well as corrective measures to help them in performing better and realizing their potential. If not done systematically, this process may become time-consuming and tedious.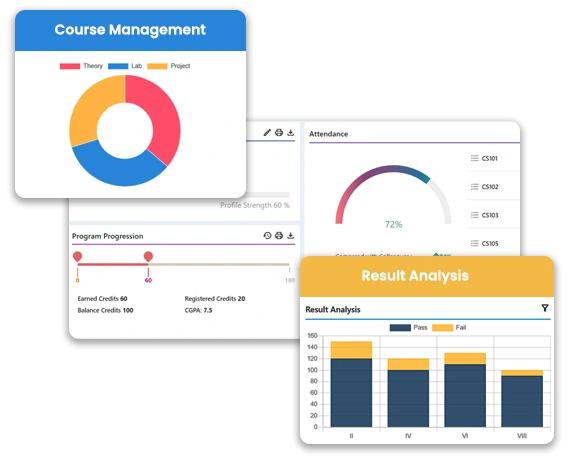 Campus Management Solutions


Lead Management
Enhance the quality of your leads with a centralized platform built for education and prevent any lead duplication & leakage caused due to handling leads via spreadsheets. Manage & distribute quality leads, verify them, and prioritize engagement through the admission funnel by communication via various channels - SMS, Calls, Emails, etc.

Registration & Admission
Get hassle-free registration & admission of students with in-built course registration and scheduling features. Effectively manage online admission, student enrollment, fees, merit list, attendance, scholarship, etc. Highly Configurable System with Provisions of Customization. Equipped with Powerful BI Tools, for Data Analysis and Decision Support

Fee Collection
Collect Fees Online, Offline; system supports integration with Wallets, Gateways and Banks. With Payment Reconciliation feature, track day-to-day fees-related transactions through cross-check methodology. Highly Flexible system with provisions to adopt various Fee Collection Patterns.Trusted by 2,000+ Institutions across India.

Student Records
Get a holistic 360° view of the students and store large amounts of data without affecting its functioning. Track & monitor regular activities of the students - Attendance, exam scores, behavior, overall student performance, etc. with a role-based login, which can be accessed by students, teachers, parents, and admin.

Learning Management System
With easy-to-use virtual classroom setup, improve teacher-student collaboration - Assignments, Quiz, Teaching - Learning Schedules, E-Library. Improve student learning outcomes with personalized student learning management systems. Create multiple question sets- Descriptive & MCQ tests and conduct cheat-free online assessments.

Exam & Results
Conduct exams online / offline with the support of a Strong Pre - Exam Activities Automation Engine and Robust Online Proctored Exam Conduction Software - an easy-to-use & integrated platform enabling various levels of permission & encryption for users with role-based access. Configure your exams for various courses and any type of assessment, thus making it flexible.

Recruitment
Create vacancies by defining fundamental requirements- years of experience, required qualifications, number of vacancies, etc. with a paperless & online recruitment management system. Scrutinize the applications online and schedule interview rounds. After selection of faculty members, automatically generate appointment letters within a few seconds

Attendance Management System
Use biometric readers for efficiently managing faculty attendance, which are integrated with the entire HRMS module, thus making it flexible. Easily track check-in time and check-out time, with automatic calculation of total working hours. Generate automatic SMS & Email notifications for early going or late coming which can be automatically reflected in the payroll.

Payroll
Create a salary set up by your institute and define pay rules related to pay scales, subheads, deduction heads, and create various departments and staff types conveniently with the HRMS software. Calculate payment automatically by combining the data generated from the leave management system, and generate the final payroll.

Leave Management
Effectively manage, track, and calculate faculty leaves from the inputs generated by the biometric readings. Automatically calculate LWP with in-built features of leave rules, leave types, leave approval authority, leave deduction sequence, etc. Faculty can apply leave online by logging into the portal, which will be reflected on the admin login and leaves can be approved automatically.

Finance & Budgeting
Systematically manage & generate invoices from various suppliers and all outgoing payments. Easily define flexible purchases, budget heads, and sanction notes with a seamless & integrated budgeting module. Generate quick & accurate reports - Ledgers & trial balance; Income & Expenditure Statement; Cash, Balance sheets; Payment Receipts, etc.

Purchase & Store
Automate major functions in the retail department- making stock book entries, issuing materials for various departments, generating bills/invoices, generating receipt of goods, etc. Get automated updates of transactions of purchases & supplies. Track your inventory in real-time with an easy-to-read dashboard displaying the amount of goods present in the store.

Accreditation Data Management
Get your institute ready for Accreditation by easily updating required information on an everyday basis as well as generate 100% accurate compliance reports in required formats. Gain role-based access to all the stakeholders, ensuring data privacy. Get access to actionable insights via BI-based dashboards to easily gauge the assessment cycle,

Library
Easily manage your in-house library operations with a user-friendly and fully-integrated Lib-Man system. Generate MIS Reports - Budget Analysis, Lost / Missing / Withdrawal Documents Analysis, Utilization of documents, Most Utilized documents, Year-wise Purchase Title-wise Copy in Department, etc. Systematically manage bookbinding operations and save hours!
Key Statistics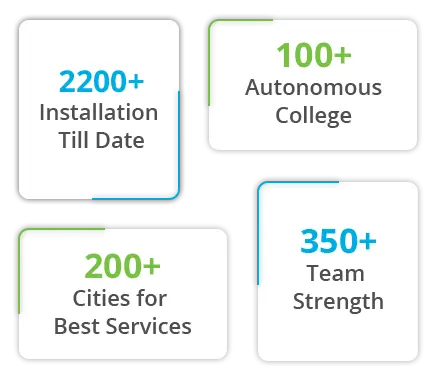 Why is MasterSoft India's Most Trusted Partner?


Academically Driven

Excellent Service Support Engine

Diverse Experience with Tested Products from Industry Experts

We Take Institutes Forward for a Better Future