What is an Online Assessment?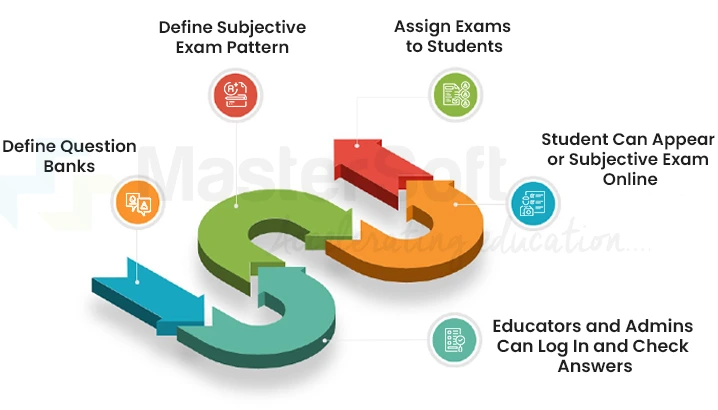 Online assessment refers to a process of conducting a test online to gauge the student's learning and mastery over a particular subject. This assessment can be administered with a specific intent such as ascertaining a student's knowledge, skills, or learning abilities.
The assessment is conducted over the Internet and can be given from anywhere with a smooth internet connection.
An online evaluation system is software that digitizes the entire process of exam evaluation for the institutes. It offers highly accurate results with high efficiency and in no time.
It eliminates the institute's cost of printing, distributing, and invigilating the students during exams. It is a one-time investment.
Online assessment software is a solution that ensures end-to-end care of all examinations and exam-related activities at the educational or professional level in schools, institutes, and universities.
Features Of Online Assessment Tools

1

Independent & Cost-Effective

Being a standalone edTech solution, it doesn't require integration with educational ERP software. Institutions can implement this mobile & web compatible assessment platform individually & save huge costs.
2

Mock Test Provision

Faculty gets the provision to design assign question banks & create mock tests to help students practice & prepare for the final test for self-evaluating their performance & ensuring better scores.
3

Question & Answer Shuffling

Enables faculty to prepare various question paper sets by shuffling questions & answers to minimize the chances of malpractices during the online examination.
4

Run Time Result Display

Teachers can predefine 'pass' & 'fail' criteria. The questions are processed & auto-calculated at a faster speed and run time results are displayed immediately at the end of the examination.
5

Real-Time Proctoring System

Faculty can monitor crucial details such as time taken for solving questions, number of attendees, etc. Also, any new browser automatically gets disabled when the exam starts ensuring best practices.
6

Accurate Reports Generation

Ensures error-free result calculation & generation of various MIS reports to identify the academic strength & weaknesses of students to help faculty prepare the best teaching strategies.
The Need For Online Assessment Tools In Educational Institutions

Virtual Classrooms have become an integral part of learning and evaluation is an essential part of the teaching-learning process, thus MasterSoft's Online Assessment Software to conduct Unit Tests, Term Exams in MCQ & Descriptive Format while considering the ground level challenges of bandwidth, device & security, we bring to you the best solution.
MasterSoft Online Assessment Software, built-in with Artificial Intelligence & BI Powered Analytics Tools for analyzing areas of improvement, test level, etc seamlessly helps institutions including schools, colleges, and universities to overcome the following challenges by offering the best online assessment practices.
Diagnosing & Rectifying Learning Gaps
Creating Assessments to Map Memory, Skills & Conceptual Knowledge
Scrutinize Question-wise Performance
Evaluation of POs & COs
Proctoring Online Tests to Avoid Malpractices
Generating Accurate Assessment Reports
Faster Result Calculation with Detailed Analysis
Online Assessment Tools for Schools, Colleges & Universities
The integration of an online test platform with the existing educational ERP software is a tedious task for the vendor. The existing ERP must be configurable in nature to support the online assessment platform.
Thus, the chances of successful implementation of the online assessment system depend on the university, college, or the school ERP solution.
Being an independent edTech tools, the MasterSoft Online Assessment Platform doesn't require any kind of integration with school ERP, college ERP, and university ERP software.
In addition to these mainstream educational bodies i.e. schools, colleges, and universities, authorities & faculty conducting tuition classes can also implement the online test software to ensure better learning outcomes.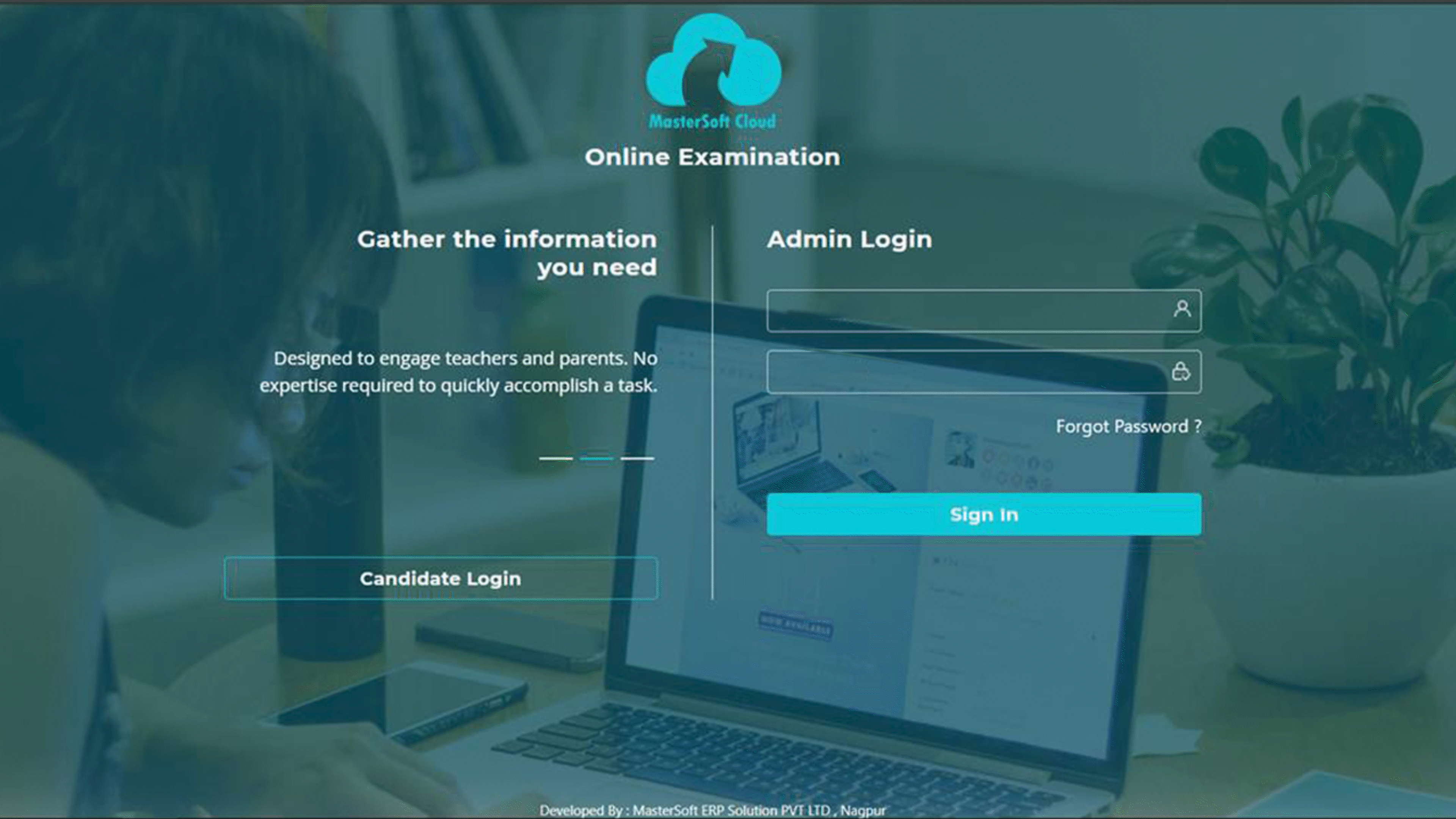 How To Conduct Online Assessment Effectively?

Online assessments can be via quizzes, testes, MCQs etc, but for it be effective and to guide teachers in better analysis of student outcomes, following tips can be followed:
Create Clear and Transparent Rubrics :
Rubrics help in offering a better picture of the upcoming assessment. You can clearly outline the concepts and topics which need to be covered in a course and specify how you will be grading them. This enables creating a map to follow when creating an assessment. The type of rubrics should be conveyed to the students before the assessment in order to make a fair unbiased judgment of scores.
Establish the Purpose of the Assessment :
Questions such as - What type of assessment data will you collect? How will you use the assessment scores? These questions will assist in determining the average difficulty of each question, assessment length, and test conditions. Setting a clear purpose before creating an assessment will help in meeting the end goals effectively.
All-Inclusive Methodology :
The assessment methodology should be all-inclusive with multiple assessments to effectively test all kinds and levels of students. Clarity, accessibility, technology facilitation, and a step-by-step approach will enable holistic student information. Create an online test which includes performance tasks, constructed response questions, and technology-enhanced questions.
Embrace Continuous Enhancement :
Educators should continuously evaluate student's assessments. Use the information gathered from previous assessments to check what worked well and what still needs to be improved. By looking backward and understanding learning gaps, assessments will continue to become more effective.
Functions of Online Assessment Software

Pre-Assessment
Sending invites to the students
Conducting question sets using the instruction set
Enables MCQ/Descriptive, coding types of questions
During Assessment
Excellent user experience during exams
Run time monitoring of students
Anti cheating technology
Post-Assessment
Generation of student performance report
Automated certificates to the students
Graphical representation of data
Reports Generated by MasterSoft Online Test Platform
The following reports can be generated with MasterSoft's online assessment software.
Assessment-wise Performance Reports
Subject-wise Performance Reports
CO-PO Analysis Reports
Question-wise Student Performance Reports
Student-wise Attainments Details
Class-wise/Section-wise Progress Reports
Key Objectives of Online Assessment Software
To evaluate basic knowledge and learning of students
To shortlist suitable candidates from a huge pool of students.
To understand the strengths and weaknesses of the students.
To analyze specific traits in the students.
To understand their proficiency in various subjects
Online Assessment Platforms for Smooth Examination Processes

Online Examination System
Conducts exams for high concurrency of students
Ensures invigilator-student communication through chat
Offers high security of question sets
Supports MCQ/Descriptive and all other types of questions
Remote Proctoring Solution
Audio and image proctoring during exam
Runtime monitoring of students
AI-Based analytics report generation
Quick assessment reports
Learning Management System
Course management enabled
Communication and collaboration of users
Cloud storage of data
Report generation in all required formats
Types Of Online Assessment Tools

There are five types of assessments depending upon the reason for evaluation.
Diagnostic
Assessment
This type of assessment is conducted to understand the previous knowledge of the students.
Formative
Assessment
Formative assessment is conducted to test student's progress when they are in the learning stage
Interim
Assessment
It is conducted on a district or state level to understand and compare results of groups of students
Benchmark Assessment
Benchmark assessment is conducted to measure the academic progress of a large number of students
Summative Assessment
This type of assessment determines the success of students at the end of their academic life
Online Assessment Software for Best Test Preparation & Student Learning Outcomes

Let's compare traditional examination methods with the online assessment platform offered by MasterSoft
and understand how it can make a difference in student learning.
Traditional Examination Method
Teachers
Draft Question Bank for
Practice

---

Setting Question
Papers

---

Physical Invigilation of
Ongoing Exam

---

Manual Evaluation of
Question Papers
Students
Limited Content
Access

---

Reach Center at Fixed
Time & Date

---

Pen-Paper Based Written
Exams

---

Results after Several
Days/Months
MasterSoft's Online Assessment
Teachers
Upload E-content for
Practice

---

Configure Online
Tests

---

Online Proctoring
/Monitoring

---

Quick Grading &
Feedback
Students
Access to Multiple Resources &
Mock Tests

---

Take Assessments from
Anywhere

---

Descriptive/MCQs Online
Question Paper

---

Real-time & Accurate Results
with Feedback
Get In Touch With Us To Get The MasterSoft ERP Software For Your Campus!
Request Demo
Key Benefits Online Assessment Platform

Descriptive & MCQs
faster results marking and issuing
Tools for Automated Test Assembly
Faster analyses and outcomes
Data-Driven Feedback
Environmentally Responsible Response
Enables Teachers To Give Pupils Data-Driven Feedback
Plan Steps To Improve Student Success
Accomplish Learning Goals
Flexibility To Take Exams Anywhere
Tracks The Academic Achievement Of Students
Finding The Level Of Understanding Of The Student
Student Analysis Reports Can Be Created More Easily
How does Online Assessment Software help the Institute

Role-based access is given to the users whether they are teachers, students, or admins based on their job and position in the institute.

Students
Enables the students to log in and get access to their results, syllabus information, and updates .

Administrator
Offers a centralized platform for conducting and evaluating the exams.

Teachers
Helps them to get information about student's performance and guide them for their shortcomings.

Parents
Enables easy communication with teachers and access to student's attendance and performance data.
FAQ's On Online Assessment Tools