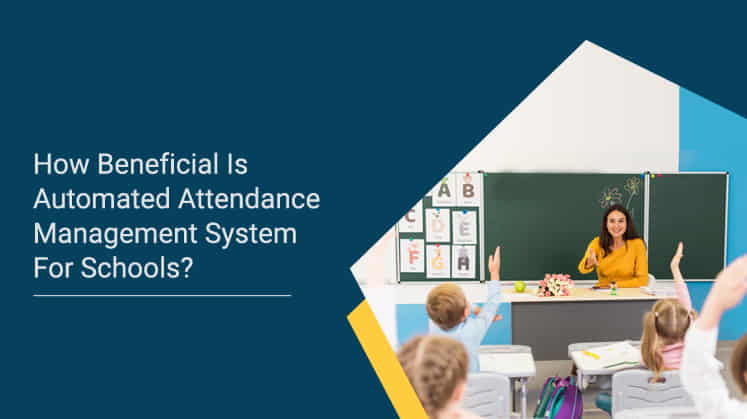 Updated On |
29

, March 2022
"The New Education Policy 2020 acknowledges the role of edTech in teaching & learning and is a great step towards maximizing the impact of education in India": Mr. Gurudev Somani, Director, MasterSoft ERP
In today's competitive world, with increasing working hours and less classroom time, teachers need edTech tools which help them manage precious class time efficiently. Instead of focusing on teaching, faculty members are often stuck with completing formal duties, for e.g. taking daily student attendance.
Manually taking attendance and registering it in files & musters makes the daily attendance a mundane task for the faculty and unnecessarily consumes classroom time.
To overcome such inefficient work processes, there are various school software systems available to speed up the attendance process and reduce manual work. An online attendance management system or digital attendance platform is one of them, which is developed to automate the daily attendance in schools. Additionally, it helps to maintain accurate records and generate summarized student attendance reports.
In an attendance management system, time and attendance information is tracked by an organization. You can calculate attendance more accurately with an accurate attendance and time tracking system. This saves your time and effort when it comes to calculating attendance.
Attendance management system keeps track of daily attendance, working hours, breaks, login, and logout time. It prevents staff's time theft. An attendance management system integrates all attendance devices such as smart cards, biometric, and facial recognition devices in real-time.
MasterSoft's Student attendance management software allows schools of all sizes to manage various attendance requirements. This system makes it easy to create daily attendance reports, absentee lists, letters and other documents almost effortlessly. Student attendance system helps teachers to mark online attendance of students during class & reduce manual work. It is used to track student's attendance, absentee record, attendance history & other related documents. Student attendance software allows you to record & manage daily student attendance to speed up the daily attendance process.
Online attendance management system enables school administrators to record, manage & compile daily student attendance data. Along with student attendance, this software also allows teachers to generate 100% accurate student attendance reports.
Best Way Of Automate Student Attendance Management System
There are various methods of automating the attendance process and schools can choose a system that suits their requirements the best.
Here are the best ways to automate student attendance in schools...
1: RFID Attendance Management System
The most popular technology in automating attendance is Radio Frequency Identification (RFID).
This student attendance management system uses the following simple mechanism and marks attendance of the entire class within seconds:
Each student is given a smart RFID card having a unique identification number.
The RFID can be installed at the entrance of the school, classroom, library or any other important location.
Students carrying their smart cards simply have to pass through the reader and the reader scans their unique identification number and hence the attendance is marked automatically.
Since the RFID reader is capable of reading several cards at once, the attendance of multiple students is marked simultaneously.
The data from the RFID reader is automatically fetched by the integrated school ERP software. Hence, the schools get the access to student attendance details of every class and section at once.
RFID & Biometric School Attendance System Software

2: Biometric Attendance Management System
Another useful electronic attendance system for students that saves efforts, as well as time, is - the biometric system. It works in the following way:
The fingerprint of each student is saved in the biometric system which is integrated with an educational ERP system.
The students simply need to place their finger on the biometric and upon verification with the original fingerprint input stored in the system, their attendance is marked.
Since a biometric system works on fingerprints, which are unique for every individual, there are lesser chances of false or proxy attendance. This makes the biometric system quite accurate and a highly reliable attendance management system.
Just like the RFID system, the student data from the biometric is also fetched by the educational ERP and hence can be accessed, viewed, and managed by the concerned authorities in real-time.
3: School App Attendance Management System
School mobile apps not just provide seamless communication between parents and teachers, but can also help in managing student attendance.
Integrating a school app in educational ERP software is a great way to reduce a teacher's hassles because of the following three major reasons.
Firstly, a teacher can mark attendance in less than a minute with an effective school management app.
Secondly, it enables parents to directly send in the leave applications of their kids via the school app. The students who are on leave appear as 'on-leave' in the app while marking attendance, and the teacher does not have to think twice about that student status. This largely reduces a teacher's time and efforts.
Thirdly, an auto-triggered message or app push notification can be sent via the school transportation app to inform parents about their child's whereabouts while traveling. This further ensures student security & safety.
Why Online Attendance Management System?
The objective of the school attendance software is to reduce the time that is consumed when attendance is taken manually. Unlike the manual process, an online system easily helps management to analyze student's attendance details as per requirement.
A detailed summary of student attendance history can be obtained in an instant.
3 Key Advantages Of Attendance Management System
User-Friendly: The user interface is very simple. Data storage and recovery is fast and secure. Additionally, graphic reports are available which makes interpretation of data simple and easy to grasp.
Quick Report Generation: Various reports such as Student-wise attendance, Day-wise attendance, Class-wise attendance, Month-Wise, Class-Attendance, and much more. can be easily generated quickly. Current and back-dated reports are available readily.
Zero Errors: Reduction of paperwork and elimination of errors is possible when attendance is automated.
Key Features of Online Attendance Management System:
A simple online attendance app designed for all attendance requirements
Capable of storing unlimited student attendance data records
Fully compatible with both the web & mobile devices
Simply requires an internet connection to run smoothly

Connects teachers and parents on-the-go
In a nutshell, an automated attendance management system is a feasible, reliable and efficient alternative to manual attendance which tends to consume a lot of the teacher's precious classroom time, which can otherwise be saved!
As NEP 2020 is also encouraging digital infrastructure development, implementing an online student attendance management system can be a progressive step towards digitalization of education!
Read more details about NEP 2020 for schools here...
National Education Policy |NEP 2020 for Schools
What Are The Major Offerings Of Attendance Management Software?
The online attendance management software keeps track of student attendance over years and generates data and reports for a large number of students over the given data. Students, faculty members, and admin can access the software based on their roles and responsibilities.
Students/Parents- They can get access to the attendance record, number of absent days with dates, and get absent notifications.
Admin- Admin makes sure that the system is working fine and offering high security and safety of the data generated every day
Faculty – The faculty can get access to the defaulter students and generate attendance reports in all the required formats.
Advantages Of Biometric Attendance Management System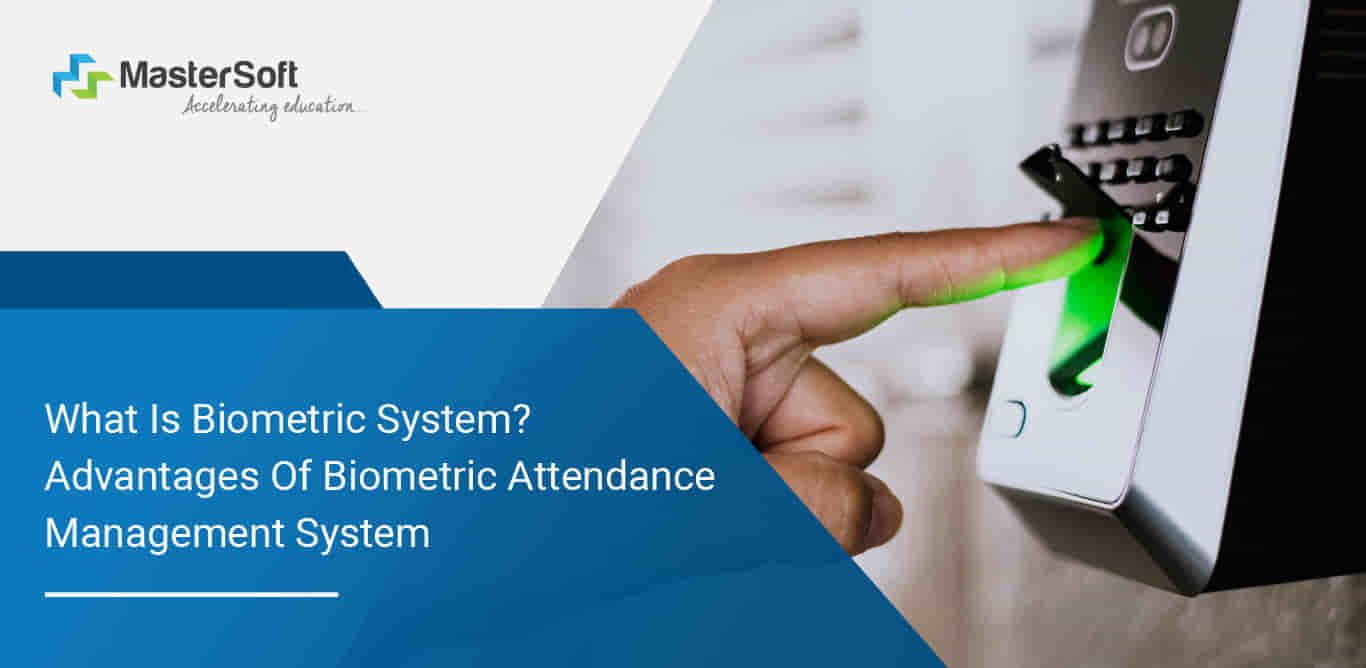 How Does Automated Attendance Management System Work?
The institute either makes use of a biometric system, RFID device, or attendance software for marking students' attendance.
The RFID and biometric system collect student attendance using an RFID card or eye/face scan automatically.
The teacher has to herself put absent and present markings while using attendance management software.
The software collects attendance data and stores it on a cloud-based system.
The system can be accessed by the teachers, students, and parents using separate credentials as per their role.
It sends SMS/email notifications to the parents when the students are absent.
How Does MasterSoft Help In Online Attendance Management?
MasterSoft is a highly advanced, most trusted solution for digitization and management of the institute's operations in various academic and non-academic aspects of education in schools and colleges. We offer various solutions beginning from learning management software to accreditation and lead management systems. We believe that every school has different requirements based on its location, size, and other aspects hence we focus on creating customized solutions based on those needs.
Attendance management software by MasterSoft is a system that automatically tracks students' attendance using the biometric system or RFID device. The system collects daily data and generates reports for months and years of data. The system is easy to use and highly intuitive offering data safety and efficiency of operations.
Track & Manage Your Students' Daily Attendance with MasterSoft's Attendance Management Software.
Easy-to-use. No Paperwork. 24*7 Access.
Mobile: 08448010216
Email: janki.somani@iitms.co.in