Poor quality education, ineffective methodologies and unequal access to educational opportunities have been central to the Indian education system. Furthermore, the problem is even more severe in rural areas, where primary and secondary institutes lag behind due to a number of vital issues.
For instance, key concerns have been the lack of qualified teachers, sufficient financial resources, government aid, and infrastructural facilities. Also, inadequate implementation of government policies to improve rural education has been equally detrimental. However, the National Education Policy 2020 aims to bring fundamental changes in India's education structure.
Besides, given that it is such a significant initiative approved by the Union Cabinet of India, it is noteworthy to check some of its critical components.
1. The New Academic Structure (5+3+3+4)
As suggested by the NEP 2020, the new education system will follow a 5+3+3+4 education system where the students will spend 5 years in strengthening their foundation, 3 years in the Preparatory stage, 3 years in the Middle stage and rest 4 years in the secondary stage.
The 10+2 structure forms the base of the schooling system; it is a rigid system with an exam-centric and syllabus-oriented approach. However, the academic structure will undergo a major transformation according to students' age and different levels are as follows: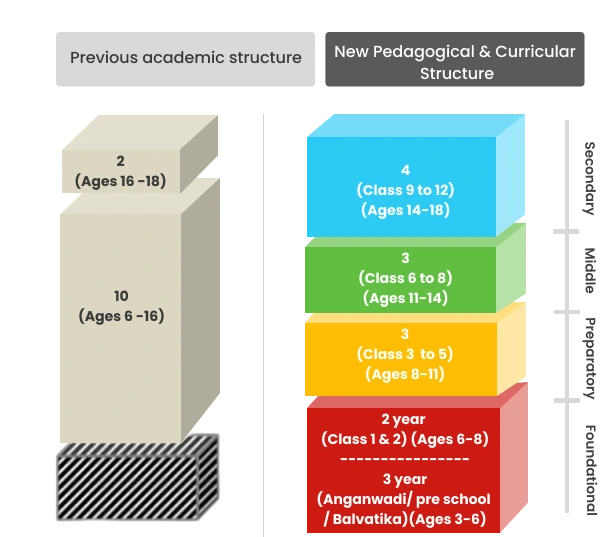 5 Years of Foundational Stage
For Ages : 3 to 8 Years
For Classes : Anganwadi or Pre-School, Class 1 and Class 2
Focus : Play and activity-based learning method, and development of language skills.
The foundational stage will be of five years for children aged 3 to 8 and catering to Anganwadi/pre-school, class 1 and class 2. Besides, the stage will emphasise flexible, multilevel, play/activity-based learning and the curriculum and pedagogy of Early Childhood Care and Education (ECCE).
3 Years of Preparatory Stage
For Ages : 8 to 11 Years
For Classes : 3 to Class 5
Focus : Develop Language and numeracy skills. Play and activity-based theching method. It also include classroom interactions, reading, writing, speaking, physical education, art, etc.
The Preparatory stage will be of three years for children aged 8 to 11, catering to classes 1 and 2; it will focus on activity and play-based pedagogical methods. Also, it will include interactive classroom learning to lay a solid groundwork on varied subjects. In addition, it will focus on reading, writing, speaking, physical education, art, languages, science, and mathematics.
3 Years of Middle Stage
For Ages : 11 to 14 Years
For Classes : Class 6 to Class 8
Focus : Critical learning objectives, experiential learning in the sciences, mathematics, arts, social sciences, humanities, etc.
The middle stage will be of three years for children aged 11 to 14, catering to classes 6 to 8 and will include an introduction to abstract subjects across different subjects. Furthermore, this stage of school education will incorporate experiential learning in science, mathematics, humanities, social sciences, arts, etc.
4 Years of Secondary Stage
For Ages : 14 to 18 Years
For Classes : Class 9 to Class 12
Focus : Multidisciplinary education, develop critical thinking, flexibility and choice of subjects.
The final stage of the new schooling structure is the secondary stage, which will be covered in two phases: Classes 9 and 10 and 11 and 12. Furthermore, the stage will include multidisciplinary education with a focus on greater critical thinking, flexibility and choice of subjects.
2. Regular Formative Tests
The previous education system revolved around grades or exam scores; higher scores and percentages indicated a student's potential and capabilities. Therefore, parents enrol their children in extra classes or coaching institutes to better prepare and excel academically. However, it only put more pressure on the students and prevented them from expressing their problems.
On the other hand, with NEP 2020, the examination system will witness a landmark shift and help to optimize student learning and development. For instance, the initiative reduces the pressure of high-stake examinations, enabling students to appear for board exams twice a year. Moreover, redesigning the board exams will allow teachers to test core competencies, helping to discourage coaching culture and rote memorisation.
Furthermore, NTA( National Testing Agency) will be integral in offering a high-quality aptitude test. And the tests will be for common subject exams in science, humanities, languages, arts and vocational subjects at least twice a year.
National Education Policy 2020 For Schools
3. The Three Language Mechanism
The sole supremacy of English as a language of instruction and communication in schools will encounter a modification. The policy has highlighted the use of the mother tongue or local language as a primary medium of instruction till class 5. After that, however, it has been recommended to continue its usage till class 8 and beyond.
Besides, according to the three-language policy, all students will learn three languages which the states, regions and students themselves will choose. Meanwhile, it points out that two out of three languages ought to be native to India, and the other one will be a local language.
The rule applies to both private and public schools, which must facilitate high-quality textbooks available in local languages. In addition, the policy recommends teachers use a bilingual approach, including bilingual teaching and learning materials.
4. Amalgamation of Essential Subjects, Skills, and Capacities
Students graduating from college often struggle to find a job as they fail to demonstrate the necessary skills during the interview. For instance, a B Tech graduate moves to a different city, hoping to secure an entry-level position but face failure. The reason behind such occurrences largely relates to the skill gap, something which the policy addressed.
Hence, the curriculum structure amalgamates specific subjects, skills, and capacities. For example, the policy emphasises proficiency in languages and hosts of skills, including evidence-based thinking and problem-solving. Additionally, the pedagogies will be designed to enhance communication skills, collaboration and teamwork.
Besides, the school curriculum will include unique subjects, such as Coding and Computational skills, to enhance students' preparedness for future challenges.
5. Teacher Encouragement
It is impossible to facilitate high-quality education without capable and qualified teachers; therefore, NEP 2020 has emphasised teachers' competency. In addition, many merit-based scholarships shall be instituted across the country for studying quality 4-year integrated B.Ed. Programmes. As a result, outstanding teaching aspirants will pursue the profession, allowing local students, especially female students, to work as highly-qualified teachers who speak the local language.
Simultaneously, the Teacher Eligibility Tests (TET) will include better test material in terms of content and pedagogy. Also, classroom demonstrations or interviews will become a primary part of the teacher-hiring process in schools.
To Wrap it Up ,
NEP 2020 is an ambitious initiative that aims to replace the backdated mechanisms of the Indian Education system. And one of the crucial changes includes the reformation of the schooling structure in the form of the 5+3+3+4 system. The new system will help to establish a student-centric and multi-disciplinary education system.