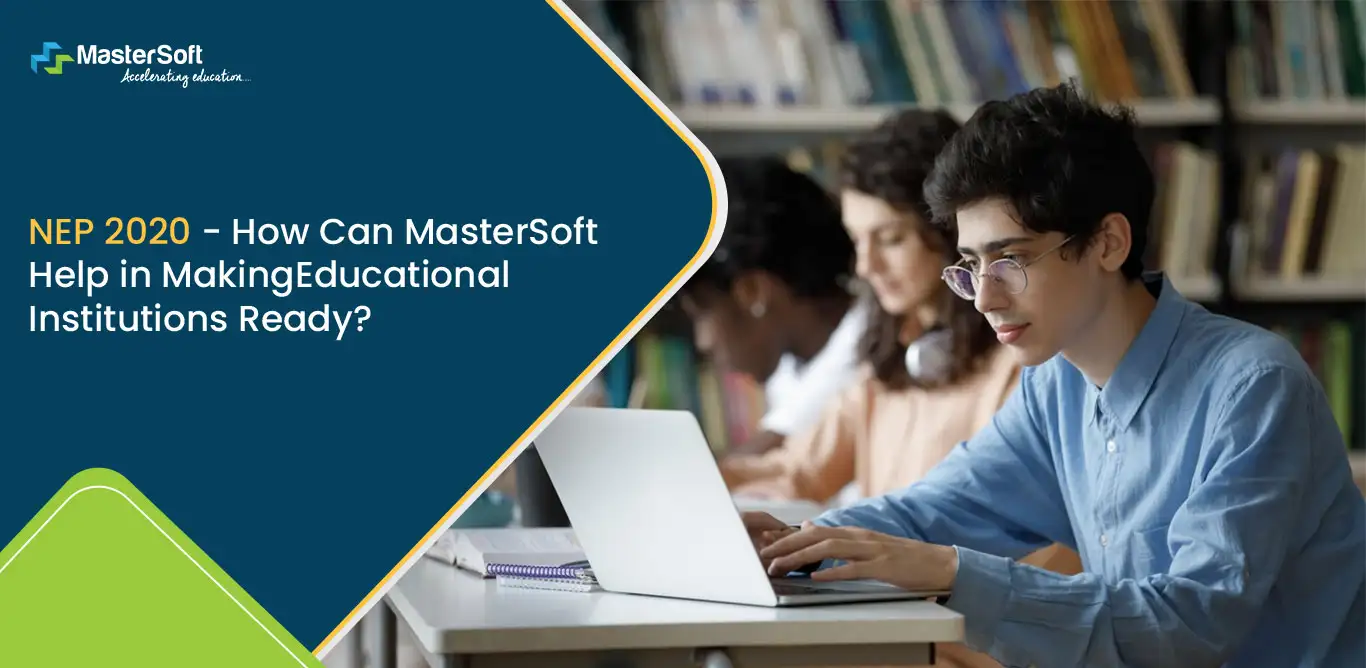 The National Education Policy (NEP) of India, 2020, has set high expectations for the country's education system.
Answer the questions below to assess the current status of your institution and check if it is NEP-ready.
Are your academic and non-academic operations automated?
If so, is your ERP secure and flexible enough to adapt to changes?
Does your provider have management expertise with CBCS?
Can you extract data from accrediting formats?
Is your ERP equipped to serve you now and in the future?
Is your LMS utilized and integrated with your ERP?
If you answered NO to most of the questions, MasterSoft is here to walk you through completely automating your day-to-day school operations with the click of a button.
Let us first understand the policies set up by NEP 2020 and their expectations from educational institutions across India.
Aims to offer equal access to quality education for all students, regardless of their socio-economic background.
Emphasizes the integration of vocational training and skill development into the curriculum, as well as the use of technology in education.
Encourages all colleges and universities to adopt digital solutions and create flexible, comprehensive, and multidisciplinary curricula.
Get Your Institute Ready for NEP 2020?
National Education Policy 2020 Initiatives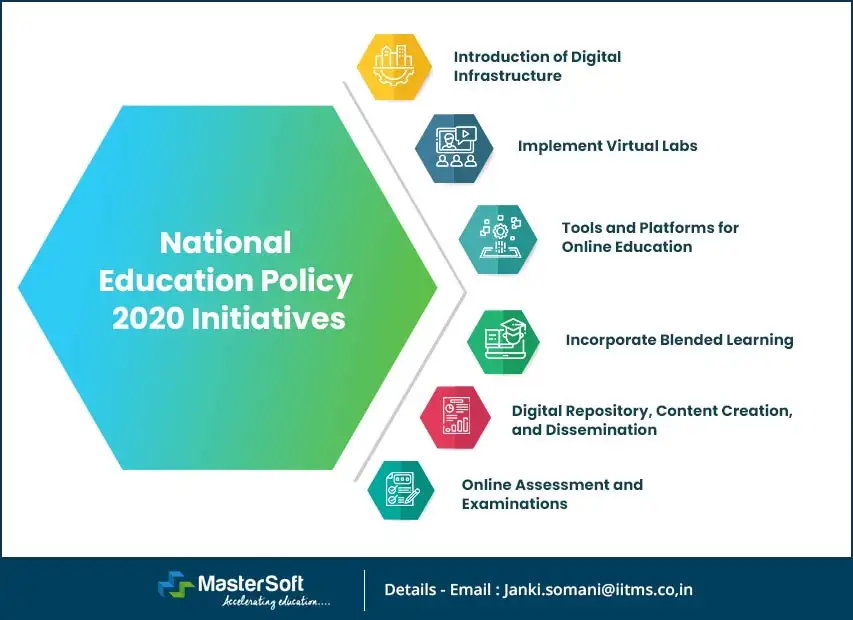 Introduction of Digital Infrastructure
A public digital infrastructure for education that is open, flexible, and interoperable must be developed. It can be used by numerous platforms to increase device penetration in India.
Implement Virtual Labs
The NEP 2020 recommends that schools make use of the current eLearning platforms to build virtual labs so that all students can have access to real-world, hands-on educational activities.
Tools and Platforms for Online Education
It encourages the expansion of current eLearning platforms to give teachers a wide range of helpful tools to track students' development. The COVID-19 pandemic has demonstrated the urgent necessity for tools like LMS.
Incorporate Blended Learning
While encouraging digital learning and education, schools should not underestimate the value of in-person, face-to-face teaching. Thus, many efficient blended learning models must be used for replication across various topics.
Digital Repository, Content Creation, and Dissemination
Promote the creation of a digital content repository for schools that houses coursework and other play- and activity-based learning materials. Apps and games that are suitable for students can be used by schools to foster playful learning.
Online Assessment and Examinations
It recommends school boards to design and implement online assessment and examination frameworks, including the creation of competencies, rubrics, standardized assessments, and assessment analytics.
Shedding Light On The New Norms Of NEP 2020 For NAAC, UGC, And AICTE
To give students a more end-to-end educational experience, these institutions are expected to adopt innovative teaching strategies and the aforementioned approaches, to improve learning results.
However, with the implementation of the National Education Policy, it may become difficult for educational institutes to manage their operations and processes without the support of an ERP provider.
MasterSoft, with an experience of 25+ years with more than 2,200+ clients have provided time-tested products in line with industry needs. We are in collaboration with industry experts and academicians across India and curate ERP solutions as per the changing industry needs, while keeping in mind the requirements of NEP 2020. We have a futuristic mindset to help you navigate through this tech adoption period.
Our ERP solutions provide online portals for all stakeholders, allowing them, among other things, to
Access course materials
Update and check timetables
Upload notes
Submit assignments
And communicate with each other
This can help institutes create a more interactive and collaborative learning environment, which is one of the key goals of the National Education Policy (NEP).
Moreover, our ERP systems can provide real-time data on a wide range of metrics, including attendance, student enrolments, grades, and more. This can help institutes track and measure their performance and identify areas of strength and weakness.
In addition, MasterSoft helps you do the following:
Manage your fee structures, student data, examinations, admission processes, and accreditation data properly for several years.
Conduct all the daily activities and generate graphical reports in the desired formats.
Simplify the accreditation process and completely automate the data collection and management process.
Achieve transparency across departments.
Manage accreditation data. The ERP software enables access to multiple stakeholders and safely holds tonnes of data.
Conduct online assessments and student performance evaluations with 100% security.
Also, NEP 2020 recently introduced the "dual degree" approach, where the student can enroll in two different courses at the same time! MasterSoft can further help by providing a curated and configurable LMS Software which can significantly reduce the burden on students learning two separate courses simultaneously.
NEP 2020 - How to Pursue Two Academic Programmes Simultaneously?
The NEP's goal of ensuring that all students have access to high-quality education calls for the utilization of technology as well as the incorporation of vocational training and skill development. And by offering software and other services that help the institution manage and streamline its operations, an ERP supplier like MasterSoft can help educational institutions become NEP-ready.
Furthermore, MasterSoft helps institutes make data-driven decisions, can help organize and monitor student progress in vocational training programmes, and can guide the management of the curriculum. All of which are necessary to make sure that it is in line with NEP's objectives and that the students are receiving the necessary support.
Final Thoughts,
The NEP 2020 has set high standards and expectations for colleges and universities in India, and it is crucial for them to implement the right technology and processes to achieve these goals. ERP providers can play a vital role in helping educational institutes become NEP-ready by providing software and services that support the efficient management of operations and administration, and by providing the necessary skills and training required for the students.
By implementing an ERP system, colleges and universities can focus on their core responsibilities and continuously improve the overall educational experience for students.