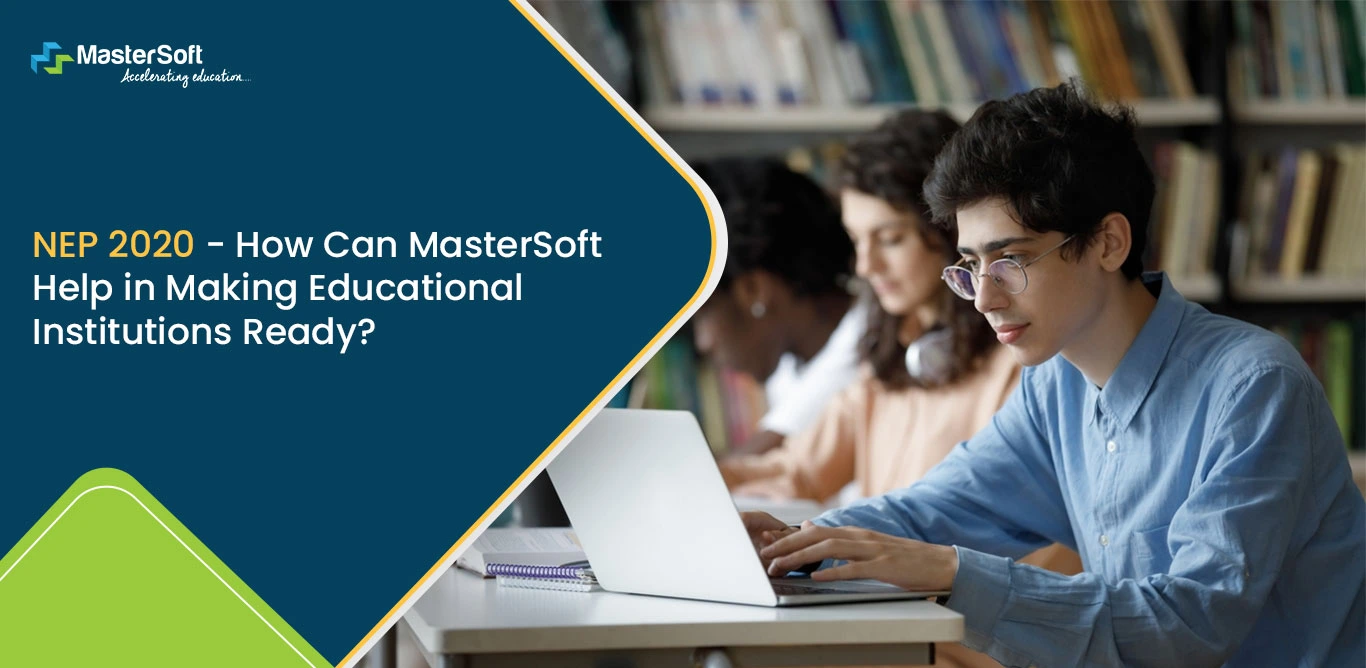 The education industry in India is going through its transformation phase amid the quick demands of perpetual change posed by a worldwide economy.
India is one of the youngest nations in the world moving toward knowledge-based leadership. The National Education Policy (NEP) of India, 2020, has set high expectations for the country's education system.
Answer the questions below to assess the current status of your institution and check if it is NEP-ready.
Are your academic and non-academic operations automated?
If so, is your ERP secure and flexible enough to adapt to changes?
Can you automate various multidisciplinary Undergraduate and Master's programs with a centralized portal?
Does the ERP incorporate different Major and Minor courses hassle-free?
Does your provider have management expertise with Choice-Based Credit System (CBCS)?
Can your ERP accommodate different entry/exit of students during their Bachelor's program?
Is the ERP dynamic and can tailor to the changing NEP requirements in the future?
Is your LMS integrated with your ERP?
Can you extract data from accrediting formats?
Is your ERP equipped to serve you now and in the future?
If you answered NO to most of the questions, MasterSoft is here to walk you through completely automating your day-to-day school operations with the click of a button.
Let us first understand the policies set up by NEP 2020 and their expectations from educational institutions across India.
In the Present Scenario, NEP 2020
Aims to offer equal access to quality education for all students, regardless of their socio-economic background.
Emphasizes the integration of vocational training and skill development into the curriculum, as well as the use of technology in education.
Encourages all colleges and universities to adopt digital solutions and create flexible, comprehensive, and multidisciplinary curricula.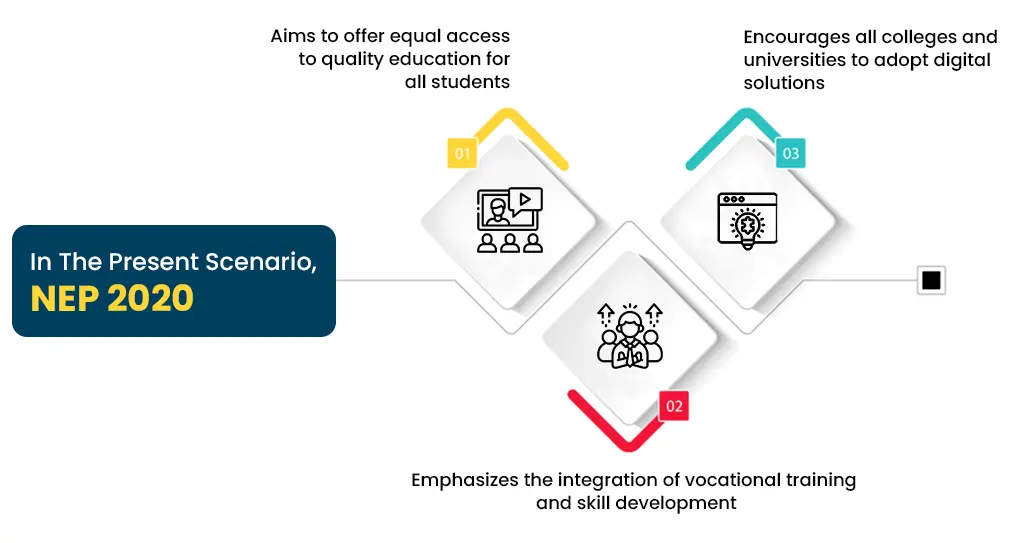 The NEP-2020 aims to transform India into a worldwide knowledge superpower with universal access to the best education. The all-encompassing and multidisciplinary education that is proposed by this policy is meant to aid in learners' overall development while improving their employability potential and equipping them with the necessary skills for new jobs in developing industries.
The NEP strives to satisfy the evolving needs for research, innovation, and education by implementing a variety of modifications in the educational system, from pre-primary years to higher education.
At the graduate, Master's, and doctorate level in big multidisciplinary universities, it encourages rigorous research-based specialization and provides opportunities for interdisciplinary cooperation.
Get Your Institute Ready for NEP 2020
Key Fundamental Principles of NEP 2020 at Different Stages of Higher Education
Recognizing, identifying, and promoting each student's unique skills to advance their overall growth.
Flexibility, allowing students to choose their learning pathways and programmes and, in turn, choose their own paths in life in accordance with their talents and interests.
For the purpose of preparing students for a diverse world, multidisciplinary and comprehensive education in the social sciences, humanities, and arts is essential.
Extensive use of technology such as the learning management system in educational planning and management, language barrier removal, and improving access for Divyang students.
Respect for diversity and respect for the local context in all curricula, pedagogy, and policy
To ensure that all students may succeed in the educational system and that the institutional environment is sensitive to differences so that high-quality education is accessible to everyone, equity and inclusion serve as the cornerstone of all educational decisions.
Strong Emphasis on Multidisciplinary Education
NEP plans to create standards for the curriculum and credit structure for four-year undergraduate programmes, regulations outlining the minimum requirements and the process for awarding one-year certificates, two-year diplomas, three-year bachelor's degrees, four-year bachelor's degrees (honors), and master's degrees with multiple entry and exit options, as well as the transformation of HEIs into multidisciplinary institutions.
One of the biggest changes was the conversion of the three-year undergraduate or bachelor's degree programme to a four-year multidisciplinary UG programme with several entry and exit options in order to better prepare the students for the workforce. Students can now transfer between universities if necessary and accrue credits based on their work thanks to the Academic Bank of Credits.
Various committees have been formed, like the Government of Maharashtra formed a task force to create a multidisciplinary four-year degree programme with designed modules and a credit system for various levels of the multidisciplinary four-year and five-year integrated PG programme.
integrated Educational ERP software equipped with Choice-Based Credit System (CBCS) can simplify the multidisciplinary approach as traditional methods can be extremely tedious and would require high overhead costs and more resources.
Due emphasis has been placed on integrating a variety of courses, including environmental studies, value education, professional ethics, and life skills, in addition to a variety of Majors and Minors, in order to encourage holistic and multidisciplinary education.
This can be easily achieved by adopting a seamless learning management system which can provide different specializations as per the course and track the learning process at each stage.
Curriculum and Credit Framework for Undergraduate Programmes
A new student-centered "Curriculum and Credit Framework for Undergraduate Programmes (CCFUP)" has been developed by the UGC in accordance with the NEP 2020. It includes a flexible choice-based credit system, a multidisciplinary approach, and multiple admission and exit choices. By selecting the subject or field of their interest, students will find it easier to pursue their career route.
Transformative Initiatives Pertaining to Undergraduate Education
Establishing a holistic, multidisciplinary undergraduate education that would aid in the development of all human potential—intellectual, aesthetic, social, physical, emotional, ethical, and moral - in an integrated manner; soft skills, such as complex problem-solving, critical thinking, creative thinking, and communication skills; and rigorous specialization in a chosen field (or fields) of study will revolutionize the current education industry.
It includes the adoption of flexible curricular structures that would allow for the creative fusion of disciplinary areas for study in multidisciplinary contexts, as well as flexibility in the course selections that would be available to students, in addition to rigorous specialization in one subject or various disciplines.
all-in-one student information system can be employed for students which can offer flexibility in multidisciplinary subjects from different fields along with an integrated LMS.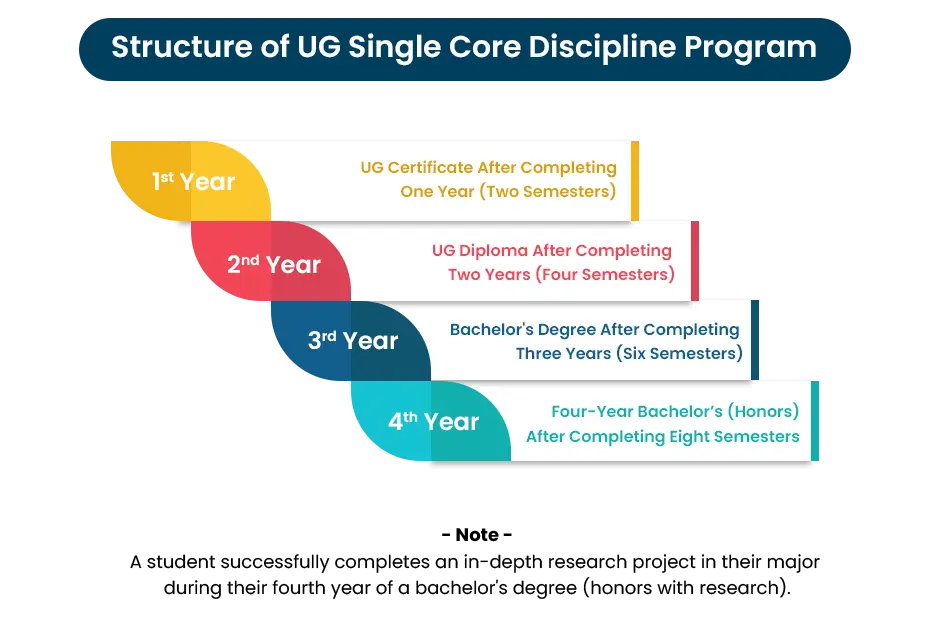 Undergraduate degree programmes of three or four years, with a variety of entry and exit points as well as re-entry options, and with the appropriate certifications, such as:
A UG certificate after completing one year (two semesters) of study in the chosen fields of study
A UG diploma after two years (four semesters)
A bachelor's degree after three years (six semesters); and a four years (honors) after eight semesters.
A student successfully completes an in-depth research project in their major during their fourth year of a bachelor's degree (honors with research).
entry/exit can be tedious for both students and instructors. However, with automated ERP solutions such as attendance management system, online examination system, student information system, admission management system, etc.
The overall day-to-day activities of a student throughout his/her graduation program (ranging between 1 to 4 years) can be carefully monitored and recorded.
NEP focuses on reorienting educational initiatives to promote the development of skills in a variety of academic fields, including the social sciences, humanities, languages, arts, and vocational courses.
It aims at offering programs/courses of study in languages, literature, music, philosophy, art, dance, theater, statistics, pure and applied sciences, sports, etc., as well as other disciplines necessary for a multidisciplinary and engaging learning environment.
Prominent Features of the New Curriculum Framework Include
High flexibility to move from one course/discipline of study to another
Better opportunity for learners to select the courses of their interest in all disciplines
Easy multiple entry and exit options with UG certificate/ UG diploma/ or degree depending upon the number of credits scored
Improved flexibility for students to move from one institution to another to enable them to have multidisciplinary learning
Easy switch to alternative modes of learning, such as ODL, offline, and online learning, and hybrid modes of learning.
Get NEP-2020 ready by Adopting the Following Strategies
Introduction of Digital Infrastructure
A public digital infrastructure for education that is open, flexible, and interoperable must be developed. It can be used by numerous platforms to increase device penetration in India.
Implement Virtual Labs
The NEP 2020 recommends that schools make use of the current eLearning platforms to build virtual labs so that all students can have access to real-world, hands-on educational activities.
Tools and Platforms for Online Education
It encourages the expansion of current eLearning platforms to give teachers a wide range of helpful tools to track students' development. The COVID-19 pandemic has demonstrated the urgent necessity for tools like LMS, attendance management system, and exam management system
Incorporate Blended Learning
While encouraging digital learning and education, schools should not underestimate the value of in-person, face-to-face teaching. Thus, many efficient blended learning models must be used for replication across various topics.
Digital Repository, Content Creation, and Dissemination
Promote the creation of a digital content repository for schools that houses coursework and other play- and activity-based learning materials. Apps and games that are suitable for students can be used by schools to foster playful learning.
Online Assessment and Examinations
It recommends school boards to design and implement online assessment and examination frameworks, including the creation of competencies, rubrics, standardized assessments, and assessment analytics.
To give students a more end-to-end educational experience, these institutions are expected to adopt innovative teaching strategies and the aforementioned approaches, to improve learning results.
However, with the implementation of the National Education Policy, it may become difficult for educational institutes to manage their operations and processes without the support of an ERP provider.
How does MasterSoft Help You to Get Ready for NEP 2020?
The implementation of NEP 2020 compelled educational institutions to modify their operations in order to comply with the new educational framework. MasterSoft, a pioneer in ERP systems, understands the challenges schools and colleges face in implementing the National Education Policy (NEP) 2020.
With more than 2,200 clients and 25 years of experience, MasterSoft has offered time-tested products that meet market demands. We are in collaboration with industry experts and academicians across India to curate ERP solutions as per the changing industry needs, while keeping in mind the requirements of NEP 2020.
The ERP systems that can be adapted to help institutes streamline administrative work, enhance communication, and effectively manage academic and extracurricular activities are listed below:
Learning Management Systems (LMS):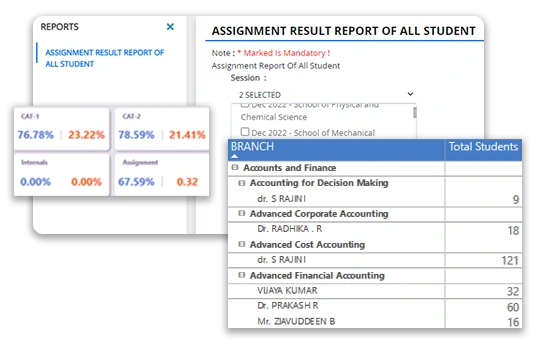 With the help of Mastersoft's Learning Management System (LMS), institutions can easily incorporate the objectives of the National Education Policy (NEP) into their teaching and learning methods.
Additionally, it offers an extensive content repository for efficient storage and organization of learning materials. Through features like discussion boards, chat tools, and notifications, the LMS encourages cooperation and communication.
Institutions can track student progress, identify areas for improvement, and generate detailed reports by using the LMS's assessment and analytics features.
Online Examination Systems: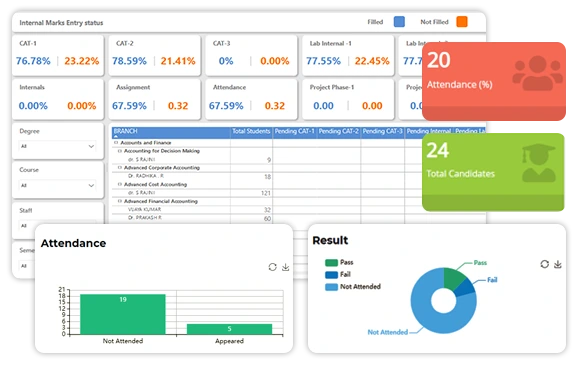 Institutions can provide safe and effective online tests with the help of Mastersoft's Online Examination System, ensuring a fair and reliable evaluation of students.
The technology streamlines the entire assessment workflow by offering a user-friendly interface for test creation, question bank management, and result processing.
It provides versatility in creating a variety of exams, including subjective, objective, multiple-choice, and adaptive tests, to meet various assessment needs.
Also, the system includes cutting-edge capabilities such as remote proctoring for ensuring exam integrity and combating malpractice.
Student Information Systems (SIS):
With the help of Mastersoft's Student Information System (SIS), institutions can readily implement the goals of the National Education Policy (NEP) into their administrative processes.
MasterSoft's SIS platform helps institutions effectively handle extensive student data, such as personal data, enrollment information, academic records, and attendance,
Effective communication and collaboration are possible through the SIS, which connects students, educators, parents, and administrators through portals, messaging systems, and notifications.
By adopting MasterSoft's SIS, schools and colleges can seamlessly adapt to NEP's vision and ensure a student-centric approach to education.
MasterSoft's modern ERP solutions can help schools successfully adapt to the changes brought about by NEP 2020 and ensure a seamless transition into the new era of education.
MasterSoft, with an experience of 25+ years with more than 2,200+ clients have provided time-tested products in line with industry needs. We are in collaboration with industry experts and academicians across India and curate ERP solutions as per the changing industry needs, while keeping in mind the requirements of NEP 2020. We have a futuristic mindset to help you navigate through this tech adoption period.
Our ERP solutions provide online portals for all stakeholders, allowing them, among other things, to
Avail a centralized database to track and store records of multiple entry and exits of students throughout their UG programme.
User-friendly and graphical dashboards with detailed records of in-and-out of students in their course of UG programme.
Easy access and maintenance of student academic information with one Major discipline with other minor interdisciplinary courses.
Access course materials along with multidisciplinary subjects.
Update and check timetables including different minor subjects and dual-degree programmes.
Upload notes for easy access to students with an integrated student management system.
Submit assignments and instant feedback facility.
This can help institutes create a more interactive and collaborative learning environment, which is one of the key goals of the National Education Policy (NEP).
Moreover, our ERP systems can provide real-time graphical dashboards on a wide range of metrics, with the help of numerous ERP solutions including online fee management system, online proctored exam system, digital evaluation system, RFID attendance system, library management system, and more.
This can help institutes track and measure student performance and identify areas of strength and weakness.
In addition, MasterSoft helps you do the following
Manage your fee structures, student data, examinations, admission processes, and accreditation data properly for several years.
Conduct all the daily activities and generate graphical reports in the desired formats.
Simplify the accreditation process and completely automate the data collection and management process.
Achieve transparency across departments.
Manage accreditation data. The ERP software enables access to multiple stakeholders and safely holds tonnes of data.
Conduct online assessments and student performance evaluations with 100% security.
Also, NEP 2020 recently introduced the "dual degree" approach, where the student can enroll in two different courses at the same time! MasterSoft can further help by providing a curated and configurable LMS Software which can significantly reduce the burden on students learning two separate courses simultaneously.
NEP 2020 - How to Pursue Two Academic Programmes Simultaneously?
The NEP's goal of ensuring that all students have access to high-quality education calls for the utilization of technology as well as the incorporation of vocational training and skill development.
And by offering software and other services that help the institution manage and streamline its operations, an ERP supplier like MasterSoft can help educational institutions become NEP-ready.
Furthermore, MasterSoft helps institutes make data-driven decisions, can help organize and monitor student progress in vocational training programmes, and can guide the management of the curriculum.
All of which are necessary to make sure that it is in line with NEP's objectives and that the students are receiving the necessary support.
Final Thoughts,
The NEP 2020 has set high standards and expectations for colleges and universities in India, and it is crucial for them to implement the right technology and processes to achieve these goals.
ERP providers can play a vital role in helping educational institutes become NEP-ready by providing software and services that support the efficient management of operations and administration, and by providing the necessary skills and training required for the students.
By implementing an ERP system, colleges and universities can focus on their core responsibilities and continuously improve the overall educational experience for students.