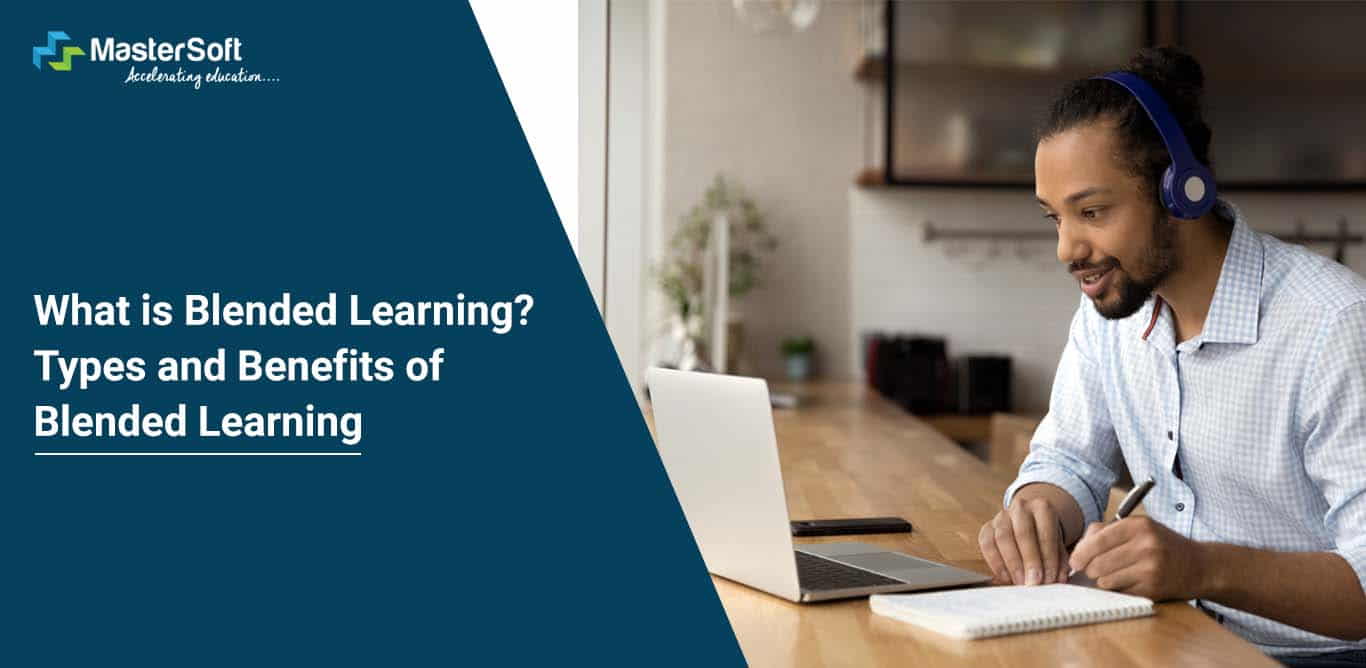 The term "learning" has already gone beyond the four walls classroom setup!
The era of digitization has brought a wide range of changes that have never been explored before!
Today, technology has a crucial role to play in the learning process. Without edTech integration, learning wouldn't be as effective as it could be.
The concept of "Blended Learning" is one such method that eradicates the conventional teaching-learning and brings a fresh perspective of e-learning methodologies to help students excel in academics as well as skill development.
Let me give you a brief idea of what is blended learning, what are its types & advantages…
What Is Blended Learning?
Blended learning is a type of teaching-learning process that involves the use of edTech tools such as a learning management system or e-learning software to help students develop their thinking, reasoning & logical skills.
Blended learning is becoming popular nowadays as it offers the maximum benefits to learners. Students usually get bored when they have to follow the usual teaching classes. On the other hand, involvement of various methodologies helps them find their comfort zone & learn the same concept with experimenting.
Example of Blended Learning –
A) You can teach students a Grammar lesson on a chalkboard.
B) The same lesson can be explained with animation or a short interactive video lesson with an array of real-time examples.
Types of Blended Learning
Now that you have got an idea of what is blended learning. Let me explain to you the types of blended learning.
Refer to the following list for understanding the types of blended learning.
#1: Online Classroom Teaching-Learning
Instead of conventional physical classrooms, teachers can conduct online teaching-learning sessions.
Complete virtual learning would help students learn at their own comfort from anywhere across the globe.
There won't be any geographical barriers.
#2: Self-Paced Learning
As I mentioned, teachers can conduct online teaching sessions.
But in case if a student fails to attend the online classes on time, the lessons can be recorded and reviewed at any given point in time.
It promotes self-paced & flexible learning.
#3: Physical & Virtual Classroom - Combination
Teachers can use a blend of physical classroom sessions as well as some virtual classroom sessions. Time distribution or the ratio of these methods can be determined as per the requirements or plan of teaching.
It is sure to remove the boredom of a normal classroom.
#4: Online Self-Study Techniques
Students may get registered in online courses and start learning things on their own.
Online self-study techniques will help students learn subjects of their own choice in addition to their regular academic lessons.
#5: Online Practical Lab Sessions
Teachers may teach practical lab lessons via a lab and broadcasting the session online. However, ultimate precautions should be taken and students shouldn't be encouraged to do anything risky from their home. However, the online demonstration can be conducted online seamlessly.
Benefits of Blended Learning for Faculty & Students
The following are the top 10 benefits of blended learning for faculty & students.
#1: Effort & Time Savings
Blended learning involves a variety of techniques including e-learning and thus simplifies the workload of teachers. It enables them to save their effort and time investment!
#2: Flexibility of Teaching-learning
Students can be a part of virtual lessons without thinking about the timings. They can access the lessons once the class is finished. So, it provides them with better flexibility of learning.
#3: Access to Vast E-Content
E-content plays a key role in student skill development. With blended learning techniques, students get access to vast e-content just at the click of a button.
#4: Personalized Communication
The learning management system or the educational ERP tool used for e-learning offers an online platform for teacher-student collaboration. If physical classroom teaching is being conducted, then there's face-to-face interaction but with e-learning tools, the gap can be eradicated.
#5: Student Performance Evaluation
Teachers can monitor students' activities online including their involvement in class, daily student attendance, their academic progress, and much more. It helps the faculty to evaluate students in a much better way.
#6: Better Decision making
With the in-depth insights of analytics dashboards in e-learning software, teachers can identify the learning gaps and come up with blended learning techniques to serve the requirements of students.
#7: Higher Student Engagement
When teacher pays attention to every student in a classroom, the student engagement is bound to rise. With blended learning, students can get rid of boring lessons and learn while having fun!
#8: Greater Productivity Levels
Students learn with interest & teachers get results in a short span of time! Thus, blended learning methods promote better productivity levels of teachers as well as students.
#9: Moving towards Innovation
Blended learning encourages students to "think out of the box" and pay attention to innovation. The ultimate aim is to be a well-educated individual.
#10: Helping Society in Long-Term
Students who are well-educated and skilled are bound to help society grow – economically and financially. They can help the nation grow at a better pace.
How MasterSoft's EdTech Tools Can Promote Blended Learning?
MasterSoft, being the largest & oldest edTech tools provider in the education sector understands the importance of blended learning. The primary focus of Team MasterSoft is to create a better teaching-learning environment for the students.
Keeping the vision in mind, MasterSoft has developed a learning management system (LMS) with e-learning modules that help the educators derive the given blended learning benefits -
Maximum student engagement
Better student performance evaluation
Conduction of online exams – MCQs & descriptive
Hassle-free online classroom teaching
Personalized communication platform
Focus on in-depth learning
Skill development plans
Enhanced teaching techniques
More opportunities for student growth collaboration
For more details on the learning management system (LMS) and understanding the other offerings by MasterSoft, do get in touch!
Our contact details:
Email: janki.somani@iitms.co.in
Mobile: 8448010216