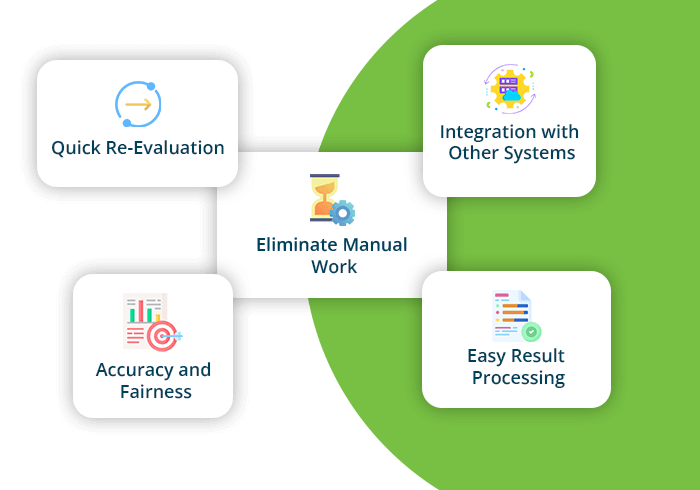 What is a Digital Evaluation System?

Digital evaluation is a process in which the examiner gets access to a student's manual exam script or online exam answers and can mark and evaluate their exam performance using online software. The system enables institutes to conduct exams remotely. It evaluates students and scores them based on their exam performance.
Also referred to as an "onscreen marking solution," it is a technique for grading a candidate's response that was written on paper and handed to the examiner to grade on a computer or laptop. By efficiently automating and streamlining the handling of physical documents, the system enables educational institutions to modernize their outdated paper-based test evaluation methods and shift to an online examination management system with a digital evaluation system.
On-screen marking (OSM) is a system that offers institutes an extensive platform for assessing pen and paper-based exams on computer screens. It completely automates the entire marking and scoring system of descriptive answers in a simplified, accurate, and efficient process.
Using a scalable and reliable exam evaluation system to assess the descriptive answer script will help educational institutions boost efficiency and lower expenses when evaluating physical examination documents.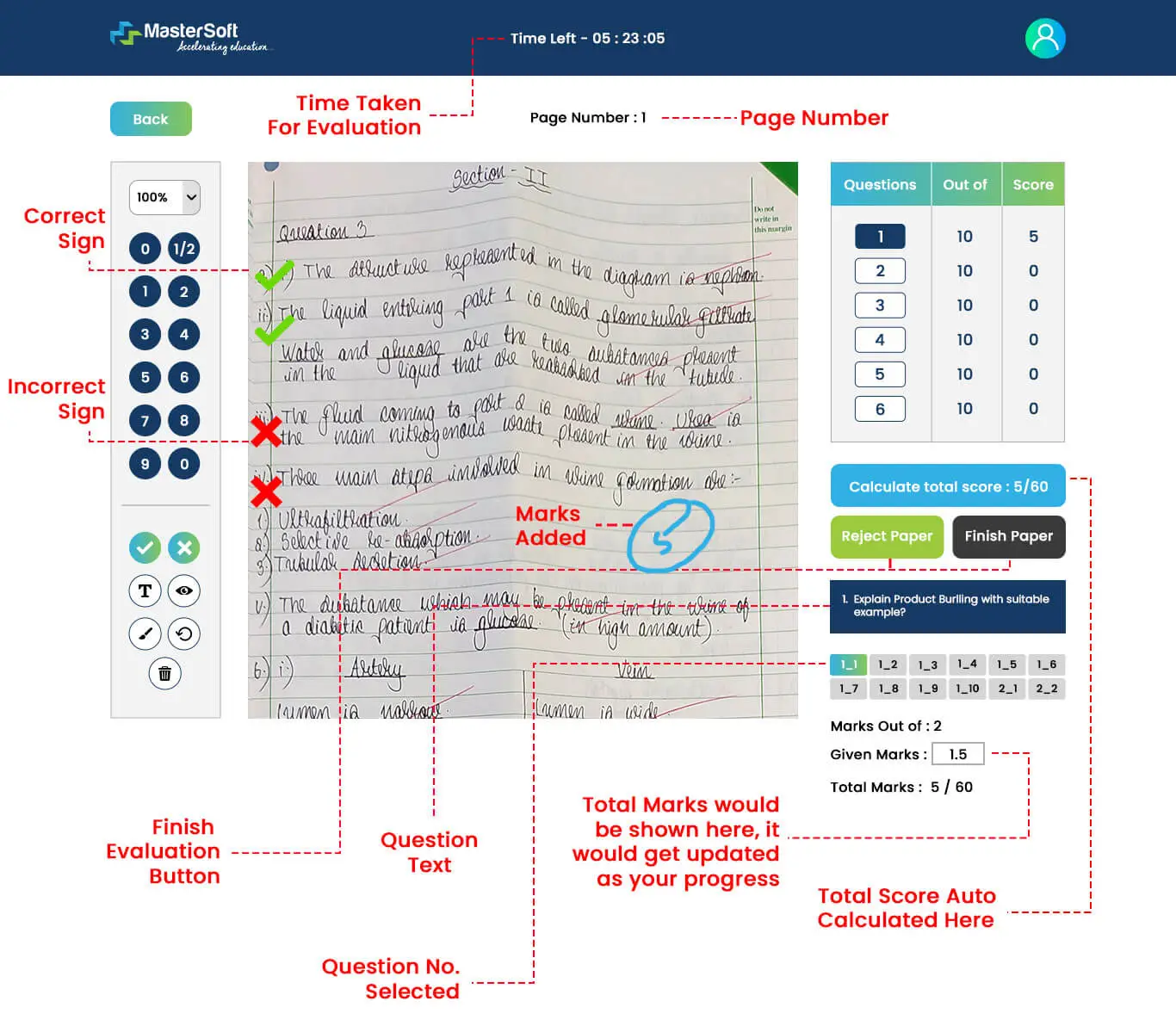 Features of Onscreen Marking System

1

Auto Calculation of Marks

You are not required to keep track of the student's attempts at optional questions as the examiner. Based on the format of the question paper, the system automatically determines the score. The examiner checking process can be carried out from any geographical location using a secure login process.For optional responses, the algorithm takes into account the pupils' best performances.
2

Generation of Results

With automation, the system can rapidly generate mark sheets and calculate the outcome directly. There is no need to manually enter marks into the system. There is a facility to export the result in Excel format, which can be later imported. It is possible to eliminate the manual data entry task of entering marks and validating them.
3

Customization and Branding

Some answer sheet evaluation systems can allow users to customize the appearance and branding of the system to match their organization's branding guidelines. They can allow users to select from a range of question types and formats. This can make it easier to create assessments or exams that are tailored to specific learning goals or needs.
4

Integration with Other Systems

Onscreen evaluation systems can be easily integrated with other systems, such as learning management systems, student information systems, or HR systems, to allow for seamless integration with other learning or training processes. This feature can automatically upload the individual scores of students, thus making it easier for the student to access the marksheet.
Components of Digital Evaluation System

Digital or Onscreen marking systems are computer-based evaluation systems that are used to assess the performance of students via quizzes, online assessments, or exams. These systems typically include two key components:
User Interface
This is the interface that students or employees use to access the system and complete assessments or exams. It may include features such as navigation buttons, progress indicators, and question prompts.
Reporting and Analysis
This is the system that is used to generate reports and analyze the results of the assessments or exams. It can include features such as performance tracking, progress reports, and comparisons with other students.
How Does the Digital Evaluation System Work?

The digital evaluation system is designed for evaluating answer sheets on the digital platform via images of those sheets as per the question pattern settings. All the images are stored on the server in an encrypted format, and the users login through the two-step verification process. One is the user's credentials, and the other is via mobile OTP to ensure the highest level of security.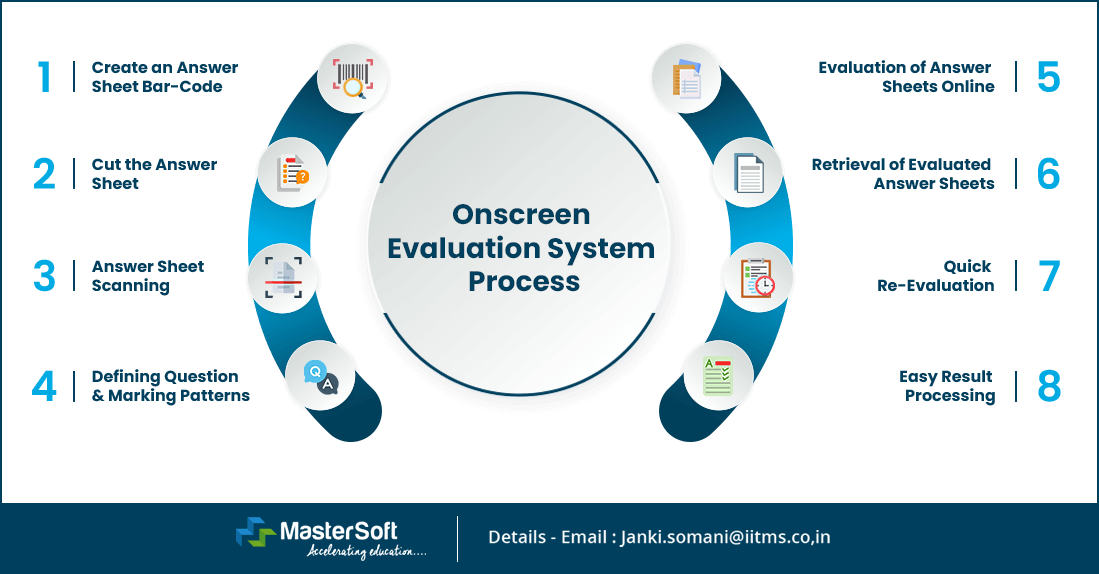 Create an Answer Sheet Bar-Code
Each answer sheet must have a unique barcode on the front page. Either you can use the answer sheet number barcode or you can paste the student seat number barcode on the sheet allocated to the students to solve questions. Based on the barcode, each answer sheet will be identified and separated by the scanner automatically, and a folder will be created at the desired location to save all scanned files into the folder.

Cut the Answer Sheet
After the bar-code setup, the faculty needs to cut the answer sheet through a cutter machine. You can then upload the answer sheets to the digital marking/evaluation system and keep them ready for scanning purposes.

Answer Sheet Scanning
The software scans each answer sheet and stores the data in a highly secure manner. Using the scanner machine, the faculty can start the scanning, and the images are then stored in an appropriate created folder. Post-scanning, you can select the course and upload the complete folder into the course against all the students. So all the images are converted into the encrypted format and stored on the application server.

Defining Question and Marking Patterns
In question pattern, you can define and set up your question pattern type. You can define three levels of question patterns, and in each level, you can define attempts out of an AND question, an OR question, a mandatory question, etc. Also, it is possible to design an online test with question banks and question randomization features according to the difficulty level and exam syllabus.

Evaluation of Answer Sheets Online
There is no geographical location constraint when it comes to the storage of answer sheets online. The examiner-checking process can be done from anywhere. This system helps to reduce the physical handling of the answer sheets, and thus, less damage occurs to those test sheets. The examiner can easily evaluate as per the criteria set in the system.

Retrieval of Evaluated Answer Sheets for Students
The educational institutes enable students to check the evaluated exam copy if they have any doubts regarding the evaluation process. In a traditional approach, when a student requests to see a copy, they have to go through a lot of administrative work. With a digital exam evaluation system, the examiner can mail a photocopy of the evaluated sheet to students.

Quick Re-Evaluation
With an onscreen marking solution, there is no need for photocopying of physical answer sheets, and there is no more to-and-fro logistics among the students and school. The software can readily send a scanned answer sheet at a student's request. After receiving the photocopy, the student can go through it and apply for re-evaluation if they feel there is a need for a rechecking process.

Easy Result Processing
The software can automatically calculate results and generate mark sheets within a few clicks. After the calculation process, the examiner can export the mark sheet into an Excel format. Teachers can then import exam results in Excel format and distribute them to students.
Manual Process Vs. Digital Evaluation

| Manual Process | Digital Evaluation |
| --- | --- |
| Manual answer sheet handling at different stages of evaluation | One time scanning eliminates physical handling of answer sheets |
| The examiner/moderator needs to travel to a central location for the checking of answer sheets | The examiner has complete geographical flexibility to check answer sheets |
| The average time required for each answer sheet evaluation is around 10–15 minutes | Onscreen evaluation takes about 5 minutes for each answer sheet |
| Exam result processing can be delayed and is prone to human errors | Result processing is highly accurate and can be completed quickly |
| The examiner has to undergo the masking process for every answer sheet, including re-masking previous sheets | The masking process is simplified during the scanning process and can be done in bulk |
| Student appeals for photocopies of answer sheets and manual rechecking are tiresome | The system simplifies the rechecking, and an online photocopy of the evaluated answer sheet can be mailed to students |
Save 60% of the Time in the Evaluation of Answer Sheets with a Seamless Onscreen Evaluation System!
Request Demo
Benefits of Onscreen Marking System

High Speed and Efficiency
Digital evaluation systems can often grade exams more quickly and efficiently than manual processes, particularly for MCQs or true/false questions. This can reduce the time it takes to get grades back to students and allow for more timely feedback on their performance.
Better Feedback and Analysis
Online evaluation systems can provide more detailed feedback and analysis of exam performance than manual processes. This can help students understand their strengths and weaknesses and help them improve their skills.
Accuracy and Fairness
Answer sheet evaluation systems can be less prone to errors than manual processes as they use automated grading algorithms to score exams. This can help to ensure that grades are more accurate and that students are fairly evaluated without any bias.
High Scalability
Digital evaluation systems are often more scalable than manual processes, as they can handle large numbers of exams more efficiently. This can be particularly useful for large courses or training programs.
Convenience
Digital evaluation systems allow students or employees to complete assessments or exams at their own pace and at a location that is convenient for them. This can be particularly useful for students in distance learning programmes or online learning who may not have access to a physical testing location.
High Security
Digital evaluation systems have better security measures in place to prevent cheating or unauthorized access to exam materials. This can help to maintain the integrity of the assessment process and prevent any tampering with scores.
What Kinds of Institutions Opt for Digital Evaluation Systems?

Digital/Onscreen evaluation systems can be used in a broad variety of institutes for different purposes. They are mainly used in educational settings, such as public and private schools, colleges, universities, and coaching institutes, to administer exams and simplify the assessment process. They can also be used in professional settings, such as for employee training programmes or certification exams.
Implementation of Digital Evaluation System

Digital/Onscreen evaluation systems can be used in a broad variety of institutes for different purposes. They are mainly used in educational settings, such as public and private schools, colleges, universities, and coaching institutes, to administer exams and simplify the assessment process. They can also be used in professional settings, such as for employee training programmes or certification exams.
FAQs on Digital Evaluation System

Your institution can reduce administrative and logistical expenses by using a digital evaluation system. There would be huge annual savings on travel, evaluators' dearness allowances, and stationery. Additionally, it is a helpful tool for regular assessments for university courses, semester test preparation, and entrance exams for academic programmes.
The onscreen evaluation system can be very secure if implemented properly. For the highest level of security, it is important to implement secure servers, encryption, user authentication, access control, and monitoring capabilities.