HR Management Software For College & University

Every educational institution needs to assess & analyze the current operational procedures & plan for efficient work processes for each department. When everything is analyzed with in-depth insights, the decision-making process of the management gets clear & helps them meet the work goals in terms of efficiency, productivity & better ROI.
Implementing the right resource management system software or simply HR management software can contribute hugely to the success of educational institutions in the long run. Cloud-based HRMS software maximizes the functionalities and helps the HR department to take thoughtful & strategic decisions for the betterment of the institution.
Also, with the help of human resource management information system (HRMIS), organizations can reduce manual data entry and paperwork, increase data accuracy, and improve overall efficiency in HR processes. With the increasing use of cloud-based HRMIS, organizations can access and manage their HR data from anywhere and at any time, providing more flexibility for both HR personnel and employees.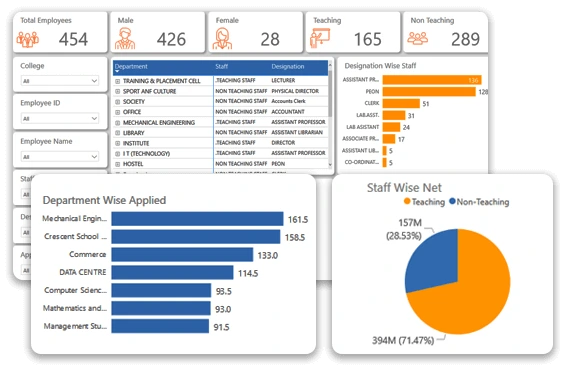 MasterSoft's HRMS Software For HEIs

MasterSoft's online HR management software is an advanced automation ERP software designed to simplify & streamline the functions of the HR department. The HR management software for higher education institutions deals with staff recruitment, hiring, administration, and training of faculty.
The HR management system manages the payroll of staff members and is responsible for deductions, pay rules, and salary slips associated with it. All-in-all the advanced ERP for the HR department assists the HR personnel to conduct their daily operations seamlessly & save enormous time, boosting their work productivity.
Higher Education ERP Modules

University ERP

University ERP
Higher Education ERP

Higher Education ERP
Components of Human Resources Management System (HRMS)

The key function of an HRMS software is to consolidate and standardize the HR functions. An HRMS module must include distinct HR capabilities to take care of specific admin tasks to maximize productivity and considerably lower the staff burden. Some of the main components of an HRMS are:
Application Management:
An employee onboarding module is used to monitor and track candidates across recruitment portals, job boards, and websites throughout all phases right from finding them and hiring the applicant. It offers a single interface to seamlessly collaborate with recruiters and streamline the hiring process.
Employee Management:
Manage, store, and retrieve all up-to-date, employee data such as work history, basic profile, performance, role, etc. on a centralized database which can be accessed anytime and anywhere. Important employee data will be organized in one place which enables the staff to retrieve and update any record at ease.
Organizational Management:
Create an organizational structure with predefined criteria and templates, employee onboarding, related reports, business processes, learning & development, and compliance obligations to support global employee relocation and other workforce management tasks in a seamless manner.
Payroll Management:
Automate payroll process to significantly cut down manual workload. This module will help to track and manage employee hours easily while taking care of payroll deposits and issuing checks for faculty. Offer automated tax computations, tabular data storage, and configurable rule-based engine to simplify the payroll management.
Employee Performance Management:
Set specific goals, assign weightage, collaborate, create a development plan, and align it with organizational values to evaluate each staff member in the institution with comprehensive performance reviews - quarterly, half-yearly, or yearly. Effectively assess the performance against the KPIs assigned in the software.
Attendance Management:
Maintain a good track of employee work schedules and attendance is with a centralized attendance, leave management, and scheduling module. Keep track of leave requests, manage timesheets, sketch out employee schedules, while integrating the attendance data with the payroll management.
Benefits Management:
Include various options and plans to manage, auto-define, and customize a full spectrum of employee-specific benefits in a single interface to effectively govern the costs and eligibility associated with it. Easily track and review financial data enabling the admin to maintain the benefits given to the staff in correspondence with the financial picture of the institute.
Employee Training:
Create dedicated training programs for the new employees to ensure smooth functioning of the institute. Automate the staff training while keeping track of the expenditure and progress of the new staff. The system further offers individual user learning plans, study portals, and training recommendations, among others.
Onboarding:
Streamline the employee onboarding process by enabling the HR staff to introduce the new candidates to respective trainers with a minimal effort. This functionality can be integrated with the talent management module, thus automatically notifying specific departments to handle onboarding activities of the new candidates such as building access, user accounts, etc.
Graphical Reports & Analytics
Detailed reporting and analytics component enables the HR staff to get a detailed insight into the complete operations of HR activities. It allows the staff to develop better strategies to improve the overall operations of the department and thereby help in making better decisions thereby improving efficiency.
Key Features Of MasterSoft's HRMS Software

1

Payroll Management

Higher education management system facilitates online recruitment of faculty in an easy, secure and transparent system. The user creates a vacancy on campus for candidates on the basis of eligibility.
2

Online Recruitment Provision

Faculty gets the provision to design assign question banks & create mock tests to help students practice & prepare for the final test for self-evaluating their performance & ensuring better scores.
3

Service Book Module Integration

A service book is a present record of a person's certified career maintained in detail. This module of the human resource management system gives the user provision to scan, store and retrieve original documents of the employee's personal file.
4

Smart MIS Reporting

The human resource management system auto-generates accurate & error-free HR MIS reports related to payments, staff leaves, payslips, etc, at the click of a button & simplifies the daily work of the HR department.
5

Easier User Interface

The user interface of the human resource management system software is extremely simple-to-use that enables the HR department to carry out tasks without any hassles.
6

Faculty Performance Tracking

The HR department needs to track the performance of the faculty & assistant staff to recognize their effort & hard work to provide them a fair & bias-free appraisal.
Choose MasterSoft' HRMS and Keep the Institutional Data Safe & Secure!
Request Demo
Benefits Of MasterSoft's HRMS Software

Automate Routine Tasks
Prevent repetitive HR tasks
Save time with auto-triggered reminders
Simplify various stages of recruitment process
Focus on important HR operations, such as payroll
Easy KPI Monitoring
Track KPI metrics with an AI-based dashboard
Measure workforce efficiency over time
Determine the efficiency of the hiring process
Measure the cost in onboarding new hires
Greater Data Security
Secure data transmission via cloud
Get an end-to-end data encryption
HRMS Cloud Transformation

In the present scenario, HR professionals have become some of the most important people in the C-suite. Cloud technology has helped them to maintain and create a productive workplace using human resource management system by integrating different modules of workforce optimization, talent management, and learning.
By implementing cloud in HR management system, the institute can avail the following functionalities with ease:
Real-Time Analytics
Get access to real-time reports for identification of trends and analyzing them to assess recruitment trends or new development trends. Enable smooth workflows within the institute, eliminating the data redundancy issues.
Intelligent Application
With machine learning, artificial learning, and data science, the institute can help the staff to hire smarter, work smarter, and engage smarter. Moreover, institutions can provide complete employee insights and improve overall operational efficiency.
Improved Employee Engagement
Using big data, the HRMS software can improve employee engagement programs. Efficient employee engagement offers high interest from new candidates, high employee satisfaction, profitability, knowledge sharing, and business agility.
Data Security and Privacy Controls
By shifting to cloud-based HRMS, institutions can get multilayered security features, modern data centers, and data encryption by default. This software provides high scalability, better identity & security management, and high performance & availability.
Predictive Analysis
Adoption of AI in Cloud-based HRMS systems can assist with employee promotion, retention, assessment, and increment activities. By studying the institution's data, AI can forecast which employees can be at risk of poor performance or on the verge of resigning.
Enhanced Recruitment Process
The recruitment process deals with a lot of information, processing resumes, conducting interviews, collecting feedback, and sending out the job offers which can be automated and streamlined and be carried out within a few clicks.
What Does HR Software Do?

The HR software helps the HR staff by automating manual repetitive tasks, creating data-driven reports, conducting performance management, updating faculty records, time tracking of employees, and organizing employee information.
Some of the additional functions human resource management system can perform are as follows:
Self-service time tracking
Securely organizing and storing employee data
Detailed absence management
Creating tracking approvals and workflows
Data security and analytics
Auto-triggered notifications
Integrating with other applications
Why is HRMS Important for your Institution?

The role of the HR team in an educational institution is critical. HRMS plays a major role in ensuring a better work environment for teachers and HR professionals and reducing their extra workload.
Below are some ways in which HRMS software enhances employee management for an educational institute:
Simplifies Attendance Management
Teachers can easily mark their attendance via mobile devices with IP and geo-restrictions. You can integrate your biometric and attendance devices with the HR management system to track employee attendance.
Enhances Learning and Development
Improve employee training and development by offering self-paced and blended learning thus offering them flexibility. With mobile learning and e-learning, the faculty can train themselves from anywhere using any device by selecting a suitable course.
Improves Communication
With HRMS, you can enhance communication between different departments by sending automated notifications and being up-to-date with important announcements. Also, the staff can use an internal chat feature which further bridges the communication gap.
Help Faculty to Perform Better
With an automated performance management system, you can track the performance of the faculty on a regular basis. Conduct continuous performance reviews to help employees understand their work and contribution towards the institution's goals.
Enhances the Query Handling Process
The faculty can readily get in touch with the dedicated personnel to clear any queries and track the status of their request. This feature ensures that all the query requests are processed quickly.
Provides Easy Access to Documents
The education sector has to deal with tons of documents which include lesson plans, lecture notes, question papers, and textbook PDFs. With a centralized document management system, the employees can organize all documents in a single repository.
HRMS Security

In an educational institute, security is of prime concern while choosing an ERP software. The data stored in the software is extremely sensitive which includes confidential and proprietary company information and personal information of employees, which needs to be kept secure.
Internal security is highly crucial; employee data should be guarded by passwords which have varying encrypted levels of access in relation to what is required for the job position.
Most institutes enable the faculty to access sections of HRMS solutions, the employees must understand the importance of maintaining the integrity of the system and protecting the security of the information it contains. Safeguards must also be considered to terminate employee's access to systems which are not allowed to common employees.
FAQs on HR Management Software