College Affiliation Module of University ERP
University ERP Modules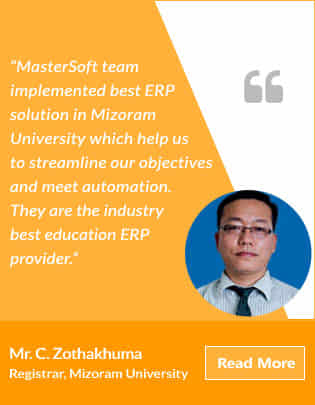 College Affiliation is a much needed plugin of university management software. By the use of College affiliation module colleges can either upload all documents to the university page or already affiliated colleges can apply for sanctioning of new courses. It manages uploading of all documents (in any format) on the server effortlessly.
The data that gets uploaded is scrutinized by the Affiliation Committee for remarks and approval. Colleges can view notifications that are sent by universities and also receive affiliation certificate. New course allotment letter can be accessed through this module. The basic process flow of functionality is:

1. College Registration:
For college registration, users can define college code, name of college, address and logo. The year of establishment and the nature of affiliation to university can be defined through through college affiliation. Important details like renewal date, type of UGC recognition and officer's contact details can be defined as well.
2. College Details:
Details of employees, teachers and departments and also the number of courses can be defined through this software.
3. Students Data:
Can be uploaded too through this plugin of College Affiliation.
4. University Notifications:
University can issue various notifications for colleges. College can upload files / documents as per the requirement of university.