What is Hostel Management System?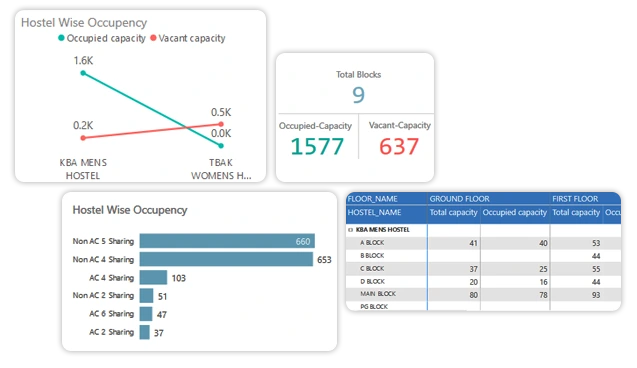 Hostel management system is designed to manage all hostel activities like hostel admissions, fees, room, mess allotment, hostel stores & generates related reports for smooth transactions. It is also used to manage monthly mess bill calculation, hostel staff payroll, student certificates, etc.
Designed & developed keeping in mind all the hostel management concerns of staff, MasterSoft's Hostel Management Software is a one-stop-solution for higher education institutions.
Right from students' registration to allocating rooms & mess, managing student count records, and ins-and-outs of students, it streamlines & automates all the day-to-day hostel activities.
Checking the rooms' availability, allocating room to new students, managing hostel fees, visitors' records, mess, and all such hostel management related activities manually consume efforts, time, and resources.
Moreover, hostel management also requires looking after the security of students which can only be achieved with close supervision of daily students' activities.
Features Of Hostel Management System

1

Automatic Room Allocation

The wardens can verify room availability and assign rooms based on the requested category by the students using the management systems. Along with producing detailed reports, it also generates gate passes for guests who check out at particular times.
2

Student Fees Collection & Defaulters

With the hostel management solution, the time-consuming chore of calculating hostel fees and collecting them becomes simpler and faster. It also allows the administrators to access the list of defaulters and remind them of payments through automatic messages and emails.
3

Tracking of Hostel Students' Attendance

All the student records are generated and continuously tracked by the warden for the hostel students who check in out several times. Parents receive regular updates about their children's admittance, attendance, room availability, etc. via automatic SMS or alerts.
Higher Education ERP Modules

University ERP

University ERP
Higher Education ERP

Higher Education ERP
What Are the Main Functions of Hostel Management Systems?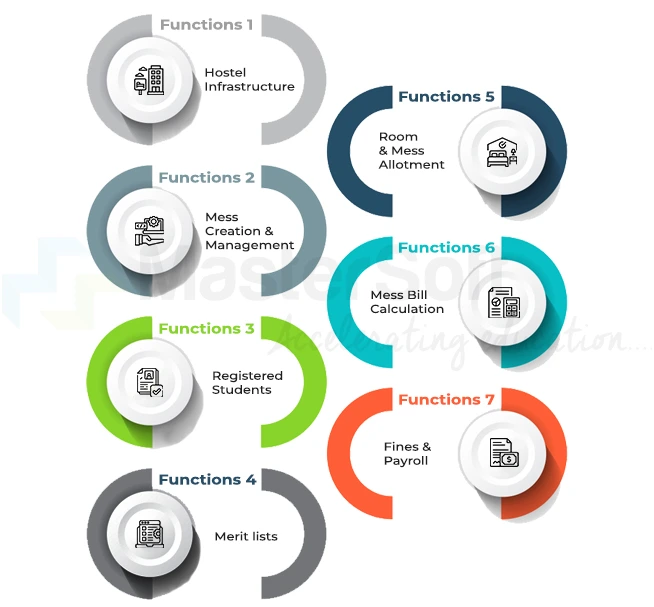 Is overseeing the dorms at your university becoming too much for you to handle? then select the comprehensive hostel administration system created by us. No matter how large or small your school's hostel operations are, our capable software will protect your vision.
With the effective management system, building details like a ward, the number of floors, rooms, and their capacity and amenities are now just a few clicks away.
Integrate student information with hostel infrastructure information to ensure efficient hostilities management. The processes for assigning rooms and moving rooms will be frictionless as a result.
It also ensures the following details to be fed for effective management.
Hostel infrastructure

Mess creation and management

Registered students

Merit lists
Room and mess allotment

Mess bill calculation

Fines and Payroll
A Configurable & Robust ERP Software To Maximize Growth Of HEIs!
Request Demo
Benefits Of Hostel Management Software

Automation of Daily Routine
Automated Check In-Out Report
Easily Integrated Software
Online hostel fees management
Secured Visitor Management
Efficient Resource Utilization
Requiring Less Time And Effort
The Data Update Process Is Quick.
FAQ's On Hostel Management System