Mobile App - Student Diary

Student Diary App is a smart phone interface of the University ERP. Through this student management app university can keep students, parents, and faculty members in the connectivity loop.
Information about upcoming events, time table and courses, notifications, payment alerts and study material can be accessed anytime on the app. The mobile app is powered by analytics and cross platform compatibility.
Student Diary is a mobile app for educational institutions to achieve transparency in communication and for smoother transactions. Institutions can save up on SMS/ letters and other means of conventional communication.
University ERP Modules

Student Management

Student Management
Faculty Management

Faculty Management
Campus Administration

Campus Administration
Student Diary App - Check Student Academic Information in One Place

Challenges Faced by Educational Institutes
Non-availability of Student's Academic Information in Real-time.
Maintain Endless records of students and administrative activities
Weak parent-teachers-student engagement and collaboration.
Communication Gap between the Institute & Parents
Low Parental Computer Literacy
Rising Cost of Postal and Digital Communication
Solution Provided by Student Diary App
Enhance student success by having parents see data in real time.
Simplification of Administrative Procedures and Student Records.
Boosting Parent-Teacher Engagement & Communication
Integrated with data analytics to satisfy the institution's goals
Friendly UI to access any document or track child's performance.
Using the cycle time data from your system is key to lowering costs
How Does the Student Diary App Work?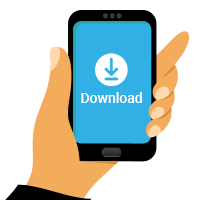 1. Download & Install
Look for MasterSoft's Student Diary App on the Playstore. Download it. Install the application and open it on your smartphone.
2. Register
After installing, both students and parents can open the mobile application and register by entering the school code, unique ID, and password sent by the admin of the institute via email/SMS on the registered mail address/phone number.
After registering, you will get an OTP on the registered number which can be used for signing up.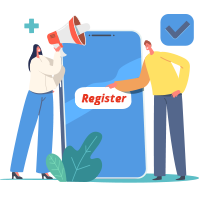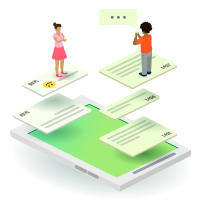 3. Start Using the App
After signing up, you can login again with the given credentials and start using the app to check day-to-day student activities, access timetables, get results, and get notifications for any important events.
Students Can View The Following Data On The Mobile App

Personal Information

Fees Paid and outstanding/ balance fee details

Class course/ Exam time table

Attendance reports

Library Issue-return details of books

Library's Open Public Access Catalog

Upcoming news, notifications and updates

Portal of student grievances
Features Of Student Diary App

1

Easy Timetable Generation

With a centralized and flexible module, you can optimally and easily allocate subjects and respective faculty members for various lectures. This feature is designed to find a suitable pattern covering all the students, optional subjects, and teachers. If any instructor is absent, the tool automatically assigns the lecture to a faculty member who is free at the moment, thus can accommodate any last minute changes.
2

Set Up Homework

Create homework templates and send notifications to students to improve academic performance and focus. Schedule homework, track & monitor assignments, tests, and projects thus keeping students up-to-date with the ongoing chapters. With the help of dashboards, you can easily allocate tasks, set reminders, set up assignments, upload homework, and color-code tasks.
3

Multimedia Messaging

With the student diary app, teachers can share voice messages, text/pictures, PDFs, and other announcements as well as student activities with parents. Also, the faculty can organize the contact information of student's parents, discuss urgent matters, share class announcements, etc. thereby promoting parent engagement in their child's academic affairs. This can help in notifying parents regarding their ward's activities.
4

Student Attendance Records

The mobile app is integrated with attendance software which captures and maintains student attendance records that are then shared with parents. Parents get notified if the students do not regularly show up for lectures. Also, parents can easily inform teachers if their ward is feeling sick and cannot attend the class for health or personal reasons. Parents have complete access to their kid's daily attendance records, which boosts student's discipline.
I want a MasterSoft Student Diary App for My Campus Now!
Request Demo
Benefits Of Student Diary App

Instant & Private Messages
Bridge the Communication Gap
Improve Transparency Between Teachers & Faculty
Reduce Burden of Teachers
School Calendar
Update Calendar Activities
Filter the Events as Per Months/Class
Better Communication & Transparency
Live Bus Tracking
Keep Track of Student's Safety
Get Live Location of Student's Location
Easy Access to Bus Time Records