General Administration Module of University ERP
University ERP Modules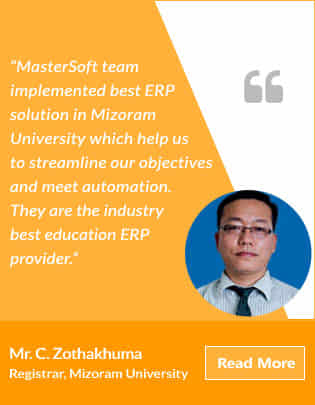 This plugin of university management system namely General Administration has a vast user functionality for institutes. Miscellaneous administrative departments, which are non academic but essential nonetheless for effective, unhindered management are listed below-
Internal Quality Assurance Cell (IQAC)
To sustain the quality of education at university the module of Internal Quality Assurance Cell maintains
Performance index

Teaching and learning activities

Evaluations

Measures and plans proposed by IQAC for quality check

Academic Performance Indicators
Document Management
Creates a repository of important university documents which can be accessed by authorised users. The documents can be saved in a hierarchical way and can only be used if right to access is given by the admin.
Dispatch and Diary
Letters received or dispatched by the university gets saved with this plugin. Virtual Registers maintain inward/ outward documents with a unique number identification.
Estate and Quarter Management
Staff quarters or residences given to faculty gets computerized in this module. It keeps tab of energy consumption, water meter and monthly reports.
Meeting Management
Discussions that happen among the members of the university committee can be recorded. Meeting management records schedule, agenda, topics of discussions and minutes of meeting.
Repair and Maintenance
Complaints and grievance with regards to the university infrastructure, courses, management or student portal can be recorded through this module. Once solution or rectification has been granted; it registers that information too.
Engineering Unit
Infrastructure's or other units' construction work can be monitored through this module of general administration. It manages and saves information of quotation and tender work, agreements, certificates, tax deductions and the like.
Vehicle Management
Vehicle details of the university campus can be kept a record of. Vehicle details like procurement number, maintenance details, travel logbook, expenditures related to vehicle use, driver details and insurance premium can be fed, saved and retrieved as and when required.
Legal Matters
Record maintenance of legal matters of the court and various other cases related entries and reports is managed by this module.
File Movement and Tracking
This module tracks the movement of files from different departments to authority or admin. File Movement and Tracking module can record sections, file creations, movement paths and vice versa.
Read more - Why Do You Need A Powerful File Tracking System For Your Organization?
File Movement and Tracking
This module of university ERP manages the following of the guest house at the university:
Guest room booking

Approval and confirmation of guest room

Room details

Guest details

Payment details

Bills and receipts