What is Leave Management System Software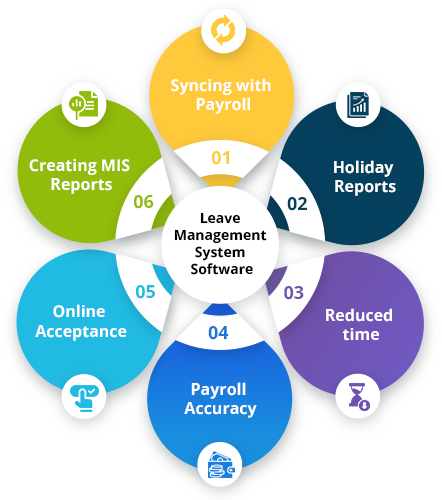 Leave is a provision to stay away from work for genuine reasons with prior approval of the authorities. It may or be granted for a casual purpose, planned activity, on medical grounds, or in extraordinary conditions. Leave cannot be claimed as a matter of right. Accordingly, leave rules and norms have been categorized under various heads. Vacation and leave are governed by a set of rules and norms as laid down by the Government of India. Managing leaves of the faculty & staff for the entire year is a tedious process. Efficient leave management software is thus required to simplify the process.
Leave Management System (LMS) is designed to help the organization to set up employee leave policy & manage their leaves seamlessly. This software enables configuring all types of leaves, including paid leaves, leaves without pay, sick leaves, casual leaves, medical leaves, and much more. In addition to this, the software also helps an employee to check the status of leave, daily attendance record, and can also apply for leave.
The leave management system is software that streamlines employee requests for time off. Leave requests can be tracked, approved, or denied easily with an automated leave management system.
Attendance & Leave Reports

MasterSoft's leave management system helps educators to generate attendance & leave reports such as-
Leave details
Holiday report
Leave application
Leave status of staff
Biometric attendance report
Consolidated attendance report
Monthly attendance muster report
Final salary/payable days report
Leave allotment & balance report
Leave summary – daily/monthly/yearly
Late-early-thumb problem report
Yearly leave position report
Importance Of Leave Management System

Reduced Absenteeism
Auto-Update Leave Balance
Leaves Tracking
Up-To-Date Data And Information
Boosts Transparency
Provides Data Visibility In Real-Time.
Reflects The Principles Of Your Organisation
All-In-One-Dashboard
Reduced Paperwork
Reduction of Repetitive Tasks
Seamless Integrated Software
Eliminates Paperwork
Suitable Planning
Enhances Interaction
Flexible Approval Process
Summary Reporting
Challenges Vs Solutions

Challenges In Leave Management System
Keeping track of every employee's leaves count
Errors caused in payroll due to leave miscount
Conveying the leave and Holiday policy to employees
Confusion about whether to plan vacations
Gaining comfort and trust of faculty with comfortable leave policies
Solutions offered by MasterSoft's LMS
Providing Data Visibility In Real-Time
Zero Errors with Auto-Update Leave Balance
Improving communication for taking leave
The system does suitable Planning
Flexible Approval Process
Features Of Leave Management System

1

Leave Application & Approval

Leave management system, allows defining & configuring the rules for various types of leaves like casual leave, earned leave, compensatory leave, medical leave, service base leaves like study leave, maternity leaves & paternity leave, etc.
2

Biometric Attendance

MasterSoft provides a biometric machine - like ESSL, nit-gen link with a database for biometric integration & start the downloading of punches automatically. Daily attendance of employees is available at their login.
3

Fines & Calculation

College can define punishment configuration like late coming, early going allowed limit, else deduct the leaves from employee leave account. Admin has rights to allow or not allow the latecomers, early going & thumb not found record.
4

Powerful Analytics Dashboard

The online leave management system enables the staff members and faculty to view their balance leaves and leave application status. Also, the administrative authority can access the leave information & can keep a tab on employees' leaves on a daily, weekly, monthly or yearly basis.
5

MIS Reports Generation

The Leave Management Software can generate all types of attendance & leave reports with 100% accuracy. Some of the major MIS reports include - MIS appointment report, designation-wise MIS report, grade-wise MIS report, post-sanction report, annual Increment report, and annual LWP report.
6

Seamless Integration With ERP Modules

Our online leave management software offers seamless integration with other ERP modules such as HR Management software, payroll software, etc. This saves a lot of time for the administrative department and allows cross-functional working in the educational institution.
Benefits Of Leave Management System

Real-Time Visibility of Data
Auto-Update Leave Balance
Seamless Integration
Cross-functional Reporting
Improved Workflow
Removes Manual Intervention
Enhanced Organisation Authenticity
FAQs on Leave Management Software

Leave management is important for an educational institution because a lot of effort & time gets wasted in calculating & managing the leaves of staff members manually. The leave management system helps your staff to plan their leaves and automates & standardizes the entire leave management process.
As an educator, you must look for the following features in a leave management system.
Powerful analytics dashboard
Customizable leave management system
Leaves & fines calculation provision
Configurable software that defines various leave types
Seamless integration with other ERP modules
MIS leave & attendance reports