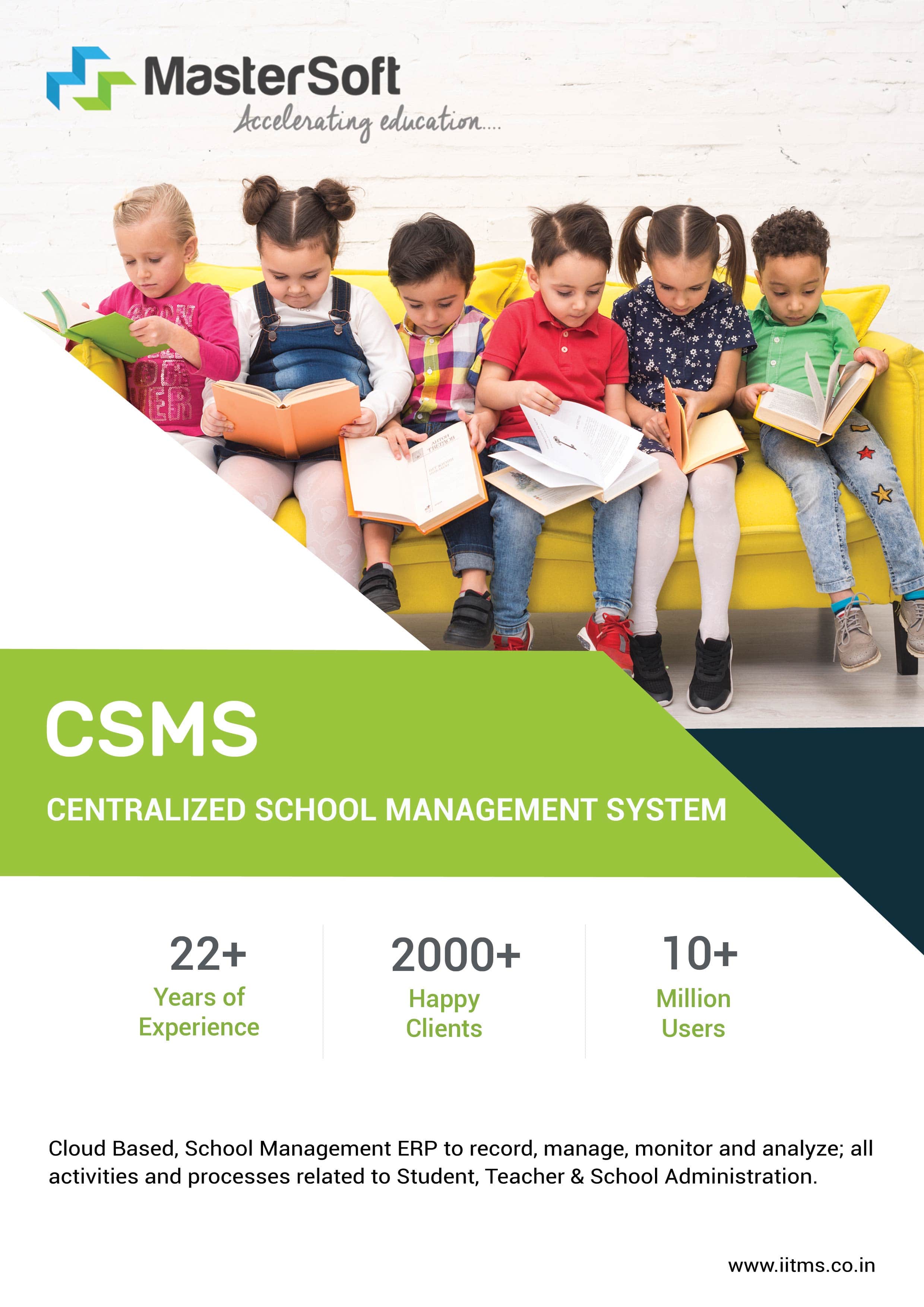 CSMS © - Centralized School Management System
A CLOUD-BASED INTEGRATED ERP FOR SCHOOLS
Cloud based School Management ERP to record, manage, monitor, and analyze, all activities and processes related to student, teacher, and school administration. It supports multi campus structure to enable Multi Academy Trusts, Educational Societies to seamlessly manage all its schools located at multiple campuses across the world.
It provides complete solution for digitization of all academic & non-academic activities in schools by automating:
Student Lifecycle comprising – Lead/Enquiry Management, Online Admissions & Fees Collection, Timetable, e-Learning or Learning Management System (LMS), Student Information Management, School Bus Management, and Hostel Management.
Faculty Lifecycle comprising- Teaching & Class attendance, Assessment & Examinations for All Boards, Marks Valuation & Entry, and Results.
School Administration Lifecycle comprising- Accounts, Payroll, Library Management, Dashboards & Reports, and Website.
With a vision to bring maximum value to Indian schools & transform the teaching-learning environment by leveraging integrated cloud-based ERP tools for student & teacher empowerment, and campus Administration, Microsoft – one of leading tech giants across the world, has collaborated with the largest & oldest edTech provider – MasterSoft ERP Solutions.
MasterSoft's CSMS tool for automation of campuses has been successfully integrated with the Microsoft Aspire School Program (MASP) Suite offering. It streamlines all the academic, as well as non-academic work processes in schools &, helps the educators to reach their goals by driving greater efficiency & productivity.
Why CSMS?
End-to-End Comprehensive Solution

School ERP to manage all academic & non-academic activities from a centralized platform.

MASP

The CSMS system is integrated with the MASP Suite.

Analytics Driven Smart Decisions

In-depth analysis of institutional activities via BI-powered analytics dashboards to foster smart decision-making.

Minimizes Workload & Increases Efficiency

Day-to-day tasks are automated & streamlined which enable faculty to focus better on teaching.
Secured Centralized Database

A secured centralized database to collect, organize & store institutional information safely in a single platform.

Affordable Cost

The School Management System with a multitude of benefits comes at an extremely affordable cost!

No Queues for Admissions

24*7 online admission & fees payment provision eliminates the process of standing in long queues for admission.

Zero Paperwork

ERP enables zero paperwork, provides higher accuracy of student information management.
CSMS Features
Complete Integration between Students, Faculty & School Administration

End-to-end ERP for School eliminating the need of multiple systems

Smart Integrations: Hardware (Biometric, RF-ID, Mobile) & Software (Secured Payment Gateway, Power BI, O365, Microsoft Teams)

Mobile Application & Web based Operations (Fully compatible with Mobile, Tablet, and Desktop Compatible)

Built on Latest Technology Framework to Support Institutional Processes

Faster, Precise, and Safer Institutional Data Migration & Management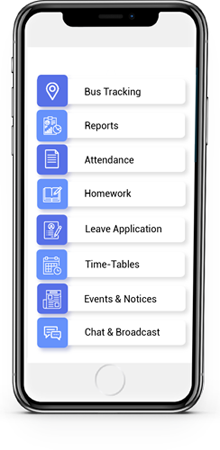 CSMS Modules
Student Lifecycle
Lead/Enquiry Management
The Lead Management System tracks the entire lead cycle from its generation on receiving enquiry until its successful closure & automates all the crucial activities required for improving the student enrollment ratio in the schools. It enables school staff to run, track, and manage various student acquisition campaigns and enquiries via various mediums such as Social Media, Digital Marketing, SMS, Email, Advertisement etc.
Creates a database of leads simultaneously. Assign & Nourish leads in data-base with tailored content and regular follow-ups.
Reports
Leads from Social Media

Marketing Campaigns Leads

Leads Generated via Phone/Emails
Leads from Website

Successful Leads Closure Reports

Complete Lead Performance Reports
Online Admission Management
Online Admission Management Module enables schools to perform the entire admission process online. Integrated with avant-garde technology, it allows school faculty to create admission notifications, on-off line prospectus sales & registration, scrutiny, merit-list, lucky draw & offer letters/SMS to parents. Admission module is linked with the Lead management system for effective management of leads.
Reports
List of Registered Students

Student Application Status

Merit List: Category-wise, Scholarships, etc
Online Admission Registration

Admission Cancellation Report

MIS Reports as per Caste, Category, Religion, etc
Fees Collection
All Fees can be collected online or on School/Bank counters in one/multiple installments. The fee collection module defines various types of fees, configure fee rules & create fee demand. All fees-related activities like fee refund, write-off, outstanding fee reminders, fine collection, fee clearance, etc. is managed from a single platform. All Essential Fee related reports like DCR - Daily Collection Report, Outstanding Fees Report can be generated.
For online fee payments, parents/students can use MasterSoft FEEPAYR- a safe & secure online fee payment & collection portal. The amount paid by e-transaction gets deposited in the school's official bank account & e-receipts are sent to the parent's email Id.
Reports
Daily Collection Register in three formats-Detailed, Short, and Summary

Monthly Collection Register

Dues, Paid, and Outstanding Fees
Fee Collection Reports

Student Fee Ledger

Concession & Refunds-Related Reports
Timetable Management
The Timetable Management System helps in smooth management of classes in schools by enabling faculty members to prepare a clash-free timetable by defining subjects, batches, sections, and classrooms. Faculty can access the timetable & information such as lecture timings, daily curriculum, etc by entering their login credentials on the portal.
Reports
Timetable As Per Classroom, Course & Faculty

Subject, Faculty & Class-wise Lecture Reports
Complete Attendance Analysis of Faculty & Students

Email/SMS/App Alerts
Class Attendance
Attendance can be marked, monitored & tracked in real-time via biometric, RFID, and mobile application (Atcovation). Teachers can view class-wise, pupil-wise email or app push notifications to parents informing them about pupil attendance can be triggered.
Reports
Class-wise/Student-wise/Section-wise Attendance

Monthly/Weekly/Yearly Student Attendance Register

Chronic Absenteeism Report
Leave Summary Reports

Daily Student Tracking Reports

SMS/Email Alerts to Parents
Student Information Management System (SIMS)
Manage all student-related activities from a Centralized Student Information Management Platform - Admission Record, Section Allotment, Roll List, Admission Register, and Monthly Attendance Sheet for Teachers, Identity Cards, and Board Reports etc. Government & Compliance Reports can be generated in the defined formats.
Enables Continuous Assessments and Evaluation of Students and generation of School Certificates - TC, Bonafide, Character, etc.
SIS supports all the school management requirements including:
Detailed students and institutional information

Role-based login access for 100% data security

Configurable BI-Powered Analytics Dashboard
Timetables, Schedules & Curriculum Defining Provision

Supports Multi Campus Structure

Alumni Information Management
School Bus Management
School Bus Management Software is a GPS-enabled bus tracking system that monitors the school buses in real-time to ensure children's safety while commuting. It helps in creating a safe environment by tracking the driver status, mapping different traveling routes taken by driver, and daily pick-up time & drop-time.
Parents can also trace the school bus via activating GPS (Global Positioning System) navigation system in their smartphones until their child reaches school.
BENEFITS
Complete Safety of Children

Lowers Ratio of Mishaps while Traveling

Exact Scheduling – Pickup & Drop
Improved Routing

Real-time Tracking & Visibility

SMS/Email Alerts to Parents & Faculty in Emergency
Hostel Management
Hostel Management Software for schools sorts all the in-house hostel requirements by managing crucial activities such as: defining hostel admission and fees, allotment of mess & rooms to students, accurate calculation of monthly mess bill, hostel stores, accounts, and staff payroll.
The school hostel management system is integrated with the fees collection module for seamless fees management of the hostel.
Reports
Room-wise Student List

Vacant Room Report

Hostel Attendance Report

Fees Dues & Refund Reports
Payroll & Stock Register

Bills & Balance Payment Reports

Financial Accounting & Fine Reports

SMS/Email Alerts to Parents, Students & Wardens
Faculty
LEARNING MANAGEMENT SYSTEM (LMS)/ E-LEARNING
Integrated with Microsoft Teams, the Learning Management System or e-Learning Software digitizes the teaching-learning process & delivers a highly interactive virtual platform for best teacher-student collaboration.
BENEFITS
Online Teaching Sessions & Lectures

Question Banks & e-Library Creation

E-content, Assignment & Homework Upload Provision
Online Assessments & Evaluation (MCQ and Descriptive)

Share Important Announcements

Online Communication Forum
Assessments, Examinations, and Results
Define your school's assessment pattern and examination process in ERP (compatible to all Boards). Define subjects, batch wise - class wise exam pattern & schemes and assign weightage to different parameters of assessment. Create exam timetables, assign invigilation duties, seating plan and print necessary exam conduction reports as attendance signing sheet etc.
Results are calculated according to defined assessment patterns. Teachers can enter pupil marks from their respective logins. Processed results can be made available on student & parent login and mobile application. Analytics powered dashboards depict records in graphical form to identify areas for improvement.
Reports
Grade Cards

Admit Cards

Tabulation Registers
Students Mark lists

Student Performance Reports

MIS Reports- Class Topper, Subject Topper, etc
School Administration
Payroll
Automate salary calculation and payroll processing, by defining pay rules, earning and deduction heads with the help of payroll management system. Processed salary can be transferred to the Accounts Module for further processing and distribution.
Reports
Pay slips

Salary Certificates

Abstract

Bank Statements
Attendance Report

Annual Salary Report

MIS reports according to Pay Scale, Designation, etc
Accounts
Handle day-to-day accounting operations such as voucher entries, bank reconciliation, payments easily with accounts module. Generate accurate account reports like cash-bank-ledgers, day book ledgers, trial balance, income and expenditure statement, balance sheet, receipt and payment statement. Accounts Module which is integrated with fees, payroll & bus module to facilitate quick and precise operations and eliminate repetition.
Reports
Cash-Bank-JV- Day book

Ledgers

Trial Balance
Balance Sheet

Receipt & Payment Statement

Income & Expenditure Statement
Library Management
Automate all library tasks such as book procurement & payments, accessioning, circulation - issue-return, stock verification, binding, etc with Library Automation Software. Provides options for withdrawal, write-off, and indexing of books.
The Library Management Software supports all modern technologies which include smartphones, email, tablets, SMS, OPAC, and M-OPAC for online book search according to parameters such as the author, title, subject, and the publisher of the book.
Reports
Accession Register

Issue-Return Report

Library Card
Overdue Notice & Fine Reports

MIS Reports

Budget Analysis
Dashboards & Reports
Access actionable real-time information from data stored such as applied admission count – class-wise and year-on-year - by category - gender, vacancy, geography; fees paid, and outstanding summary class-wise, etc in graphical format through BI-analytics powered dashboards as per school hierarchy.
Comprehensive user defined reports can be generated for all activities and processes for better decision making and compliance.
Reports
Daily Collection Reports

Accounts

Payroll
Application Stage

Many More
Website
MasterSoft Team creates a global gateway for schools by developing a customized website that is inclusive of a rich design, simple & quick navigation, and plagiarism-free, high-quality content. The websites can be made static or dynamic as per institutional requirements. Publish forms, photo gallery, school notices and news, ERP login links, etc.
Our Web Services Include-
Static, semi-dynamic & full dynamic web designs

Logo design and plagiarism-free content services

Site auditing, site maintenance and monitoring
Domain booking

Virtual & dedicated server web hosting
SEO (Search Engine Optimization) services

Site link-up with popular social media sites such as Facebook, Twitter & LinkedIn
Mobile Applications
Atcovation: School Mobile App & Portal
Atcovation is a school mobile app that enables the school administrators and teachers to stay connected with parents and students on the go. It drives collaboration between the key stakeholders and provides instant access to key information anytime, from anywhere.
Reports
Bus Tracking

Reports

Attendance

Homework
Leave Application

Timetable

Events & Notices

Chat & Broadcast
FEEPAYR
A safe & secure online fee payment & collection app with 24*7 e-transaction provision. Supports multiple modes of payments such as credit cards, debit cards, net banking, etc.
Enables faster fee payments & collection. Fees is directly transferred in the school's bank account, and e-receipt is generated to confirm successful transactions.
Reports
Daily Collection Register

Cashbook-wise Fees Collection Register
Course-wise Fees Collection Register

Daily & Monthly Summary Reports
Add-on Modules
The following add-on modules of MasterSoft school ERP software offer extended support to ensure all the stakeholders - faculty, parents, and students get best-in-class experience & services.
Canteen
Co-operative Stores