What Is RFID - Radio Frequency Identification?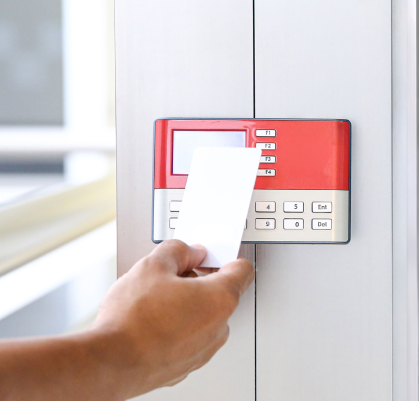 Attendance management is one of the most crucial tasks in an educational institution- school, college, or university. Daily student attendance allows teachers to keep a tab on students' activities.
It also enables parents to understand whether their children are attentive towards studies & attend their class regularly.
However, managing the daily attendance of thousands of students is quite a challenging task for teachers. Traditional means of registering daily students' attendance may result in errors & tremendous manual work.
An RFID based attendance system can be a great solution to overcome such challenges as it automates the students' attendance process & enables teachers and parents to track & monitor students' activities effortlessly.
Besides student attendance management, the RFID attendance system can also be used to track the attendance of faculty or staff to simplify the payroll management procedure.
What Is RFID Based Attendance System?

MasterSoft's RFID based attendance system is an advanced attendance management system that has an RFID reader, RFID Tag, LCD display & a microcontroller unit that allows the wireless communications to establish the identity of students, faculty, or any other staff.

Scan The Thumbprint!
The fingerprints of the employees are used by biometric time and attendance systems to verify who is actually clocking in and out of work each day and ensure that the system provides accurate attendance information. Here, the institution administrator must scan and map each student's or employee's fingerprint, thumbprint, and imprint.

Centralized Data Storage
The biometric attendance software's next step is to store the scanned data in a single, accessible location. The internal mechanism of the biometric system checks the data each time a student or staff member places his finger or thumb on the device, and it then maps the fingerprint's endpoints and intersections to compare it with the data from the employee's system.

Authentication of Users
If the data matches what has already been saved, the entry is timed. Otherwise, the attendance gadget displays an error message indicating unauthorized access. Because the biometric attendance system totally eliminates the potential of unauthorized entrances and gives all institution members personal campus access codes, it offers perfect safety.
RFID Components


Tag(RFID ID Cards)
The tag of the RFID-based attendance system is made up of an integrated antenna & memory. The information can be written and rewritten on tag memory. This tag is enclosed in a rectangular plastic card of the size of a bank debit/credit card.

RFID Reader
The reader of the RFID based attendance system is a device that is used to read RFID tag data. The RFID reader has an antenna that emits radio waves; the tag responds by sending back data stored in it to the reader.

Host Computer
The host computer reads/writes data from/to the tags through the reader. It stores and evaluates obtained students' attendance data via the RFID attendance tag and links the transceiver to applications.
Features of RFID Attendance System

For Teachers
Minimizes paperwork of marking students' attendance

---

Notifies about absent students automatically by sending alerts

---

Send notifications to parents about students' chronic absenteeism

---

MIS students' attendance reports can be generated seamlessly
For Administrators
Automatic MIS report generation without any errors

---

Saves efforts & resources to manage student attendance and records

---

Get notified when students enter restricted areas of the campus

---

Eliminates complete paperwork & boosts work efficiency
For Students
Ensures real-time & accurate daily attendance

---

No roll calls required, automatic RFID based attendance

---

More time is dedicated to learning in the classroom

---

Notifications about entry & exit in the classroom
/library/etc
For Parents
Monitoring children activities in the real-time

---

Daily/Monthly/Yearly attendance report calculation

---

SMS/Email alerts on absenteeism are automatically sent to parents

---

AI-powered dashboards & MIS reports for analyzing daily attendance
Track & Manage Your Student's Daily Attendance With Mastersoft's Attendance Management Software
Request Demo
Benefits of RFID Attendance System over Barcodes

No line of slight is required to read an RFID card/tag. So no need for oriented reading like barcode
Unlike the barcodes, multiple RFID cards can be read at a time
No human error like bar code reading while reading a card. RFID can be read in any orientation
Very limited data can be stored in the barcode, whereas RFID attendance system allows more data storage