Quality education plays an important role in enhancing knowledge, developing skills, building confidence, and creating a positive impact on students' life. It empowers students to grow not just professionally, but also lays a solid foundation of personal growth. To ensure quality education, higher education institutions must focus on developing a balance between - imparting education & promoting skill development by providing flexibility to explore various fields.
Technology changes & the surge in automation has risen at a great pace in the last few years, demanding students to be more ready for the industry. Studying & Understanding other departmental courses can compliment & empower students' growth. An engineering student can learn a Finance Management Course, which would be helpful for him.
Managing such various permutations requires great effort, majorly to map clashes in timetables & examinations, and more.
Introduced by the University Grants Commission (UGC), the CBCS or Choice Based Credit System offers an effective learning platform for students by broadening the horizons of education. It is a student-centric course that allows students to choose their subjects. The subjects can be at a basic or advanced level. Instead of the conventional marking system, the CBCS system uses credits.
This choice based credit system in higher education provides flexibility in preparing the curriculum and granting credits based on the course intensity and teaching hours. This helps students to pursue courses of their choice, study at their own pace, learn extra courses, and acquire more than the required credits.
CBCS emphasizes group discussions, assignments, class activities, and internal examinations thus creating a beneficial education environment.
3 Types of Courses Offered by CBCS
CBCS system offers three types of course choices to the Students- Core, Elective, and Foundation.
Core Course: Students need to choose a core subject compulsorily to complete the credit requirement.
Elective Course: These subjects have more generic content and aim to increase the students' skills. They expose the student to subjects which are not in their curriculum. Students get the freedom to opt for the subjects of their personal interest.
Foundation: Also referred to as 'Ability Enhancement Courses', the foundation courses offer value-based subjects that lead to knowledge enhancement. Such value-based subjects can help students grab excellent career opportunities in the long run.
The amount of credits assigned for core, elective, and foundation courses is different. The primary objective behind this thoughtful CBCS scheme is to encourage students to be an all-rounder by taking their skills to a notch higher.
CBCS Grading System
Surpassing the conventional percentage and grading means of judging a student's academic skills, CBCS follows a standard way of assessment & examination management. The CBCS software grading system is uniform across all educational institutes. It follows the semester pattern and not the annual examination pattern. There are two semesters in every academic year-odd and even. At the end of every semester evaluation and the assigning of grades is done.
The credits grading system is thus, more effective than the conventional percentage system. University Grants Commission has introduced a 10 point grading system, with 0 being absent/fail and 10 being outstanding.
Evaluation In Choice Based Credit System In Higher Education
| Letter Grades | Grade Points |
| --- | --- |
| O (Outstanding) | 10 |
| A+ (Excellent) | 9 |
| A (Very Good) | 8 |
| B+ (Good) | 7 |
| B (Above Average) | 6 |
| C (Average) | 5 |
| P (Pass) | 4 |
| F (Fail) or Absent (AB) | 0 |
The number of hours a student attends the class also determines the credits.
In certain instances, if a student is unable to perform well due to health issues, they get the privilege of choosing fewer subjects. Surely, their credits would be affected negatively but CBCS allows them to earn the lost credits in the next semester.
To be honest, the CBCS can prove to be a boon for students who have the hunger to do something out of the box and achieve greater heights. This system will surely open doors to new career opportunities and help the students land up in their dream job.
How Does CBCS Work?
The choice based credit system in higher education works on the simple principle of the choice being in students' hands. Colleges provide subject options to students. Students can choose subjects according to their interests and credits required for that particular semester.
They will then attend theory classes, practical classes, and obtain credits. Once they acquire the required credits, they pass the semester.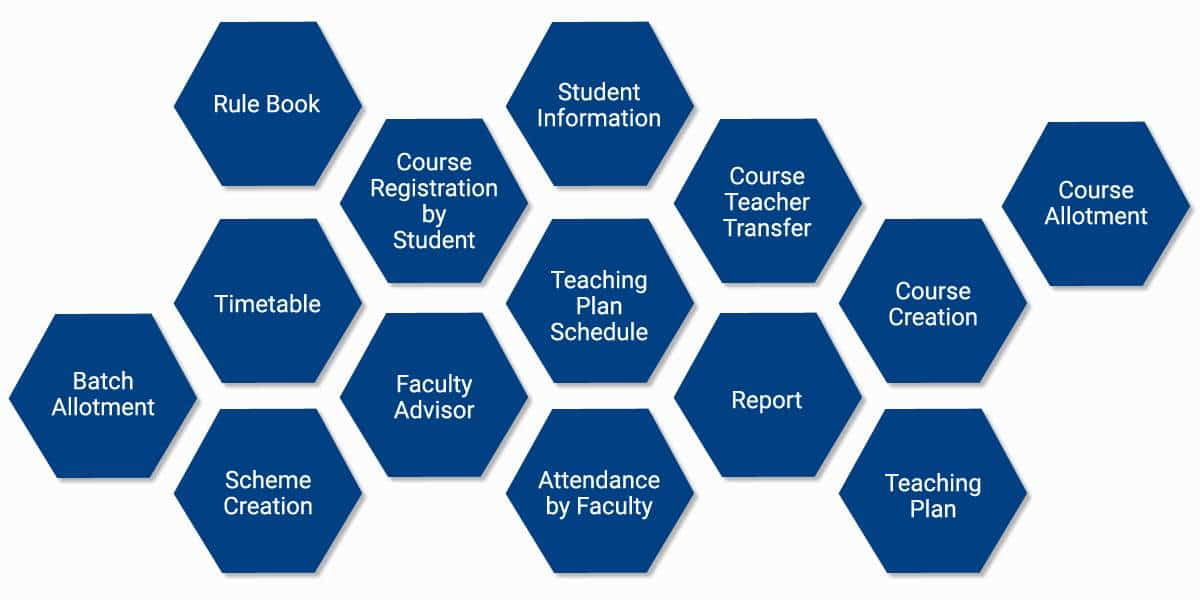 Benefits of MasterSoft CBCS Software for Higher Education Institutions
Institutes may face difficulties in implementing and managing CBCS as the subjects chosen by every student is different. MasterSoft CBCS System Software developed in compliance with the guidelines set by the University Grants Commission (UGC) can help Institutes with this. It manages student curriculum, mapping of credits, generation of student performance reports, handles the examination timetable, and processes. After examination, the student information system software also produces online reports cards of students which enable them to access it from anywhere.
Here are the major benefits of CBCS for faculty members & administration that educational institutions can reap by implementing the CBCS system by MasterSoft.
Master Timetable Generation
Keeping the learner-centric approach in mind, the system automatically generates a master timetable consisting of the day, week, and month-wise teaching schedule for the faculty members.
Hassle-free Selection of Subjects
MasterSoft CBCS system enables students to access a plethora of value-based subjects apart from regular courses and select the ones they like.
Clear and Consistent Navigation
It is well-equipped with a user-friendly interface and navigation facilitating, the students manage the selection with ease.
No learning boundaries
Conventional educational norms don't allow students to study subjects such as biology along with physics, right? With the flexible MasterSoft CBCS system, it's highly possible!
Course Creation & Allocation
This system helps in the creation of courses and allocate it automatically to the respective staff.
Effective Teaching Plan
Teachers can prepare effective unit-wise teaching plans, mark attendance of students, and assign homework to students with the click of a button.
Id-Card, Hall-Ticket, and Report card generation
It can generate Id cards, hall tickets, and report cards for every semester.
Benefits Of CBCS System
CBCS allows students to choose subjects that they find interesting. Students perform better when they learn about things they like.

Students can take up varied subject combinations like economics-microbiology, physics-accounts, English-chemistry, etc. with the conventional education system this was not possible.

The CBCS system prepares students for the future. Industries want employees who are all-rounders with multidisciplinary knowledge and not students with knowledge about just one stream. Thus, CBCS imparts job-oriented skills.

Students can change subjects every semester. This helps them to learn about various fields and recognize where their talent lies.

As students choose their own subjects they learn to make decisions that are beneficial for them. This helps students to become self-reliant at an early age.

CBCS offers students to study at different times and at different Institutes to complete a course.

As the grading system is the same across all universities in India, a student can easily transfer from one university to the other. Students Pan India has a uniform course.

If a student falls sick or is unable to cope they can choose fewer subjects and earn fewer credits in one semester. They can then compensate for the lost credits in the next semester.

CBCS takes Indian education on par with global standards.
FAQ's On Choice Based Credit System (CBCS)