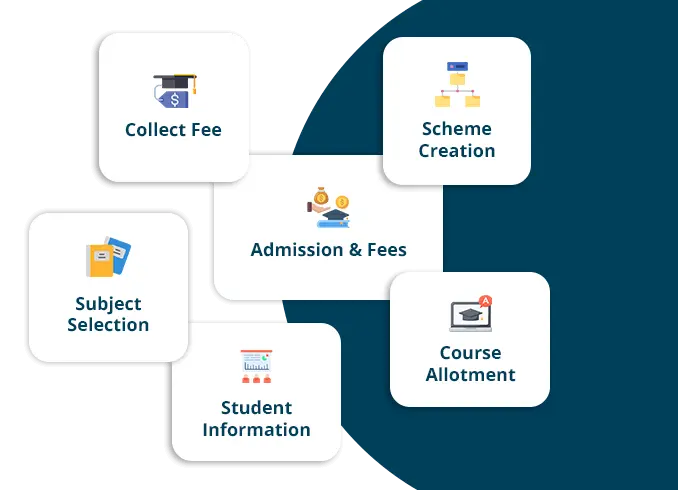 What is Choice Based Credit System?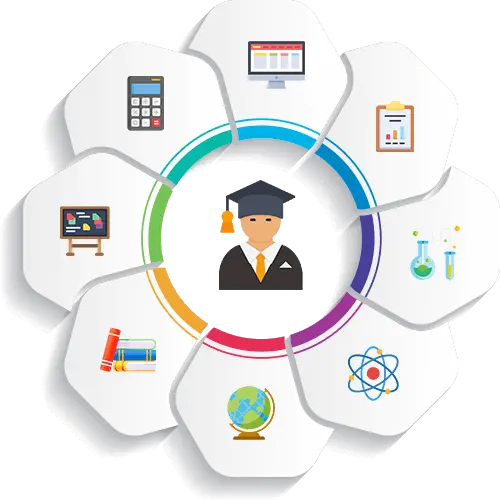 CBCS is an educational approach that allows students to choose courses from the prescribed set of courses. It includes a skill-based course, a core course, and an elective/minor course. The course can be evaluated based on the grading system which is an upgrade to the conventional marks system.
Quality education plays an important role in enhancing knowledge, developing skills, building confidence, and creating a positive impact on students' life. It empowers students to grow not just professionally, but also lays a solid foundation of personal growth. To ensure quality education, higher education institutions must focus on developing a balance between - imparting education & promoting skill development by providing flexibility to explore various fields.
Technology changes & the surge in automation has risen at a great pace in the last few years, demanding students to be more ready for the industry. Studying & Understanding other departmental courses can compliment & empower students' growth. An engineering student can learn a Finance Management Course, which would be helpful for him.
Managing such various permutations requires great effort, majorly to map clashes in timetables & examinations, and more.
Introduced by the University Grants Commission (UGC), the CBCS or Choice Based Credit System offers an effective learning platform for students by broadening the horizons of education. It is a student-centric course that allows students to choose their subjects. The subjects can be at a basic or advanced level. Instead of the conventional marking system, the CBCS system uses credits.
This choice based credit system in higher education provides flexibility in preparing the curriculum and granting credits based on the course intensity and teaching hours. This helps students to pursue courses of their choice, study at their own pace, learn extra courses, and acquire more than the required credits.
CBCS emphasizes group discussions, assignments, class activities, and internal examinations thus creating a beneficial education environment.
3 Types Of Courses Offered By CBCS

CBCS system offers three types of course choices to the Students- Core, Elective, and Foundation.

Core Subject
Students Pick A Fundamental Subject.
To Be Required To Fulfil The Credit Requirement
Learner-Centered Strategy

Elective Courses
Helpful For The Field Of Study
Giving A Broader Scope
Fostering Student Competence

Paperless Documentation
Give Subjects With A Strong Moral Foundation.
Lead To The Improvement Of Knowledge
Assist Students In Securing Fantastic Professional Possibilities Throughout Time
Geared Toward Forming Better Humans
CBCS Grading System

Surpassing the conventional percentage and grading means of judging a student's academic skills, CBCS follows a standard way of assessment & examination management. The CBCS software grading system is uniform across all educational institutes. It follows the semester pattern and not the annual examination pattern. There are two semesters in every academic year-odd and even. At the end of every semester evaluation and the assigning of grades is done.
The credits grading system is thus, more effective than the conventional percentage system. University Grants Commission has introduced a 10 point grading system, with 0 being absent/fail and 10 being outstanding.
Evaluation In Choice Based Credit System In Higher Education

| Letter Grades | Grade Points |
| --- | --- |
| O (Outstanding) | 10 |
| A+ (Excellent) | 9 |
| A (Very Good) | 8 |
| B+ (Good) | 7 |
| B (Above Average) | 6 |
| C (Average) | 5 |
| P (Pass) | 4 |
| F (Fail) or Absent (AB) | 0 |
The number of hours a student attends the class also determines the credits.
In certain instances, if a student is unable to perform well due to health issues, they get the privilege of choosing fewer subjects. Surely, their credits would be affected negatively but CBCS allows them to earn the lost credits in the next semester.
To be honest, the CBCS can prove to be a boon for students who have the hunger to do something out of the box and achieve greater heights. This system will surely open doors to new career opportunities and help the students land up in their dream job.
There have been two popular ways to grade a course: relative grading and absolute grading. The grades are assigned based on a cut-off mark or percentile, and the relative grading is based on the distribution of marks earned by all course participants, which is typically normal. The marks are translated into grades under absolute grading based on pre-established class intervals. Any of the aforementioned approaches may be used by colleges and universities to apply the following grading scheme.
The UGC suggests using a 10-point scale with the letter grades.
How Does CBCS Work?

The choice based credit system in higher education works on the simple principle of the choice being in students' hands. Colleges provide subject options to students. Students can choose subjects according to their interests and credits required for that particular semester.
1

Semesters

Each semester is used for the assessment. There are 15–18 weeks of academic work (90 teaching days) in each semester. The curriculum is flexible and the credits are given depending on teaching hours and course material.
2

Credit System

Every course receives a specific number of credits. The student receives the credits for that course when he successfully completes it. Credits can be earned by students at their own speed.
3

CCE

The student is continually evaluated by both his or her teachers and by the student. The evaluation can be taken in any form and a 10-point grading system is used to assess the student's performance.
Benefits Of MasterSoft CBCS Software

Institutes may face difficulties in implementing and managing CBCS as the subjects chosen by every student is different. MasterSoft CBCS System Software developed in compliance with the guidelines set by the University Grants Commission (UGC) can help Institutes with this. It manages student curriculum, mapping of credits, generation of student performance reports, handles the examination timetable, and processes. After examination, the student information system software also produces online reports cards of students which enable them to access it from anywhere.
Multi- And Inter-Disciplinary Courses
No-Hassle Subject Selection
Increases Student Job Opportunities
Access A Variety Of Topics That Are Based On Values
Individual System Configuration
Generation Of A Master Timetable
Consistent And Simple Navigation
Course Development And Allocation
Time And Money Savings
No Boundaries To Learning
Approach That Is Both Economically And Environmentally Viable
Real-Time Updates On Teaching Schedules Or Course Allocation
Tagging Homework With A Button Click
FAQ's On Choice Based Credit System (CBCS)