HR & Payroll Management System Software

In an educational organization, the accounts department performs various activities such as payroll processing, maintaining salary details of every employee, keeping track of deduction, and installment details, etc. Whereas, the establishment section maintains a record of employee's all basic information like personal details (name, address, birth date, etc), service date details (joining date, increment date, etc.), bank details, pay scale, basic, and grade pay, etc.
Accounts and establishment departments work together to calculate leave and leave without pay (LWP) of all employees, and then process the salary. It takes effort, time, and resources to carry out the entire procedure on a monthly basis. HR Payroll Management Software is a highly beneficial solution for organizations or educational institutions struggling with such problems.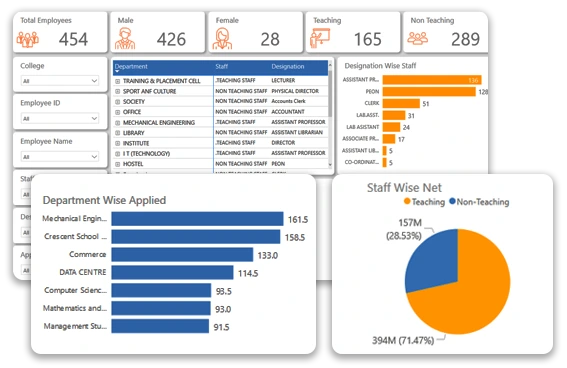 Features Of HR & Payroll Management System

1

Simple to Process

Simplifies the tasks with little input necessary to obtain the data needed to calculate wages, identify taxes, and pay taxes to the government. It also provides financial records that include bonuses, deductions, and net pay.
2

Performance Administration

The tracking of employees' performance is done via tha performance management. It is fully tailored to the needs and requirements of each employee and increases productivity greatly from the employee performance assessment.
3

Accuracy

Payroll processing errors are minimized with the use of HR management systems. To obtain more precise statistics, the payroll procedure is used. Pertinent and trustworthy payroll data helps minimize inefficiency.
What Is Payroll Management System?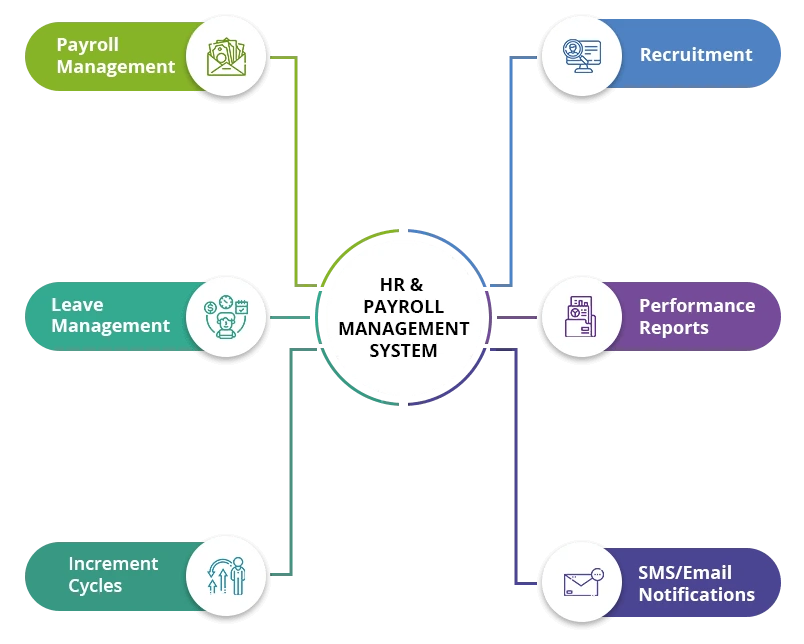 A payroll management system is software that enables employers to give salaries to their employees. It is a medium of showing their commitment towards the faculty members and fulfilling their obligations along with keeping financial records in order.
A payroll management system is an online solution that helps the institutes to pay salaries to the faculty members working there. It is a way how they show their commitment to the faculty in form of benefits, appraisals, and paid leaves. It enables them to fulfill their obligations as stated by the government and keep financial records in order.
MasterSoft HR & Payroll Management Software eases the hassles of managing vast amounts of data by making the employee or faculty management & payroll processing easier. This human resource management software streamlines all the payroll-related operations and enables the administrator to pay on-time & accurate amounts of salary to all the employees working in the educational institution.
It can be further integrated with the Faculty Management System for conducting online staff recruitment procedures. School administrators can manage vacancies, post jobs, filter out eligible candidates as per their merit & eligibility parameters and hire the best one to boost the educational offerings & services. With an inbuilt BI & AI-powered analytics dashboard, the performance of each staff member can be tracked & monitored on a continuous basis- daily/weekly/monthly/yearly. These performance records can prove to be a "fair judgement metrics" during appraisals. All-in-all, it is a comprehensive, tested, and reliable solution for managing faculty & staff and meeting the requirements of the HR department in educational institutions especially the ones running Multi-Academy Trusts (MATs).
How Does HR & Payroll Software Works?

With MasterSoft's AI-powered applicant tracking system (ATS), also known as recruiting software designed for high-performing SMBs and startups, you can automate your talent acquisition process like a pro. Create strong talent pipelines and keep track of every applicant during the hiring process.

Pre-Payroll
Getting along with other departments and payroll is frequently a crucial component of the payroll process. Ensuring policies are well-defined and signed off by the company's management for the establishment of payroll processing.
Actual Payroll
The input of data into the payroll system to carry out the actual processing occurs at this stage in the payroll process. After correcting for applicable taxes and deductions, it produces net pay.

Post Payroll
All required deductions, such as the Employee Provident Fund (EPF), Tax Deduction at Source (TDS), and Employee State Insurance (ESI), are made at the time of processing.They are then sent to the appropriate government agencies.
Better Manage Resources for People Schedule A Free Demo!
Request Demo
Benefits Of HR & Payroll Management System

Holistic Approach
Record Each Action An Employee Takes
Built-In Reporting And Dashboard
Integrated System
Automation Of Payroll-Related Activities
Quicker Salary Calculation & Payments
Value for Money
With Little To No Implementation Costs
A Cost-Effective, Full-Featured HR System
24/7 System-Driven Assistance
Reports Generated

Salary Bill Register

Payslip and Salary certificate

Schedules of GPF, PT, Income Tax

LIC list with Policy details

Monthly Installment Report

Abstract of Salary
Bank Statement

Supplementary Bill Register

PF Ledger

PF Loan Sanction Statement

PF Broadsheet

PF Final settlement report
Annual Report for all & individual Employee

Form 16 and Form 24Q

Declaration Form

Selected Single head or Multiple head List

Employee Id card

Selected field of employee
FAQ's on HR and Payroll Management System