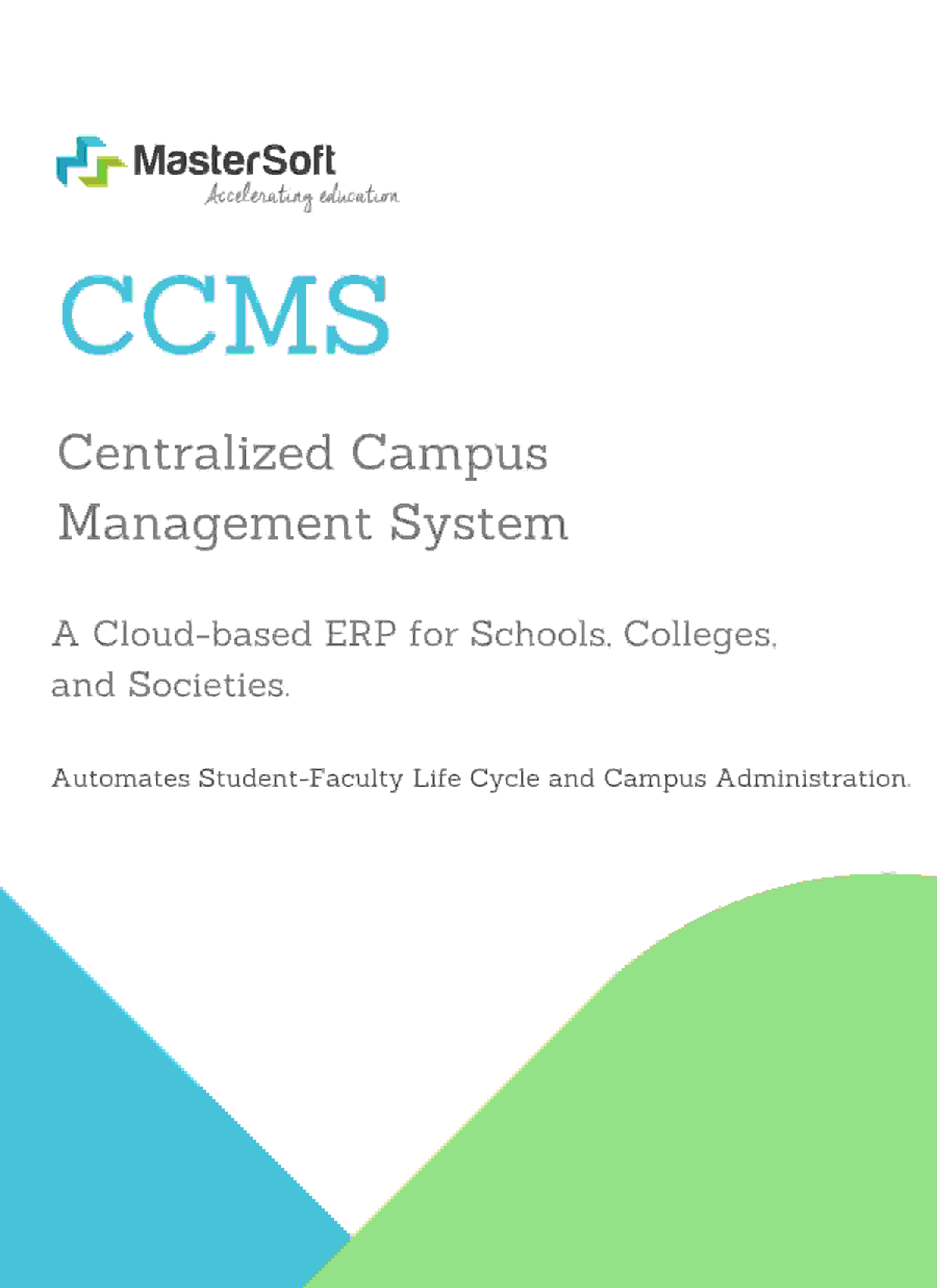 CCMS © - Centralized Campus Management System
A CLOUD-BASED INTEGRATED ERP FOR SCHOOLS & COLLEGES OF ANY CAMPUS
Centralized Campus Management System is a cloud-based ERP system useful for all types of Educational Institutions. An educational Trust / Society can use the cloud-based ERP for effective centralized management of all its Schools, Colleges, Polytechnics, ITI located in a single or multiple Campuses.
It provides a total online solution for digitalization of all administrative activities.
It automates:
Student life cycle comprising of Online Admissions & Fees, Academics, Class Attendance, e-Learning, Examination & Results, Training & Placement, Hostel, Bus Management & Library.

Faculty life cycle comprising of: Teaching & Class attendance, Valuation & Marks entry, HRMS – Payslip, Online Leave, Service Book, PF & Income tax.

School & College Administration comprising of Accounts & Finance, Purchase & Stores, HRMS, Web & Alumni, Library, Transportation, Dispatch.
Why CCMS?
One-stop Solution

Manage all your activities and tasks of campus from a single platform.

Better, faster decisions

Provides precise & accurate information to end users for better decision.

Reduced Workload

Automated tasks enable teachers & faculty to focus more on teaching.

Centralized Database

Organize & store all key data in a unified database.
Streamlined Processes

The deployed workflow-based system ensures streamlined processes.

Reduced Cost

Automated tasks reduce man hours which reduce the cost of operations.

No Queues

The students can apply online for admission & pay fees online 24*7 instead of 3 hours in a queue.

Paperless Operations

Since all operations are carried out through ERP, the need for paper documentation is eliminated.
CCMS features
Analytics-enabled Dashboards.

Multi-campus structure.

NAAC reports in a click.

Auto-generated daily reports such as DCR, etc.

Free upgrades & instant implementation.

Role-based access.

24*7 access from anywhere.

Integration with Mobile Apps, SMS & Emails.

Complete control, visibility & transparency.

Modular ERP - implement in phases.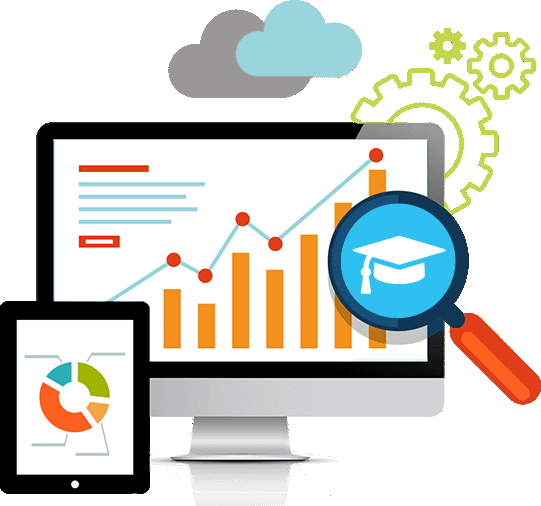 CCMS modules
Academic Modules
REGISTRATION & ADMISSIONS
Students apply (register) online for admissions, applications are processed and merit lists are generated. Fee Demand is created and on payment of fee, admission is confirmed. Add on module "Student Inquiry Management" is for effective management of admission leads.
Reports
Registered Student List

Merit list- General, Category-wise and Quota

Admission Register
Current Admission Position

Admission Cancellation Report

MIS reports according to fee type, medium, gender, caste, category, religion, region
ONLINE FEE PAYMENT
Parents/Students can pay fee online 24*7 via MasterSoft's Feepayr Portal - online fee collection portal, using Debit/Credit card, Net Banking, e-Wallets, etc. from anywhere. The fees paid is directly deposited in the Institute Bank Accounts. Feepayr also allows Cash Fee Collection in Campus.
Reports
Fee e-Receipts

Fee Collection Reports

Outstanding Fee Reports

Daily & Monthly Collection Registers
Student Fee Ledger

Late Fine & Caution Money Report

Concession and Refund Reports

Auto Generated Daily, Weekly, Monthly Fees and Admission reports to Management via email.
STUDENT ADMINISTRATION
Manage student administration and student details (academic, personal, previous exams, subjects offered, documents received, etc.) at a centralized location. Generate Roll No., Section,Registration/Enrollment No. Semester-end/year-end promotion of students can be done in bulk.
Reports
Identity card & Certificates like TC, Bonafide, NOC, DOB, Attempt.

University / Government / Accreditation Reports.

Data Export to Excel

MIS reports according to faculty, medium, gender, caste category.
Student lists

Subject/Class-wise Attendance Sheet

Document Submission Report
TIME TABLE & STUDENT ATTENDANCE
Define time table linking, Faculty, students, classroom & subject for attendance. Automate attendance marking process with Mobile Apps and send alerts to Parents. Keep a record of covered topics in a lecture.
Reports
Time Table according to course, teacher & classroom

Attendance Reports : according to Subject, Faculty, Class

Poor Attendance Report & Undertaking Report
Attendance Analysis according to Subject, Faculty, and Class.

SMS / Email / App alerts to Parents / Students
EXAMINATION
ERP allows defining flexible rules & patterns for examination. Students register for exams online. Roll nos. are allotted and Exam time table is created. After conduction of exam, faculty enters marks and result calculation is done by ERP which is followed by result publishing. Copy case, unfair means & disciplinary actions taken can also be stored.
Reports
Class-wise exam subject registration Report and Count

Exam time-table & Hall-tickets

Class-wise Seating Arrangement

Exam room allocation and Attendance Sheet.
Grade cards & Tabulation Register.

MIS reports - Class topper, Subject Topper, etc.

Result Gazette

Consolidate Student Report
Faculty Modules
PAYROLL MANAGEMENT
Compute Monthly Pay Bills & Supplementary bills, Income Tax & PF. Module allows 20 earning & 30 deduction pay heads with user defined flexible pay rules. Integrated with Leave & Attendance modules. Supports all GOI Pay Rules. Allows to define flexible Income Tax rules.
Reports
Pay Slips & Salary Certificates

Salary Register & Abstract

Bank Statements

Schedules of Deductions-PT, LIC
Income Tax Report & Form 16 24Q

Annual Salary Reports

MIS Reports, etc.
ATTENDANCE & LEAVE
Automate staff attendance via biometric integration. Process attendance data. Send SMS/email alerts.Define Leave types and it's Rules. Calculate monthly Leaves and LWPs for each staff. Employees can apply for Leaves online and sanction by authorities. Automatic periodic leave crediting. Transfer data to Payroll.Auto-calculation of Leave/Late-marks
Reports
Leave & Attendance Reports

Date-wise,Month-wise leave & attendance reports

Daily Absentee Report
Continuous absentee Report

Department-wise leave & attendance reports
Institution Modules
FINANCE
Maintain any number of Accounts (Cash books). Integrated with Fees and Payroll modules. Minimize Account section work. Generate Receipts. Make Payment & JV entries. Print Cheques. Bank Reconciliation.
Reports
Vouchers

Cash-Bank-JV-Day books

Party Ledgers

Trial Balance

Balance Sheet
Receipt & Payment

Income & Expenditure statement

Schedules

Cheque printing and Reports
LIBRARY
Lib Man modules are - Acquisition & Cataloguing, Circulation, Serial Controls & OPAC. Lib Man automates Procurement & Payments process, Borrower Records, Circulation, Reservation, Reference section, Book Bank, Clearance & Fine, Binding, Stock Verification, Budget Analysis, Indexing &Serial Control work. OPAC provides book search according to: Title, Authors, Subject, Publisher, Class / ISBN No., Key words
Reports
Accession Register

AACR2 Catalogues

Barcode, QR & Spine Labels

Circulation Reports

Claim & Fine reports
Serial Accession Register

Binder orders & Bound Volume Record

Budget Analysis reports

MIS Reports
Mobile Apps
ATCOVATION
Teachers can mark attendance, assign homework, and share study resources, etc. While Parents can view attendance, time-table & schedules, apply for leave, track Bus, and chat with school admin & teachers, etc. School Admin can view attendance and assigned homework details, chat with teachers & parents, view reports, assign rights, and send important notifications to teachers & parents, etc.
Reports
Class Attendance Register

Day / Month - wise Class Attendance Report

Student-wise attendance report

Maximum / Minimum Attendance Reports
Sent Homework Details

Notification Details

Attendance not marked details
MASTERSOFT CLOUD APP
Staff can admit students, collect student fees, check outstanding fees. Teachers can mark attendance. Library staff can issue/return books, fetch book details instantly. Officers / Management can view Dashboards & summarized information.
Reports
360° view of Students

Daily academic reports

Admission position report

Student attendance reports
General report

Fee reports

Library issue/return report
M-OPAC
Multilingual Book Search App. Libraries can upload and update Book data on M-OPAC Cloud. Patrons get free & easy access to book details of one / all registered Libraries. App provides Global Search utility. Non-computerized Library can also be a part of M-OPAC Platform.
STUDENT DIARY
Mobile App for students. Students can - check fee dues, pay fees online, get notified by teachers, view exam schedules, class schedules & timetable, view attendance reports and analysis, view book issue/return details, exam results & analysis, get notices & updates.
ADD-ON MODULES
BUS MANAGEMENT
HOSTEL
VISITOR MANAGEMENT
RFID LIBRARY
SERVICE BOOK
FEEDBACK MANAGEMENT