RF-LIB-MAN Modules: Library Automation Software

Key Features of Library Automation Software

1

Standard Data Import/Export

The software offers 100% assurance for import/export of other library software data. It has a MARC standard data import/export feature. The staff can easily generate reports in different formats- Excel, Word, Text, PDF, etc. Create and manage a database of different books in paper, e-book, or audio formats. And each book in the database will feature genre, author, year of publishing, and ISBN.
2

Fetch Books Easily

Book data fetching from Google API and ISBN site saves enormous time. Generate reports which are integrated with business intelligence tools such as Power BI dashboards. The software is equipped with all library latest standards including library congress standards, MARC-21, and AACR2. Patron facing tools have useful features of display, reservation of books, and notifications to find books.
3

Software Support

Supports all latest technologies such as smartphone, cloud, email, tablets, SMS, e-books, QR code, bar code, UHF RFID, multilingual unicode, and payment gateway. In addition, manual documentation and best onsite training & service support is provided. The installed system should be supported by the web.
4

Book Resource Management

Librarians find it difficult to physically locate the books when demanded by many students. The library automation software enables the librarian to search the records, retrieve the books as per the author and book name, issue the book within minutes, deposit the books in order, and track the history.
5

Digital Library Management System

The software deals with every functionality of the library. It is appropriate for little to huge libraries, namely schools, universities, colleges, corporate houses, restorative libraries, lawful libraries, beneficent trust, and others. The software can oversee DVDs, CDs, drawing, etc. Usage of barcodes facilitates the regular undertakings of libraries.
6

Penalties & Library Cards

An automated circulation system has replaced the growing need for library cards or issuing borrowers. The faculty can generate and print bar-coded identity cards for each member. If the book is deposited after the deadline, penalties and late fees are automatically generated and sent to students who fail to return the library books on time.
Organize, Maintain, And Operate Library Systematically!
Request Demo
Key Benefits of Library Automation Software

Easy Access to Books
Keeps a Track of all the Books & Documents
Online Access Catalogs of Public Libraries
Reduces Operational Cost
Automated Library Cataloging and Issuing
Lowers Additional Burden on Staff
Requires Fewer Librarians
Paperless Approach Lowers Costs
Safe Data Storage
Cloud Database with Safe Storage
Automatic and Constant Backup of Records
Role-Based Access for Stakeholders
Encrypted Storage of Records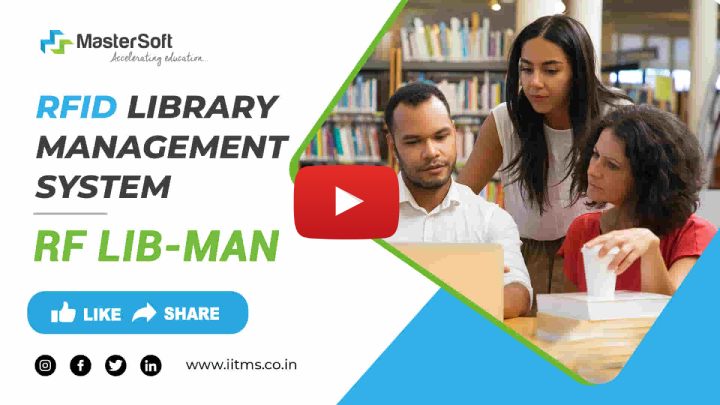 UHF RFID library management system
UHF RFID based Library Management System comprises RFID-enabled modules such as shelf management, self check-in/check-out, books tagging, etc that automates the day-to-day functions of the library enabling librarians to perform book issuing, re-issuing, and returning of books efficiently.
RFID Technology:
RFID means Radio Frequency Identification. RFID technology integrated library software provides wireless identification of people, books, or assets. RFID Tag is made up of an integrated antenna and memory. In the Library, an RFID tag is attached to each book and accession number of the book is stored in tag memory.
An RFID Reader reads this accession number and sends it to library automation software.
UHF - Ultra High Frequency Technology is the most advanced technology with a very high read range of 1-3 meters as compared to old HF and LF – technologies where read range is a few Centimeters. UHF is a low cost, high multi-read, highly accurate with minimum misread. Therefore, UHF RFID technology is preferred by us.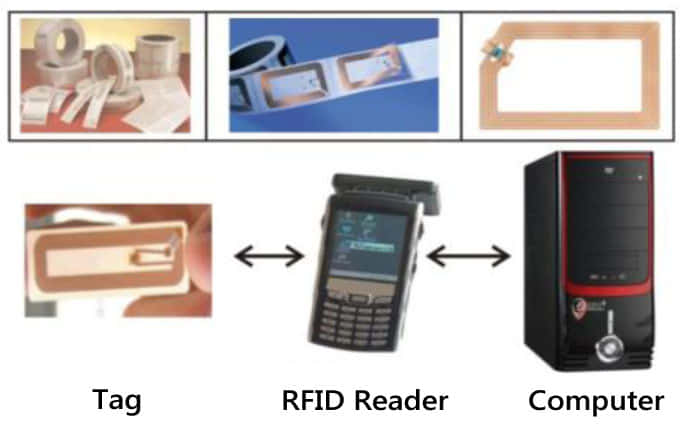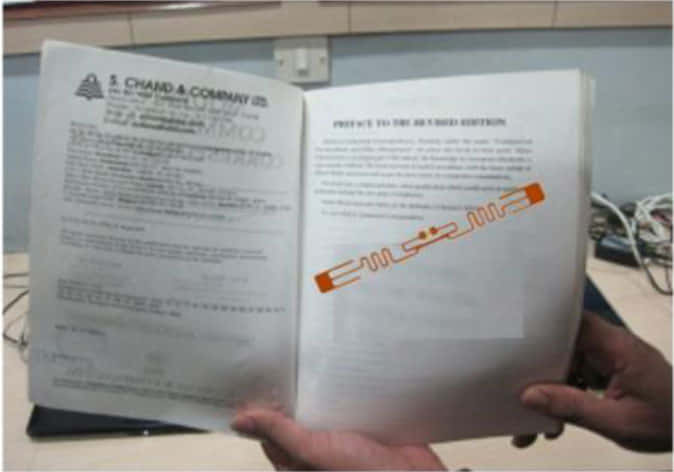 Tagging of Books:
RFID Tag is pasted on the inner side of the front cover page of the book & full page. Sticker is attached to it to hide it from patrons and tagging is done using an RFID reader. Tagging means writing RFID tag EPC code to library management software & writing accession number to tag memory. With this now the book is ready for all RFID operations. Patrons are issued RFID ID cards.
Self check KIOSK:
Self check KIOSK module of the library software offers the facility of self- automated issue – return (check-in/out) of books to patrons.
Self Issue: Patron shows his RFID card to the reader in Kiosk for automatic login. After that, he/she puts books to be issued on the RFID reader for the issue. Books are issued to patrons. RFID tag status becomes – "Quit" & patrons can take away the books through the security system at the library exit gate without any theft alarm.
Self Return: For the self-return of books, the student just keeps the books on the reader of Kiosk & the books are returned and the patron loan is canceled.
While the issue or the return receipt is printed and SMS is sent to patrons.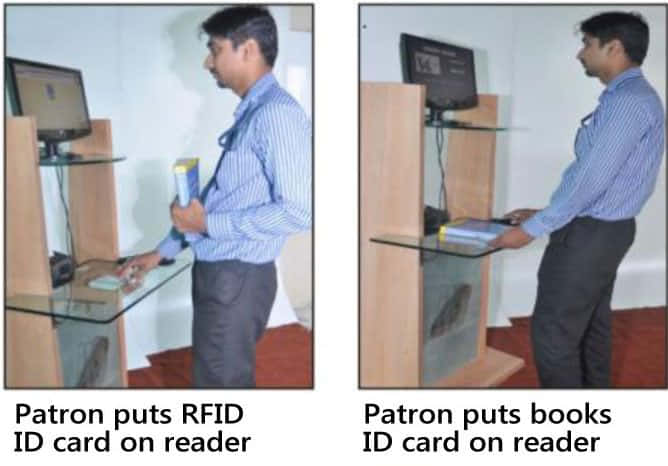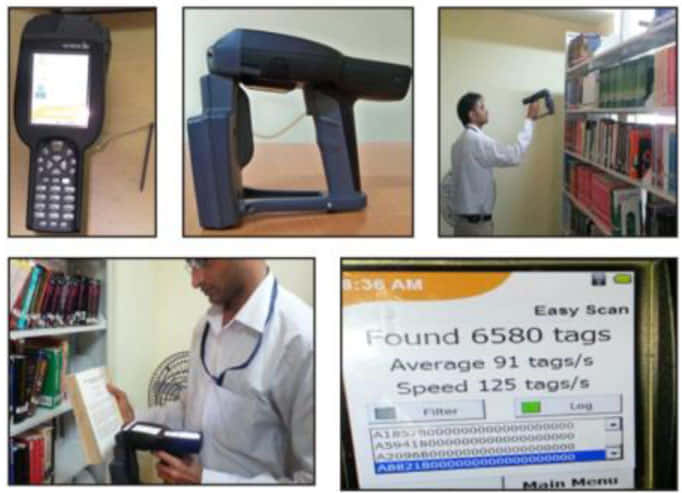 Shelf Management:
The shelf management system consists of a mobile RFID reader integrated with library management software. This facilitates almost instant searching of the desired book in the library & quicker library books verification (stock verification) without a line of sight. The long read range of 3 meters makes stock verification & book searching an easy task.
For stock verification, press the scan button of the reader & move the reader across the shelves. Reader -gathers all the unique accession no. of books in the physical range of 1 meter.
The collected accession numbers are transferred to the Library Management System & a stock verification report is generated. It verifies 100,000 books per day.
Searching for a book: Enter the accession number to search in reader & sweep across shelves. When a book is nearby the reader, a built-in beeper sounds to alert the librarians.
Anti Theft detection:
The RFID anti-theft portals (Security system) are placed at the exit gate of the library & portal tracks books up-to 3 meters and would trigger the alarm with red flashlights when patrons pass through the gate with un-issued books. It can detect multiple items at a time. This is the most accurate library security system with a minimum false alarm.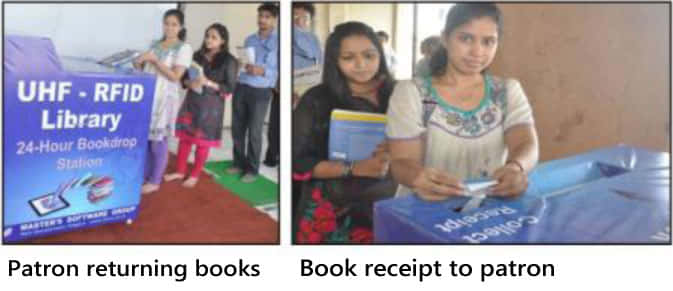 Book Drop stations:
The patron can return books any time - 24x7 - in RFID-enabled book drop stations which are normally kept outside the institution's library. Patron's loan is immediately canceled and SMS is sent to him/her. A book return slip is printed & a "beep" sound comes out with a green light that glows on returning the book.
FAQs On Library Automation Software

Library Automation Software is an ERP solution for managing a library in an automated and efficient manner. It helps to track orders made, bills paid, items owned, and patrons who have borrowed.
Easy to access and operate.

Increases work efficiency of the staff.

Allows search, add, update the library materials online.

Saves time and reduces the workload on the staff.

Helps in reducing the library's operating cost.

Ensure safe data storage and backup.
Ability to search for books with names, author names, and assigned numbers

Notify about the dates of returning the books to the users

Gives restricted access to the library members and staff

Facilitates smooth communication