School E-Learning Software: School Learning Management Software (LMS)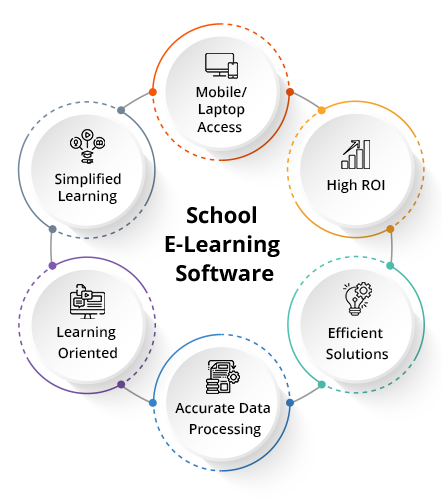 Owing to the digitization of the educational landscape, e-learning has become the need of the hour! Right from preparing daily classroom schedules to conducting engaging virtual classes, the faculty needs to take care of all the requirements of the students.
This is the only way to achieve the best student learning outcomes & ensure best educational practices in the digital learning domain. Efficient e-learning software can help the faculty to simplify the teaching-learning journey effortlessly.
MasterSoft's E-learning software for schools is designed and developed to accomplish institutional goals by creating an engaging virtual classroom experience with innovative teaching-learning processes and tracking student progress via online assessment tools.
Integrated with Microsoft Teams, the advanced e-learning software for schools provides an interactive online learning environment to help students learn new things in a better and organized way.
The E-learning software offered by MasterSoft digitizes the traditional classroom environment and simplifies the daily work of teachers and faculty.
Instead of maintaining assignment content, study material, technical papers in a book, or register, the teacher can conserve it on the ERP.
This e-learning software for schools makes uploading of syllabus and lesson plans a hassle-free experience for the teachers.
Powered with the best inbuilt online assessment tools, e-content provision, and communication features, the E-learning software school ERP software offers mutual benefits for teachers and students. The teacher can easily access the student data virtually including-
Students' daily attendance status
Daily homework & assignment
Test analysis & results
Academic progress – subject-wise/class-wise/section-wise/year-wise
Library links can also be registered
Modules Of School ERP

Student Management

Student Management
Faculty Management

Faculty Management
Campus Administration

Campus Administration
Features of MasterSoft's E-Learning Software for Schools

1

Microsoft Teams Integration

Designed & developed to provide quality teaching-learning sessions, MasterSoft's learning management system for schools is thoughtfully integrated with Microsoft Teams.
2

Design Curriculum & Teaching Strategies

To ensure the best student learning outcomes, the LMS system gives the provision of designing curriculum & creating lecture-wise teaching plans to the faculty.
3

Online Assessment & Exams

The e-learning software for schools offers a facility of arranging and evaluating online assessments & exams (MCQs & Descriptive) to help faculty track student progress.
4

Daily Assignment & E-Content Upload

It gives the faculty the provision to upload daily assignments and various types of e-content such as e-books, video tutorials, e-notes, and much more virtually & allows students to learn & develop better skills.
5

Mobile & Web-Compatibility

MasterSoft e-learning software is highly flexible & compatible with both the web as well as mobile applications. Teachers & students can operate the virtual teaching-learning platform at their convenience.
6

Virtual Communication Platform

Embedded with electronic communication facilities such as chat, emails, etc, the school ERP software provides a seamless communication platform to help teachers and students maintain healthy, personalized & transparent communication.
All-in-one solution for your online teaching learning
Request Demo
Advantages of E-Learning School Software for Students & Faculty

E-learning software for Students
Online Submission of Assignments
Attending Online Exams and Tests
Discussion of Lesson Plans
Communicating with the Faculty
Streaming Real-time Video Lectures
Assessing Wide Range of e-books
Collaborating with Group of Students via Online Forums
Analyzing Test Results Marks/Grades
Learning & Upgrading Skills
E-learning software for Faculty
Student Database
Group Email and Announcements
Online Test Evaluation
Online Lesson Plans
Complete Roll-list
Analytics-driven Reports
Create Teaching Plans & Syllabus
Exam Conduction - Short quizzes, MCQs & Descriptive
Upload Informative & Detailed Question Banks
E-learning Tool Offerings by MasterSoft
E-Learning tools that can be accessed by the faculty include the following.
Microsoft Teams
Mobile & Web Compatible Design
User-based Access
100% Data Security Tools
Course Material
E-Content & Notes
Sample Question Papers
Question Banks
Video Files
Audio Files
Daily Homework
Online Assignments
BI-powered Analytics Tool
E-learning management software improves networking among faculty members by connecting them seamlessly on a centralized platform. Faculty members can send/share group emails, study material, school timetables, and comments among each other and eliminate the inter-departmental communication gap.
The online e-learning software for schools is a holistic learning management system that empowers all the stakeholders- teachers, students, and school administrators by making the virtual teaching-learning journey manageable and effortless.
Performance Assessment across Various Areas
MasterSoft's online assessment software serves as a diagnostic tool that helps faculty to fill in the online learning gaps by tracking student performance in terms of their academic strengths and weaknesses as well as the following set of skill development-
Critical thinking ability
Adaptability
Collaboration across networks
Leadership
Effective communication: oral and written
Creativity & imagination power
Analyzing information
With the provision to create question banks, upload e-content, assignments & design engaging tests - MCQs & Descriptive complimenting the daily/weekly/monthly lectures plans, faculty can-Map, Measure, and Maximize student learning outcomes!
FAQs for E-learning Software for Schools