MasterSoft's School Hostel Management System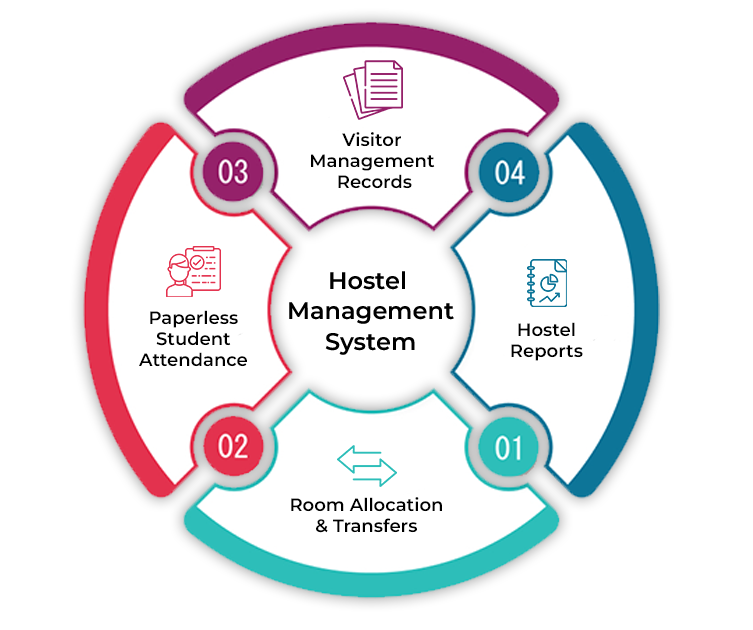 Most schools have hostels that provide lodging and food to students. Outstation students who come to seek admission at a school register for a hostel facility. Managing hostels is similar to running a hotel. It involves several tedious and manual tasks of maintaining student data, keeping track of room status, allocating rooms, and several financial aspects. Schools need student hostel management software to keep their hostel management sorted.
The school hostel management system by MasterSoft comes with greater security & centralized student data management provision, and many more configurable features that ensures smooth functioning of the system. The school or the administrative staff can keep their hostel information organized by computing through this hostel management system. The school hostel management system has an SMS and E-mail facility. It is well integrated with the fees collection software.
Modules Of School ERP

Student Management

Student Management
Faculty Management

Faculty Management
Campus Administration

Campus Administration
Features Of Hostel Management System For Schools

1

Students Fees Management

Calculating hostel fees can be tedious and time-consuming during the admission season. This process can be simplified with student fees management functionality. The admin staff can check on the students who have defaulted on their hostel fees and can easily notify them to pay their fee dues. Information about every student's modes of payments, bank details, pending and paid fees is stored with high accuracy in the system.
2

Room Allotment And Status

Room allotment is one of the crucial tasks in a hostel. Students are provided hostel rooms on the basis of their availability. Information about available rooms and allocated rooms along with wing-wise data is stored in the system. Manually assigning rooms can be cumbersome in medium-to-large sized hostels. Thus, this process can be effectively made convenient with checking the status of the room and allocating them automatically.
3

Mess Stock Management

Information regarding vendors, their products, and bills is maintained online along with the availability and requirement of groceries and food items. Improve the communication and transparency between mess staff and inventory staff. The software generates a token ID, helps in setting the menu, monitors mess expenses, tracks kitchen stocks, provides the status for mess inventory, and easy bill generation.
4

Room Number

Information about the students based on their room numbers and the capacity of each room is stored in the system. The software records all the details about the hostel rooms which includes the information regarding the number of rooms in each hostel as well the number of students each room can accommodate. The system enables the staff to assign a fare that students are required to pay.
5

Easy Guest Entries

Students have visitors such as their family members, relatives, and friends visiting them in the hostel. Easy and convenient tracking of their movement can be made possible using automated hostel management software. Here, separate guest profiles can be created for the guests brought in by the students and their data is stored for future references. Their details can be filled in the portal which can be used in the future entries.
6

Check-In And Check-Out

Hostels need to keep a detailed track of student's movements in and out of the hostel to ensure their safety and maintain discipline. Student's attendance is marked using a biometric system and their check-in and checkout time in the hostel is recorded. Manual roll-calling can be tedious and involves bulk paper documentation. This software saves a significant amount of time as well as prevents proxy's.
Reduce the Workload on Hostel Staff by Streamlining All Hostel Operations Under One Roof!
Request Demo
Benefits Of The Hostel Management System

Eliminates Manual Tasks
Automated Room Allocation
Online Hostel Fee Collection
Prevent Regular Repetitive Tasks
Quick Biometric Attendance
Secures Student Data
Constant Data Backup on the Cloud
Safety of Sensitive Student Information
Easy Storage and Retrieval of Hostel Data
Easier Management Of Operations
Convenient and User-Friendly Portal
Improved Transparency Among Stakeholders
Generate Room Allocation & Attendance Reports
Paperless and Economic Approach
FAQs On Hostel Management System

The hostel management system is an ERP solution designed to administer and manage all the hostel activities such as room allocations, hostel admissions, mess, fees, & bills. It also maintains student data & gives reports on requests.
Hostels manage the students in the following ways-
Registers students, staff, and guests online

Bifurcates the students based on hostel wings

Allocates rooms for the students

Maintain student profiles and data

Maintain attendance records and check-in and checkout timings.

Manage hostel fees, refunds, and deposit data

Manage housekeeping and repair tasks as per student requests

Tracking guest and visitor information

Manage mess activities and stock availability

Generate reports as per the requirements
Automatic Room allocation

Attendance markings and check-in & check-out functions

Creation of guest profiles and storing their details

Information regarding mess stock, product prices, and availability

Housekeeping and repair management

Easy communications with parents

Property maintenance management

Fees and online payment processing

Generating reports

Giving data about the students on a single search