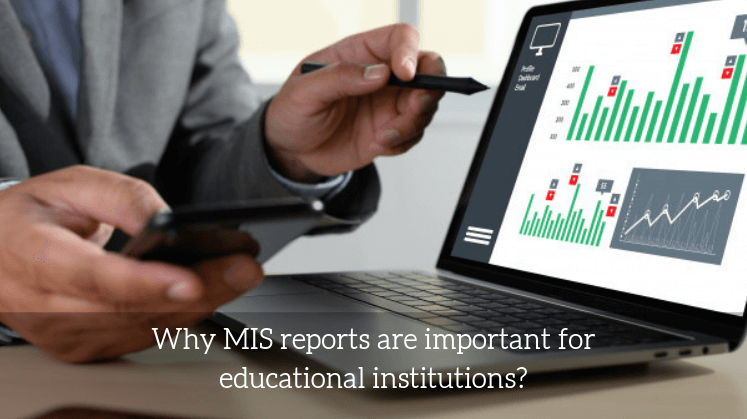 Managing data of 300 students is quite easy, right?
How about 3,000?
It is obvious that maintaining the record of 3,000 students manually would be hectic as well as time-consuming. However, right from the student's enrollment to the completion of their academic lifecycle, data plays a key role and student data management is a very important aspect to drive institutional goals. With the increase in the total number of students, data is bound to increase and institutions dependent on excel files and papers won't be able to manage it effectively. It may lead to negative effects and reduce the overall productivity of educational institutes. It has, therefore, become imperative for educational institutes to invest in an efficient Education Management Information System to reap maximum benefits.
What is Management Information System or MIS?
A Management Information System or MIS is software that collects, organize, and analyze crucial data by generating precise reports. It helps the management, faculty, and teachers to streamline the data, monitor the performance of students, and make smart decisions which would effortlessly enhance the growth of educational institutes in the long run.
Here's how MIS reports can help you achieve scholastic goals…
Minimize Workload and Maximize Efficiency
First and foremost, MIS reports help educational institutes go paperless. It helps them segregate and systematize the student data such as their grades, regular timetables, exam schedules, fees record, and library details with just a click of a button. Educators can significantly minimize their workload & save a considerable amount of time by opting for MIS, and further utilize the time for planning effective strategies to provide a better learning experience to students.
Track the Behavior of Students
MIS data can proffer real-time insights of institutions such as the attendance and academic grades of the students. Teachers can compare the consecutive grades of students as well as their attendance to identify the pain areas they need to work on for improving the performance of the students. They can have one-to-one communication with the students who have performed poorly and discuss effective learning tricks with them. It will surely boost the confidence of students and bring about a positive impact on them.
Complete Control over Accessibility
Not just teachers and faculty, the institutional management can also keep a tab on the performance of students as well as other employees by maintaining a record of their performance based on their attendance and outputs. On top of that, they can password-protect the data and provide limited access over the data to various authorities as per their will. For instance, they can lock and limit the access of teachers to the sensitive fees related data. Such a practice would ensure high data security and reduce the chances of any data misuse.
To Sum Up
ERP in education sector is a blessing in disguise for educators. Educational institutions willing to make a difference in the academic life of students as well as their employees must implement educational ERP at the earliest. It simplifies everyday tasks and enables them to make accurate decisions, which ultimately fuels up institutional effectiveness.