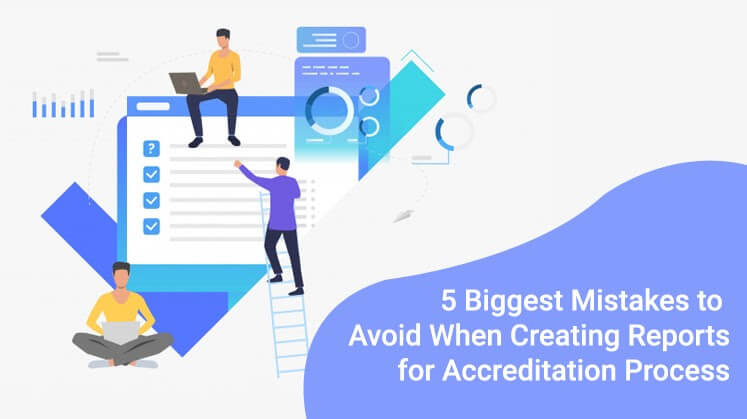 Updated On |
18

, November 2021
John Ruskin once quoted that -
'Quality is never an accident. It is always the result of intelligent effort.'
Which I think is on point regardless of the work or purpose we speak about. Be it the process of teaching or learning, one has to pass the litmus test of quality to stand out from the crowd.
When higher educational institutions commence the race to be the highest quality education provider, all they seek is accreditation from a reputed, authentic, and globally renowned agency like NBA or NAAC.
They usually start by creating reports either manually or by implementing higher education accreditation management software to ease their accreditation journey.
Of course, accreditation compliance reports are required. But, being a Higher ed faculty or educator, you must ensure that whatever reports you are generating are accurate. Focusing on institutional data & information will make the process faster.
Merely creating MIS reports that lack correct information is like trying to fill up a bucket with a hole at its bottom! Just not worth the time & effort of your resources!
In this article, I am going to reveal 5 biggest mistakes that you must be careful about while creating reports for NAAC or NBA accreditation…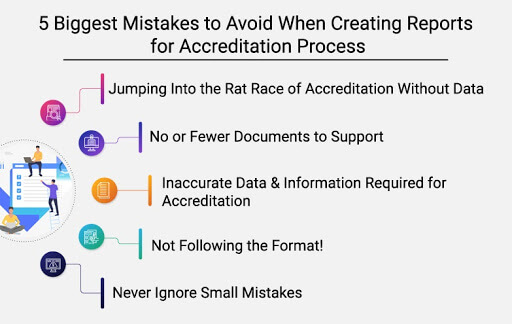 1) Hurrying Up for Accreditation without Data
Most of the institutions fail the accreditation process because they just jump into the rat race of acquiring accreditation without having proper knowledge about it.
For instance, let's say, you are aiming at NBA Accreditation. If you don't know the quality parameters of the NBA accreditation, then, how on earth can you successfully achieve it?
How will you generate quality NBA Accreditation reports?
Makes sense?
So, the first mistake to avoid is daydreaming about accreditation without proper knowledge and information about the rules to get successfully accredited.
2) No or Fewer Documents to Support
The authorities who'll visit your institution for an NBA or NAAC peer team visit won't believe your claims unless you show them solid proof to back up your words. Therefore, as you embark upon the journey to gain accreditation, make sure you keep a physical and even better digital record of documents.
Digital proof of compliance reports-supporting documents will help the peer team committee members take their decision easily!
3) Inaccurate Data & Information Required for Accreditation
One of the easiest & effective report generation methods is compiling accurate data.
It's essential that your reports add value to your work. The more precise input data is, the better.
But how can an institution compile accurate reports?
The answer is –Accreditation Software!
Yes, accreditation data management system software is a bonus piece that educational institutions must utilize to ensure data accuracy. It can complement your efforts by giving you immediate access to the required data at any instant.
4) Not Following the Format!
Some accreditation agencies ask for data and reports in a particular format.
Not doing justice to their format may land you in trouble! You might get disqualified from the course accreditation process. Therefore, always follow the format that is accepted by the accreditation committee!
5) Never Ignore Small Mistakes
Once you've compiled the data and created compliance-related reports for accreditation, check the reports twice, or even thrice…or ten times maybe!
Before you submit the reports, cross-check everything.
Pay attention to every small detail.
If you find any mistake, correct it there and then! Never ever submit a wrong report thinking that the accreditation committee won't be able to find it out!
To Sum Up
The cornerstone of successful accreditation completion is focusing on quality! Maintaining a proper record and reports should be always on your top priority. Plus, you must not waste time manually preparing the reports. Utilize efficient accreditation data management software instead.
Do write to me for more information on an accreditation data management system.
Disclaimer
This publication, and the contents herein, introduces overall features of the Accreditation Data Management System developed and owned by the MasterSoft ERP Solutions Private Limited, however, the access to the same shall be limited to the features opted by its Users. It shall be understood that the System shall be modified from time to time by the MasterSoft ERP Solutions Private Limited as and when found necessary, and such modifications shall be made available, automatically and mandatorily, to the Users.
The Accreditation Data Management System allows the Institutes to assimilate Campus Data in one Central Database, and generates various Reports that may be helpful in the accreditation process. However, it does not calculate/estimate/speculate the accreditation or ranking scores, and it shall not be implied in any manner that we claim to improve the accreditation score or ranking of the Institutes.
MasterSoft ERP Solutions Private Limited is not associated with the NAAC, and no part of the contents published herein intend to imply the same. Any part of such contents, if found to be similar to or suggestive towards the material featured on the official Website of the NAAC, is to be treated as having been sourced from the said Website; and MasterSoft ERP Solutions Private Limited claims no ownership or interest over the said information.
We declare that every such information is published in consonance with the Copyright Policy of the NAAC as stipulated on its official Website, and that we have no intention to dilute the accuracy of or to derogate the said material. We also affirm that no part of the contents published herein infringe Copyright(s) of any third party(ies).
We urge all the readers of our publications to honour the esteem of NAAC, and the sacrosanct information published by it in public interest.
Read more