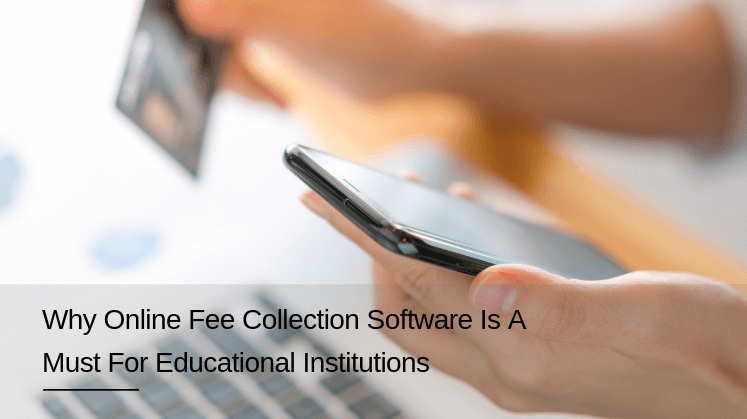 "In digital age, we have an opportunity to transform lives of people in ways that was hard to imagine a couple of decades ago": Narendra Modi
With the rapid technological advancements and its great implementation benefits in various sectors, its high time educational institutions also take a step forward and embrace education ERP especially for fee management. To be honest, educational institutes have to struggle a lot in terms of collecting & managing fees. The same thing goes for the parents; they have to face the hassles of typical manual fee payment procedure such as taking leaves off their work and standing in long queues for hours.
Be it a student or parent, everyone is busy with their work, and this is the main reason why the online fee collection ERP software has become the need of the hour.
Here's why every educational institution must invest in online fee management software ,
Student Account Management
It has been observed that manual fee process is quite hectic and consumes a lot of time. The staff members handling fees department have to be extra careful to avoid errors. Managing fee record of various students according to their departments and classes can be frustrating and daunting. However, with a fee accounting software, the staff members can easily create digital profiles for students by adding contact details and track their fee record.
Automatic Fee Calculation
Taking into consideration all the crucial factors such as education scholarships, hostel fees, discounts, extra-curricular activities fees, library fees, and much more, the online fee management system calculates fees for every student with high precision.
Secured Transactions
Owing to the rising fraudulent online activities, most of the parents raise eyebrows when it comes to 'Online Fee Payment'. However, a cloud-enabled fee automation system with role-based access is highly secured in nature. The cloud technology follows a multiple layered encryption pattern during any kind of online transaction, making it safe to use.
24*7 Support from the Fee Payment ERP Vendor
Unlike other systems, cloud education ERP provides a 24*7 support to the educational institutions. Educators don't need to wait for the experts to come to the institute. They can contact the ERP vendor at any time for asking assistance directly as the software operates via the internet.
Quick Payments & Auto-Generated Receipts
The secure payment gateway allows parents to pay their children fees with mere clicks. Also, the software generates and sends automated receipts to them on the completion of successful payment. No more hassles of standing in queues for fee payments!
SMS/Email Reminders
Often busy parents forget about the last date of fee payment and have to pay a penalty for submitting late fees. To avoid such instances, the real-time fee collection system sends emails or SMS reminders on the registered mobile number of parents and students.
To Sum Up
Right from maintaining student record, fee calculation, auto-generated receipts, SMS/email reminders to secured transactions, an online fee management system can prove to be a game-changer for your institute. Educators looking for efficient and cost-effective software, you can opt for Feepayr.
'FeePayr' is one of the leading fee management software with the lowest transaction rate that can automate the fee payment and collection procedure and save 80% of the staff member's time.
To schedule a FREE demo, get in touch with us today!