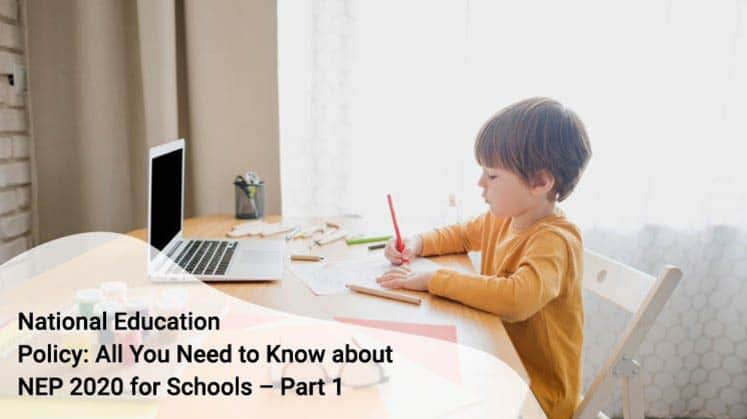 Technology has advanced to another level altogether and to achieve sustainable development & create more job opportunities for students by allowing them to learn & sharpen their skill sets, transforming the education system is crucial.
Considering the same, the Union Cabinet has given a go-ahead to the New Education Policy (NEP) 2020. NEP serves a clear roadmap for achieving excellence, innovation & quality education in the Indian educational system.
Making the official announcement on Wednesday, 29th of July 2020, Prakash Javadekar, Union Minister informed, "The Cabinet under Prime Minister Narendra Modi has given approval to new education policy for the 21st century. It is important, as for 34 years there were no changes in the education policy."
Earlier on May 1, 2020, honorable Prime Minister of India, Shri Narendra Modi had given a nod to the idea of making changes in educational norms & reviewed the proposal of National Education Policy-2020. The new draft unveiling the changes & proactive steps that need to be taken was thoughtfully designed by a team of experts under the guidance of highly experienced Dr. K. Kasturirangan, the former chief of the prominent body- Indian Space Research Organization (ISRO).
Developed after taking consultation from top-class stakeholders while keeping the suggestions of general people in the loop, the new policy aims at empowering the current education system with '100 % youth and adult literacy rate' & making India a 'global knowledge superpower'.
While explaining in details about the mindset & all the hard work put into the new policy creation, Amit Khare, Secretary, Higher Education, said that - the Government of India wants to improve public investment in the educational domain in order to take it from the current 4.3 % to 6% of the GDP.
I am jotting down the key highlights of the National Education Policy of India 2020 for school education in this article. To understand the rules of NEP 2020 for Higher Education & universities, please refer part 2 of the article.
1.Universal Approach
Right from preschool to secondary education level, the NEP 2020 has introduced important provisions that ensure universal access to school education that include-
Innovative education centers

Good infrastructure support

Tracking student progress based on learning levels

Multiple modes of learning: Formal & Informal

Well-equipped classrooms & laboratories

Experienced faculty members

Trained counselors
The NEP 2020 also facilitates the option for open learning for students studying in the classes 3, 5, and 8 through State Open Schools, NIOS, and offers vocational courses, secondary education programs which are equivalent to Grades 10 and 12, adult literacy programs, and life-enrichment courses for overall development of individuals.
The agenda behind these offerings is to bring back nearly 2 Crore population of students back to mainstream education.
2. '10+2' Pattern Replaced by '5+3+3+4'
The popular pattern of school education will be replaced with a unique "5+3+3+4" curricular structure with respect to different age groups of kids ranging from– 3 years - 8 years, 8 years -11 years, 11-14, and 14 years -18 years.
Today, students start acquiring formal education from the age of 3 by enrolling in play school programs. After the completion of play school education, the children transition to kindergarten 1 & 2 followed by 12 years long secondary education & higher education programs.
The new structure – breaks down the same structure into stages like foundational stage 3-8 years, preparatory stage 8-11 years, middle stage 11-14 years & secondary stage 14-18 years of age.
This profound structure will bring the age group of 3-6 years under the school curriculum.
So, the new educational schooling umbrella will consist of 12 years of schooling life along with 3 years of pre-schooling or 'Anganwadi'.
3.Maximizing Foundational Literacy and Numeracy
New guidelines state that a National Mission mainly focusing on Foundational Literacy and Numeracy will come into power play by the efforts of MHRD. States will be guided to formulate strategies & implementation plans for achieving universal foundational progress successfully in primary schools by the year 2025. It will help young learners build a strong mindset during growing years.
The Government will also pay attention to preparing – 'National Book Promotion Policy' in the future.
4.School Curricular and Pedagogy
With an aim to provide holistic learning to students along with enriching their minds with 21st century skills like analytical & critical thinking power and experiential learning experience, the Government has decided to minimize the school curriculum content.
The new circular will focus on providing choice-based flexible learning facilities to students where students can choose subjects of their interest.
Unlike the current educational system, there won't be rigid learning separation between various fields like arts & science, curricular & extra-curricular activities. Everything that a student does will be counted!
It will promote & ensure students become all-rounder rather than acquiring just the academic knowledge. Vocational education consisting of internships is a surprise element that will be effective from the 6th grade.
5.Power of Language & Multilingualism
The NEP 2020 is not restricted to education in 'English' language!
It openly favors education in mother tongue/regional/local language. In addition to this, one of the oldest & ancient languages 'Sanskrit' is to be promoted as well.
Students are free to take up the Sanskrit language in schools as well as during their higher education. Several other traditional literatures of India & classical languages will also be offered to students.
No specific language will be forcefully imposed.
6.The New Assessment Reforms
Assessment plays a key role in helping teachers scrutinize & evaluate the skills & knowledge of students.
It can shape the way students think & act.
Therefore, with NEP 2020, the government is aiming to bring transformation in the way assessments are conducted. They are trying to bring in a competency-based assessment that evaluates-
Analytical power

Critical thinking

Decision-making

Creativity

Conceptual clarity
Students in grades 3, 5, and 8 will have to face exams.
Board examinations will be conducted for Grades 10 and 12 as usual, but keeping in mind their overall development, the way of assessment will be redesigned with a more holistic approach.
A New National Assessment Centre named – "PARAKH" that implies – Performance, Assessment, Review, and Analysis of Knowledge for Holistic Development will be considered as the new golden standard for evaluating students progress.
7.Funds to Meet the Needs of Students
NEP 2020 will set up a 'Gender Inclusion Fund' & 'Special Education Zone' for children belonging to unprivileged backgrounds & with special abilities. They will be encouraged to participate in regular school processes right from foundational programs to higher Ed.
Educators will run exclusive programs to help them get trained; initiate various resource centers & assistive technology-based tools & devices to simplify & ease their learning journey.
Best Strategies to Raise the Bar of Education Using School ERP
Besides complementing the rules of NEP 2020, school ERP software can prove to be a boon for schools that aim to conquer the virtual education landscape within a short time.
If you are a school administrator, do consider investing in edTech in the classroom to bring great results!
Be Sure To Read NEP for Higher Education & Universities: Part 2
To read the NEP policy 2020 for higher education institutions & universities in this series, click on the given link:
National Education Policy: All You Need to Know about NEP 2020 for Higher Education – Part 2