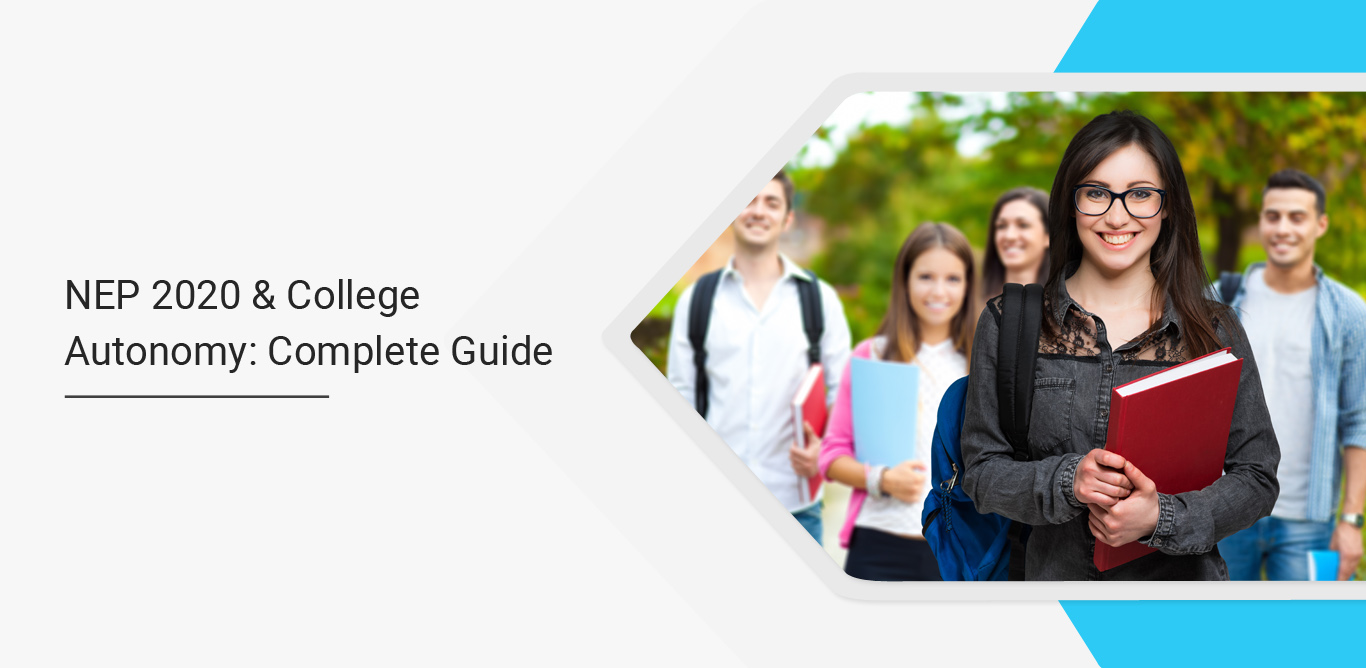 A decade back, the working structure of colleges and universities was smooth & manageable as the HEIs were limited in terms of their count. However, with the development of the educational ecosystem, the number of universities & affiliated colleges that have a dependency on universities for awarding degrees increased tremendously.
As per the current statistics –
"Higher education system in India is third largest in the entire world and growing day-by-day."
And as a result?
Despite the rules & regulations of universities governing colleges, things have become unmanageable which in turn has started to impact the quality of education. The colleges that hold the potential of offering upgraded & better educational facilities can't make their own decisions due to dependency on universities.
In such instances, autonomy in colleges is crucial for maintaining academic excellence.
Knowing the benefits of "academic freedom" that can be obtained by achieving autonomy in higher education institutions, even the NEP policy 2020 encourages institutions to go for it.
What NEP 2020 States About College Autonomy?
Under the guidance of Prime Minister Narendra Modi, the Government of India has come up with National Higher Education Policy 2020 (NEP), which aims to transform the current HEI model into a value-based educational model.
Practically, the transformation could take more than several decades to materialize.
However, the easiest way to achieve the goals lies in preparing an altogether new framework that focuses on every single aspect that can lead to better educational standards. This is the reason why the NEP higher education blueprint has proposed the concept of college autonomy.
At present, Indian Universities are categorized into eight groups.
Some are centrally funded; other universities funded by private organizations or State, and around 40K affiliated colleges that have a dependency on degree-granting educational institutions. The Government is planning to boil down these 8 types of universities into the following 3 major types-
Research Universities
Teaching Universities
Degree Awarding Autonomous Colleges
Key Challenges Affecting Autonomy
Key challenges that government-funded as well as private HEIs face are –
Restriction of decision-making as per the University
Operational dependency on the University
Benefits of Autonomous College Status
Encircling my previous point- college autonomy brings "Academic freedom" in terms of -
Own administrative staff & faculty
Designing curriculum
Deciding college admission processes fees
Independent teaching-learning framework
Deciding exam pattern
Evaluation & judgment parameters of own
The grading system of own choice
Awarding degree to students
Planning best practices for the institution
Having said that, freedom doesn't ensure success. Everything depends on how colleges utilize academic freedom. There has to be discipline in every action & decision.
Eligibility Criteria for College Autonomy
As per the rules & regulations stated by the Rashtriya Uchchatar Shiksha Abhiyan (RUSA), the colleges which fall under the given categories are eligible for autonomy.
HEI of any field/discipline (of any discipline) – aided/unaided/partially aided/self-financed can claim for autonomous status if they fall under Section 2(f) of the University Grants Commission (UGC) Act.
The college must at least have completed 10 years.
The HEI must have achieved NAAC - National Assessment and Accreditation Council Accreditation.
Colleges with The National Board of Accreditation (NBA) are also eligible if they have three programs with a minimum score of 675.
Existing HEIs that aim to extend their autonomy status need to manage these eligibility terms and conditions for a maximum of five years.
HEIs with a score of 3.0 & above in NAAC/NBA/Corresponding Accreditation Agency will also be considered for autonomy after the decision of the on-site peer visit committee.
HEIs having a NAAC/NBA/Corresponding Accreditation with a score of 3.26 or more, up to 3.5 for one cycle & accredited in the second cycle will also be eligible without any on-site visit by experts.
HEIs having a pointer of 3.51 in NAAC/NBA/Corresponding Accreditation and a score of 750 will also be eligible without any on-site visit by experts.
The HEIs are required to follow the UGC Regulations such as (a) No cases of ragging in college (Regulations 2012); (b) Promotion of Equity in HEI (Regulations 2012) (c) Proper Grievance Redressal( Regulations 2012), and likewise in written letter and spirit.
The Criteria for Granting Autonomous Status to Colleges
The following criterion is taken into consideration while granting autonomous status to colleges.
Quality of education of the HEIs
Academic performance & strengths of college in co-curricular activities
Achievements of faculty in terms of research work
The merit of students and quality of teaching-learning
Infrastructural facilities provided by the college such as – the library, e-resources, transportation, etc
Innovation & research
The financial strength of the college
Institutional management
How Institutions can Achieve Autonomy?
As a higher educational institution, if you aim to achieve & manage autonomy successfully, here's what you need to know and implement for ensuring 100% success.
Focusing on Innovation & New Ideas
To ensure the best practices while aiming for autonomy, you need to go the extra mile in terms of teaching-learning processes. At present, you may be following a certain curriculum & syllabus designed by a university.
Since you don't have a choice to design a curriculum on your own, you have to follow the same curriculum. However, you can add a touch of innovation to it by changing teaching methodologies. Introducing edtech tools such as college ERP software to offer relevant industry-specific information to students and enhancing their skills along with the regular lectures.
Profound Education with Choice-Based Credit System (CBCS)
As an institution, you can introduce the choice based credit system (CBCS) rather than the traditional learning system. To be honest, the education & evaluation in the choice-based credit system in higher education is much better.
It enables students to get interdisciplinary education and to learn the subjects they like.
There's no compulsion of learning only the course-specific subjects.
Rather than evaluating the academic student performance via marks & percentages, the CBCS system uses credits.
ERP Higher Education for Administrative Role
As it is important for institutions to achieve NAAC/NBA accreditation to become eligible for attaining autonomy, implementing college ERP software with accreditation data management software can be much useful. It can collect, compile, manage, and store institutional data including all the documents & records that are necessary to generate complete compliance reports. You get the provision of managing data chronologically along with maintaining data privacy.
With ERP as your backbone for streamlining processes, ensuring reduction in work & transparency across all academic & non-academic processes, campus administration can be eased & analyzed to optimize resources implemented.
We recommend you go for an ICT Solution.
Reach out to us for a gap analysis call: +91-7249388645
Need more information on achieving autonomy with the aid of college ERP software?
Get in touch with my team of ERP professionals today!