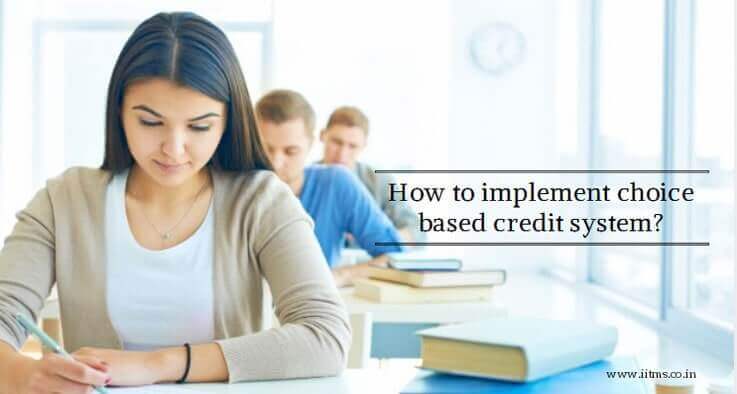 Choice based credit system (CBCS), provides a learning platform wherein the student or knowledge seeker has the flexibility to choose their course from a list of elective, core and soft skill courses. This is a student-centric approach to learning or acquiring higher education.
The conventional system of Higher Education didn't give much scope to students. The course and content was predefined, redundant and was not up- to date. For students to apply their knowledge base later in their work environment, business or life; the conventional isolated courses lacked contemporary appropriateness.
Choice Based Credit System not only opens pathways for learning opportunities but also manifest learning goals and objectives. CBCS follows a credit system which is attached to course components offered to students. A credit system for higher education measures various parameters like student performance, outcomes, entrepreneurship skills, contact hours, innovation and creativity talents, etc.
This CBCS system is an initiative of University Grants Commission (UGC); which enhances and promotes educational liberalization of existing conventional higher education models.
Advantages of Choice Based Credit System (CBCS):
The student has an option to choose inter/multi-disciplinary courses too

Based on the IQ level of individual student; a mentor guides students to select courses.

It promotes group work, research and community involvement.

It gives prospects to the learner to earn certification through a walk-in/walk-out approach.

Provides students with greater flexibility in choice of courses

Students can choose courses at basic or advanced level

Learners acquire job oriented skills

Students progress at their own tempo

Highly motivated students get the chance to gain extra credits
CBCS System not only bridges the gap between professional and social exposure but provides holistic education.
Features Of CBCS System :
Credits can be transferred if the student changes his/her branch of study.

CBCS is a step towards moving away from numerical marking to grading.

Grading minimizes the stigma of "fail".

The credit based grading system is considered desirable because it facilitates student mobility across institutions within the country and across other countries. Potential employers can thus assess performance of students, judicially.
The meaning of Choice Based Credit System (CBCS) in brief :
CHOICE BASED - Choice of multiple courses

GRADING - Marks secured is in letter grade format

SEMESTER - Learner- Teacher Engagement Quotient can be measured/ identified semester-wise

CREDIT - Class hours per week carries additional importance in credit system

ASSESSMENT - In the form of class room attendance, Mid Term Tests etc; is continuous and wide-ranging.
UGC has introduced a 10-point grading system as follows:
| | |
| --- | --- |
| O (Outstanding) | 10 |
| A+ (Excellent) | 9 |
| A (Very Good) | 8 |
| B+ (Good) | 7 |
| B (Above Average) | 6 |
| C (Average) | 5 |
| P (Pass) | 4 |
| F (Fail) | 0 |
| Ab (Absent) | 0 |
Credits are calculated keeping in mind the following components:
Lecture (L)

Tutorial (T)

Practical (P)
The course may have all components of evaluation or combination of any two; listed above. Although CBCS system is tried and tested, it sometimes lacks accurate estimation of marks. Teachers are further challenged to keep pace with many courses. This system furthers confusion among students; as each student has a different timetable and course of study. Nonetheless, CBCS system is flexible and student - centric, this approach matches today's demands of the student/learner community.
This CBSC system is in compliance with other grading systems of institutes, globally. To know more about grading systems of the world, click on the link below.
https://en.wikipedia.org/wiki/Grading_systems_by_country
MasterSoft has designed software, which manages the CBCS system for Educational Campuses. Our software eases manual task of administration and faculty. ERP helps in data collection, student participation, course creation etc.
Features of Our Solution for CBCS System Are Highlighted Below :
A sleek and minimalistic dashboard which displays the University user login, a brief about the institute, news and notices

The University can have multiple users. The user can view his/her profile as well as change password.

Three main dropdown options namely; Administration, Academics and Examination which facilitate easy management of the entire CBCS System

Student has the mobility to register, apply, keep track of courses selected and examination schedule through our Solution

Faculty has the flexibility to manage student data, create courses and schemes, offer courses, allot curriculum and assign/ transfer teachers.

Through this solution the teacher can prepare teaching plans, mark attendance and prepare assignments for students.

Not only does this software facilitate defining of rules for CBCS system but also filters students for courses.

University can define requisites and allot mentors to students (mentors help student in selection of courses based on their IQ level and scope of study) through our solution

Lastly, reports can be generated for each of the services that are listed above

Solution for CBCS system is holistic, easy to use and provides comprehensive management.
The implementation of CBCS system can prove beneficial for Institutes. Student-centric approach of Education creates interest and applicability in the scope of study. Our solution enables easy management of Choice Based Credit System in Educational Campuses. MasterSoft has customized this solution keeping in mind the growing need to automate credit courses of higher education.
MasterSoft offers ERP solution software to educational campuses across India. These softwares are specially designed and customized to simplify administrative work of an institution. We believe that solutions that are provided to our educational campuses' clients should be integrated with ERP; we provide better adaptability by minimizing manual work; thus promoting structured output data for maintaining records, plus retrieve statistics. ERP integration helps in generating end number of reports, be it for school, faculty, administration or student.
Factual Information of CBCS is referred from the following domain - vtu.ac.in/pdf/CBCS.pptx. To know more about CBCS grading system, click on the domain link.