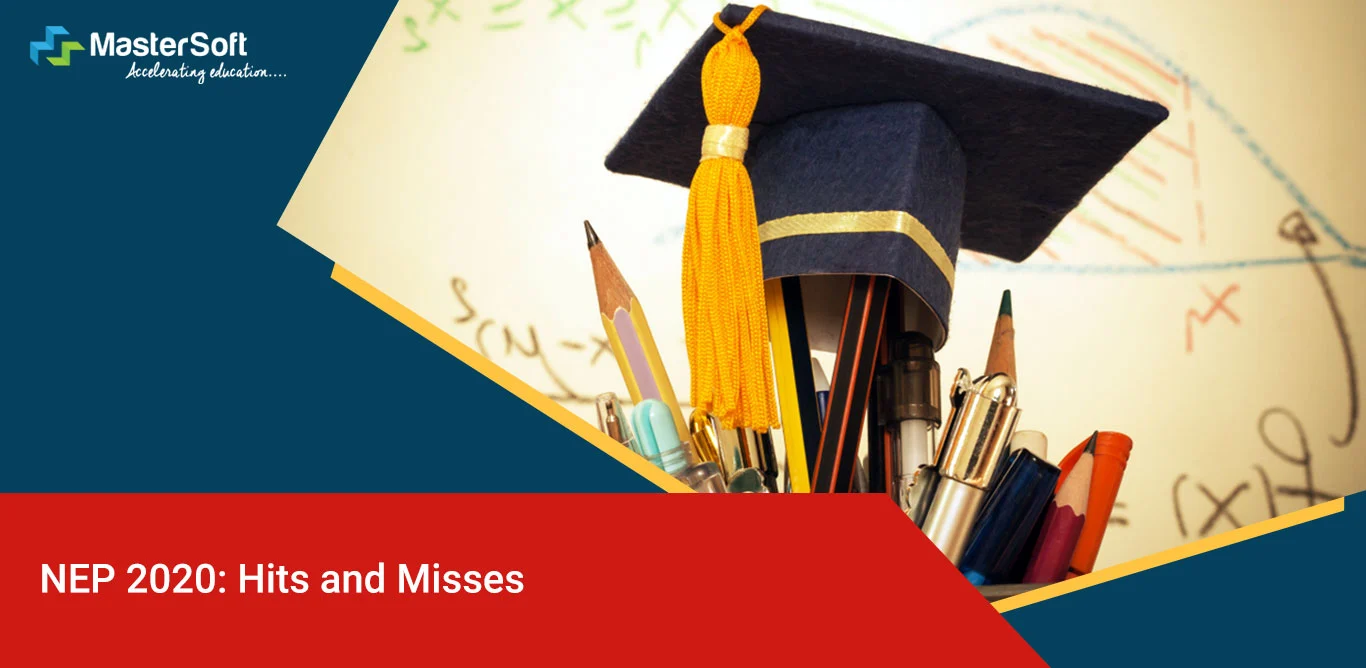 The government has made substantial corrective moves to bring about the required reforms to our educational system during the past 30 years, but none of the programs were able to have an influence on the entire country. The "Right of Children to Free and Compulsory Education Act 2009," which established the legislative framework for achieving universal basic education, has been the only notable advancement since the NEP of 1986.
The National Education Policy (NEP 2020) is the first education strategy that intends to address the numerous expanding developmental imperatives in our nation's education sector. The ambitious goal of the strategy, which promotes a pedagogy focused on children, is to completely overhaul India's educational system by the year 2040.
Major Hits of NEP 2020 in the Indian Education Sector: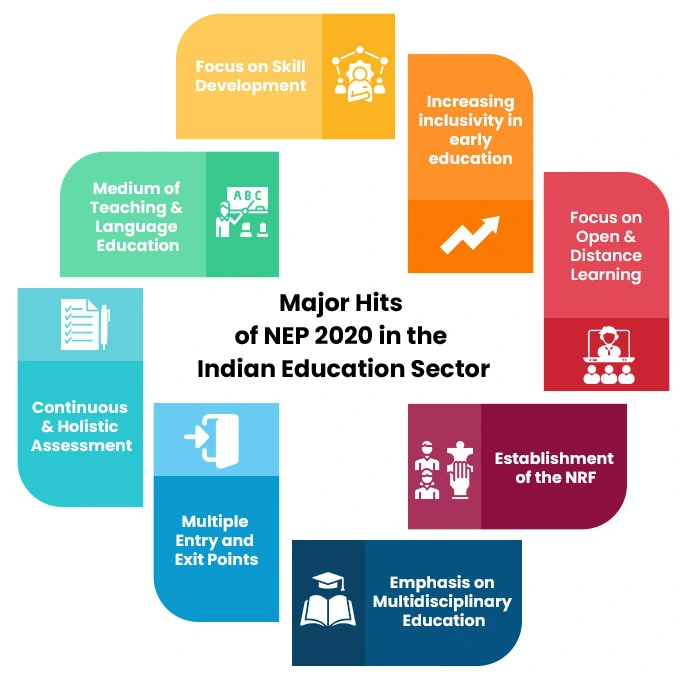 Dropout Rates, Enrollment, and Gender Inclusion
Statistics show that there has been an increase in overall school enrollment rates. For instance, in primary school from grades 1 to 5, the enrollment increased from 12 to 12.2 crore. Data also show that enrolment rates for girls have improved somewhat, particularly in the upper elementary and secondary grades. The latest education policy's adaptability and focus on students appear to be working on the ground. Yet, there is still much work to be done to achieve the stated objectives.
Focus on Skill Development in Students to Meet the Needs of Employers
The most recent educational strategy is thought to be a bold move towards equipping pupils with employable skills. especially considering that 29 million less skilled workers were anticipated in the nation by 2030. The exact effects of the talent skills gap in two years are difficult to predict. The patterns do, however, show some promising signs.
According to the India Skills Report 2022, employability has increased (from 45.97% to 46.2%). The research also emphasizes an intriguing statistic: in 2022, 51.44% more women than men were highly employable. Significantly, the changes in our educational system appear to be progressing slowly but steadily.
Liberal Education Promoting Research
The policy's emphasis on liberal education has as its goal the eradication of discipline boundaries. This has aided in raising higher education's student retention and gross enrollment rates. because students can choose to change their studies as opposed to quitting the established educational system.
Also, it promotes 21st-century pertinent research abilities. Under the NEP 2020, students can complete a 4-year curriculum and receive a degree in research. Students can benefit from this degree of flexibility in a number of ways.
Internationalization and Collaboration
The National Policy of Education 2020 is committed to fostering research and teaching alliances with top-tier international institutions. This has enhanced communication between educational institutions, enhancing both Indian and international students' mobility.
Also, the strategy expands options for online learning through recognized online schools. With a projected US$4.71 billion in revenue in 2022, India boasts a sizable online education network. Moreover, stakeholders generally welcome the shift towards online education.
How can MasterSoft Help in Making Your Institute Ready For NEP-2020
Increasing inclusivity in early education
The 10+2 educational framework was superseded by NEP 2020. In order to create a solid foundation for Early Childhood Care and Education, it was modified with a new pedagogical and curriculum restructuring of 5+3+3+4 spanning ages from 3 to 18 years (ECCE).
With the inclusion and support for learning newer and developing technologies provided by NEP 2020, the Indian educational system will undergo a much-needed shift. The introduction of coding classes for students in grades 6 and up is the major change made by the NEP. One year later, it is obvious that this foresightful decision has already put India on a course toward development and success.
Establishment of the National Research Foundation (NRF)
The creation of the "National Research Foundation" (NRF) to support internal research institutes and build a research ecosystem was one of NEP 2020's key priorities. The National Research Foundation (NRF) was subsequently awarded an outlay of INR 50,000 crore in the Union Budget 2021–22, which will be distributed over a five-year period.
Focus on Open & Distance Learning (ODL)
The NEP emphasizes that ODL programs should be of similar quality and standard as on-campus programs. This means that students who choose to study through ODL should receive the same level of education as those who attend on-campus programs. The NEP encourages higher education institutions (HEIs) to develop ODL programs that are rigorous, engaging, and of high quality.
The NEP also recognizes the value of ODL credits and encourages HEIs to count credits earned through ODL programs towards the credit requirements for on-campus degrees. This means that students who complete ODL courses can use those credits towards their on-campus degree requirements. This is a positive step towards promoting the recognition of ODL programs and ensuring that they are valued as much as on-campus programs.
To assist girls and transgender students in education, a "Gender Inclusion Fund" has been proposed. To improve the enrollment of disadvantaged minorities, the policy suggests creating more residential schools like Kasturba Gandhi Balika Vidyalaya (KGBV) or Jawahar Navodaya Vidyalaya (JNV). Additionally, the guideline states that any prejudices or preconceptions found in the curriculum shall be eliminated.
Emphasis on Multidisciplinary Higher Education Institutes (HEI)
The policy calls for a shift towards large, multidisciplinary educational universities with enrollments in the thousands. These universities will have a stronger infrastructure, more opportunities for collaboration, and a more lively culture. Also, the policy calls for a gradual transition to graded autonomy and graded accreditation, eliminating the structure of constituent and affiliate institutions.
It is suggested that internships be included in all HEIs' curriculum, with students given the option of pursuing internships in the private sector or academic research institutions. Moreover, HEIs are expected to switch from a high-stakes assessment paradigm to a continuous and thorough evaluation strategy.
Multiple Entry and Exit Points in Degree Programs
Multiple exit points have been created in undergraduate programs - a certificate after one year, a diploma after two years, a degree after three years, and a "Degree with Research" after four. This provides students with more flexibility and options in their education journey and allows them to make decisions based on their individual goals and circumstances.
The creation of multiple exit points also means that students who are unable to complete a full degree program can still receive recognition for the courses they have completed. This is particularly important for students who may face financial, personal, or other challenges that prevent them from completing a full degree program. The NEP's emphasis on multiple exit points also promotes lifelong learning by encouraging students to continue their education and pursue further qualifications, even if they are unable to complete a full degree program at once.
Moreover, the New Education Policy (NEP) 2020 focuses on creating multiple entry and exit points in undergraduate programs, which is particularly helpful for women who may have to leave education due to marriage and childbirth, and for men who have to earn money to fund their education. This means that students can re-enter the education system at different points and receive recognition for the courses they have completed. This provides more opportunities for students to pursue education and build their careers, even if they have had to take a break due to personal or financial reasons.
Continuous & Holistic Assessment
The goal of the policy is to switch from a few, high-stakes summative tests to more frequent formative ones. Instead of rote memorization, the tests would examine higher-order skills like reasoning, critical thinking, and analysis.
Self-assessment and peer assessment would find a place to make the feedback more well-rounded. By lowering the stakes and promoting the idea of numerous staggered examinations rather than a single final assessment, the approach also lessens the stress associated with board exams.
Medium of Teaching & Language Education
Children learn better and more quickly in their native language, according to a research study. As a result, NEP advises that until at least grade 5, and preferably until grade 8, the medium of teaching should, whenever possible, be in the home language or regional language.
The policy states clearly, for the benefit of promoters of the English language, that "a language need not be the medium of instruction for it to be taught and acquired properly." Since young children have a very high capacity for language learning, they will be exposed to a variety of languages during the foundational stage.
The New Education Policy (NEP) 2020 has introduced the concept of "professor of practice," which allows individuals with practical experience in a specific field to become professors without the requirement of a Ph.D. degree. This is a significant shift from the traditional academic model, which places a high emphasis on research and publication. The NEP also proposes to increase the number of people joining academia by offering higher salary slabs and reducing the entry criteria for Ph.D. programs.
These measures aim to address the issue of vacancies in teaching positions in schools (Grade 1-8) across India, which was estimated to be around 5.67 lakh in 2021. By creating a more flexible and inclusive academic environment, the NEP seeks to attract and retain qualified and motivated teachers in the education system. The introduction of the "professor of practice" concept may also help to bridge the gap between academia and industry by bringing in professionals with practical experience into the classroom.
NEP 2020- New Structural Changes In Curriculum And Pedagogy In Education
Major Misses of NEP 2020 in the Indian Education Sector
1. Lack of Clarity
Private schools aren't specifically mentioned in the NEP 2020, which is primarily focused on Anganwadi Centers (AWCs) and Balwadis. Some important questions about what their duties would be are not expressly stated. When it comes to concerns about private schools, the policy is actually very vague.
A two-year diploma was previously the NCTE's minimum requirement for private school teachers after Class 12. However, NEP 2020 makes no mention of requirements for teacher preparation programs.
While NEP 2020 mentions the age range of 3-6 years, or Classes I and II, which will fall under the purview of the Ministry of Women and Child Development (MWCD), the policy fails to address the question of whether the age range of 6–8 years would fall under the purview of the MWCD or the Department of Education.
2. Significant Gap Between Planning and Execution
The most notable aspects of NEP 2020 require a substantial budget allocation and structural transformation. If many additional schools and universities are opened, the goal of a higher enrolment ratio and getting students back into the system can be achieved.
Healthcare and economic recovery are at the top of the list of priorities in light of the difficulties that the post-pandemic world presents. So, it doesn't seem entirely feasible to take the necessary action to implement NEP 2020.
3. Lack of Skilled Instructors
The goals of NEP 2020 require strong backing from qualified instructors. Many instructors in India still struggle with time management for administrative tasks and a lack of digital literacy. To make our teachers more nimble, we must upgrade their skills. This will enable them to put their time and effort to good use in effectively putting the new policy into practice.
The condition of teachers is not very remarkable right now. In fact, many teachers are overworked, unable to access necessary materials, uninspired, and even lacking in the fundamental skills necessary to teach. We must first overcome these difficulties in order to perfectly implement the new policy.
4. Poor Adoption of NEP by State Governments
India's federal system of governance gives the Central and State governments separate legal control over several agencies. Passing an amendment is one thing in a nation the size of ours, but seeing its full execution is another story entirely.
Only Karnataka, Madhya Pradesh, and Uttar Pradesh have put the New National Education Policy into practise even two years after it was passed. While Goa, Maharashtra, Rajasthan, and other states have indicated interest, the state governments' delayed implementation is making it difficult for the overall improvement to be seen at the national level.
While the NEP lays out a comprehensive vision for the future of education in India, there is no clarity on the implementation process, and many institutes lack the necessary infrastructure, both physical and intellectual, to implement the NEP's recommendations effectively. This has led to a slow and fragmented adoption of the NEP by state governments, with many struggling to keep up with the pace of change.
In addition, there are concerns about the availability of funding, training, and resources needed to implement the NEP's recommendations, particularly in rural areas and for marginalized communities. Without a clear plan for implementation and sufficient resources, the NEP's potential impact on education in India may be limited.
Final Thoughts,
The NEP 2020 policy appears to be sound in writing. It will work beautifully and answer the major problems in the education sector for which it was initially developed if a few of the aforementioned issues are clarified. To ensure the success of the policy, it is important that these concerns are addressed and that the government provides the necessary resources and support for its implementation.