Keeping track of progress and trends is essential to ensuring effective policy-making and sustainable development in the education industry. This comprehensive initiative delves into the heart of higher education, unravelling its complexities and offering a panoramic view of the nation's academic evolution. With an unwavering focus on inclusivity, diversity, infrastructure, and technological integration, AISHE paints a vivid picture of the present while shaping the contours of the future.
The Ministry of Education, Government of India, has taken a significant step towards this goal with the release of the All India Survey on Higher Education (AISHE) for the academic year 2020–2021. This survey stands as a beacon of insight, shedding light on various facets of higher education in the country.
National Education Policy: All You Need To Know About NEP 2020 For Higher Education
In the intricate tapestry of India's educational landscape, the All India Survey on Higher Education (AISHE) emerges as an important thread that weaves together insights, trends, and progress. The AISHE captures data on student enrollment, faculty demographics, institutional infrastructure, and financial aspects, serving as a crucial tool for policymaking and development in the education sector.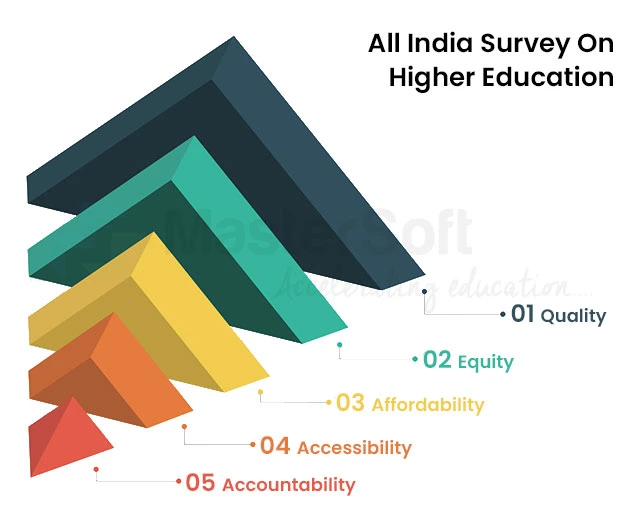 A Technological Shift
In an era shaped by technology, AISHE exemplifies the seamless integration of technological advancements into its data collection mechanisms. The adoption of the Web Data Capture Format (DCF), an online data collection platform, signifies a conscious step towards efficient and streamlined data-gathering processes.
This shift towards technology-driven data collection mirrors the growing tech-centric nature of the education landscape, where data-driven insights pave the way for informed decision-making. Moreover, higher education ERP stands as a pivotal technological advancement. Serving as the orchestration hub for administrative tasks, this ERP software transcends the conventional and embarks on a journey of streamlined operations and enhanced productivity.
What Is ERP Software (Enterprise Resource Planning)?
As institutions grapple with multifaceted tasks such as student admissions, course management, and financial administration, the significance of Higher Education ERP becomes increasingly evident.
It integrates various functions within educational institutions and offers various ERP software such as learning management systems, attendance management systems, and student information systems to ensure overall productivity.
Journeying Through Enrollment Trends
AISHE embarks on a fascinating journey by unearthing the trends that shape student enrollment in higher education. A closer examination of the latest dataset reveals a heartening surge in enrollment, breaking past the impressive 4-crore milestone. This marks a substantial 7.5% growth from the preceding academic year, an achievement that echoes a remarkable 21% rise in enrollment since the academic year 2014–2015.
A particularly notable accomplishment is the crossing of the 2-crore mark for female enrollment. This milestone is a testament to the progress made in achieving gender parity in higher education. The enrollment of female students witnessed a commendable increase of 13 lakh enrollments compared to the previous year.
Inclusivity and Diversity as Catalysts for Change
AISHE transcends mere numerical data; it celebrates the strides taken in promoting inclusivity and diversity within the higher education ecosystem. The enrollment figures for students from marginalised communities paint an inspiring narrative of growth and empowerment.
Enrollment of Scheduled Caste (SC) students recorded a significant 28% upswing, while female SC students' enrollment soared by an impressive 38%, spanning the academic year 2014–2015.
The enrollment of Scheduled Tribe (ST) students narrates an even more remarkable story, with a staggering 47% rise, accompanied by a momentous 63.4% increase in female ST students' enrollment.
Other Backward Classes (OBC) students contribute significantly to this growth, with a substantial 32% increase, further amplified by a 39% surge in female OBC students' enrollment since the academic year 2014-2015.
The northeastern region of India emerges as a star on this journey, boasting a remarkable 29% surge in student enrollment and an impressive 34% rise in female student enrollment since the academic year 2014–2015.
These statistics illuminate the collective endeavour to ensure equitable access to higher education, even in geographically challenging terrain.
Architecting Educational Infrastructure
AISHE's significance extends beyond enrollment numbers; it spotlights the commendable advancements made in bolstering educational infrastructure across the nation. Institutions have passionately embraced the task of providing crucial facilities that nurture holistic growth and development.
From well-furnished libraries to cutting-edge laboratories and skill development centres, the infrastructure enhancements are evident.
A noteworthy transition is the increased connectivity to the National Knowledge Network, which surged from 34% to an impressive 56%. This shift demonstrates a resolute commitment to infusing technology into education, thereby enhancing the learning experience and aligning with the nation's digital aspirations.
Evolving Institutional Landscape
The AISHE narrative explores the dynamic landscape of higher educational institutions dotting the Indian map.
The academic year 2020–2021 witnessed the establishment of a notable 70 universities and an impressive 1,453 colleges. This expansion echoes the broader vision of democratising higher education, making it accessible even in the farthest corners of the nation.
Furthermore, the count of institutes of national importance has doubled from 75 to an impressive 149 since the academic year 2014–2015.
Simultaneously, the establishment of 191 new higher education institutions in the northeastern states underscores the nation's commitment to fostering balanced educational development across regions.
Empowering the Enablers: Educators
While students remain at the core of AISHE, it also acknowledges the pivotal role played by educators.
The comprehensive dataset portrays a total of 15,51,070 faculty members dedicated to shaping the nation's future.
Notably, gender representation among faculty members has shown marked improvement.
The ratio of female faculty members per 100 male faculty members has risen from 63 in the academic year 2014–2015 to an encouraging 75 in the academic year 2020–2021.
This shift signifies noteworthy strides towards achieving gender equality and diversity among educators.
Envisioning the Future: The Transformative Road Ahead
As India stands on the threshold of transformation, AISHE emerges as a guiding light, steering the trajectory of higher education. The implementation of the National Education Policy (NEP) heralds a new era, characterised by innovative strategies and progressive approaches that are poised to revolutionise higher education.
The infusion of vocational training, the adoption of inventive evaluation methodologies, and a holistic approach to education converge to bridge the gap between theoretical learning and real-world application. By nurturing graduates armed with not just knowledge but also practical skills, India prepares itself to navigate the challenges of a dynamic global landscape.
National Education Policy 2020: All You Need To Know About NEP 2020 For Schools
Summing Up,
The integration of technology in higher education institutions plays a transformative role in advancing sustainability initiatives. HEIs have a profound responsibility in preparing the next generation of students to address the complex challenges of sustainable development. Incorporating sustainability into the curriculum and fostering a sustainability mindset creates a positive impact beyond the walls of educational institutions. As universities continue to leverage technology and collaboration, they strengthen their contributions to the successful implementation of Sustainable Development Goals (SDGs) and the creation of a sustainable future for all.
From enrollment surges to inclusivity endeavours, technological integrations, and a steadfast commitment to quality, AISHE encapsulates the spirit of a forward-looking and progressive education system.
It illuminates the path towards enlightened decisions and thoughtful policies, ultimately culminating in an all-encompassing, empowered, and globally competitive higher education landscape that India can rightfully cherish.