As the popularity of NEP 2020 continues to soar and educational institutions place strong emphasis on its implementation, the need to closely track and accelerate its adoption becomes increasingly evident.
The National Education Policy 2020 addresses a wide range of topics, from entry-exit management and multidisciplinary education to the establishment of academic credit banks, 5+3+3+4 education system, and the integration of technology.
With such a diverse scope, incorporating all these elements into the education system can pose a significant challenge for institutions.
National Education Policy 2020: All You Need To Know About NEP 2020 For Schools
The University Grants Commission (UGC) recently launched two new websites, UTSAH (Undertaking Transformative Strategies and Actions in Higher Education) and PoP (Professors of Practise), which together represent a significant step towards the successful implementation of the National Education Policy (NEP) 2020 in India.
UTSAH Portal
To ensure the effective monitoring and support of the NEP 2020 implementation process, the UGC committee launched the UTSAH portal, accessible at utsah.ugc.ac.in. This user-friendly platform enables HEIs to register and actively participate in this transformative initiative.
To make it easily accessible for all stakeholders, a hyperlink has been included on the portal to access the guidelines, regulations, and frameworks published by the UGC. This portal ensures that all stakeholders involved have immediate access to important information related to NEP 2020 implementation.
ECCE - Early Childhood Care And Education - A Complete Guide
Moreover, colleges can gain a better understanding of the UGC's vision for qualitative reforms and stay up-to-date on the latest developments. By offering a centralized and seamless platform, the UTSAH portal facilitates effective communication and collaboration between universities and UGC.
In addition, the UTSAH portal serves as an interactive space for colleges to engage in the implementation process. It enables HEIs to submit necessary reports, data, and updates regarding their progress in NEP implementation. This involvement further ensures accountability and transparency, enabling the UGC to evaluate and monitor the effectiveness of NEP 2020 at the institutional level.
Furthermore, it encourages knowledge-sharing and collaboration among educational institutions, creating a platform for successful case studies and best practices to be shared. By learning from each other's experiences, universities can adapt and implement effective strategies as per NEP 2020.
PoP Portal
The UGC launched the PoP portal, available at pop.ugc.ac.in., to simplify the recruitment of experienced instructors in academic institutions. This platform aims at bridging the gap between the industry and academia by facilitating the hiring process.
It provides a common portal for educators from various disciplines to register themselves, allowing universities to identify suitable teachers.
This initiative of bridging gaps enriches the learning environment, improves the practical relevance of education, and promotes collaboration between academia and industry. The PoP portal further acts as a catalyst in realizing the objectives of NEP 2020, creating a healthy educational landscape that benefits both students and teachers alike.
Under this portal, professionals with a minimum of 15 years of proven teaching expertise from diverse disciplines such as science, engineering, entrepreneurship, technology, social sciences, commerce, media, and literature, among others. can be considered for PoP posts, regardless of formal academic qualifications. The UGC Chairman promotes universities to visit the portal regularly and input data related to NEP implementation in their institutions.
The PoP portal also provides real-time information to the UGC on the hiring of professionals by HEIs. Moreover, this portal serves as a comprehensive resource, providing crucial information on e-governance portals, universities, and other relevant initiatives and notices.
These portals aim to revolutionize the higher education sector by providing constant support and expediting the recruitment of teaching professionals.
Cheat Sheet - 10 Practical Tips To Increase Student Enrollment
How Will the Launch of UTSAH and PoP Portals Work for the Better Implementation of NEP 2020?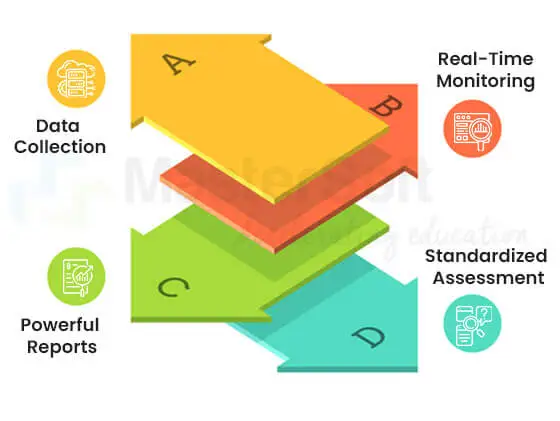 1. Data Collection:
This portal serves as a single platform for collecting data from HEIs related to their progress and different aspects of NEP implementation. This primarily includes teacher evaluation, student assessment, curriculum development, research initiatives, and infrastructure among others.
2. Real-Time Monitoring:
It provides real-time tracking made by HEIs in implementing NEP guidelines. It offers a mechanism to monitor the adoption of skill development, multidisciplinary education, employability enhancement, and more.
3. Powerful Reports:
The data collected is used to create insightful reports which helps in assessing the effectiveness of NEP implementation, highlight areas that need attention, and identify gaps. Also, regulatory bodies and policymakers can refer to these reports to make well-informed decisions.
4. Standardized Assessment:
The platform aims to create a standardized evaluation system to assess the overall quality of education given by HEIs. It further ensures uniformity and consistency in evaluating and monitoring the performance of universities across India.
PoP Portal for Better Tracking: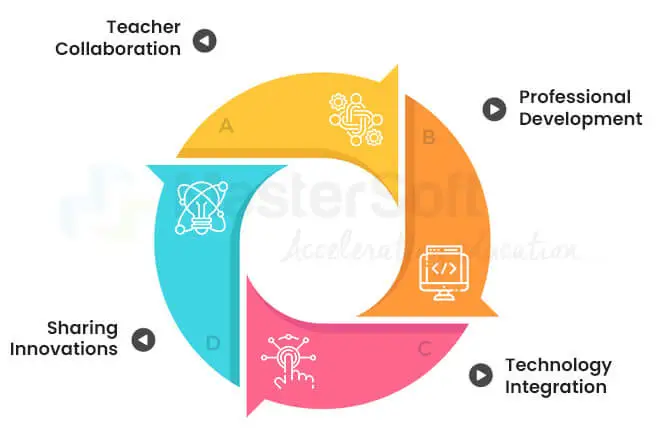 1. Teacher Collaboration:
The portal facilitates collaboration among teachers from different HEIs. It offers a platform for teachers to share ideas, connect, and learn from each other's experiences. It also promotes the exchange of best pedagogical approaches, practices, and innovative teaching methodologies.
2. Professional Development:
It offers valuable resources such as digital libraries, e-content, webinars, and forums for discussions. These resources help instructors improve their teaching skills, stay updated with the latest educational practices, and enhance their overall professional development.
3. Technology Integration:
It also promotes the integration of advanced technologies such as AI and virtual reality, into the teaching-learning process. It provides teachers with tools to incorporate technology effectively, thereby improving the quality and effectiveness of delivery of education.
4. Sharing Innovations:
The platform enables instructors to showcase their tried-and-tested teaching strategies and research work. This helps in disseminating successful teaching methods and further encourages other teachers to adopt innovative approaches in their classrooms.
UGC's Role:
The UGC plays a major role in supporting colleges and universities through training programs, guidance, and mentoring. It provides required assistance to HEIs in understanding and aligning the objectives of NEP 2020. The UGC's support also helps institutions navigate through difficult challenges and seamlessly implement the proposed reforms.
Furthermore, the portals facilitate partnerships and networking among HEIs, which creates a vibrant environment for educational reforms and advancements. Universities can easily learn from each other, share resources and tools, and collaborate on projects, thereby strengthening the quality of the education system.
Final Thoughts,
The introduction of these portals by the UGC signifies a key milestone in the smooth and effective implementation of NEP 2020. These portals serve as powerful tools to track progress, improve the overall education quality, and address challenges in HEIs.
By leveraging data-driven insights and technology, the UGC aims to create an ecosystem that fosters holistic learning, innovation, research, and professional development for both students and teachers.
With combined efforts of all the stakeholders involved, these innovative platforms will contribute to the successful transformation of India's education system in adherence to the goals of NEP 2020.