Today, the Internet has taken over every industry. After COVID-19, 70% of education in the field also moved online. The entire world is going online. Online education provides a number of advantages, such as portability, independence, a reduced need for infrastructure, accessibility, etc., but it also has certain drawbacks.
The National Curriculum Framework 2020 (NCF 2020) emphasizes the need for flexible and learner-centric education that meets the needs of diverse learners. E-learning can provide a platform for universities to implement these principles by engaging students in interactive and personalized learning experiences.
When switching to online education, many institutions, colleges, and even individuals encountered numerous challenges. While most colleges swiftly adapted to online learning, administering exams online posed one of the biggest obstacles. A survey found that 73% of students cheat during online tests.
Implementing an ERP in higher education can help universities streamline administrative tasks, improve data accessibility, and better serve the needs of their students in a rapidly changing educational landscape.
National Education Policy 2020: All You Need To Know About NEP 2020 For Higher Education
Furthermore, The NEP 2020 recognizes the importance of online learning and encourages universities to leverage technology to improve the quality and accessibility of education. By adopting innovative solutions and strategies for online learning, universities can align with the goals of NEP 2020 and provide high-quality education to students, regardless of their location or background.
Some of the most common challenges include:

1. Network Problem
One significant concern that every educational institution, as well as many students, encounters during the online exam, is a network problem. The network is unstable, and when taking online lessons, if the network goes down, the instructor's and students' connection is broken.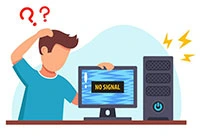 When there is a weak network, the voice can also get muddled, making it difficult for students to understand what the instructor is saying. Also, what teachers want to present on screens cannot be done, due to poor connectivity. The course is incomplete and takes longer to finish as a result of the weak connection.
Thus, students struggle to understand lecturers, and because of their poor understanding, they have several doubts.
2. Technology Challenges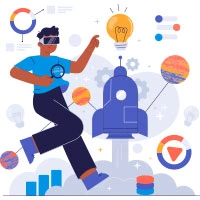 The technology infrastructure required to support online learning was one of the main obstacles institutions encountered while moving their operations online. Many colleges lacked the infrastructure required to accommodate online instruction, including LMS Software, high-speed internet, and video conferencing software.
Additionally, it's possible that staff members and students did not have access to the laptops or tablets needed to take part in online classes.
To solve this issue, universities collaborated with ERP technology companies to provide the necessary tools and resources. They invested in new technology infrastructure and offered training to teachers to help them adapt to online teaching. Universities also provided students with loaner laptops and other resources required to participate in online classes.
Moreover, this allowed institutions to quickly transition to e-learning and continue providing quality education to their students.
3. Distractions
Distractions are a common problem for instructors giving lectures online. It comes in many different forms, including external vocal disruption and environmental disturbance. Lack of resources, network loss, and, most importantly, declining student interest were issues that many teachers had to deal with. This may also discourage academics.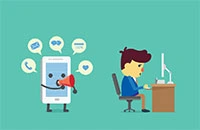 Mobile phone and laptop use while taking an online course can be further distracting. When you conduct online classes from home, voice disturbance is also present. Therefore, you need to create a designated study space that is free from distractions. Universities can also provide students with time-management and study skills resources to help them stay focused.
4. Faculty Readiness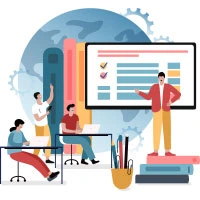 The faculty members' level of preparedness for online instruction posed another difficulty for colleges. Many academic staff members had never taught online before and were unaccustomed to the software and hardware required to conduct good online lectures. This unfamiliarity could result in bad lectures and a drop in student engagement and motivation.
Universities offer faculty members training in online teaching and resources to combat this issue. They provided webinars and courses on subjects like video conferencing software, LMS technologies, and best practices for online instruction. This made it easier for academic staff to quickly adjust to online instruction and provide students with high-quality instruction.
However, the faculty's unpreparedness is still highly prevalent.
5. Student Involvement & Engagement
It was difficult for colleges to get students interested in online learning. Face-to-face interaction between students and instructors was something they were used to and found challenging to reproduce online. The students' motivation and participation may decline as a result of this lack of engagement.
Universities had to be innovative in their approach to online teaching to find a solution to this issue. To keep students interested and motivated, interactive components were added, such as online tests, virtual group discussions, and gamification.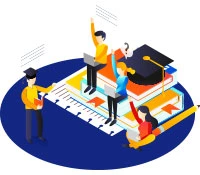 In order to keep students on track with their schoolwork, universities also made sure to give them feedback on a frequent basis. Additionally, some colleges established online forums or communities where students could communicate with one another and their lecturers.
6. Accessibility Issues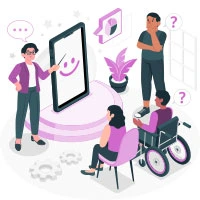 Another issue institutions ran into while going online was accessibility. Some students lacked the technology or internet connection required to take part in online courses. Furthermore, it's possible that disabled students found it challenging to access online resources or take part in online classes.
Universities addressed this issue by giving students access to loaner laptops, internet hotspots, and other tools required to take part in online courses. Additionally, they collaborated with internet service providers to offer needy students reduced or free internet access.
Moreover, universities also made sure that online information was accessible to students with disabilities by offering captions, transcripts, and other modifications as required.
7. Assessment and Grading
Universities had trouble with grading and assessment. Concerns regarding academic integrity were raised because some courses were challenging to evaluate online and because grading can be subjective. Additionally, cheating or other types of academic fraud can happen during online exams.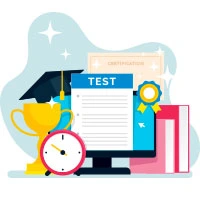 Universities created new online assessment techniques that were suitable for online learning to address this issue. They assessed student learning using resources including online quizzes, tests, and homework. To preserve academic integrity, they also deployed tools for plagiarism detection. To oversee online tests and discourage cheating, some universities also used proctoring software.
How To Increase Educational Institution Efficiency Using A Campus Management System?
8. Limited In-Person Communication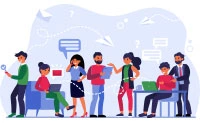 It's crucial to communicate with others. It directly impacts your mind. Teachers experienced this greatly during COVID-19. Due to the fact that they were used to just holding offline lessons in which they could connect with each student in person until 2019.
But as universities moved online, there was a decline in social connection. Because they are unable to effectively communicate with their students and, as a result, are not seeing improvements in their performance, this has a mental impact on them.
The colleges created WhatsApp groups for each class of students to address this issue. Students exchange issues, questions, and uncertainties in this group related to their course. This made it easier for students and lecturers to interact. Students' opinions on the subjects they were taught were solicited, which helped teachers.
9. Changed Environment
Going to schools and colleges to study gives you access to a decent learning atmosphere where you can concentrate easily. Online courses, however, can be taken from any location, mostly from your home. Therefore, you cannot create a college-like environment at home for studying.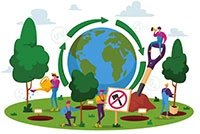 You must deal with a lot of disturbances. Teachers encounter this issue in the same way when running their home-based online courses. If you have a personal room at home, you can also create a setting similar to a classroom or college. You must adjust your schedule in accordance with it.
ERP software such as College Management Systems, Learning Management Systems, and Student Information Systems can help streamline administrative tasks, improve communication between stakeholders, bridge learning gaps, and provide valuable insights into student performance. By implementing such ERP Campus solutions, institutions can enhance their capabilities in online learning and better serve the needs of their students and staff.
Conclusion,
Universities faced a number of unanticipated difficulties as a result of the COVID-19 pandemic when they were obliged to switch to online instruction. However, colleges were able to overcome these obstacles and keep giving their students a high-quality education by working together, being creative, and being flexible.
By addressing the challenges of online learning, universities can contribute to the goals of NCF 2020 and foster a more inclusive and effective education system. Online learning is likely to play a key role in education going forward, so universities must keep modifying and enhancing their online learning methodologies to satisfy the demands of their students.