As the number of online courses increases, every component of e-learning is undergoing an increasing amount of digital transformation. Statistics show that around 82% of students believe using digital technology has improved their grades.
This has prompted the use of digital ERP campus tools for streamlining academic and administrative operations in educational institutions.
What is a Digital Evaluation System?
The digital evaluation system allows the examiner or evaluator to scan the test paper, view the scanned copy of the exam sheet, and mark and rate the answers digitally. It includes a number of user-friendly tools that may be customized by an examiner to meet their needs and specifications.
In India, the Central Board of Secondary Education planted the seeds for an effective digital evaluation system and laid the groundwork for online tests. This method is now being used by several institutions around the country.
Why Digital Evaluation System?
Evaluation is a vital component of any exam. Student results provide us with accurate information about how the students performed on a specific test.
You can deduce the many areas of their improvement from this. The procedure of evaluation was carried out manually for a very long time. It often proved to be very time-consuming in large-scale examinations.
Fortunately, with the majority of tests now being taken digitally, the review process has also gone digital and, more crucially, automated.
Digital Evaluation System are becoming increasingly popular in higher education institutions and for good reason. The traditional method of paper-based evaluation is time-consuming, prone to errors, and often requires additional resources.
The use of a digital evaluation system greatly simplifies and improves the assessment process, and these systems are more efficient, secure, and accurate.
Benefits of Implementing a Digital Evaluation System

Convenience:
Even someone with only rudimentary computer skills can utilize it. Along with question generation, the digitization process makes complex marking simpler and easier.
100% Security:
The storage of student data in a digital evaluation system is highly secure. In such systems with data encryption and role-based login, there is little possibility of the results being leaked.
High Scalability:
When compared to manual evaluation techniques, digital evaluation promises more capacity. With the use of the computerized assessment system, more answer sheets can be evaluated.
High Accuracy:
Manual evaluation often includes human errors, especially when there are many papers to evaluate. With the digital assessment system, where the marking is automated, you can do away with this.
Unbiased:
A human rectification technique can sometimes introduce a small amount of bias. Teachers may favor a certain student over others. Such unfair tactics have no place in the digital system. This gives colleges a huge edge in accurately assessing a student's ability.
How to Implement a Digital Evaluation System in Your College?
Follow the steps below to seamlessly implement the online screening/digital evaluation system in your college: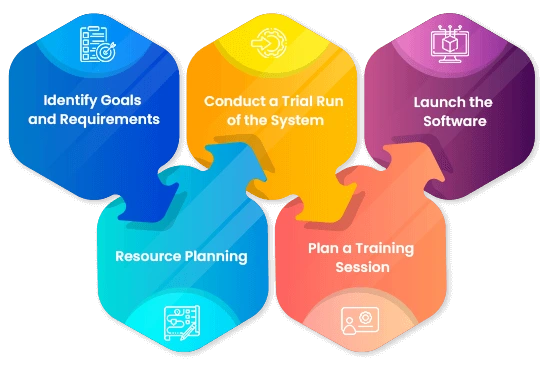 Step 1: Identify Goals and Requirements:
Finding your institute's goals and strengths is the first step in developing a digital evaluation system. Find out what challenges you frequently encounter and make a list of them. This is essential since making investments in the digital evaluation system shouldn't ever be in vain.
Make a list of the issues that consistently trouble you after learning about your troubles. As you evaluate the answer sheets, talk about any problems your staff members had.
Step 2: Resource Planning:
Following the determination of your goals, you must consider how you will obtain the necessary resources. Available resources include digital scanners, computers with high-bandwidth internet connections, learning management systems, tools with artificial intelligence (AI), and other gadgets.
Choose the tools that are best for your needs and budget.
Step 3: Conduct a Trial Run of the System:
Have a small group of students take a practice exam. Thoroughly check the devices and software. Consider scanning the answer sheets and feeding them into the computer system if you intend to use an Optical Mark reading-based test.
Using its AI-powered software, the system examines the text and looks for correct and incorrect answers. The system's suggestions are displayed onscreen so that assessors can evaluate the responses.
The system should be able to read blank pages on paper tests and reduce their number so that the examiners don't have to waste time looking for them. To get rid of undesirable problems and have a clean system, repeat the trial run.
Step 4: Plan a Training Session
Any digital technology could initially be unfamiliar to users. Therefore, it is crucial to teach faculty how to use the technology.
To familiarize the personnel with the technology and its advantages, institutes should arrange a training session. This can help them be in control and better equipped to manage the system.
Step 5: Launch the Software:
It's time to put the system into operation after several tests and a well-planned teacher training program. Use the digital evaluation system in real-world situations to see the benefits for yourself.
Keep an eye on the system's functioning at all times, and evaluate it frequently to include the newest features.
When a system malfunctions, it is preferable to have a backup plan in place so that operations may continue as usual while the problem is being fixed.
Why MasterSoft's Digital Evaluation System?
MasterSoft's digital evaluation system is a comprehensive solution that offers features such as real-time analysis and reporting, customizable evaluation parameters, and efficient result processing.
With this system, higher educational institutions can enhance and simplify their evaluation process, increase efficiency, and improve student engagement and success.
Summing Up,
Implementing a digital evaluation system can be a daunting task, but it is worth the effort. By following these steps, you can implement a digital evaluation system that is efficient, secure, and accurate.
With the right digital evaluation ERP campus system in place, you can streamline your evaluation process and provide more accurate and timely feedback to your students.
Also, the NEP 2020 emphasizes the use of technology to enhance teaching and learning processes, including the implementation of a digital evaluation system for the assessment and evaluation of student learning outcomes.
This is in line with the NEP's goal of promoting a learner-centric, flexible, and multidisciplinary education system that prepares students for the challenges of the 21st century.