Students have become accustomed to new learning methods since the beginning of 2020, including the ability to quickly switch between virtual and hybrid learning models. Several young students had their curriculum significantly disrupted during the COVID-19 pandemic due to schedule changes, poor technology, mid-year teacher replacements, and distractions at home. Unfortunately, these interruptions have caused many children to experience learning loss and learning gaps.
Moreover, in any classroom, students have different learning capabilities, strengths, and weaknesses. The difference in learning abilities among students can further lead to learning gaps, where some students are unable to keep up with the rest of the class. It is the teacher's responsibility to identify and solve learning gaps to ensure that every student is making progress.
The COVID-19 widened the already existing learning gap that has long plagued the education system. According to the 2019 ASER Report, only 50% of students in class 5 can read textbooks for class 2, and only 30% of class 5 students can answer division problems for class 3. Nevertheless, since schools have been closed since 2020 and classroom training has been impossible, this number has increased in COVID-19.
What is a Learning Gap?
The difference between what a student has really mastered and what is required at their specific grade level is known as a "learning gap." A student may experience learning gaps in all or part of their coursework.
The education of a student builds upon previous concepts like building blocks. You can't keep building if the lowest foundational blocks are missing. A learner cannot continue to create and understand more complicated concepts if they have learning gaps.
Five Types of Learning Gaps:
Knowledge Gaps : Students lack the necessary knowledge or were not given the proper information.
Skills Gaps : Children lack the expertise required to acquire basic abilities.
Motivation Gaps : Learners lack the motivation to improve their knowledge or abilities.
Environmental Gaps : There is a lack of a learning environment for students.
Communication Gaps : There are communication problems among students and teachers.
Why Does the Learning Gap Occur in Students?
For many students, the pandemic and the abrupt shift to virtual schooling were difficult. Although teachers adjusted to this move swiftly, many students are still catching up to make up for months spent in a fully online or hybrid classroom such as online LMS and student management system. According to a recent McKinsey report, K–12 students were on average five months behind in math and four months behind in reading after the pandemic.
Also, as more instructors quit their jobs, classroom sizes are growing. Instructors frequently struggle to understand each student's academic standing and any subjects they might be having trouble with. Furthermore, a higher student-to-teacher ratio makes it more challenging to provide personalized assistance, which creates a need for effective faculty management and student management systems.
Additional causes of learning gaps could include when a student frequently skips school because of a family situation or a long-term illness, problems with their mental health, or learning difficulties.
How Can a Teacher Identify a Learning Gap?
Identifying your students' learning gaps can appear to be an intimidating task, but there are practical, systematic ways to achieve it.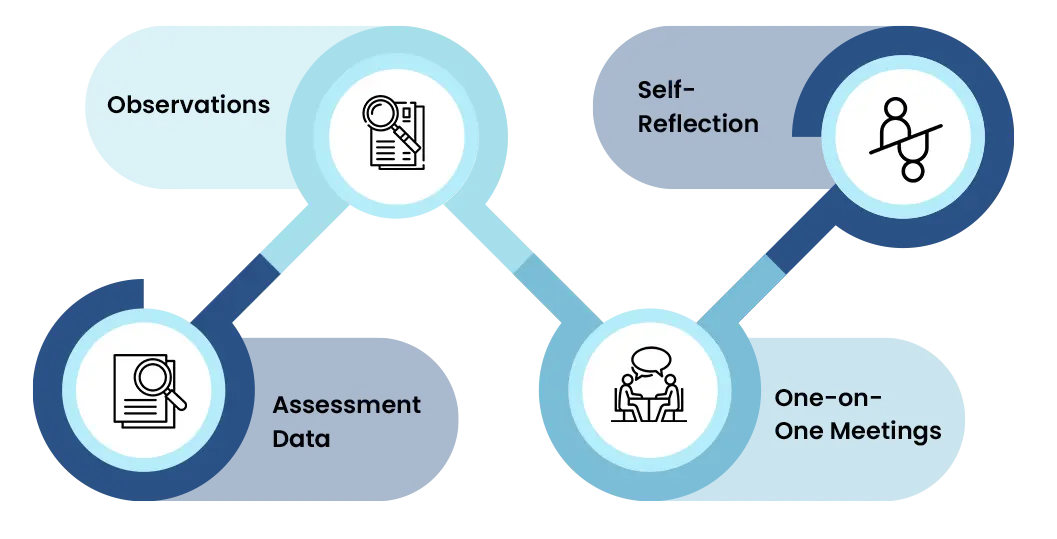 Assessment Data
Instructors can determine which kids are struggling in which courses by examining test results, grades, and other data. Not all teachers can engage with children one-on-one enough to identify learning gaps as class numbers increase. They examine standardized exams taken by students throughout their school instead.
They compare the test results of the current students with those of the previous academic year's kids. To demonstrate the influence of online learning efforts on students' current understanding of grade-level content, many teachers have specifically compared current scores to those from the 2018-2019 school year.
Observations
Observing students during class and gathering necessary student information can also help teachers identify learning gaps. By paying attention to how students engage with the lesson, how they respond to questions, and how they participate in class discussions, teachers can get an idea of which students may be struggling.
One-on-One Meetings
Meeting with students one-on-one is an effective way for teachers to identify learning gaps. When teachers have additional time left for such meetings, they can ask students about their understanding of the lesson, which topics they find difficult, and what kind of support they need to improve by using a comprehensive student information system and learning management system .
Self-Reflection
Students' self-reflection is another method, in addition to data from standardized assessments, for detecting gaps. Learners frequently identify when they don't understand a concept that their peers do. Just asking for assistance may be too frightening or embarrassing. Instructors can make a brief questionnaire or exit ticket on the subjects that a student might be having trouble understanding. To completely understand the student's needs, this data can be used in conjunction with other data.
How to Solve and Bridge Learning Gaps?
It's critical to address these learning gaps right away, as they will have an impact on the kids' capacity for future learning and earning. Below are some of the strategies that can be used to mitigate student learning gaps.

Diagnostic Assessments
It is crucial to know the learning level of students before looking at bridging the learning gap. Teachers can organize a basic diagnostic assessment before they start a new session. This will help the teachers know the current level of the students. They can then work on focus areas as per the students' requirements along with the regular curriculum by collecting necessary data from the student management system.
Bridge Course
A bridge course is meant to overcome the learning gap between students by focusing on their fundamental abilities. The diagnostic assessments indicate that schools can take the initiative to find students who require additional attention and set up remedial sessions. It is recommended to adapt the current curriculum so that it complements the bridge course.
Teacher Training
It is recommended to train the teachers before implementation of the bridge courses that can be achieved by a faculty management system. Bridge course is a well-established concept in the education system, and after the implementation of RTE and other campaigns such as "Sarv Sikhsa Abhiyan," it was imperative to have the proper training for teachers to implement it. Training the teachers can help them manage their classrooms better. They can learn techniques and methods from the training provided on the ERP system to teach slow learners along with other students.
Community Hubs
Tackling the learning gap only through school education will take a long time to overcome. Schools can support teachers by creating community hubs with the help of parents and community members. It is necessary to review whatever students have studied in school, and community hubs can help the teachers do so.
Personalized Learning
Personalized learning is an approach where teachers tailor their teaching methods to the individual needs of each student. This helps students who are struggling to catch up with the rest of the class. Teachers can provide additional resources, such as one-on-one tutoring, extra practice worksheets, or online resources, to help students improve their understanding of the subject.
Peer Support
Peer support can also be an effective way to solve learning gaps. Teachers can pair students who are struggling with students who are excelling in the subject. The student who is excelling can act as a peer tutor and help the struggling student catch up by sharing assignments and important notes using the student information system.
Differentiated Instruction
Differentiated instruction is a teaching approach where teachers create multiple lesson plans that cater to the different learning styles and abilities of students. By using differentiated instruction, teachers can ensure that every student is engaged and learning, thus bridging the learning gap among learners.
Feedback and Reflection
Providing feedback and opportunities for reflection are crucial to solving learning gaps. Teachers should provide regular feedback to students, highlighting their strengths and areas for improvement. Students should also be given opportunities to reflect on their learning, identifying areas where they need to improve and developing a plan to address them.
Final Thoughts,
While identifying and closing learning gaps can be difficult for teachers, it is possible with the correct approaches. The strategies listed above will assist schools in bridging the student learning gap. But for any strategy to be effective, it must be implemented well and consistently evaluated. The execution of these approaches must be successful for all stakeholders involved, and schools must devise a system to track their effectiveness.