The education sector has witnessed significant changes in the past few years, with different technologies playing a key role in transforming the way students learn and how educational institutions function. In 2023, the integration of these technologies is likely to become even more sophisticated and widespread, making higher education more efficient, accessible, and personalized.
The rapid technology adoption that we have experienced in many higher education institutions since 2020 was born as an emergency response over the course of the COVID-19 pandemic. However, many institutions have steadily been shifting into long-term education technology adaptation, developing strategies toward a tribrid model.
Talking about the future of education in 2023, AI-driven personalization, cloud-based delivery of content, game-based learning and smart classrooms would make the most impact.
The top higher education technology trends to watch out for 2023 include Virtual Reality, Artificial Intelligence, Blockchain, Augmented Reality, Metaverse, Gamification, and Chatbots, among others. These technologies will support the expansion of the Digital Transformation of higher education going forward.
Below are some of the technologies which will have a strong impact in higher education in 2023: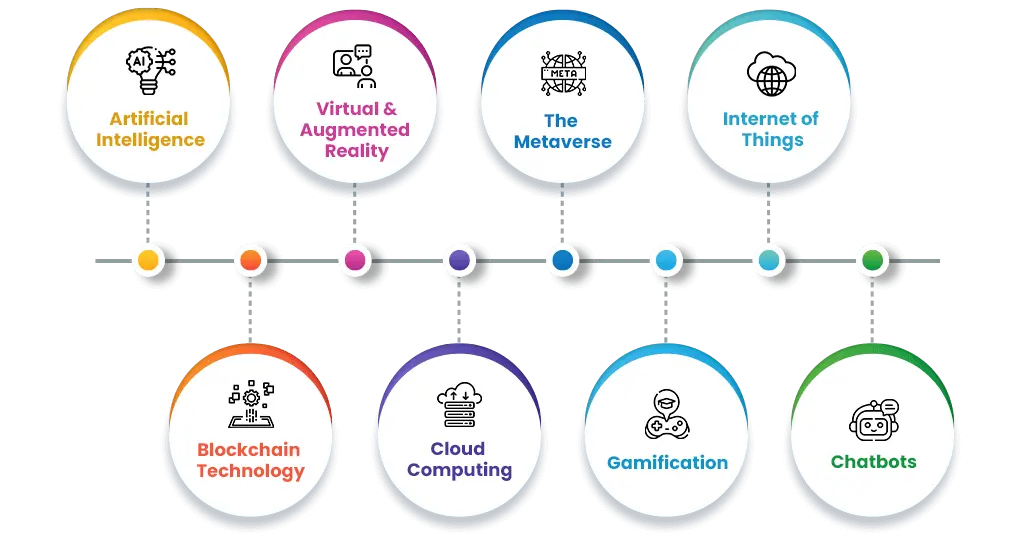 Artificial Intelligence
In 2023, artificial intelligence (AI) will be a key component of higher education. The predicted market size for artificial intelligence in education is USD 3.68 billion in 2023 and USD 17.83 billion in 2027, growing by more than 40% annually.
Institutions might anticipate gains from implementing AI for tasks like grading, library services, and invigilation.
To reap the rewards of this trend, integrating AI into curricula and encouraging its integration will be crucial. For instance, Language Chatsim, an AI-enabled avatar used by the University of British Columbia, enables students to practice speaking German in a virtual setting.
Virtual and Augmented Reality (VAR:
Additionally, its Mixed and Extended Reality (MR/XR) combinations are immersive, experiential technologies with a significant potential for teaching and simulations in a variety of fields, including engineering, veterinary medicine, and many others.
The Metaverse depends on these technologies. They can contribute to the advancement of the Internet of Senses (IoS) applied to education by making the classroom more interactive and immersive while engaging students' senses through thorough multisensory experiences.
The Metaverse
The Metaversity proposes to offer a completely virtual environment where students and instructors can communicate effectively and remotely while participating in interactive and educational worlds.
Internet of Things (IoT)
The network is essential to the development and success of a campus that is fully connected.
A 5G, the real-time network enables the linked campus by enabling accessibility for all of its connected devices and equipment, as well as for students, staff, and professors.
The Internet of Things and an automated smart campus go hand in hand.
Blockchain Technology
Student records and other academic records can be securely stored thanks to Blockchain technology. In 2023, blockchain will still be one of the most popular tech trends. It is expected to grow by 85.9% from 2022 to 2030.
Cloud Computing
In 2023, cloud computing in the form of cloud-based services will grow exponentially.
Numerous virtual libraries will be available to help students and academics with their studies thanks to cloud-based technology.
Online education platforms can manage massive volumes of video content, 3D modeling, and more with the help of the Cloud, making it simple for students to share their work with their lecturers and have access to an infinite number of video lectures.
Gamification
Game-based learning is nothing new, but it will expand even more in 2023. Complex and tedious courses can be made more enjoyable, which increases student participation.
Chatbots
In 2023, chatbots in higher education will be a trend to explore.
Chatbots are autonomous agents that employ a variety of artificial intelligence (AI) techniques, including Sentiment Analysis, Natural Language Processing (NLP), Automatic Speech Recognition, Data Mining, and Machine Learning. Chatbots in higher education can increase student engagement.
They can respond to inquiries about class plans, student modules, tasks, and due dates.
They contribute to admission, career services, and mental health support, and they increase student retention.
In the near future, educational chatbots will be used in the classroom. Conversational agents used in education have the goal of increasing student involvement.
Among the aforementioned technologies, AI is going to be the hottest trend in 2023 and is still being extensively used in higher education for simplifying various activities. It has the ability to fundamentally alter how we educate people, enhancing accessibility and equity for students all across the world.
Role of AI in Higher Education Institutes:
1. Reduces Burden of Menial Tasks off Faculty
There is no denying that teachers are overworked and understaffed. A survey from 2022 indicated that 75% of teachers face ongoing job-related stress and that 59% of them are burned out, a problem that the COVID-19 pandemic brought to light.
Automating routine tasks could be a solution to the above problem. Data input and paper-based grading are just two examples of the kind of educational activities that AI can be used to automate, freeing up teachers to work on more crucial duties.
The AI-powered technology captures and indexes each word that is spoken, while optical character recognition (OSR) indexes each word that is graphically displayed on the screen.
2. Enhance Accessibility in the Classroom
One of the biggest advantages of technology in higher education is its ability to make education more accessible.
With the increasing availability of online courses and digital learning platforms, students can now take courses from top universities around the world without having to leave their home.
This has opened up new opportunities for students who might not have had access to higher education due to geographic, financial, or other barriers.
The use of AI in education offers the ability to personalize learning by identifying knowledge gaps, delivering prompt solutions, and improving accessibility for all students.
3. Personalize the Student Experience
The potential of technology to customize learning experiences in higher education is one of its biggest advantages.
A student's progress, strengths, and weaknesses can be tracked by educational systems using AI and machine learning, and the curriculum can be modified to suit each student's needs.
This can make learning more enjoyable and efficient for students by allowing them to do it at their own pace and in a way that plays to their strengths.
Additionally, technology can aid in giving students a more tailored experience outside of the classroom. For instance, based on their interests and preferred learning methods, students can receive personalized recommendations for more reading material or videos from AI-powered learning systems.
AI tutors can better cater to a student's unique learning style and speed by offering a choice of interactive tools and resources to identify knowledge gaps. This increases engagement.
Studies have indicated that students who utilized an online AI tutor had learning outcomes that were 2 to 2.5 times greater than those of students who did not use an AI tutor.
Thanks to the revolutionary potential of technology, the future of global education is looking bright; yet, it will necessitate the re - training of educators who can utilize these new tools. It's time to welcome the innovative advances that technology is bringing to education and to look ahead to a successful and forward-thinking future. Higher education is increasingly relying on technology and artificial intelligence, which has the potential to change how students learn and how institutions function.