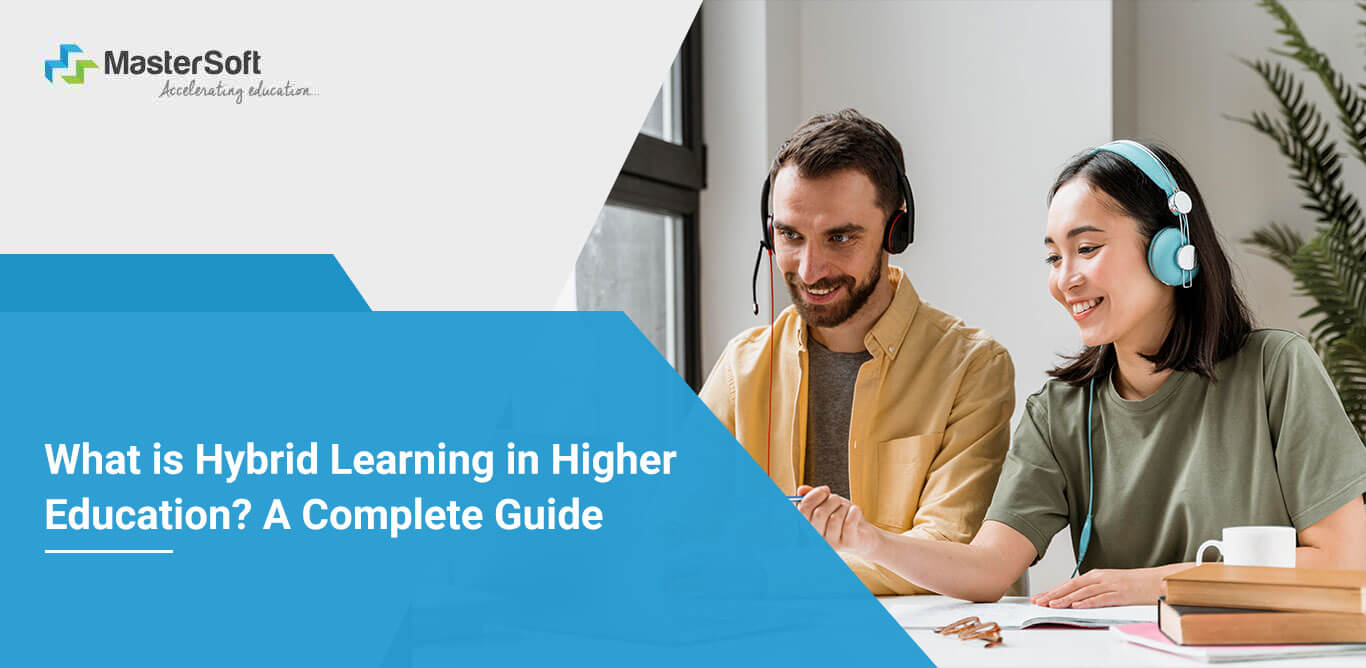 We are given a well-known image when we think of schooling. One shows a school with a blackboard, tables, seats, and pupils staring intently into the corners of their books, and lecturing teachers...
But the situation significantly changed during the lockdown!
Firstly, education is no longer restricted to a physical location. Second, educational materials and experiences have improved in personalization and interest. Thirdly, higher education takes into mind the variety of student characteristics. Fourth, there is a high degree of technology integration that serves as both an enabler and an augmenter.
MasterSoft offers the idea of hybrid learning, which straddles the physical and digital worlds, to readers in this blog. It is a comprehensive method of educating students that go above and beyond to meet them wherever they are.
Hybrid Learning Meaning
In a hybrid learning environment, some students attend classes in person while others participate digitally from their homes. By utilizing resources like video conferencing technology and software, educators can instruct both in-person and distant students at the same time.
Asynchronous learning components, such as online activities and pre-recorded video lessons, are sometimes used in hybrid classes to assist in-person classroom sessions. When designed properly, hybrid courses bring together the greatest features of both face-to-face and online education while making education more accessible to many students.
The components of your hybrid course must be adjusted to the learning mode, whether it be in-person or online, for hybrid learning to be successful.
Making the Switch to a Hybrid Learning Model
Although difficult, switching from a conventional to a hybrid strategy is not impossible. Universities will also need to reconsider their academic approach and adopt new governance procedures for enrollment, fees, course design, lecture delivery, assessment methodology, credit system, or any other essential criterion.
Despite the fact that distance learning has become "the new normal" as a result of the epidemic, schools will need to balance "online" and "on-campus" learning in the near future. This requires:
Investing In A Strong Technology Foundation To Support Hybrid And Virtual Interactions.
Giving Professors And Staff People The Chance To Take Training Courses So They Can Use Hybrid Tools With Ease.
Developing Pupils' Digital Literacy Abilities To Ensure A Smooth Transition To The Hybrid Model.
Establishing Online Networks To Support In-Person Encounters.
Making The Academic Calendar More Flexible So That Students Can Work On A Long-Term Project, An Internship, Or A Job At The Same Time.
Creating Competency- Outcome-Based Programs That Take The Shifting Demands Of The Global Workforce Into Account.
Concentrating On Establishing Mentor-Mentee Connections Through Academic Counseling.
Advantages of Hybrid Learning
Online and in-person learning each have strengths and disadvantages. Combining the two learning modes to produce a seamless learning process is the aim of hybrid learning. The advantages of hybrid education are:
A Flexible Educational Environment
Flexibility is a major reason why many institutions switch to hybrid learning: a flexible learning schedule, flexible teaching methods, flexible student engagement with their course contents, and flexible peer-teacher cooperation & communication. The hybrid learning environment enables students who are unable to travel to class to learn remotely from their homes.
Opportunities for Synchronous Communication
Few educational experiences can compare to the intimacy and immediate nature of face-to-face intellectual interactions. The chance for peer interaction in real-time enhances the face-to-face component of hybrid learning. The greatest uses of this time are synchronous group projects, presentations with a Q&A section, and in-depth discussions. Use the time you have together in person to develop deep, scholarly relationships before extending those relationships online.
The Independence of Personal Research In Academia
Many liberties are available with online education. The flexibility to learn from any location, the freedom to review content as many times as necessary at any speed, and the freedom to have a rich asynchronous conversation with your peers will all benefit students who are excellent at self-management and independent learning.
Improved Utilization of Resources
Attending an in-person class where everyone is working on their own virtual assignments can be annoying, just like when you go to a meeting that you know could have been conducted by email. Consider the resources you will need for each course while creating your syllabus and deciding which lessons will be held in person and which ones online. Plan accordingly to make the best use of the resources.
Advice For Using Hybrid Learning to Achieve Learning Goals
The achievement of your institution's learning outcomes shouldn't be hampered by the location or method of instruction used by students. Hybrid and blended learning can advance higher education if the proper people, procedures, and technology are in place. Here are some pointers for the beginning.
Create a Strong Technological Foundation
One part of the technology foundation required to successfully deliver hybrid learning is a learning management system (LMS). The use of tools like video conferencing, messaging, scheduling, office hours, and interactive whiteboarding should also be considered by institutions. Excellent choices for effortlessly incorporating these functionalities into a user interface that instructors and students are acquainted with are Cisco Webex Education Connector.
Find Champions
Look for individuals at your school who are enthusiastic about online learning and are prepared to support professors during the transition. It's critical that instructors experience assistance at this time.
Share Accomplishments
As they modify their curriculum, instructors must retain a positive outlook. Share what's working (and not working) with instructors so they may apply what they learn to their own classes. This will keep them inspired.
Be Sensible
It takes some time to perfect hybrid learning. When beginning hybrid learning, make attainable targets to prevent stressing out your faculty. These objectives can be re-evaluated every semester or year as the model at your school gets stronger.
Flattening the Learning Curve for Hybrids
Effective governance at the institutional, academic, and student levels is required for the shift to a hybrid model. Both in-person and online learning should be complementary to one another and form a unified, interconnected whole.
To merge the two experiences such that they can benefit from and enhance one another, however, is the largest obstacle to embracing hybrid. It's also important to recognize that there won't be much class time. And whenever anything is scarce, its value increases!
So how should educational institutions manage classroom time?
We advise using a flipped classroom strategy!
To achieve the best results, this blended learning strategy combines in-person engagement with individual study. Students will typically watch pre-recorded films at home before returning to school/college for a more in-depth discussion and debate. The flipped classroom approach is based on the idea that students learn best when they have access to the materials they most frequently require.
For more details on the Learning Management System (LMS) and understanding the other offerings by MasterSoft, do get in touch!
Mobile: 08448010216
Email: janki.somani@iitms.co.in