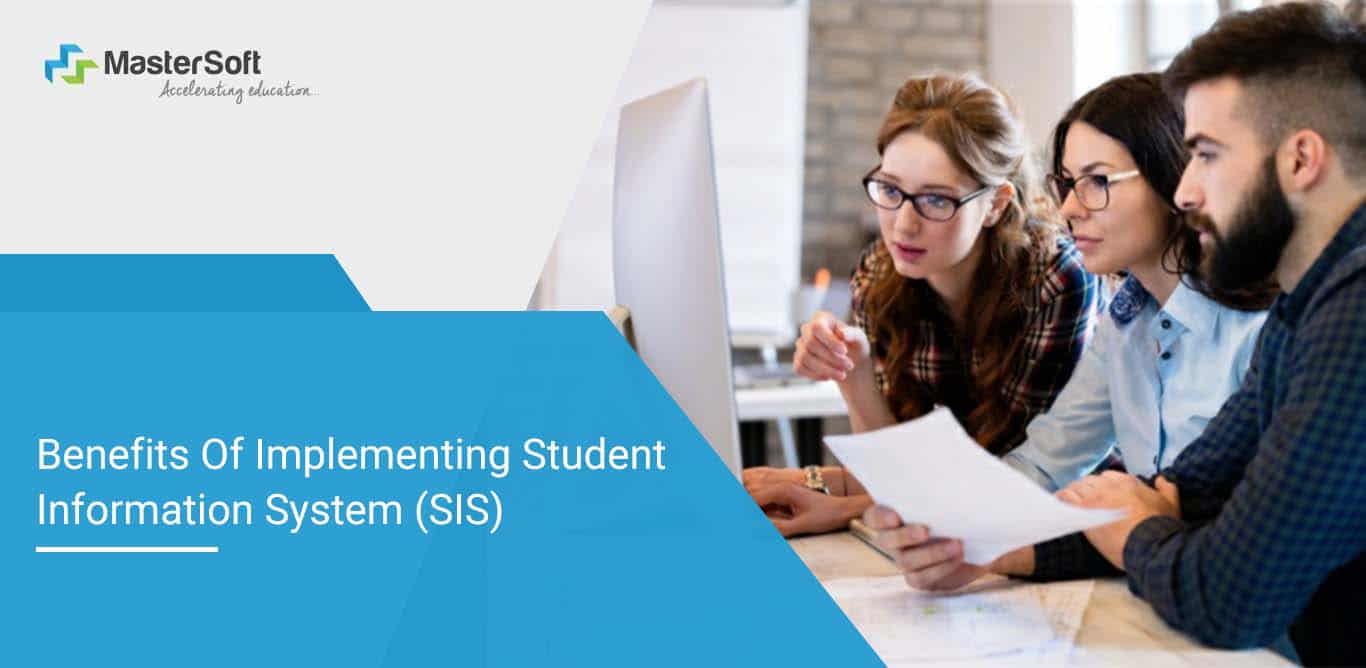 Updated On |
08

, July 2021
Student Information System, popularly referred to as "SIS", is a data management tool that enables Institutions to operate smoothly. It is a one-stop source for all kinds of student information that can be easily integrated with other modules to streamline work. Rising educational approaches and increasing number of students in institutes is making it difficult for them to manage huge amounts of data and operations manually.
Institutes are moving towards adopting new methods of institute's operations and handling student information. Use of advanced technology and innovations are making the tasks easier, reducing the requirement for man power and ensuring efficiency of the processes.
What is a Student Information System?
Student information system is a software that helps the institutes to store, maintain, process and compile student data, keep track of their regular activities, attendance and performance and offer required guidance and feedback to them. The software is highly robust and easy to use to all the faculty members. It can be accessed using a laptop or mobile phone.
But why student data management is given so much importance these days?
Well, stating the quote of Jeff Weiner -
"Data really powers everything that we do."
In this digital age, "data" is the most precious asset an organization can have. Accurate and authentic data enables institutions to make well-informed decisions. Decisions that can prove to be a game-changer!
Top 10 Advantages Of Student Information Management System (SIMS)
#1: Better Utilization of Time & Resources
Student Information System (SIS) is an automated solution and hence each activity takes place online, which in turn saves a lot of paper and other useful resources.
There's absolutely no need of maintaining piles of paper!
The system also has a simple and easy user interface and hence the end-users do not need to undergo extensive training or require any special skills. This not only saves precious time but also limits your usage of significant resources like your staff. Your staff can pursue other crucial tasks instead of filling out the same paperwork again and again.
#2: Enhanced Productivity
The student information management system is an intuitive software that stores all the information on Cloud. Without SIS, the staff has to fill in the same information multiple times for different purposes like transportation, hostel facilities, library cards, etc. But with a student management system, information once entered is synced across all the modules and hence the staff doesn't need to do manual data entry repeatedly.
#3: Centralized Database for Information Management
SIS collates crucial students' information like their exam grades, TCs, certificates, progress reports, student attendance history, timetable, medical history, etc at a centralized location. So if a teacher wants to access information about a student urgently they can do so without having to manually sort out different files.
And role-based access helps them keep the information 100% secure.
#4: Improved Student Success
As mentioned above, SIMS manages, organizes, and analyzes student information regarding grades of examination, homework, attendance, etc. Moreover, the System is integrated with an AI-powered analytics dashboard. The information stored in SIS is analyzed by the dashboards and is presented in the form of MIS reports and graphs.
These MIS reports can be used by the teachers to study the students' performance. They can pinpoint areas where the students lag behind and require extra help. Students can not only benefit from this immensely and but better student-teacher relations can also be forged.
#5: Better Parental Involvement
Students require a healthy atmosphere with a proper balance of teachers and parents. They thrive only when they receive unwavering support from teachers as well as parents. Therefore, it is imperative that parents are thoroughly in touch with what's being taught at school. Parents should also be able to interact with teachers to discuss how they can help their kids to boost their performance.
Teachers can ensure that students are able to cope with schoolwork at their homes. Student information management system helps parents and teachers to be more connected and enables them to provide a healthy learning experience for the student.
#6: Cloud-Based SIS for Enhanced Security
A student information system is a cloud-based application that stores information on a centralized platform. This makes the stored information highly secure. This was not the situation when information was manually stored. Student information saved as hard copies can be accessed by anyone and can lead to misuse. As I mentioned already, student management software offers role-based access. The amount of information available depends on the importance of the staff's role in the institution. This feature ensures that only authorized people have access to private student information.
#7: Automatic Updates and Multiple Backups
Unlike the traditional ways of managing student information, the SIS system automatically gets updated at regular intervals. With regular and automatic security updates there are minimal chances of the student information system getting hacked by intruders.
Additionally, multiple automatic backups of any information stored on the cloud ensure that your crucial information is never lost.
Therefore, SIS is 100% secure, safe, robust, and reliable software.
#8: Improved Inter-Relations between Departments
In a large institution, there are high chances of data silos being formed in different departments. This can disrupt the smooth functioning of the Institute.
To prevent this, SIS allows information to be transferred fluently from one module to another without any issues. For example, the student's data from the admissions department can be easily shared with the transportation department. This saves data entry work that was done manually and further reduces data repetition.
#9: Identifying & Improving Learning Gaps
Student information management systems can be used to give teachers a comprehensive report of students' achievements.
Teachers can then figure out the areas in which they perform better & where they lack.
Furthermore, with the observations gained from the student tracking system, teachers can find out if the corrective measures that they applied are working or not.
#10: Students Personal Safety
Children today are exposed to crime more than ever, it is, therefore, essential to keep track of students to ensure their own well-being. SIS makes sure that students can be tracked throughout the duration they attend school. A student information system is fully equipped with features like shift-wise attendance, bus route tracking, etc.
Parents also receive notifications when their child is going to be late. This helps parents be at ease when their children leave for school.
Features of Student Information Management System (SIS)
1. Easy Report Generation- The software enables easy generation of reports in all the required formats
2. High Security- The software is highly secure, based on a cloud platform offering privacy and safe data backup
3. AI-Based Analysis- The system makes use of AI technology for data analysis
4. SMS/Email Notifications- Email/SMS notifications are sent to the parents regarding their student's performance
5. 24/7 Accessibility- The software can be accessed at any time eve on days off.
6. Integration with other Software- The system can be integrated with other software for smooth workflow of institutes processes.
Challenges faced by Institutes
Storing large amounts of student data
Search and retrieval of data during emergencies
Requirement of vast manpower for data management
Generating and integrating data files for various departments
Missing coordination between departments
Data leakage and malicious attacks
Solutions offered by MasterSoft SIS
Unlimited student entries and scalability of storage
Easy search and retrieval over a few clicks using keywords
Cost-efficient and highly productive software for data management
Making a centralized data platform for the institute
Bridging the gap and increasing transparency among departments
Cloud data storage with safe backup options
How MasterSoft's Student information System Can Help Your Institution?
Implementing MasterSoft's Student Information System can prove to be a great step toward achieving all kinds of scholastic goals.
It takes you one step closer to a future that is free of hassle, and full of productivity which ultimately drives progress across the campus.
To maximize the efficiency of faculty & staff & overall ROI, you can opt for MasterSoft's Student Information System (SIS) that offers all the above-mentioned benefits to educational institutions.