What is the Objective of Education?
Is it only to prepare the students academically, or instill bookish knowledge?
Before we speak about the importance of continuous and comprehensive evaluation, let us understand what the traditional educational model lacked.
The traditional educational system has been running on the same cyclical pattern, wherein the students enroll themselves in the institute. This is followed by them attending classes that are characterized by blackboard teaching, monotonous learning, and a lack of discernible interest in the classes.
The uninspiring practices that continue in several schools and higher educational institutes are aimed at preparing the learners just to qualify for the examinations.
National Education Policy 2020 - Make Your Institute Ready For NEP-2020
A wholesome development of students is the major objective of education which includes the intellectual, physical, social, moral, ethical, emotional aspects. A holistic approach is a cornerstone for providing the ideal kind of education to the students and to facilitate that the institute should create a cooperative learning environment within and outside the classroom.
A wholesome development can only be ensured if the educators pay attention to:
Cognitive abilities
Affective abilities
Psychomotor abilities
An appropriate way to assess if the children are progressing in a wholesome manner and not just academically is via Continuous and Comprehensive Evaluation.
What is Continuous and Comprehensive Evaluation (CCE)?
CCE or Continuous and Comprehensive Evaluation is a process of evaluating the child's development in all the school-related activities. This proposal was directed under the Right to Education Act in 2009 by the Central Board of Secondary Education of India and the state governments in India.
Using CCE, teachers can diagnose learners' deficiencies using a variety of assessment activities. After completing the assessment activities, learners are given valuable feedback. The teacher guides and supports them to identify the problems.
Aim of Continuous and Comprehensive Evaluation (CCE)
Evaluate and guide the students in all aspects of education
Improve learning outcomes by focusing on skills and cognitive abilities of students
Encourage regular assessment and constructive criticism
Reduce stress and pressure on students
Enable the instructors with prolific teaching
Features of Continuous and Comprehensive Evaluation (CCE)
Enables effective teaching
Conducts continuous assessment of student progress
Helps to create teaching-learning plans for future
Creates good attitude and imbibes good values in students
Helps to improve Scholastic as well as Co-Scholastic growth
Encourages all round development of the students
Improve your Institute's Management along with Teaching- Learning Methods with MasterSoft!
Aspects of Continuous and Comprehensive Evaluation (CCE):
The assessments of the performance include both scholastic and co-scholastic activities. Curricular and core subjects-related areas are included within scholastic activities whereas life skills, attitudes, and values are included within co-scholastic activities.
A) Scholastic Assessment
Scholastic areas comprise all the activities that are related to various subjects within the academic curricular; the educator aims to align the cognitive domain objectives along with different subjects.
To get a better understanding of this they can refer to Bloom's Taxonomy which is a framework to classify learning objectives.
Knowledge- This indicates the elaborate details associated with the subject matter; it also includes the ability to recall any information about the structure, pattern, and setting
Comprehension- This indicates the ability to understand whatever he/she is listening to and implementing it when and if required
Application- This indicates the ability to apply any theory or principle to solve a problem
Analysis- The ability to identify faults and fallacies
Synthesis- This relates to combining separate entities and elements into a whole
Evaluation- Ability to conclude something after thoughtful analysis of given variables
The educators must ensure that the students participate in various activities in all the subject areas; in case the student falters anywhere the teacher should guide him/her accordingly. The learning objectives can only be achieved through online assessment and active engagement from the students combined with productive feedback and guidance from the teachers; this is where the importance of continuous and comprehensive evaluation lies.
B) Co-scholastic Assessment
It has been a long and repetitive practice of most schools to focus more on the scholastic activities while ignoring the co-scholastic activities. With major educational reforms introduced over the years, schools and colleges alike have emphasized co-curricular activities. These activities include:
Life Skills
Attitude
Social Values
Life skills
The essential abilities that enable an individual to deal with any given situation tactfully and effectively are called life skills. In other words, these are psycho-social and interpersonal skills that help people to make decisions, make appropriate judgments, come up with innovative and creative solutions to a problem and enhance one's productivity.
UNICEF, UNESCO, and WHO have enlisted ten core life skills that are instrumental in dealing with daily challenges and overcoming difficulties. The core skills are as follows:
Self-awareness
Empathy
Critical thinking
Creative thinking
Decision making
Problem-solving
Interpersonal relationship skills
Effective communication
Coping with stress
Coping with emotions
How to Assess Life Skills?
Individual assessment: This includes any activity or task which is performed by any student individually.
Group assessment: This includes any single project or assignment that is assigned to a group of students wherein they collaborate and complete the task.
Self-assessment: Based on given criteria the students are supposed to evaluate their progress, understanding of subjects, knowledge, and skills, etc.
Peer-assessment: In this particular assessment students are paired in a group wherein one student assesses the work of another.
Attitude
One of the most assured ways to identify a student's outlook and state of mind is through his/her behavior and attitude in the classroom. The teachers must focus on the student's development of healthy behavior and attitude towards their teachers, peers, classmates, programs of the school, and the whole school environment. The institutes can make use of student tracking system to get complete track record of student's behavior in institute.
Guide To Curriculum Development: Types, Principles & Process Of Curriculum Development
How to Assess the Students' Attitude?
Various techniques which can be utilized effectively to assess the student's behavior are as follows:
Self-report inventories
Attitude scales
Survey
Interview
The biographical and essay methods
Projective tests
Error-choice techniques
Indirect observation
Co-curricular Activities
The growing concern for the holistic development of students has urged the schools to put equal emphasis on co-curricular activities which include various recreational games and sports. It has been discovered that sports and any other activities contribute to beneficial physical development, character education, and social skills.
Some of the noteworthy co-curricular activities include :
Debates
Sports competition
Cultural programs
Story writing
Functions of Continuous and Comprehensive Evaluation (CCE)
Helps in the development of new and effective teaching strategies
Aids regular assessment to understand student's progress
Helps to understand the weaknesses and strengths of students
Enables the teacher to understand problems faced by students and make changes in teaching techniques
Encourages self-assessment among the students
Helps students to develop good habits, work on their weaknesses and correct the errors
It gives an idea about the change in student's attitudes and values
It gives reports about student's progress over a period of time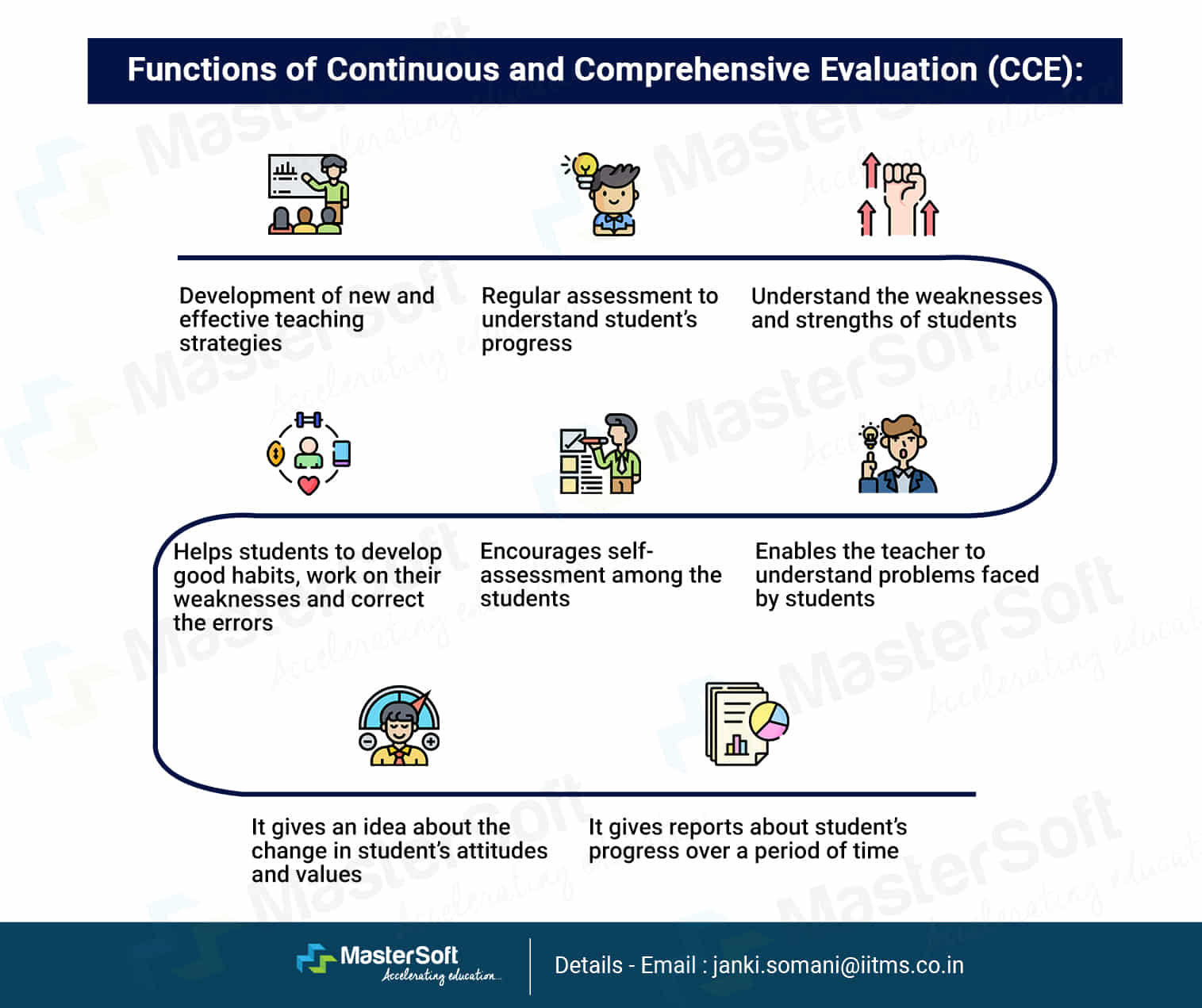 What Is Pedagogy? Importance Of Pedagogy In Teaching And Learning Process
How Does Continuous and Comprehensive Evaluation Help a Classroom Teacher?
Helps the teachers to understand student's learning style
Helps them to understand the problems faced by students collectively
Encourages them to try different teaching techniques for better results
Offers insights about the patterns in which students are learning
Enables them to guide the students on exact pain points
Key Benefits of Continuous and Comprehensive Evaluation (CCE)
1. A very common occurrence among students is that they get extremely stressed out due to exams; some even stay up all night just to revise that one chapter in which he/she has a problem. CCE is a useful tool that can be used to reduce the anxiety or fear which clouds their minds whenever the exams approach nearer.
2. The CCE evaluates the learning needs and abilities of students. With CCE, students can constantly test their abilities and put their best foot forward. The CCE allows teachers and students to identify the areas where students need more help.
3. CCE helps teachers to systematize their strategies for effective teaching. Continual evaluation allows the teacher to detect weaknesses and identify certain students' learning styles. By identifying a student's learning difficulties on a regular basis, it helps in improving student performance.
4. CCE is child-centric and treats each student as an individual. It aims to build on the unique abilities, strengths, and development of each child. 
5. Continuous and comprehensive assessment which is a crucial part of this evaluation structure helps to assess the progress of the students.
6. The CCE provides teachers with various assessment activities that allow them to diagnose students' defects. When a teacher gives feedback of assessment activities, he/she helps students identify problem areas and provides feedback and support to help them improve their performance.
How can MasterSoft help to implement Continuous and Comprehensive Evaluation in a school?
Continuous and Comprehensive Evaluation is a school-based analysis procedure that is distinguished by the fact that the evaluation of the students takes place throughout the instructional process. Multiple techniques of evaluation need to be implemented to assess the progress of the students which includes quizzes, assignments, oral tests, peer evaluation, etc.
MasterSoft being the leading Edtech facilitator has onboarded many schools & met their educational needs. With the help of its advanced Learning Management System (LMS) any school can reap the benefits of utilizing many tools to create various tests and assignments for the students.
This will not only help to develop multiple tests but also with the help of many other assorted tools it can help to keep track of the progress of the students.
FAQs on Continuous and Comprehensive Evaluation (CCE)

Posted By: