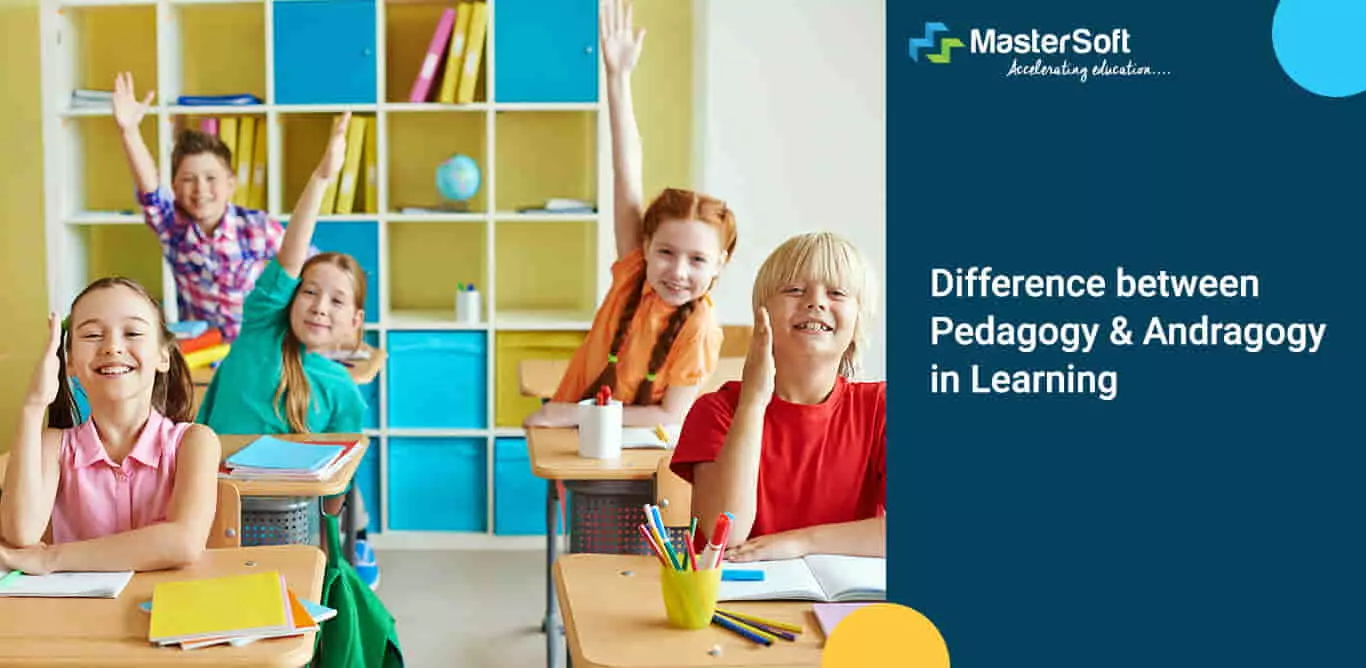 The term "learning" is like a never-ending loop!
Whether you count learning from the day a child begins to walk or speak or the day someone studies to graduate or the day one innovate something.
The crux is – learning is an ongoing process- not restricted to age.
However, the learning process for a child is different than for an adult. Naturally, they require distinct teaching-learning strategies.
The concept of "pedagogy" & "andragogy" is a reflection of the same.
Pedagogy and Andragogy - Introduction
These terms may be new for most of you as they are derived from Greek words.
Let me break it down and explain what it means- (Please make a better box)
A) Paidi (Child) & Ago (Guide) = Pedagogy
B) Andras (Adult) & Ago (Guide) =Andragogy
Thus,"pedagogy" relates to the learning journey of children & involves best practices to help children learn effortlessly.
On the other hand "andragogy" relates to the learning journey of an adult learner & involves the best practices to simplify their learning process.
Both aim to help different age groups learn seamlessly!
Speaking from the education front, the aim of learning is to prepare life-long learners. As Herbert Spencer said -
"The great aim of education is not knowledge but action."
Thus, both pedagogy & andragogy support the ideology of making individuals capable of doing something in their lives.
What is Pedagogy?
Pedagogy is referred to as the science of teaching and impacts the learning processes of students. It is focused on building on the previous knowledge of the students. In this, the teacher plays a major role to go ahead in the syllabus and solve the problems. It encourages the students to learn concepts and apply them in real-life situations apart from their books.
Pedagogy is a way of imparting knowledge and skills in the educational context. It plays a very important role in the early education of children. The teachers must make sure that the students are in a good learning atmosphere for better learning outcomes.
What is Andragogy?
Andragogy is a learning theory for adults who learn by themselves. It means that the student is self-driven and does not require much guidance. They make use of various resources which help them get through major challenges and issues in learning. In this format students' experience of learning plays an important part and helps them to improve in the subject.
It cannot be said that there won't be any role of a teacher but the guidance will be limited to discussing their experiences and progress and understanding problem solving
Four Main Aspects of Andragogy-
Learners must be involved in their planning and evaluation
The subjects must be based on real-life to drive the learners
Must have experience in learning
The learning process of students should be problem-centric
Major Differences between Pedagogy and Andragogy in Learning
The difference between pedagogy and andragogy is just not limited to the age group of learners. It is just an aspect. There are various aspects to it.
Pedagogy refers to teaching children or dependent personalities, whereas andragogy refers to providing learning facilities and access to educational courses and programs to the adults that are self-directed learners.
And in this section, I would unfold the various aspects.
Let's get started with understanding the major differences between pedagogy and andragogy in learning…
#1: Capacity to Adapt to New Things
If you pay attention to the learning capacity of a child and an adult learner, you'll clearly know that an adult learner is much more responsible.
Besides responsibility, they have got a better intellect that maximizes their capacity to adapt to new things. Whereas children don't pay attention to adapting to new things beyond their curriculum! Their learning capacity is more restricted towards the syllabus & academics. It may change as they grow and step into "andragogy" from "pedagogy".
#2: Personalized Learning with Skills Development
Children start with learning the concepts that enhance their knowledge.
However, when it comes to adult learners, they are already aware of most of the things and thus they need personalized learning that would help them enhance their skills.
Their aim is to upgrade their knowledge. And children want to gain knowledge first. So, it won't be wrong to say that andragogy is an advanced learning process.
#3: Experience-backed Learning Process
If you ask a fresher to perform a task, he/she may complete it efficiently or may fail at it.
However, when you ask an experienced person to perform a task, the chances of its completion with the best efficiency are much higher.
And why is it so?
The answer is "experience"!
Similar to this instance, experience-backed learning is sure to give the best student learning outcomes as compared to learning that lacks experience. Young kids lack experience and adult learners have a better experience that makes their learning more valuable & diverse.
#4: Curiosity to Innovate
Learners that have gained experience are more inclined towards innovation. They have curiosity because of the knowledge they already have. However, when it comes to young learners, they also have curiosity –but to learn new concepts.
Innovatory mindset development takes time & experience.
The level of curiosity to innovate comes only after crossing the basic steps of pedagogy and reaching to andragogy in the future.
#5: Goal of Long-Term Success
As an adult, people hardly get time to learn anything.
And if they do – it is for their overall development & reaching a stage where they can upgrade their lives.
Time plays a key role!
They invest their time in learning that would help them get a better job; develop a skill that would help them be financially sound. On the other hand, children study & learn to get admission to a better school & college. They don't have a long-term plan unless they pursue graduation. They just want to learn for scoring good grades. The mindset changes after some years gradually.
In a nutshell, unlike pedagogy, andragogy is not dependent on teachers as it develops a self-learning attitude in learners.
And thus, andragogy is superior in terms of learning outcomes!
What Is Pedagogy? Importance Of Pedagogy In Teaching And Learning Process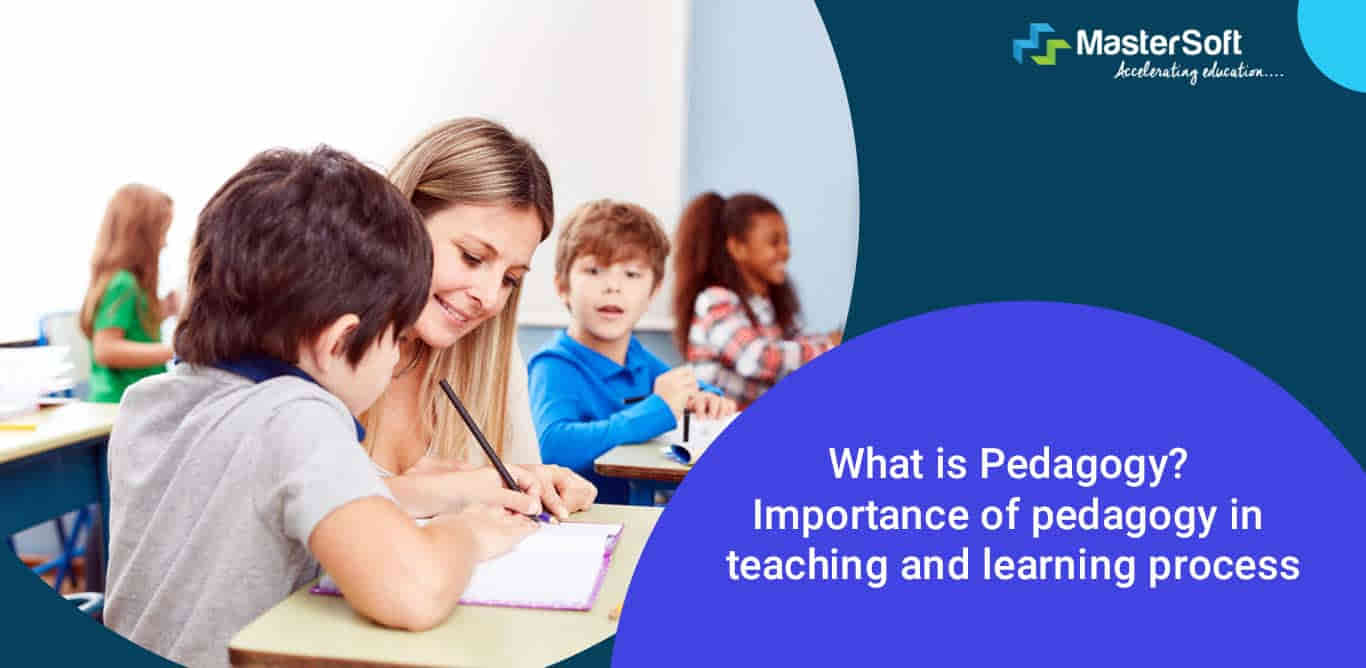 How MasterSoft Can Help Improve the Learning Journey of Students?
Pedagogy can be considered as the basic step that helps students to reach andragogy. The way of teaching strategies naturally differs because of the varied expected student learning outcomes.
It won't be wrong to say that - pedagogy is the basic pillar that builds a strong foundation that helps andragogy to succeed in the future!
Both are important and have an imperative role in a learner's life.
To enhance the teaching-learning journey, as an educator, you can switch to innovative edTech tools offered by MasterSoft such as a learning management system (LMS).
The learning management system follows Bloom's Taxonomy and helps students maximize their knowledge, intellect, and skills gradually. From basic level to advanced, the ERP software covers everything. Thus, it promotes the concept of pedagogy as well as andragogy. Furthermore, you can add modules such as Outcome-Based Education (OBE) and Online Exam System for better learning outcomes and mapping students' progress.
Remember the words of Josh Waitzkin -
"The key to pursuing excellence is to embrace an organic, long-term learning process, and not to live in a shell of static, safe mediocrity. Usually, growth comes at the expense of previous comfort or safety."
Therefore, do implement our edTech tools and step out of the mediocre teaching-learning zone. We are your best digitization partners!
For more information about the services of MasterSoft, get in touch with our team of educational ERP experts today –
FAQs on Pedagogy and Andragogy