Online Examination Management System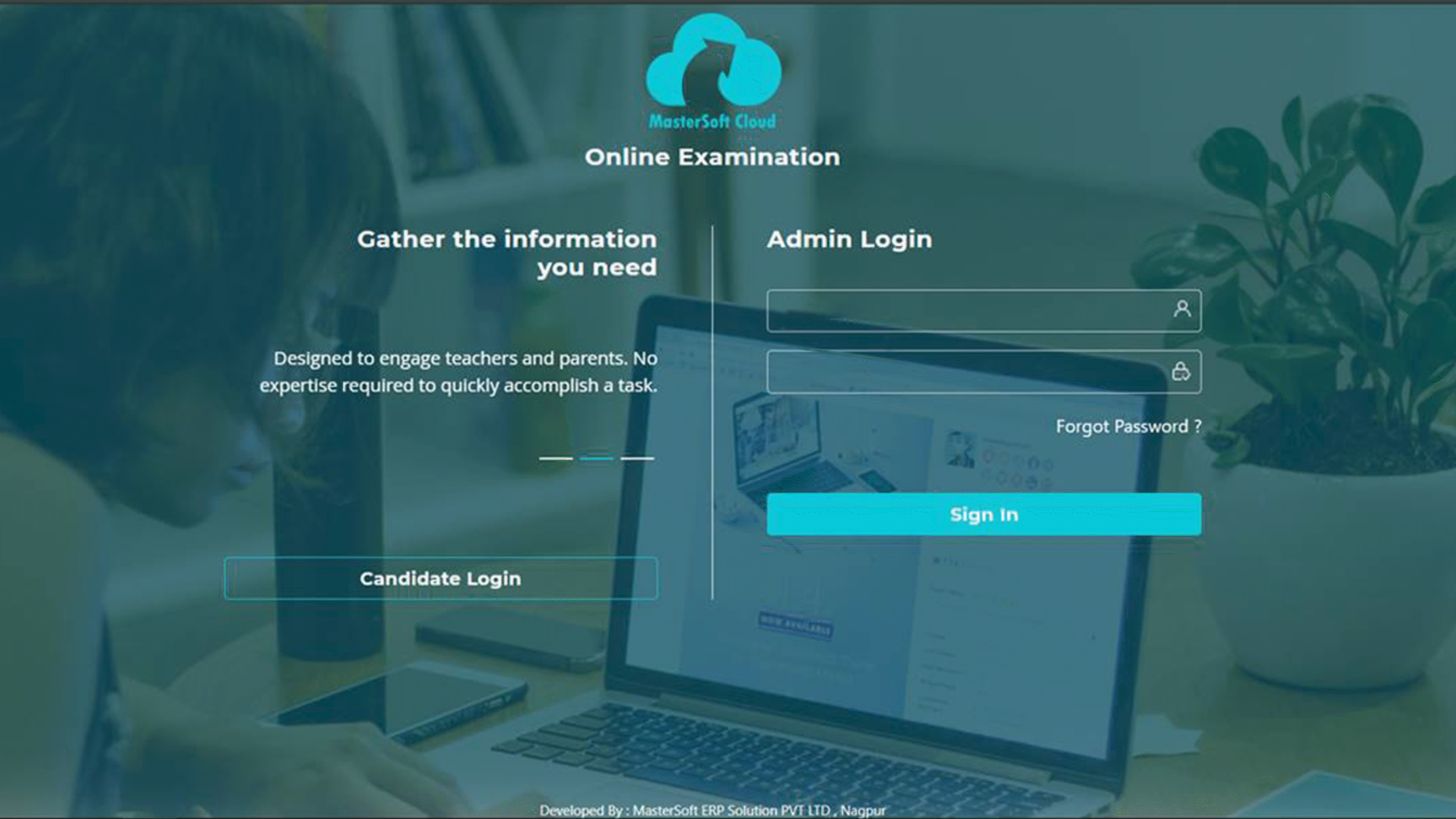 For any college, the journey of managing & conducting examinations to the evaluation of papers and declaring results is quite crucial. The college authorities & faculty need to carefully plan & execute everything to ensure the best practices. And thus, handling examination processes manually is surely not a good idea as it consumes the institution´s time and resources, and still, the possibility of exam-related errors remains high.
MasterSoft´s examination management software is an end-to-end solution to simplify, streamline, and manage all exam-related activities seamlessly. Designed & developed to carry out offline as well as online conduction of examinations, this software empowers faculty to take care of the following pre-examination, real-time examination, and post-examination activities.
College ERP Modules

Student Management

Student Management
Faculty Management

Faculty Management
Campus Administration

Campus Administration
Evaluate & Conduct Online Examination With Integrated Exam Platform
Easily Automate Exams with Online Examination System

Pre-Examination Activities
The pre-examination activities include planning & organizing a set of tasks that need to be carried out before the exams. MasterSoft Exam Module enables the faculty to streamline all these activities and save their time & efforts.
Creation of Question Papers

Student Applications Verification

Test Venue/Hall/Room Audits

Exam Duty Allocation to Faculty
Candidates Exam Roll Number Creation

Room Allotment to Candidates

Admit Cards & Hall Ticket Generation

Attendance Sheet Generation
Examination Day Activities
The examination day activities include planning & organizing the following set of activities that need to be carried out on the day of the examination.
Venue/Hall/Invigilation & Management

Verifying Students Details

Managing Real-time Attendance
Handling Documents & Reports

Collecting & Verifying Exam Sheets
Post-Examination Activities
With the examination management system, the college faculties get the provision to perform the given crucial post-exam activities without any hassle.
Marks Evaluation

Final Result Generation

Mark Sheets/Grade Card Creation
MIS Reports on Students´ Performance

Display Results on the College Website

Email/SMS the Students´ Results to Parents
Online Examination Conduction
Online exam management software has emerged as an important edTech tool nowadays as it minimizes the hassles of traditional paper-pen based written exams by simplifying & automating the exam management process & providing quick result evaluation and publishing.
Right from examination formalities such as - setting question papers, assessments, to compiling candidate's registration details and scrutinizing their academic performance by checking answer sheets to generating accurate results and reports, college examination software helps the institution to manage examination process seamlessly.
Hosted on highly secured cloud technology & integrated with the latest attendance tracking system & proctoring tools, the ERP software ensures 100% security & scalability, keeps tab on students attending the exam, and minimizes the probability of malpractices.
How MasterSoft Online Examination Solution Functions

With the aid of MasterSoft college software, the following set of exam-related activities can be streamlined.
Creation of multiple sets of question papers - in both the MCQs and Descriptive Formats within a short span. Multiple question sets creation would further help teachers to keep a tab on cheating and other malpractices by students.
Creation of mock test papers for students who want to practice the test beforehand the final examination. As online examination is a relatively new concept, mock tests can help students prepare psychologically for the exams leaving the unnecessary fear of technology.
Since most students have access to mobile phones, they can access Mobile Based Assessments for MCQs working well at lowest bandwidth.
The special provision of descriptive tests further enables them to type & voice type their answers in multilingual format, capture & upload relevant images to justify the answers.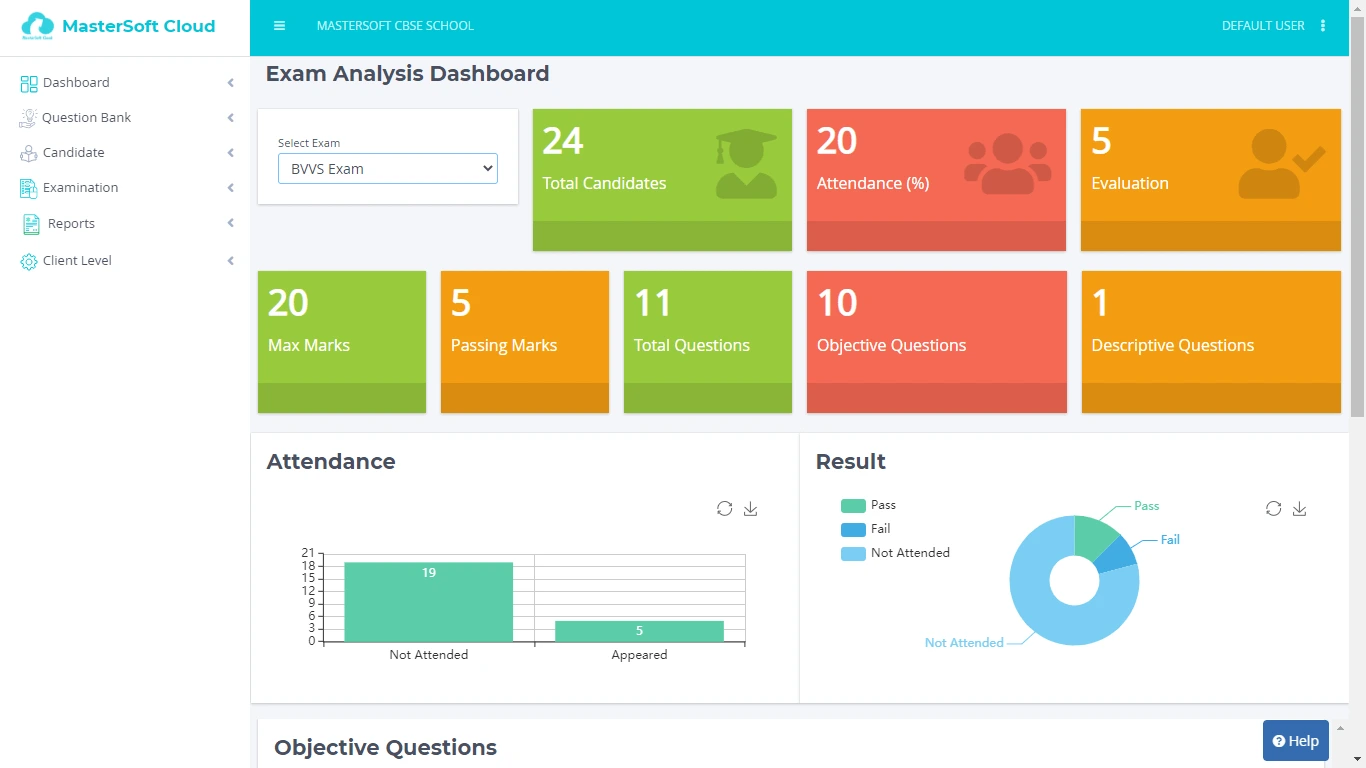 Besides students, this examination software for colleges can prove to be a boon for faculty and teachers as well. It can improve their productivity by helping them reduce their timings and efforts spent on manual operations such as preparing examination schedules, question sets, and result calculations. And with the aid of image based proctoring, the system automatically captures random images & helps the faculty to keep a tab on student's activities.
All-in-all, it enhances the impact of online teaching-learning classes and students progress.