Online Examination Management System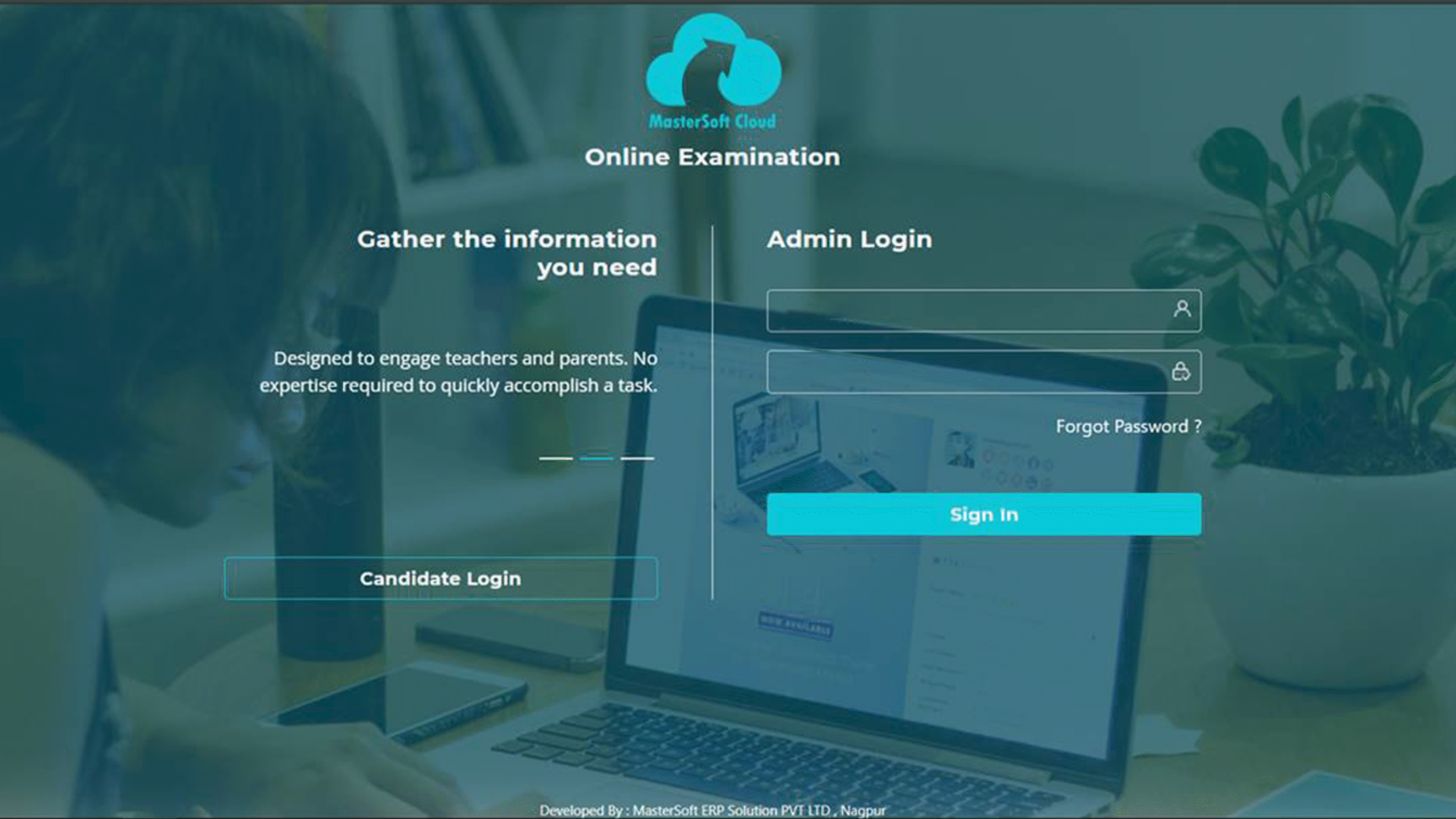 For any college, the journey of managing & conducting examinations to the evaluation of papers and declaring results is quite crucial. The college authorities & faculty need to carefully plan & execute everything to ensure the best practices. And thus, handling examination processes manually is surely not a good idea as it consumes the institution´s time and resources, and still, the possibility of exam-related errors remains high.
MasterSoft´s examination management software is an end-to-end solution to simplify, streamline, and manage all exam-related activities seamlessly. Designed & developed to carry out offline as well as online conduction of examinations, this software empowers faculty to take care of the following pre-examination, real-time examination, and post-examination activities.
College ERP Modules

Student Management

Student Management
Faculty Management

Faculty Management
Campus Administration

Campus Administration
Evaluate & Conduct Online Examination With Integrated Exam Platform
Easily Automate Exams with Online Examination System

Pre-Examination Activities
The pre-examination activities include planning & organizing a set of tasks that need to be carried out before the exams. MasterSoft Exam Module enables the faculty to streamline all these activities and save their time & efforts.
Creation of Question Papers

Student Applications Verification

Test Venue/Hall/Room Audits

Exam Duty Allocation to Faculty
Candidates Exam Roll Number Creation

Room Allotment to Candidates

Admit Cards & Hall Ticket Generation

Attendance Sheet Generation
Examination Day Activities
The examination day activities include planning & organizing the following set of activities that need to be carried out on the day of the examination.
Venue/Hall/Invigilation & Management

Verifying Students Details

Managing Real-time Attendance
Handling Documents & Reports

Collecting & Verifying Exam Sheets
Post-Examination Activities
With the examination management system, the college faculties get the provision to perform the given crucial post-exam activities without any hassle.
Marks Evaluation

Final Result Generation

Mark Sheets/Grade Card Creation
MIS Reports on Students´ Performance

Display Results on the College Website

Email/SMS the Students´ Results to Parents
Online Examination Conduction
Online exam management software has emerged as an important edTech tool nowadays as it minimizes the hassles of traditional paper-pen based written exams by simplifying & automating the exam management process & providing quick result evaluation and publishing.
Right from examination formalities such as - setting question papers, assessments, to compiling candidate's registration details and scrutinizing their academic performance by checking answer sheets to generating accurate results and reports, college examination software helps the institution to manage examination process seamlessly.
Hosted on highly secured cloud technology & integrated with the latest attendance tracking system & proctoring tools, the ERP software ensures 100% security & scalability, keeps tab on students attending the exam, and minimizes the probability of malpractices.
How MasterSoft Online Examination Solution Functions

With the aid of MasterSoft college software, the following set of exam-related activities can be streamlined.
Creation of multiple sets of question papers - in both the MCQs and Descriptive Formats within a short span. Multiple question sets creation would further help teachers to keep a tab on cheating and other malpractices by students.
Creation of mock test papers for students who want to practice the test beforehand the final examination. As online examination is a relatively new concept, mock tests can help students prepare psychologically for the exams leaving the unnecessary fear of technology.
Since most students have access to mobile phones, they can access Mobile Based Assessments for MCQs working well at lowest bandwidth.
The special provision of descriptive tests further enables them to type & voice type their answers in multilingual format, capture & upload relevant images to justify the answers.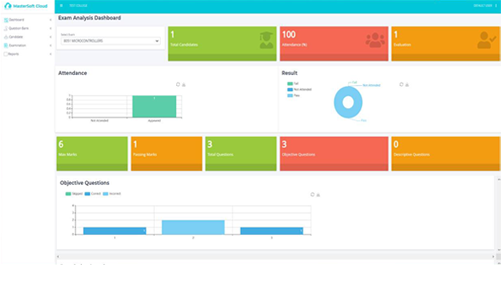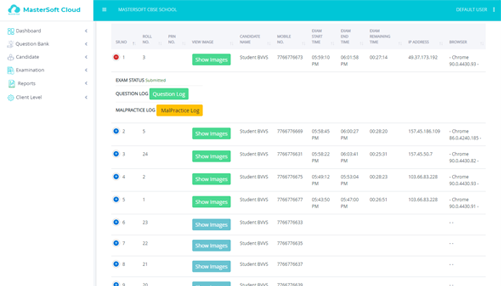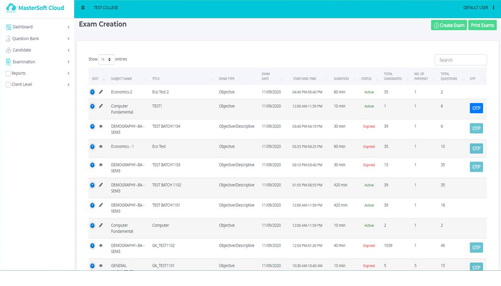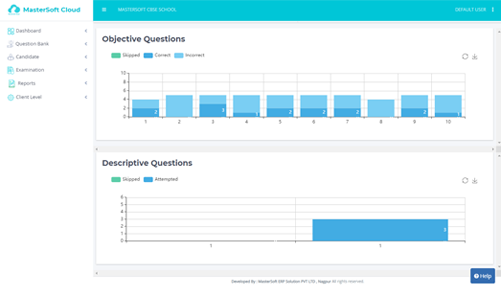 Besides students, this examination software for colleges can prove to be a boon for faculty and teachers as well. It can improve their productivity by helping them reduce their timings and efforts spent on manual operations such as preparing examination schedules, question sets, and result calculations. And with the aid of image based proctoring, the system automatically captures random images & helps the faculty to keep a tab on student's activities.
All-in-all, it enhances the impact of online teaching-learning classes and students progress.
What is the Real-Time Solution for Conducting Online Tests?

Online exams gained popularity during the pandemic in order to simplify the examination process. However, this mode of exam is still concerning for many institutes in regards to its security. An online examination system should be cloud-based comprehensive software with advanced level proctoring that allows exams to be administered without difficulty.MasterSoft has an AI-based online examination system that provides real-time solutions for conducting online tests with ease. Some of the offerings include:
Voice recognition
Secure browser facility
Facial recognition
Advanced proctoring
Cheating prevention capabilities
Online chat window to clear queries
Features Of College Examination Software

Our online college examination software has been implemented by numerous colleges, covering- engineering, medical, pharmacy, commerce, law, art, etc. The software aims to curate a highly secure and easy-to-use examination portal. MasterSoft's examination software has OTP-based login capabilities along with encoding & decoding provision which caters all the exam-data management related concerns of students and faculty.
1

Define Exam Type & Schedule Management

Teachers can define the exam pattern and type- weekly tests, annual exam, descriptive or MCQ tests, etc. Also, they can decide the time duration and minimum marks required for passing the test. Help institutes to effectively manage exam timetable and schedule for various academic years/semesters.
2

Student Skill Development

The exam assessment questions are created based on Bloom's Taxonomy framework which can help students to develop necessary vital skills, such as remembering, deep understanding of the topic, its practical application, analyzing power, accurate evaluation, and creation.
3

Sustains Lowest Bandwidth Conditions

Our online examination ERP software can support and work even in the lowest bandwidth conditions without fail. For instance, the software can easily accommodate even 40,000 students at the same time, thus does not affect the assessments even with poor internet connectivity.
4

Online Proctoring

The software is in-built with AI-proctoring tools & technology, which monitors the student activities during exams and improves outcomes by diagnosing learning gaps. If the student carries out any malpractice, the faculty can be easily notified.
5

Student Insights, Details, and Feedbacks

The faculty can evaluate and generate class-wise/student-wise-year-wise/section-wise grade card reports of the students with just a few clicks and provide instant feedback for improving their academic performance and boost their learning outcomes.
6

Online Result Declaration

The college authorities are given the provision to publish exam results on the college portal which has been integrated into college examination software. As soon as the exam results are out, the staff can automatically send the report cards via email to students and their parents.
Secure and Robust Examination Management System for Seamless Exam Conduction!
Request Demo
Benefits Of College Examination Software

For a hassle-free and time-saving examination process, the College Online Examination System offers the following benefits:
Significantly Lowers Administrative Burden
Online software automates the examination process
Trouble of sourcing and managing test centres
No manual invigilation required
Avoid time-consuming individual assessment of students
Paper-Based Approach
Prevent printing & circulating tests on paper
Auto-generated online report cards
Error-free online assessments
Avoid any bulk storage of test paper records
Highly Secure - Zero Cheating
Multiple question set creation
Advanced online proctoring - Regular screenshots taken
Quick notifications - Keep a tab on student malpractices
Auto surveillance mode with web cameras
Flow of MasterSoft Online Examination Software

The Educational ERP software supports the layout and pattern of all types of examinations and has configuration options for marks and grade based examinations. The Examination ERP divides the entire procedure for exam conduction into multiple steps with the help of the following features & functionalities.
1. Defines & Creates Examination System
Course creation

Subjects

Examination scheme

Exam ordinances like grace and condonation rules

Examination evaluation patterns

Grading criteria
2. Creates Student Details for Examination Registration
3. Manages Preparatory Examination Work & Examination Schedule Generation
Examination timetable and virtual exam schedule

Attendance tracking & reports

Student performance reports

Question-wise performance evaluation reports

Entry of absenteeism and unfair means entry
4. Records Marks Entry & Result Calculation
Marks and grade entry

Grade allotment and calculation

Scrutiny, feedback, and finalization of results

Printing of TR, grade cards, gazettes, merit lists, and transcripts

Result analysis reports
Students Login Section


Submission of Answers
by Students
Enables students to mark questions for review

Allows to submit final answers directly

Submitted answers are reflected in 'green' circles

Answers marked for review are reflected in 'white' circles

'Save & Next' option to proceed
Descriptive Answers
Submission Provision
Type or voice type descriptive answers

Supports multilingual format

Enables to upload images to justify the answers

Final Summary of
Online Test
Displays total number of answered questions

Total number of skipped questions

Questions that are marked for review

Option to finish the online assessment
Thus, the online college software offers a simple registration process, easy creation of assessments, evaluation, instant result analysis, and grade cards with a centralized database.
What is the Future Scope of Online Examination Systems?

Conducting exams online can still be new for many institutes, as they are ignorant of the benefits of the online examination system or are opting for poor online exam substitutes. Thus, in the post-pandemic era, it can be considered a modern step up from the traditional exam methods.
Preparing institutes for the digital world ahead can be done by offering dynamic solutions that can be customized as per their changing needs. Below are some factors that need to be considered to better optimize the examination process:
Security
Security is one of the prime concerns of an institute when it comes to online exams. They can implement modern anti-cheating practices by using software that includes live proctoring and monitors the examinee's real-time activity.Ensuring academic integrity and security is quite challenging; hence, a 100% secure system is required where there is zero scope for cheating.
Accessibility
Have the pupils provided the correct login information to access the system? And are they able to give mock tests? It can be difficult to manually check in with each student about the exams because they are virtual. Traditional tests call for passing the test paper to the correct student, which is impossible in an online environment and requires a lot of work.
Relevance/Content
Exams are important as they help in assessing what a student should know based on the difficulty. The content as per the course and its applicability and importance must be thoroughly analyzed and questions should be created accordingly. It's important to make sure the test questions are related to the topic.
Fairness
A key element in an exam is impartiality and fairness. It is insufficient to just shuffle the questions on an online test to stop cheating. Audio, video, and image proctoring must be implemented to keep a constant eye on students during the test. Additionally, a role-based login should be included in the system to further thwart any biases.
Anti-Cheating Methods in Online Exams

Apart from using a proctoring tool, the instructors can follow the below methods to achieve a cheat-free exam.
Create questions that require higher-order thinking
Using different types of questions
Remind candidates about academic integrity policies
Provide different sets or versions of the same test
Check the examinees' true identities.
Inform students regarding penalties if found cheating
Detect cell phone usage and other devices using advanced proctoring functions
Detect sounds in the room using voice recognition
Use a browser lock to prevent changing tabs
Assign human proctors
Provide clear test instructions
Create an honor code and instruct students on the disciplinary procedure
Use reporting to identify trends that may highlight cheating
How Does an Online Examination Systems Work?

Online examination systems are a digitized format of a paper-based test that include a large number of applications for different kinds of tests, including computer-based tests, offline tests, and web-based tests.
An online examination system works as follows:
Preparing for the Exam:
The faculty decides what types of questions need to be added to the tests, such as MCQs, descriptive questions, quizzes, etc. The teachers then have to arrange the schedule (time and date) of the exam as per different subjects. They have to create a timetable and ensure it doesn't collide with other subjects.
Conduct Exams:
After deciding the questions and the time of the test, the duration of the test needs to be decided. Students are given their unique credentials to access the test. Mock tests are given prior to actual tests to give a thorough understanding of the real exam. After sharing the URL, login ID, and password, students can log in and start answering the questions.
Evaluate and Monitor Student Progress
After submitting the answers, the exam ends at the set time. The results are generated within a few minutes, and the faculty can then assess the academic performance of students on the basis of the scorecard. Graphical dashboards also provide teachers with a comprehensive understanding of where their students are falling short and can assist them in closing the learning gap.
How to Conduct an Online Examination?

To manage a secure online examination, the fundamental step is to choose the type of online test the institute wants to deliver and send email and SMS alerts regarding the tests to the students. The faculty must provide the procedure to conduct the test online, right from registration of the student to evaluation and publishing of exam results.
To effectively conduct an online examination, the institute should:
Start with student registration
Store the personal information of candidates
Create hall tickets with exam room details
Plan and schedule the time of the exam
Send students the URL of the test with the login credentials
Verify and authenticate student details in the exam room
Setting up and maintaining a fair and unbiased examination
Get regular feedback from the students
Evaluate and assess the results
Why Should Academic Institutions Switch to Online Exams?

With digitization taking over every sector, it's high time that the institutes embrace online examination systems owing to the following prominent benefits:
Digital Test Evaluation:
An auto-evaluation function enables the software to automatically assess the test by comparing it with a set of predefined answers in the database. This saves a huge chunk of time, improves the accuracy of the evaluation, and makes it easier to get the test results quickly without any hassle.
Saves Time and Money:
Conducting online exams is simpler and more efficient. The institute can conduct the exam by emailing the link for the questions or sending an invitation to students to participate in the test instead of assembling students, printing test papers, and distributing them in a classroom. This, in turn, saves printing costs and saves time as students don't have to commute.
Environmental-Friendly Nature
As it is a paperless approach and there is no need for hard copies of test papers, it saves a lot of trees, thus making it eco-friendly. The digital creation of tests has a lesser carbon footprint and is more sustainable in comparison to traditional methods of conducting exams.
No Need for Exam Halls
With an online mode of examination, the institutes are not required to rent multiple exam centres to accommodate thousands of students. As students can appear for the test from the comfort of their homes, there is no need for exam halls. This further reduces expenses and avoids the hassle of paying extra invigilators to monitor students.
What is the Importance Of Online Examination System?

Online examination software is gaining popularity among both private and public educational institutes due to its user-friendly web-based format and the geographical flexibility it offers. Its importance is increasing day by day, as it has made it easier for both faculty and students to conduct exams in a smooth manner.
In addition,
The software evaluates tests and gives results instantly, thus saving a lot of time.
It completely automates the manual process of taking written exams.
Via remote proctoring, multiple candidates can appear for the test at the same time without any burden on the server.
It is compatible with all devices and can conduct exams even with low internet bandwidth connectivity.
Students get the opportunity to check their answers and score cards as instant feedback regarding their understanding of their course topics.
It acts as an essential tool to assess and enhance student learning outcomes.
With high scalability and reliability, the institute can increase the number of students appearing for the test.
How Can Online Examination Systems Be Made More Secure?

Security in an online exam setting can be considerably increased by adopting the below strategies:
Secure Browser:
A secure browser prevents the students from checking any other tab or window while the online test is going on. The candidate is only allowed to access the examination window, thus preventing cheating. In addition, access to keyboard shortcuts such as screen capture, copy and paste, etc. is prevented. Also, if the student tries to move away from the test window, a warning message pops up, which further increases the security.
Online Remote Proctoring:
With image capture, the system can capture the picture of the candidate after certain intervals. This aids in identifying and authorising examinees who are sitting in a remote location.Video proctoring further checks the live streaming of the candidate throughout the exam and further monitors every activity of the student. In addition to this, screen capturing can be implemented, which takes screenshots of the screen to check for any suspicious activity.
IP-Based Authorization and Authentication
The institute can adopt IP-based authentication, which gives access to exams only to a certain, specified number of IP addresses that are already provided during student registration. In the case of admin login, it is possible to have IP-based authentication so that students trying to log in from only a specific address are allowed to access the system, thereby improving the safety and security of the test.
What Our Customer Says About Remote Proctoring Exam Software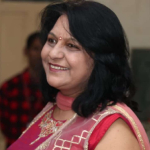 Dr. Manju Lalwani Phatak |
Principal, C.H.M College
MasterSoft is the only software provider which gave us the feeling of Offline exams. We Tried the Online Exam Software from 3-4 vendors, but are satisfied by the solution provided by MasterSoft. It provides Role based logins for Invigilator, Supervisor, Moderator & Evaluator.
FAQs Online Examination System