What is an Attendance Management System?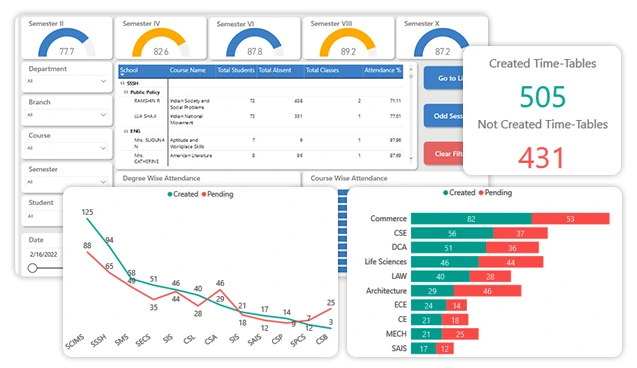 An attendance management system is software that monitors employee working hours. It is primarily used to archive employee time and the time they take off. The software tracks breaks, login time, and departure to avoid employee time theft. It further helps the institute to easily manage the attendance monitoring process and improve overall efficiency.
The attendance can be managed using biometric devices or RFID cards, which automatically display the attendance details in the system.
Features Of College Attendance Management Software

1

Biometric & RFID Integration

MasterSoft's RFID and biometric attendance systems both provide centralized cloud-based attendance data storage that is accessible from any location at any time.
2

Customized Attendance System

The college attendance system is extremely flexible, allowing faculty to specify attendance norms and regulations for effective operational management.
3

Easy to Use & Implement

Both the RFID and the biometric attendance systems are simple to set up and operate.
4

Automatic Alert Facility

The attendance management software program has an automatic alert tool for students who don't show up to class. Parents can quickly receive notifications about them from the facility.
5

Integrated Dashboard

Faculty may check on students on a regular basis and make informed decisions to increase student retention thanks to the incorporation of an AI-powered analytics dashboard.
6

Automatic Payroll Processing

The system's payroll module immediately updates the attendance to do the relevant computations. Hence, the administrator can process the paycheck right away without engaging in a cross-checking procedure.
MasterSoft College Attendance Management Software

MasterSoft has developed a robust, end-to-end attendance management system to help the faculty overcome manual attendance challenges and enables them to track & monitor the real-time attendance of students as well as staff members. The college ERP can be furthermore used to generate staff members' attendance records for payroll & salary processing.
3 Key Types Of College Attendance Management System By MasterSoft

MasterSoft offers three types of attendance management systems for colleges

RFID Technology-Based Attendance Software
RFID attendance system involves an RFID card and RFID device that needs to be placed in the campus for automatically tracking students' attendance.

Biometric Attendance System
In the case of biometric attendance, students & staff need to press their thumb on the biometric device for their unique identification & attendance.

Student Diary Mobile App
Student diary is a mobile app that furthermore simplifies the student attendance management by offering an advanced app that tracks daily student attendance in real-time.
All three versions of MasterSoft college attendance management system improves the overall productivity of the faculty, reduces manual errors in students attendance by computerizing the following activities:
Reports Generated Are-
Academic calendar
Course (subject) allotment
Time table entry
Creation of practical batches
Integration with Google calendar to schedule online classes
Day-to-Day attendance entry by the faculty
Attendance reports for faculty, students & parents
Analysis of faculty teaching
Poor attendance report
Communication through SMS, letters & emails to parents
College ERP Modules

Student Management

Student Management
Faculty Management

Faculty Management
Campus Administration

Campus Administration
Connect Now to Get Started with the Attendance Process
Request Demo
Benefits Of College Attendance Management System

Efficient Resource Utilization
Dynamic And Approachable
Real-Time Reflection Of Changes
Simple And User-Friendly Process
Personalized Real-Time Reports
Monitor The Ongoing Process
Daily Summary Of The Attendance
Minimizes Data Redundancy
What is the Importance of Attendance Management?

Educational institutes can face compliance concerns, irregular attendance tracking, and payroll irregularities with a manual attendance process. This can be prevented by shifting to an automated attendance management system, which can effectively reduce manual labor, save a huge chunk of time, and eliminate lengthy roll call processes.
Let us understand the importance of an online admission system for an educational institution.
Easy Tracking of Employee Performance
The amount of time spent on campus or in the classroom by faculty is proportional to the number of hours worked.The attendance system helps the institute check the overall hours worked with check-in and check-out times on a daily basis, thus helping to assess the performance and the overall pay for each faculty member.
Calculate the Rate of Absenteeism
The system allows the institute to know when substitute teachers are needed by knowing the employee's rate of absence.It further tracks the days when the faculty is absent and calculates the payroll accordingly. Also, it helps in measuring direct and indirect costs.
Remote Attendance Management
With the pandemic and nationwide lockdown, online learning was the norm. The system helped track the attendance of the faculty who worked remotely with a detailed timesheet and log-in and log-out times. It aids in the real-time monitoring of both student and faculty attendance, providing the highest level of transparency.
Why Your Institute Needs an Online Attendance Management System?

Attendance tracking is one of the most important activities in a school or college for assessing a student's regular attendance in lectures as well as tracking the attendance of teaching and non-teaching staff.
Below are a few reasons why it is essential to implement an online attendance management system:
Saves Time
The traditional way of conducting attendance is tedious and time-consuming, involving roll-calling and filling out spreadsheets for every lecture. A highly advanced biometric attendance system takes a couple of seconds to mark the attendance of the student and faculty, which is then recorded in the software.
Security and Authenticity
Proxy has been common among students, where the attendance of the student who is absent is marked by someone else. With biometric devices, this mischievous practice can be completely avoided. This helps in maintaining 100% security and authenticity in a school or college, thereby improving student discipline.
Easy Remuneration Management
With an integrated attendance and leave management system and payroll processing, HR professionals can easily and accurately calculate employees' monthly pay.Also, this significantly reduces the repetitive task of tracking attendance and saves a lot of manual labor.
Generate Graphical Reports
The system helps you create reports that give a detailed analysis of employee and student attendance. These reports give a complete record of breaks, days off, leaves, lectures missed, unnecessary breaks, etc., which can be further used to make stricter rules and help improve overall student attendance.
Strong Administrative Access
RFID cards, biometrics, and, in some cases, facial recognition can be used to track attendance.All the records are stored in the database, which can then be accessed by different departments. The centralization features provide good administrative access, thereby improving transparency.
High Security Alerts
The system is 100% secure with a robust login system that offers only role-based login to dedicated staff. This prevents any access to unauthorized staff, thus ensures the highest security. The software can be connected with an access control system, which can be used to send regular alerts to the IT and surveillance teams via IoT.
MasterSoft Offerings For The Stakeholders
MasterSoft's college attendance management system offerings for key stakeholders include


Students
Tracks student's activities, enhance their classroom behavior, punctuality & retention ratio.

Faculty
Enables faculty to take & manage attendance with 100% student data accuracy.

College Administrator
The college administrator can generate various student & faculty attendance reports to keep a tab on daily activities.
FAQs on College Attendance Management System