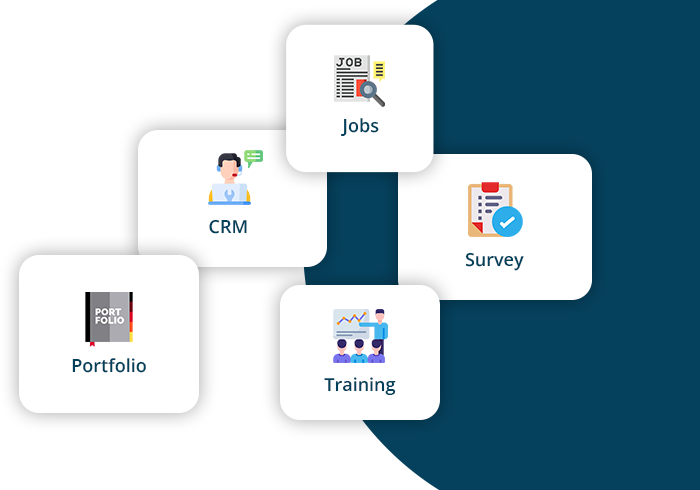 Training & Placement Software For Higher Education Institutions

The training and placement management system creates student and company databases. This module allows students to update parts of bio data and invite companies for placements. Student list can be retrieved from the database of the management software on the basis of the selection criteria of the company.
Training and placement management module additionally manages interview schedules, student list announcements, records of various training and placement activities and the like. This module of education ERP solution can assign login rights to the department staff.
Role Of Companies

Companies can register with the Training and Placement department; and can request the institute staff for interview schedules and selection criteria.
Role Of Students

Can register themselves online, through the Training and Placement portal

Update their resume details.
Apply for interviews.

Get updates about Training and Placement schedules, interviews and selection procedures.
Higher Education ERP Modules

University ERP

University ERP
Higher Education ERP

Higher Education ERP
Key Features of Training and Placement Software

1

Placements Registration

Candidates can register for company placements online without requiring the assistance of a placement faculty member.The FAQ section and online inquiry form solve most of the student queries, thereby reducing the burden on the placement team. The registration portal lets the student fill in the relevant information and upload requirements such as a resume and marksheets.
2

E-Notice Board

During the busy recruitment season, it can be frustrating to keep checking the mailbox every time to check the latest updates, as there is a high chance of missing critical notifications or recruitment deadlines. This issue can be resolved by using the E-Notice Board, which automatically notifies students about placement drives, missed deadlines, and updated resumes.
3

Strong Outreach

With this software, you can speed up the communication process between the recruiting companies and the potential candidates, which ensures more placements. Enable smooth and quick communication with companies that visit the campus, set campaigns regarding placement drives, and organize training and placement events on the premises.
4

Easy Filtering and Eligibility Criteria

The software has multiple recruiting company profiles, and the required eligibility criteria, job description, location, and relevant details are mentioned. This provides a ready reference for students, and they don't have to spend additional time checking out company brochures. Furthermore, students can quickly register for the recruitment process without any hassle.
5

Creating Extensive Reports

You can easily generate insightful reports regarding different placement drives and campus visits by companies. These visual reports can be customized and downloaded within a few clicks. The institute can analyze placement-related data based on present trends and make meaningful decisions to increase the number of placements.
6

Automated Notifications

Get current updates with automated notifications, alerts, and reminders, which can be sent to both students and recruiters regarding the placement process. The users can receive notifications for resume updates, placement drives from new recruitment companies, candidates chosen for the next round, news regarding students placed, and more.
Improve the Employability of Your Students by Digitizing the Student Placement Process and Adopting Better Placement Outreach Programs
Request Demo
Benefits of Training and Placement Software

The Higher Education E-Learning System with MasterSoft Team Integration fulfills the core purpose of education by ensuring smooth teacher-student communication & providing the best quality education.
Improved Communication
Seamless Communication Among Students & Employers
Better Placement Outreach
Instant Alerts & Notifications
Feedback to Improve Employability
Better Visibility and Tracking
Real-Time Tracking of Students Placed
Examine Job Applications at Each Stage
Detailed Analysis of Placement Drives
No Confusion Regarding Selection
Effective Student Profiling
Easy Creation of Student Profile
Create and Manage Student Accounts
Track and Monitor Multiple Job Profiles Simultaneously
Sync with Calendar & Events